Description
Trip Lever Bath Waste and Overflow with Grid Drain
HF-0080
17 Gauge Brass Drain Kit is an innovative basin waste that allows you to quickly and easily install a basin waste system in your bathroom. The Deep Soak Max Drain Kit has everything you need for the installation, including the Deep Soak Basin Waste, the pipe connection, and clips. This drain kit can be installed in any flooring, including tiles and laminate floors. It is also suitable for use with all types of basins, including pedestal basins.
"The basin waste drain stopper with overflow kit is the perfect solution for your bathroom basin. The Deep Soak Max Drain Kit features durable construction, solid brass components, and an easy installation. It has a 3″ GHT drain, 4″ pipe, 10′ of 4″ PVC pipe, and fittings to connect the drain and overflow tube. This kit will fit most standard-size basins (up to 18×24").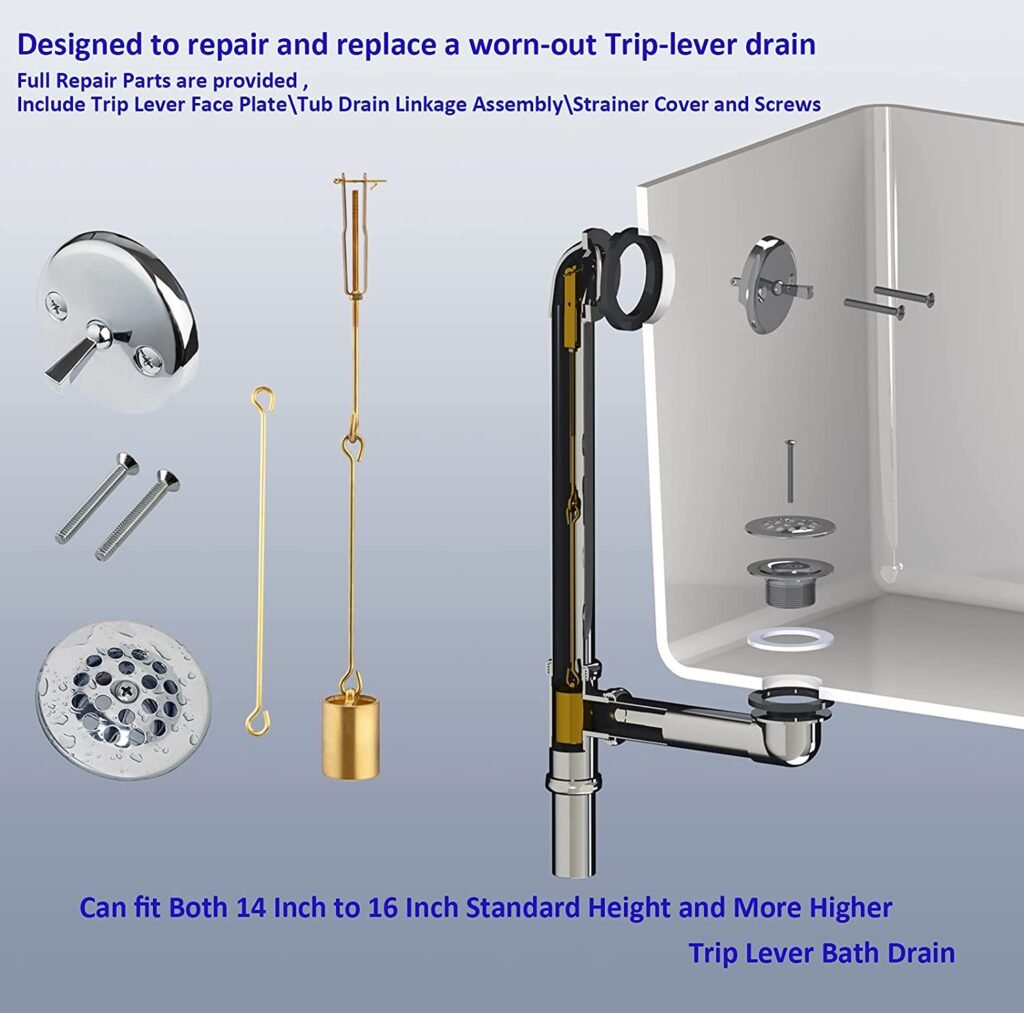 It is a basin waste designed to provide the highest quality and most reliable system. It features a revolutionary design that makes it easy to install and use. This basin waste includes all necessary hardware for installation and comes in an attractive chrome finish. The Deep Soak Max Drain Kit features a 1-1/2″ IPS connection size, allowing maximum water flow and pressure. Your purchase of this product includes free shipping within the continental United States!
The Deep Soak Max Drain Kit is the perfect solution for your bathtub or shower. It will drain water much faster than other drains and also comes with an overflow that keeps the water from spilling out of the tub. This product is designed to fit standard-size bathtubs and showers, so you don't need to worry about whether or not it will work in your home. The kit has everything you need to install, including silicone adhesive, mounting tape, and screws.
A Deep Dive into Trip Lever Bath Waste and Overflow with Grid Drain
When it comes to bathroom fixtures, it's often the least noticeable details that play the most significant roles. A perfect example of such an underappreciated yet essential component is the trip lever bath waste and overflow system with grid drain. This system provides safety and convenience and maintains the bathroom's aesthetic appeal.
Introduction: What is Trip Lever Bath Waste and Overflow with Grid Drain?
The trip lever bath waste and overflow system is a drain mechanism that allows users to open or close the bathtub drain using a lever. On the other hand, the grid drain is covered with grid-like holes to prevent larger debris from passing through while letting water flow seamlessly.
Working Mechanism of the Trip Lever
Positioned Control: Typically located on the overflow plate on the front side of the tub, the trip lever is connected to a linkage inside the overflow pipe. This linkage controls a plug or stopper in the drain.
Two-way Functionality: Pushing or flipping the lever in one direction opens the drain, allowing water to escape, while moving it in the opposite direction closes the drain.
Benefits of Grid Drain
Prevent Clogging: The grid pattern prevents larger debris, such as hair or small soap pieces, from entering the drain, significantly reducing potential clogs.
Aesthetically Pleasing: The grid design offers a sleek, modern appearance that complements various bathtub styles.
Installation Insights
Overflow Tube Height: Ensure the overflow tube is of the correct height, typically aligned with the tub's overflow hole.
Linkage Adjustment: The linkage might need adjustment to ensure the stopper at the tub's base opens and closes correctly.
Sealing: Properly seal the overflow plate and drain to prevent water leakage.
Maintenance and Troubleshooting
Regular Cleaning: To ensure the system functions smoothly, cleaning the grid drain regularly is essential to prevent any build-up.
Linkage Check: If the lever isn't functioning as expected, the linkage might have been dislodged or require some adjustments.
Seal Inspection: Check the seals around the overflow plate and drain periodically to ensure no leakage.
Choosing the Right Trip Lever Bath Waste and Overflow System
Material: Common materials include brass, stainless steel, and plastic. Opt for corrosion-resistant materials for longevity.
Finish: Ensure the finish, whether chrome, brushed nickel, or oil-rubbed bronze, matches or complements other fixtures in the bathroom.
Grid Design: While most grid drains have a standard design, there are variations in hole sizes and patterns. Choose one that suits your bathroom's aesthetic and functional needs.
While trip lever bath waste and overflow systems with grid drains might seem like a small aspect of a bathroom, their role is paramount. They ensure a smooth bathing experience, provide safety against overflowing, and uphold the aesthetic integrity of the space. Investing in a quality system and understanding its mechanics can significantly impact any bathroom's overall functionality and appearance.