Description
Sink Grid Drain Stopper Strainer
HF-0107
The Lift-Turn Bath Sink Drain is the most advanced bath sink drain. The innovative technology of the Lift-Turn allows for quick, easy, and efficient installation. Its unique design allows for a full 360-degree rotation, making it convenient to use in any bathroom setting. This basin waste can be installed without tools or glue, making it user-friendly. The Lift-Turn is designed with high-quality brass materials that are corrosion-resistant and incredibly durable. This product will make an excellent addition to your home with incredible features and benefits!
The drain is a basin waste that lets you easily and quickly clear your sink of any clogs. With a simple lift and turn, the drain's suction cup grabs the clog and pulls it free. The drain is also made of durable plastic for long-lasting use, and it includes a stopper to keep water from flowing out of the sink.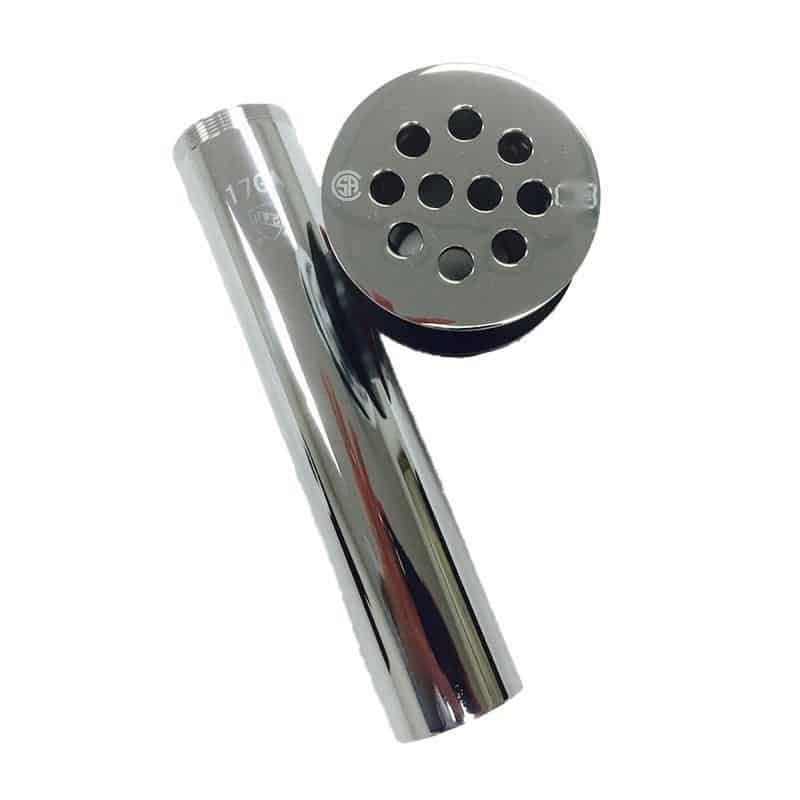 Were you looking for a reliable and easy-to-install basin waste? Look no further than the Lift-Turn Bath Sink Drain! This simple plug-and-play system is perfect for anyone looking to replace their old, rusty sink drain. With just a few quick steps, you'll be up and running in no time – without the hassle of calling a plumber.
This Bath Sink Drain is an innovative and functional basin waste that makes draining your bathtub easier. The simple lift-turn mechanism opens and closes the drain with a light touch, so you can quickly empty your bathtub without mess or hassle. Made of durable brass construction with a chrome finish, this basin waste is built to last and provides a sleek, modern look for your bathroom. Installs in minutes with no tools required – remove your old drain and replace it with the Lift-Turn Bath Sink Drain for quick and easy drainage.
The drain stopper is a basin waste that makes it easy to empty the sink without touching the dirty water. This simple design uses a lever to open and close the drain, so you can easily lift the plug and let the water run out without getting your hands dirty. The Lift-Turn Bath Sink Drain is durable brass and chrome plated for a long-lasting finish and is easy to install with no special tools required.
Sink Grid Drain Stopper Strainer 101: The Ultimate Guide
Sinks are undeniably one of the most frequently used components in any kitchen or bathroom. Hence, their proper functioning is vital. Have you ever wondered about the small component that prevents unwanted debris from going down the drain? Enter the Sink Grid Drain Stopper Strainer. Let's dive in to understand more about this unsung hero.
What is a Sink Grid Drain Stopper Strainer?
At its core, a Sink Grid Drain Stopper Strainer is a device with a grid-like structure. Positioned over the sink drain, it effectively prevents larger waste particles from going down while allowing water to flow smoothly. It can act as both a stopper and strainer, offering flexibility in its application.
Applications of the Sink Grid Drain Stopper Strainer
Kitchen Sinks: Capture food particles and prevent clogs.
Bathroom Sinks: Trap hair soap particles and prevent blockages.
Utility Sinks: Capture larger debris, preserving the drain's integrity.
Types of Sink Grid Drain Stopper Strainers
Fixed Grid Strainers: Non-movable and permanently fixed. Perfect for those who prefer simplicity.
Twist and Lock: Offers both a full stopper and a strainer function.
Lift and Turn: It can be lifted and turned to allow water flow or block it.
Size Matters
The size of your strainer must match the size of your sink's drain hole. Common sizes include:
Standard Kitchen Sink Size: Approximately 3.5 inches in diameter.
Standard Bathroom Sink Size: About 1.25 to 1.5 inches in diameter.
Utility Sinks: Vary widely, so measurements are crucial.
Here's a resource to assist in finding the perfect size.
Materials Used
Different materials cater to varied aesthetics, functionality, and budgets.
Stainless Steel: Durable, rust-resistant, and has a sleek appearance.
Brass: Offers durability and a classic look.
Plastic/PVC: Cost-effective and lightweight but may not last as long as metal variants.
Silicone: Flexible and easy to clean.
How to Choose the Right Sink Grid Drain Stopper Strainer?
Determine Your Need: Is it for a kitchen, bathroom, or utility sink? The application will determine the size and type.
Size It Right: Measure the drain hole diameter to ensure a perfect fit.
Material Matters: Consider the material based on aesthetics, functionality, and budget.
Easy Cleaning: Opt for a design that is easy to remove and clean.
Review Ratings: Before purchasing, always check customer reviews and ratings.
Conclusion
A Sink Grid Drain Stopper Strainer, though a small component, plays a vital role in maintaining the efficiency and longevity of your sink's drainage system. Whether you're redesigning, replacing, or setting up a new sink system, ensure you invest in a quality strainer that aligns with your needs. Remember, a clog-free sink ensures a hassle-free experience!