Introduction
A stylish and elegant bathroom makes all the difference in your life. It enhances the quality and value of your life. It is not only the area at home where you unwind and relax but also a valuable space.
Yet, it is where we get ready for the night and day ahead. So, it's vital to ensure the up to date and stylish bathroom. It plays critical to make your home beautiful. Read out these bathroom design ideas with various sizes and styles. This will help you to plan and reshape your bathroom.
Yet, whether that means making a stylish hotel main suite from scratch or renovating a visitor bathroom. Yet, or converting a small studio flat into a zen-like refuge. It enhances every preceding square inch of space. Let's dive into different bathroom design ideas with explanations.
Reflective Bathroom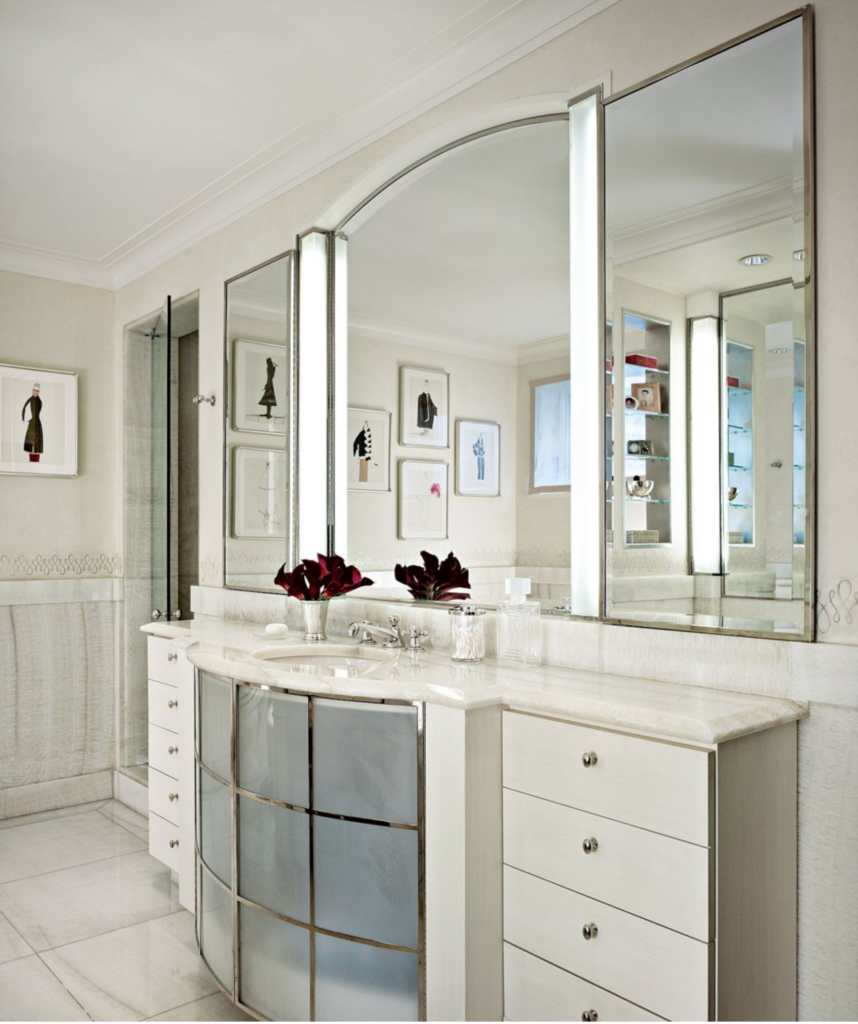 It is an attractive bathroom design among bathroom design ideas. Yet, you can apply reflective mirrors or wallpapers to reflect the light. In this case, you should use light with golden color. Yet, this will provide you with the effect of the gold-plated bathroom. Here is some vital specification of the reflective bathroom.
Color: Champagne color will be a good fit for this bathroom design.
Sizes: Approximately 40 square feet.
Appliances: Gold-plated fixtures will be fit for the room.
Attraction: The room will seem big and bright due to the reflection of light.
Cost: USD 3000
2. Industrial Partition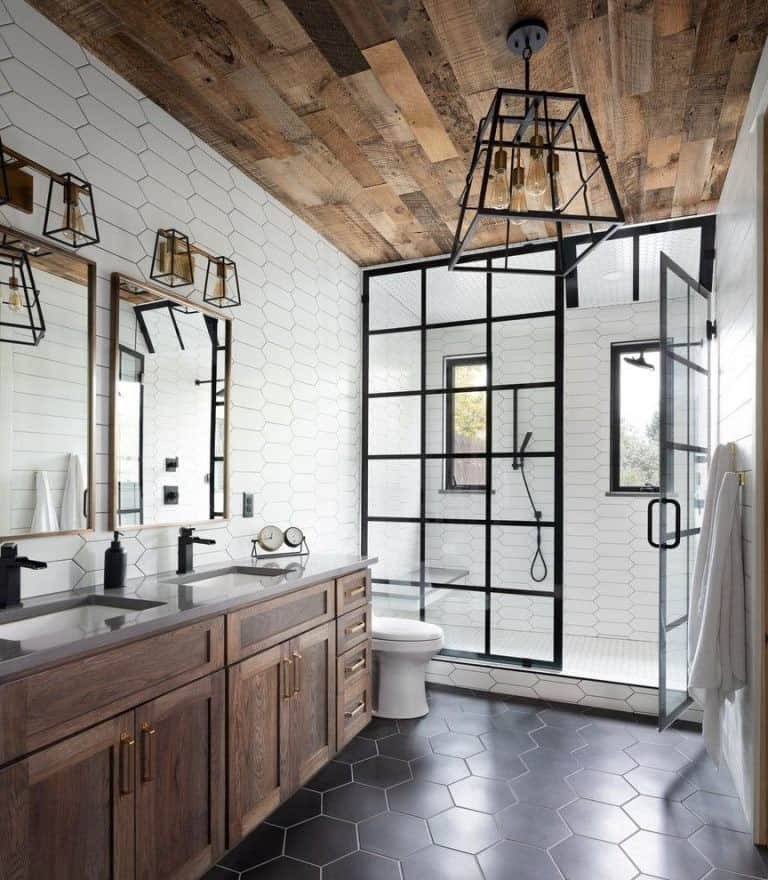 When designing a bathroom, do not feel appreciative of enduring to a single style. Interior designer Lisa Gilmore Design built this extensive bathroom design. It structures a bold black metal grid glass partition homes the expansive shower. This bathroom design idea features contrast to polished decorative finishes. The bathroom has soft floral wallpaper and patterned tile.
3.Transition Style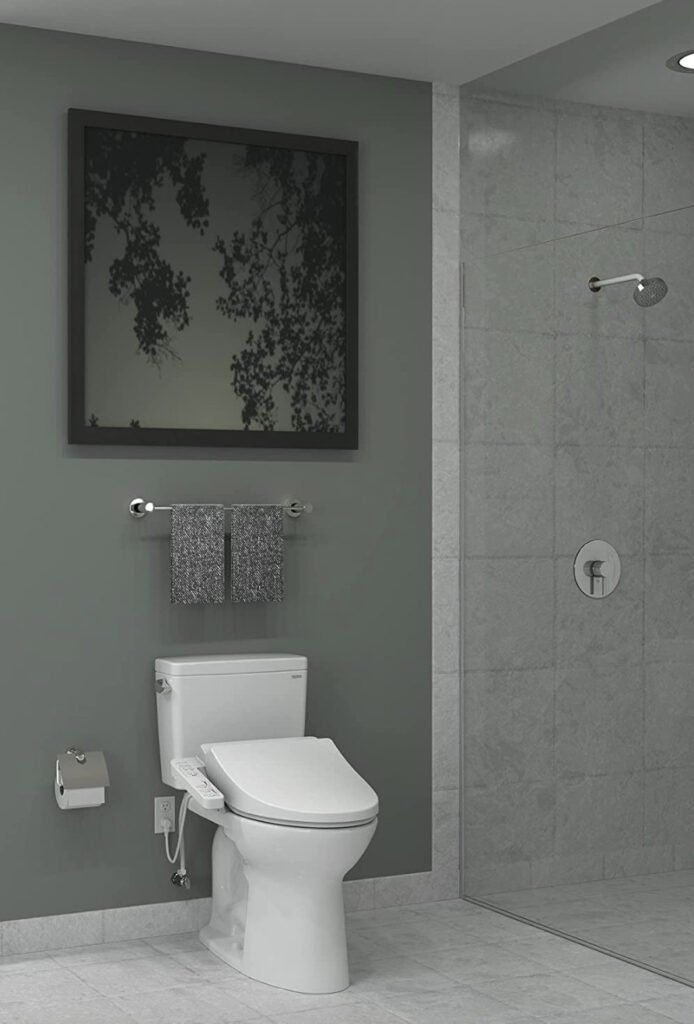 It is less fussy and laid back on traditional decoration, yet it has been trending through the house. So, it is a matter of time before it enhances the bathroom. Bathroom designs where matte subways, glossy tile accents, and natural stone will use to create a vital impact. It has various finishes and textures to provide the room with more dimension.
4.Monochrome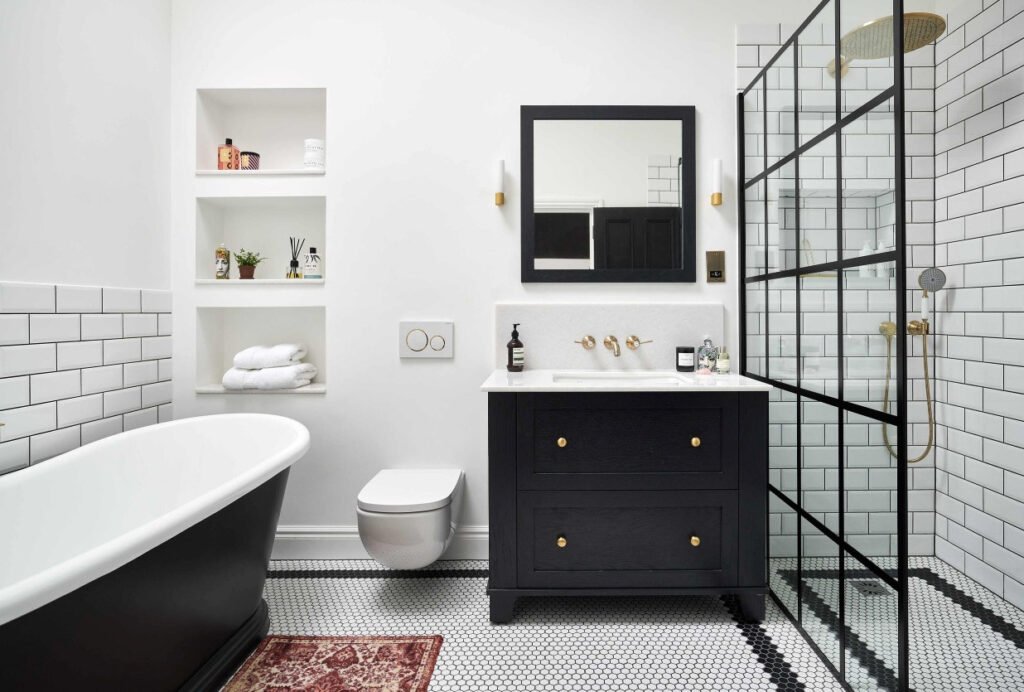 Monochrome never comes on the list of items you shouldn't do while selecting a bath while thinking about how to design the space.
"There's a reason this pattern keeps emerging each year." A timeless standalone bath in white or black will never go out of style. Yet, a monochromatic color combination is elegant and sleek. Additionally, it stays in style than many of the newest color trends. One of the artless designs to attract, white and black, is also simple to deal with and modified to your needs.
5. Botanical and Painterly Wall Art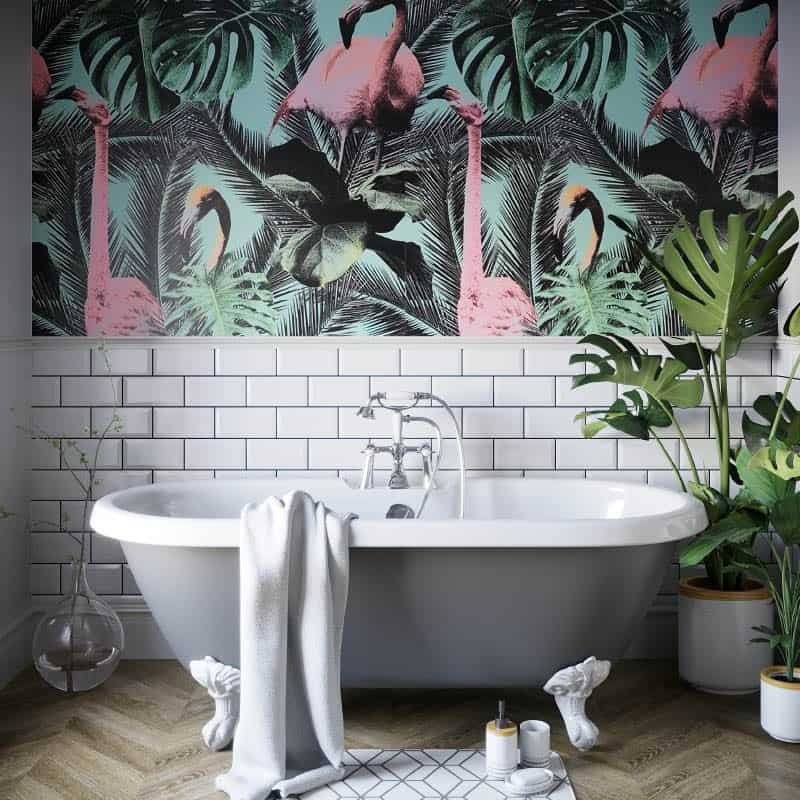 A rising trend in wall art inspires the creator to be brave and bold with a splash of patterns. Yet the color, which avoids a bathroom, seems too sterile and clinical. With the incorporation of organic and natural shapes into the house, this concept also ties into the biophilic idea.
An artwork that honors the medium it was created in is known as "painterly." This entails leaving brush strokes and textures visible. All the elements that define a painterly as a painting!
6) Floral Bathroom
You must select wallpaper or tiles with floral prints for your bathroom fixtures. Yet, your bathroom will seem beautiful with this floral effect. Shower areas divide with glass from floor to ceiling, offering even more elegance. Mirrors replace with wall-mounted artwork. Use an Etagera to add more storage to make the bathroom more functional. Add a floral pattern to make it coordinate well with the space.
Color: Any bright color will work
Dimension: Between 36-40 square feet
Appliance: Marvel cases built with ceramic glass, shelves, hangers, tap, and basin.
Attraction: It brings you nearer to nature.
Cost: Up to USD 2000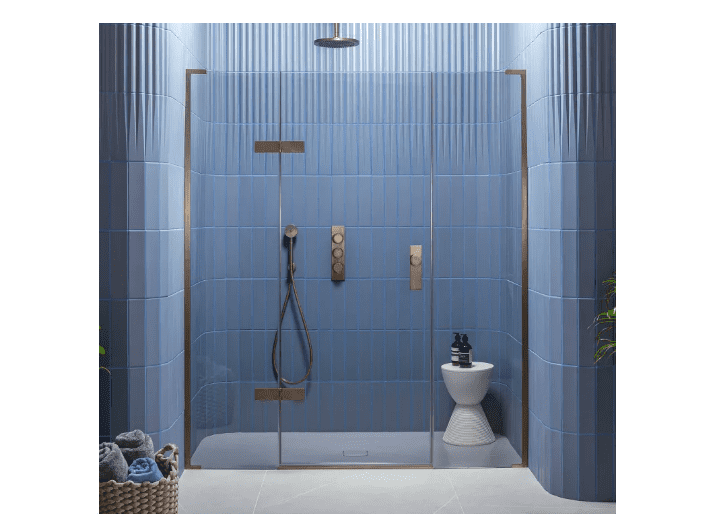 Finishes often ignore when figuring out how to design a bathroom and are left until last. They should be a top priority right away on the entire visual style of the room. There is a one-bathroom design that stands out.
One of the significant trends in home design materials to emerge in recent years is aged brass. A basic plan is given depth by aged brass. Aged brass suits any bathroom design. It provides the perfect contrast for tiled bathrooms. It also offers the sophisticated edge to traditional marble baths.
The finish creates speeding up the brass' aging process to give it a bronze appearance. It is not polished and will change over time. It depends on the environment and how well it is maintained and cleaned. It is fading and brightening in some areas and darkening in others.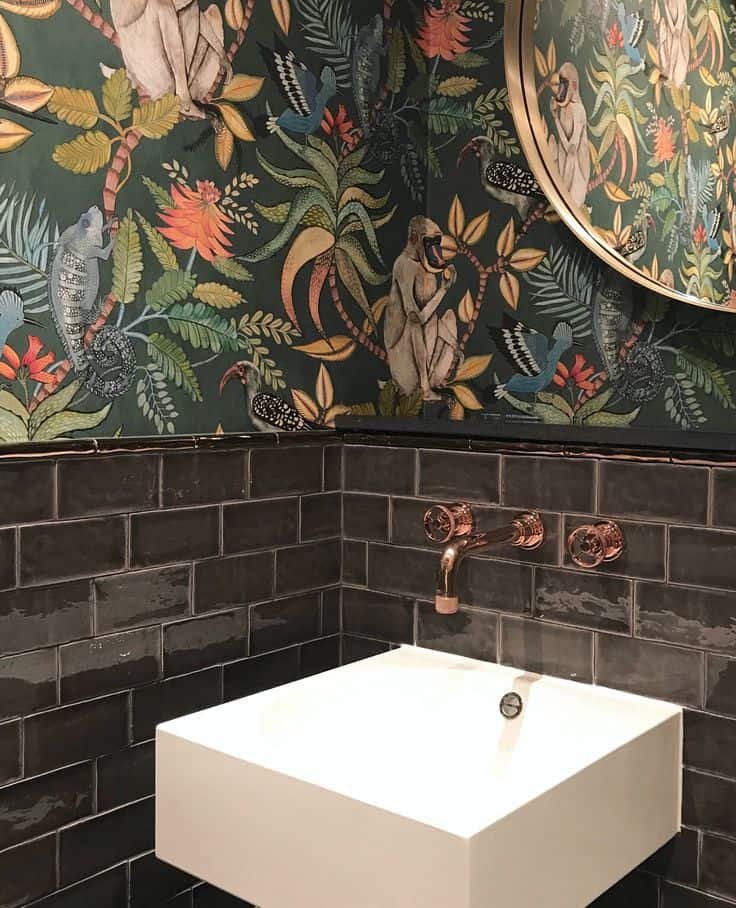 Designer Ginger Barber of Ginger Barber Interior Design generated this beautiful bathroom design. Yet, from ceiling window to floor, it gives a natural focal point and wide open view. But, the designer fixes large-scale parts of art on the adjacent wall. This offer another area to rest that adds vibrancy and color to a neutral-toned and contemporary space.
Let's look at it. We could all use a spa. Many of us are currently spending more time at home and dealing with more hassles than ever. Spa bathrooms will likely become one of the most famous design trends. There are many elegant ways to add spa-like aspects to your bath for the utmost luxury.
Towel Heaters in Bathrooms: Getting warm, new towels is one of the favorite aspects of a spa day; it is the peak of pleasure. In our home, we had towel heaters, and they were fantastic!
Showers with steam: A steam room comes to mind as soon as I think of a spa. Talking of relaxation, you can now install steam showers in your house. It produces clouds of steam before, during, or after your shower.
Bathroom Floor Heaters: Bathroom floor warmers, like towel heaters, add a lot of luxury to a room. You may conserve water by using heated flooring and towels. Yet, you won't take long to exit the shower because of the cold, correct?
Spa-Like Bathroom Decor: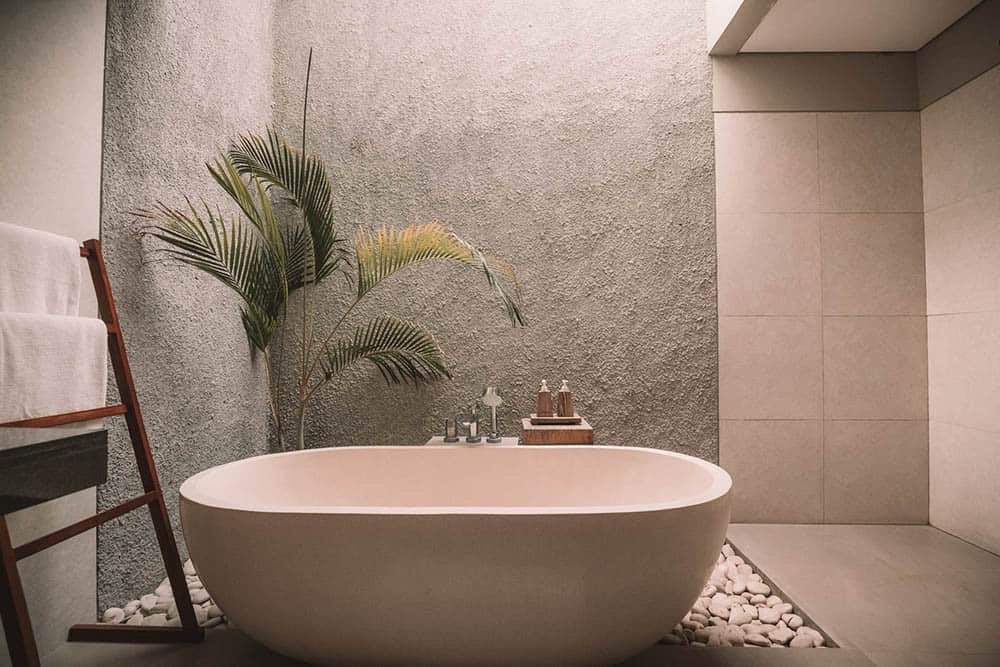 Establishing a spa-like atmosphere in your bathroom doesn't need you to go for it and spend your money. Small adjustments like soft fluffy towels, aromatherapy candles, and matching white dispensers for all your shower and bathtub items. Or even an essential bath caddy is possible with this bathroom style.
The lovely, sophisticated feelings of vintage bathrooms make us feel very melancholy. In bathroom design ideas, vintage items like clawfoot tubs and wallpaper are refreshing.
Clawfoot Tub: In the early 19th century, clawfoot tubs were the epitome of beauty. Recently, they have made a revival in bathroom design. They are luxury for persons who prefer baths to showers because they give more flexibility for placing sites in a tub.
Bathroom Wallpaper: A floral or coastal gives a bath an instant vintage feel. You could do a photo frame shiplap or molding on the lower half of the wall. You also do a photo frame shiplap or molding wallpaper on top if you do not need to go overboard with the wallpaper.
Roll-top Bath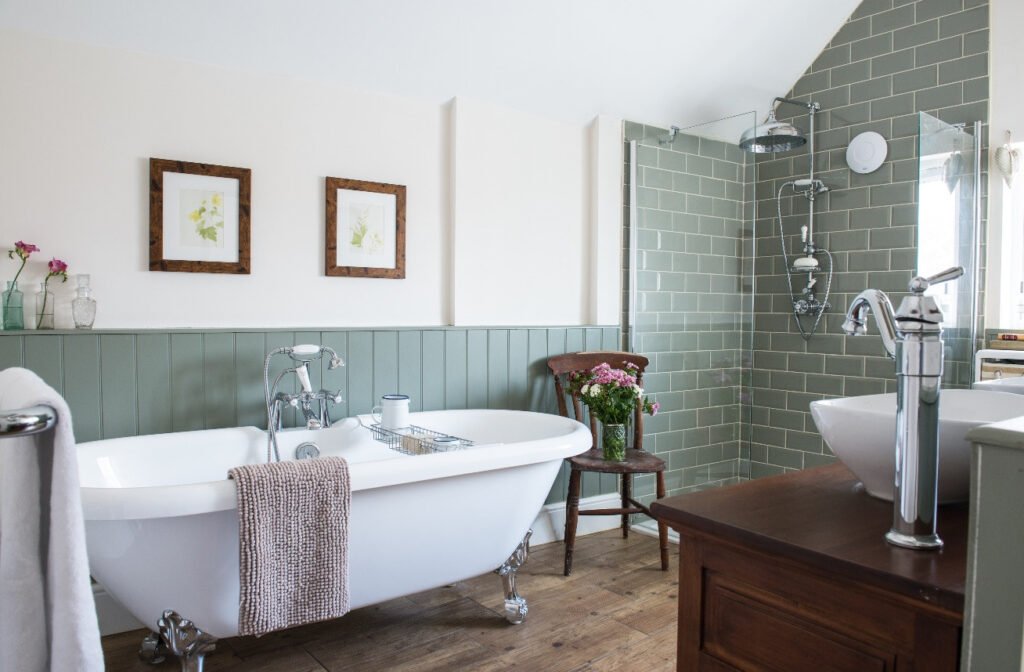 You must adhere to specific rules to create a roll-top bath. For instance, the bathroom must be hidden behind a mosaic glass window. The bathtub must be in the mid of the area with a wide window, a chair, and flowers for decoration. You will feel the atmosphere of a luxury hotel if the same decorating principles are used.
Finally, that is what makes a bathroom of this type lovely. But it's not the end yet. Many actions can be taken to enhance the charm. For instance, a floor-to-ceiling glass shower enclosure. This is now popular. Rather than normal-form tiles or marble, you might use long, thin tiles.
Appliance: Mosaic glass, glassy hanger, and long skinny tiles
Specialty: Large tub in the center, glass wall with customized shower area. The open window will provide you with a luxury hotel-like feeling.
Attraction: Large place, view of a boutique hotel, bath tube in the middle of the room.
Color: Any light color
Dimensions: Approximately 50 square feet
Cost: More than $3000
Dark Bathroom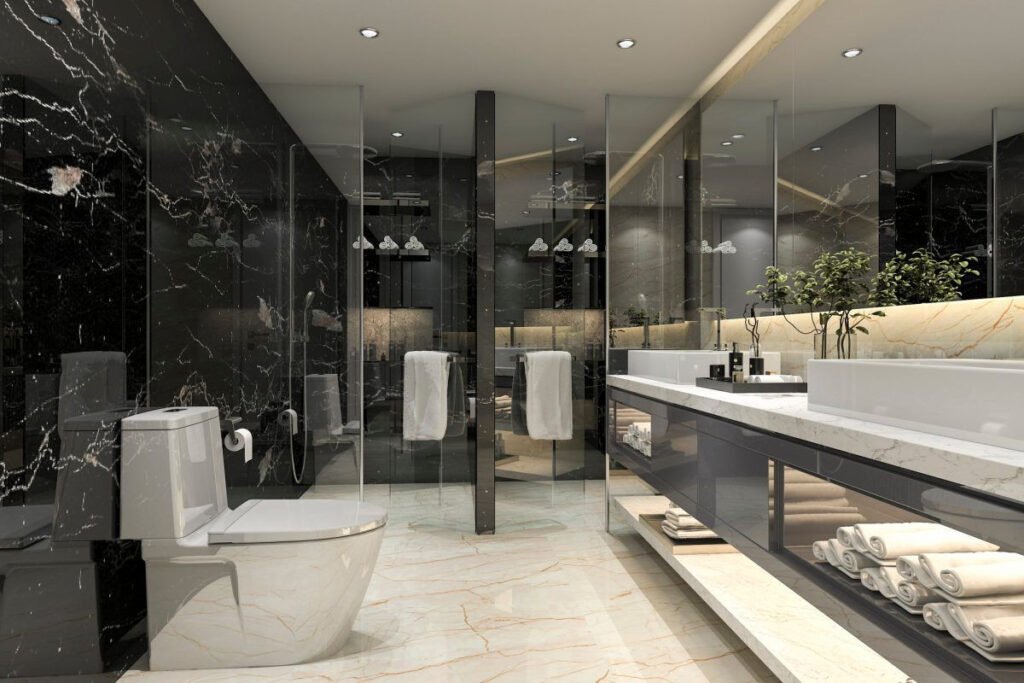 This complete black bathroom will provide your house with a more sophisticated appeal. To achieve the best results, use black tiles or marble with a more metallic flake. Remember to bring anything black, raw, or metallic to achieve the desired look in the black bath. You can get a black copper bathtub to make the bathroom darker. The best person to design dark bathrooms is designer Lean Ford. Remember that the shape and color of the materials in a dark bathroom must review.
Color: Grey, black, or any antique or dark color
Dimension: The dimension between 30 to 40 square feet is acceptable for this bath.
Attraction: Metallic raw bathtub, metallic thing, and dark effect
Cost: USD 3000
Appliance: All things built of steel, like basins and taps.
Eccentric Bathroom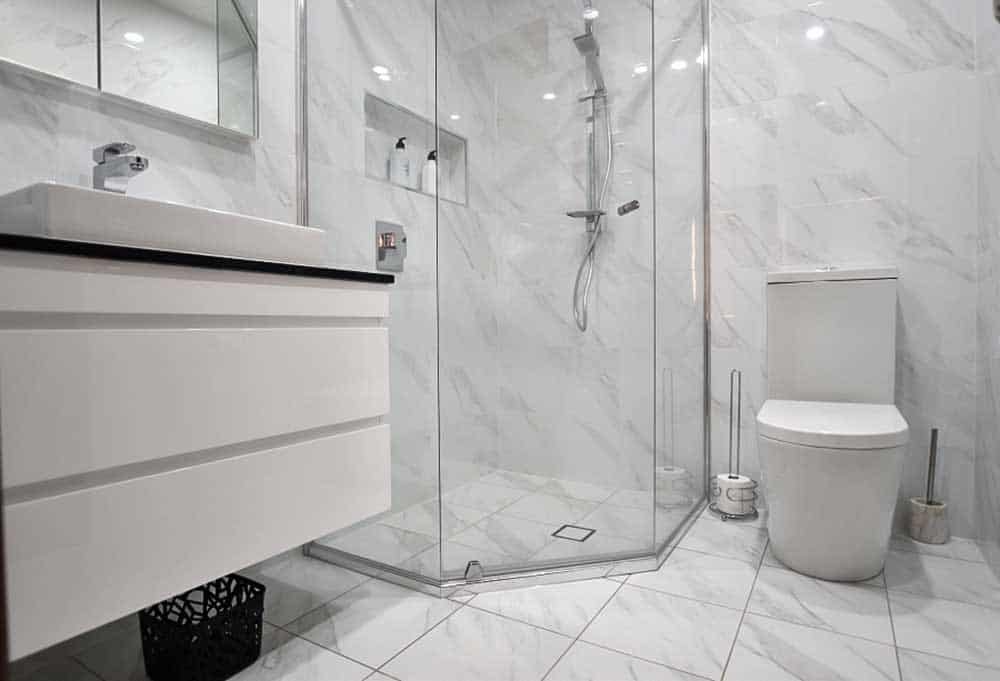 This type of bathroom needs a small area. Yet, this is the most beautiful thing in this bathroom. This is due to you setting all items in a small space. Its features will develop the elegance of your house. It depends on how much you make beautiful your bath. Yet, you need to customize almost everything perfectly.
Color: Any color, for larger than attempt to apply one single color
Cost: Maximum up to USD 2000
Dimension: Dimension between 25 to 30 square feet is acceptable.
Appliance: Glass case, steel hanger, mirror, and ceramic toilet
Attraction:
All things fit in a
small room
small tub
tiles
artwork
furniture, and a small hanger for holding the typical items.
Tranquil and Soothing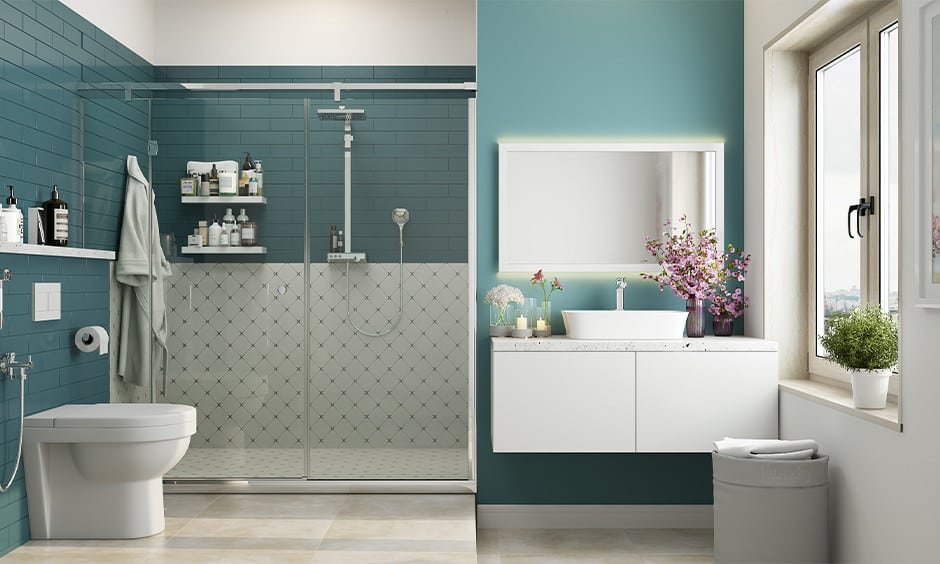 This year, pastel colors that are calming and tranquil are popular. You can't help but notice the relaxing and calm atmosphere. This color gives off in the bathroom. Choose white tiles and fittings to make your shower space appear wide and colorful. A lighted mirror and a floating vanity unit are optional additions. This will enable you to manage your needs while keeping your open floor area. One of the main bathroom design ideas for 2022. Add some open shelving to the walls to arrange soap dispensers and other self-care items.
Royal Bathroom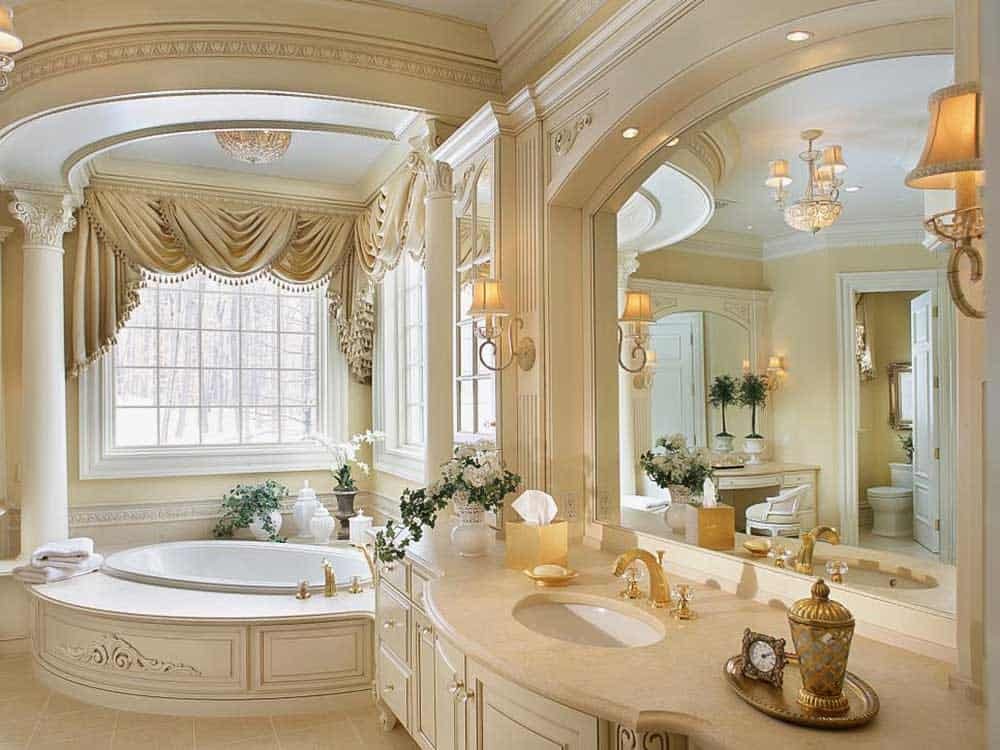 In this bath, everything here is stylish. The entire bathroom is pricey, including the sink, floor, and artwork on the glass walls. Marble used from the ceiling to the floor will offer a majestic effect. To attain the good consequences, you must utilize every square inch of space in this bath.
Dimension: 45-60 square feet
Color: Silver or golden will work
Cost: $5000
Attraction: This bath will serve you like a king with gold-plated bath decorations.
Appliance: Tap, gold plated basin, chandelier, glassy hangers, marble case, etc.
Marble Bathroom Design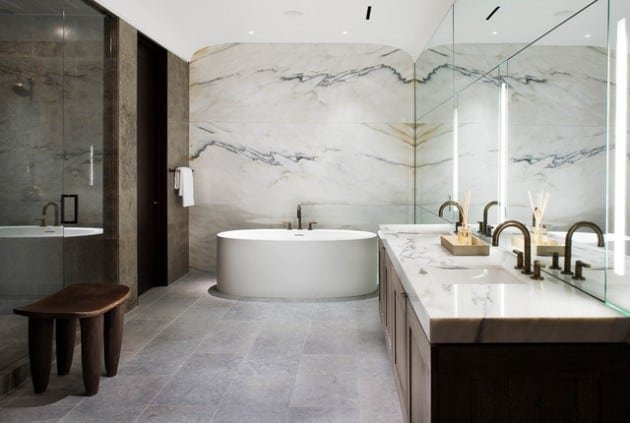 Any marble is a contemporary addition to your bathroom. Still, white marble has become a fad due to its elegant, classical, evergreen charm. The addition of grey marble has also gained popularity, and the two Use two or more colors together. Your bath can have a stunning visual of two or more colors. Many tiles available can provide the look of polished marble in your bath.
Organic Design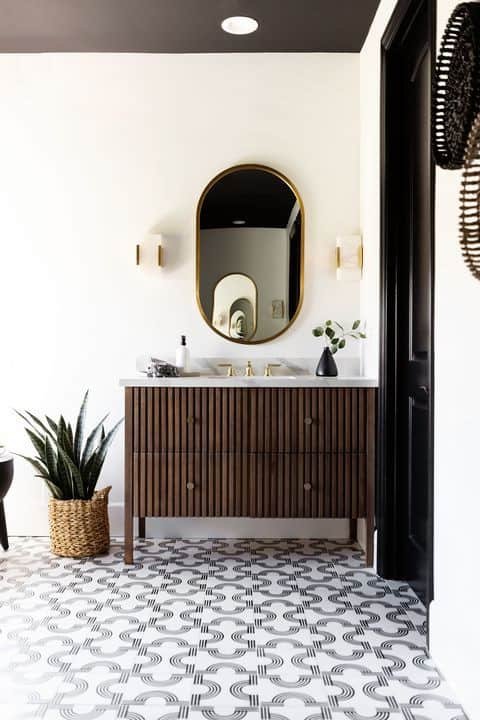 The organic style emphasizes natural materials, warm, earthy shades, and many plants. This emerged as a critical contemporary home trend. Yet, now risen to the top bathroom style—up from third in 2021. Bathroom ideas will continue to include elements that go well with this aesthetic. Yet, particularly those that value a connection to nature.
Research shows skylights are becoming more popular as a natural light source. According to Houzz data, more homeowners are adding plants to their bathrooms. Bathrooms will also include earthy greens and watery blues. Yet, the NKBA expects monochromatic applications rather than bold, opposing color combinations.
Tub Built-In
Even while sculpted free-standing outdoor tubs are popular, a traditional built-in bathtub can still achieve a clean, sleek effect. Interior designer Desiree Burns Interiors made a vanity on the main side of the bathroom. It is a place to show off artwork and other items while masking the plumbing for the tub.
Stone Cut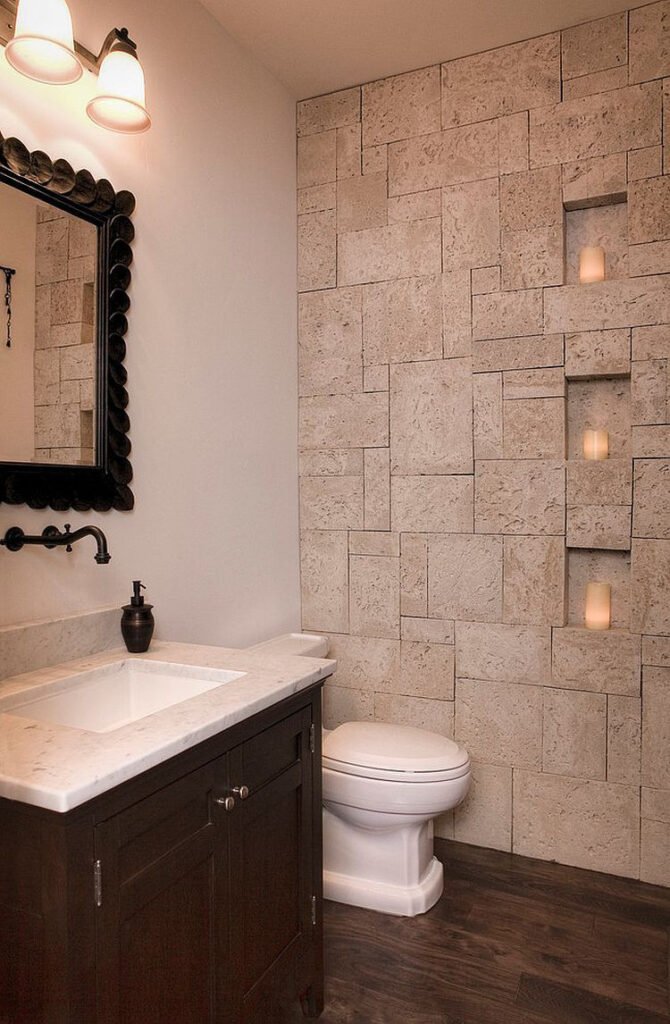 If you have the money, the room, and the desire, arrange your bath around a spectacular tub. It will make the area a focal point. A sculptural stone tub drifts ahead of a bank of ground windows. It gives a view of the exterior of this luxurious bathroom. This design-build by interior designer Kendall Wilkinson. Japanese design bouncing displays adapt to add secrecy while still letting the natural light in.
20) Mixed Materials
Mixing material will provide intrigue. It prevents an all-white bath from looking too sterile and chilly. To highlight the ceiling height in this bathroom, interior designer Mindy Gayer of Mindy Gayer Design Co. covered the walls in a shiplap wall. The white wood matches the white marble tiling and continues to the shower's entryway's half-wall.
21) Floating Concrete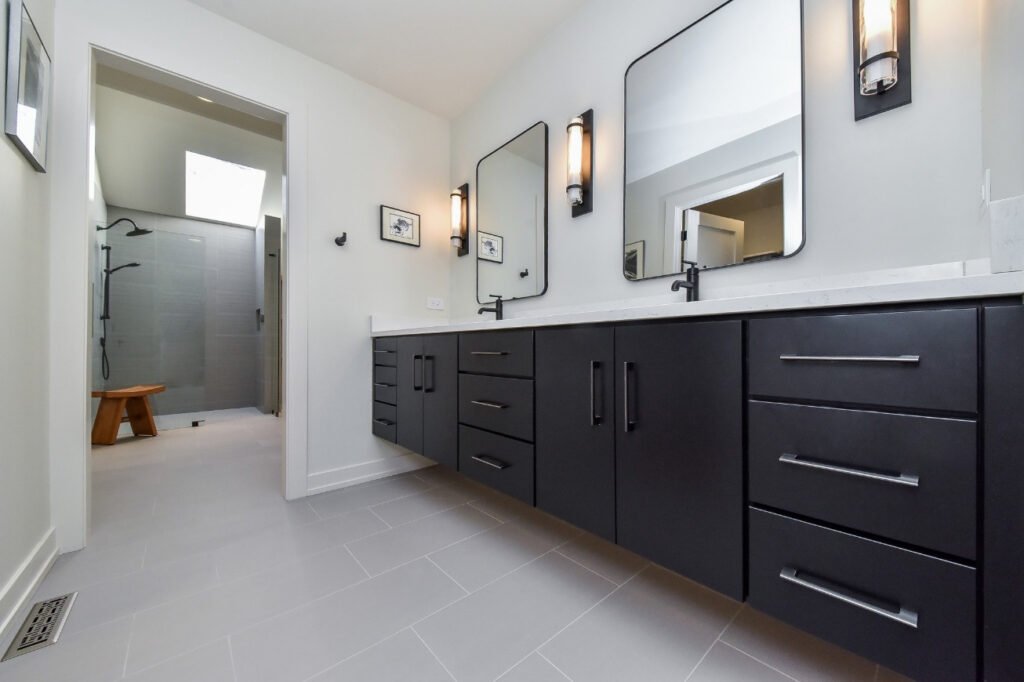 An industrial flair is brought to a short little bath by the interior designer and real estate agent named Julian Porcino. This installed a wall-to-wall polished concrete floating vanity. For a sleek effect, countertops are left barren, and toiletries are kept in a mirrored medicine cabinet above the vanity. The glass shower enclosure and door extend to the ceiling. This letting in natural light through a skylight. Yet, it gives the impression of more space in the small bathroom.
To learn about the small bathroom design, watch this video;
22) Wood Type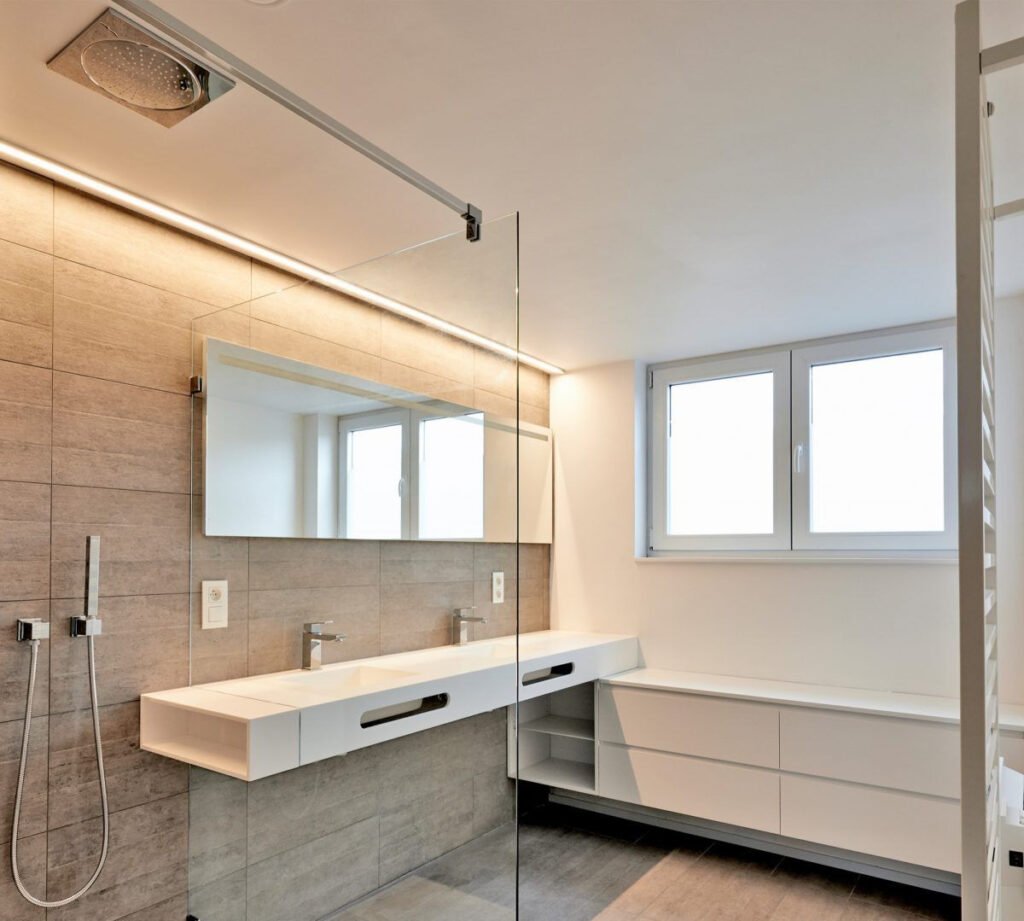 Grey is fading from home renovation styles. With this, warmer accents and tones, particularly wooden ones, are making a comeback! Different hues of wood might go well with bathrooms that are green, blue, and white or darker in color. Almost everywhere! It is not surprising that wood accents return because they go well with retro and industrial styles. This aesthetic gives your otherwise stylish and modern bath a traditional touch.
Flood with Natural Light
Color: Any kind of color light will be fit for the room.
Dimensions: It will be 50-60 square feet
Appliance: Hangers and steel cases
Attraction: Roof light, light tunnel, and glassy room
Cost: Up to USD 5000
The accessibility, the privacy of the bath, and the storage are its main charms. Walls build by using glasses. The light will be able to enter. If you can't even afford to add glass to the walls to let more light in, you'll need to install ceiling or light tunnel lighting in your bathroom. The nooks and built-in bookcases will give your bathroom a more elegant appeal.
Curved Mirrors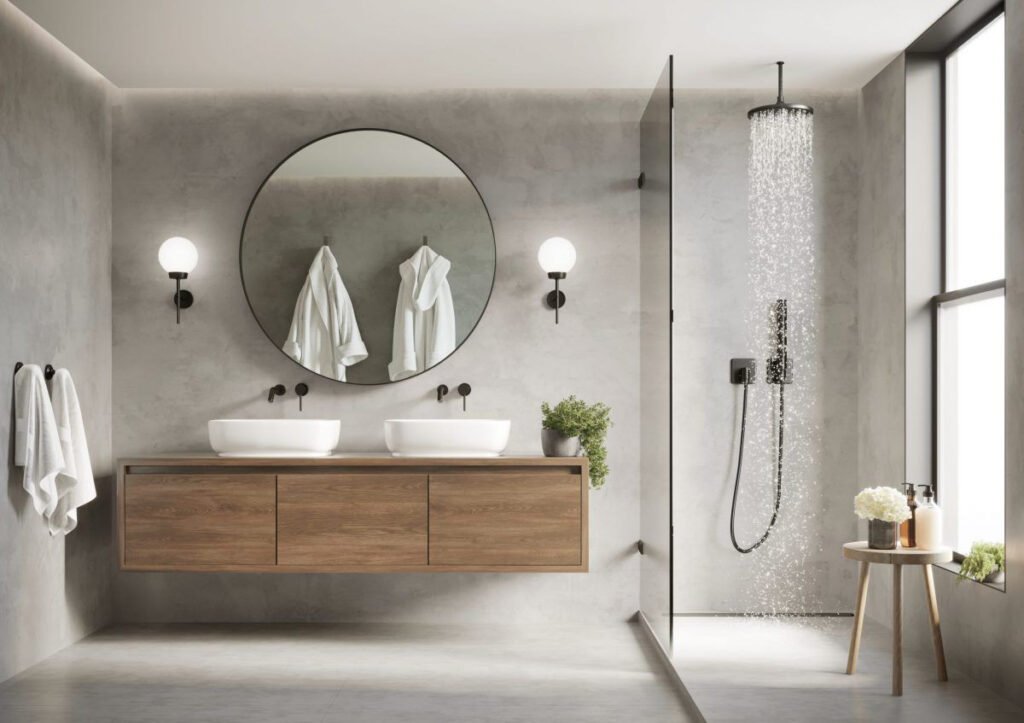 Modern round mirrors are another bathroom design style predicted to be huge in 2022. The glazier offering a typical square or rectangular bathroom with an aluminum frame is gone forever. Yet, today curves are in today! Mirrors in the shape of circles and ovals would become commonplace in bathrooms.
Mirrors increase the feeling of the area in a bath. This bath style is a beautiful way to make your bathroom more elegant.
Biophilic Bathroom Design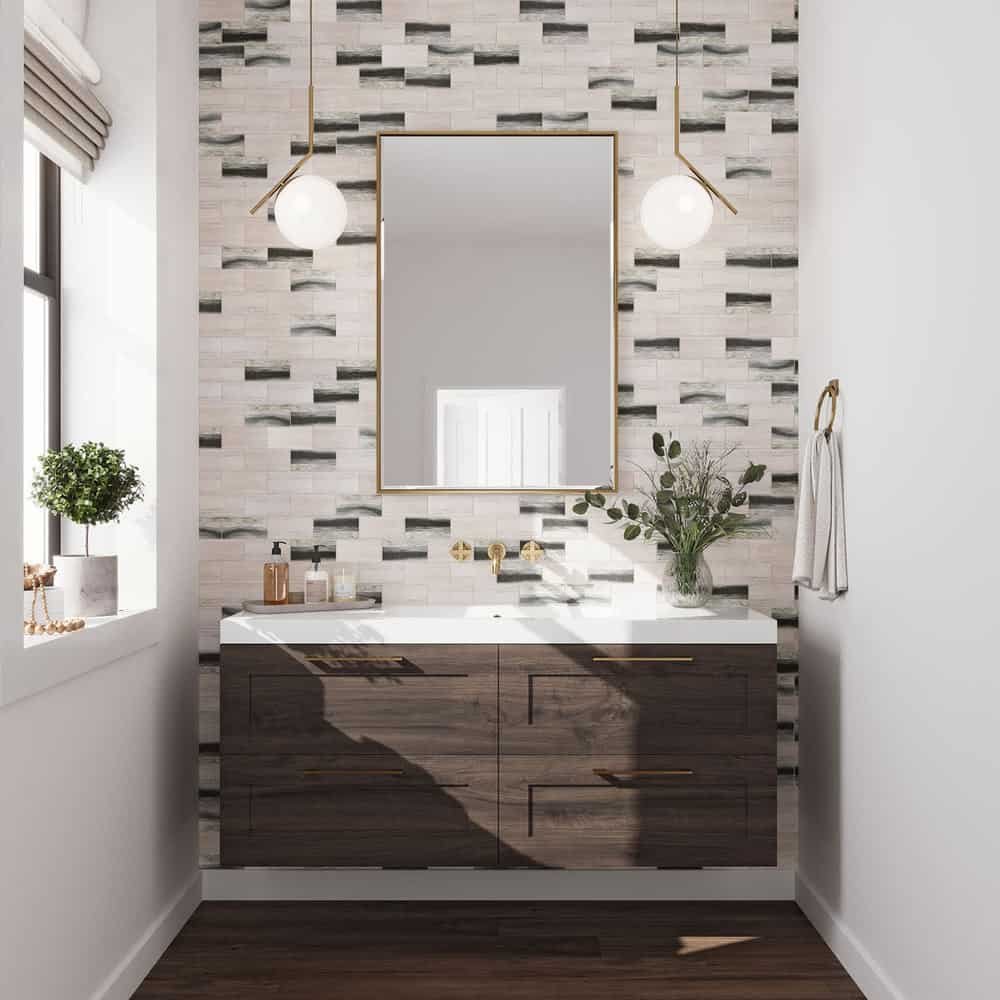 Natural baths have been one of the quicker fads in the last two years. Yet with biophilic design and Japandi (a mix of Scandinavian hygge and Japanese zen styles) leading the way. Yet, the intrinsic need to connect with nature is nothing new. Our need to interact with nature after spending so much time indoors. It led to a lack of natural materials in our bathrooms, from showers to marble subway tile walls.
The ideal natural" bathroom will offer householders complete comfort and relaxation. Yet, it has popular tile colors, including soft browns, light greens, and beige tones. You might choose a white marble tile bath as a sophisticated method to create a quiet environment. It provides your bathroom with an upmarket hotel appearance. Yet you can also take a feel of the outdoors inside with a relaxing green ceramic tile shower. It complements rustic to modern bathroom design.
Advanced Mirrors and Asymmetrical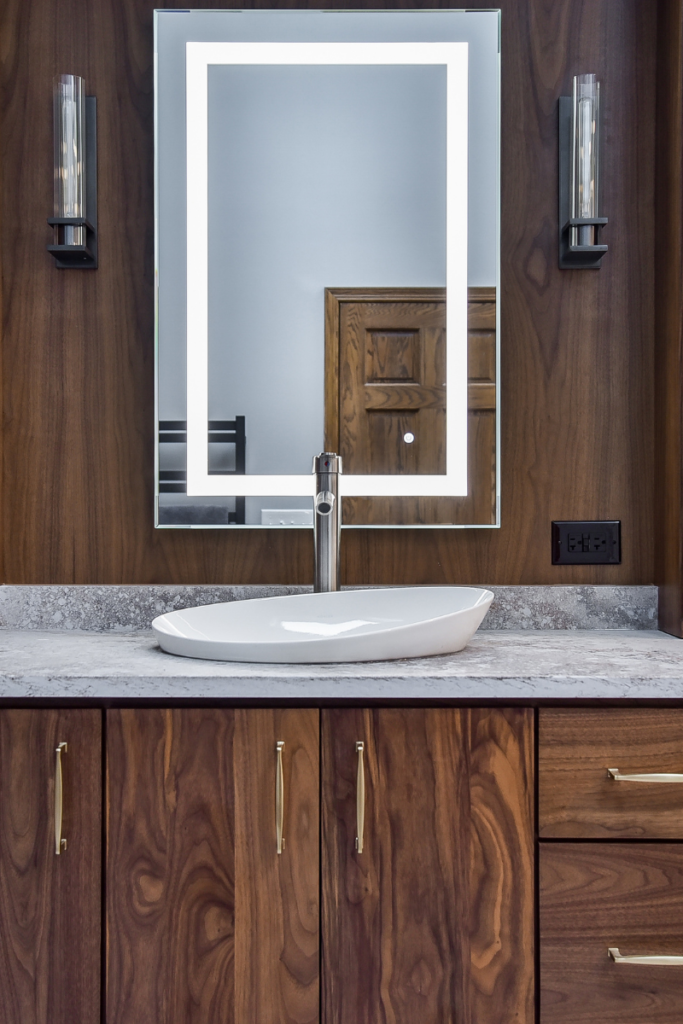 Asymmetrical Mirrors are more advanced than ever. The trend is for creative and geometric mirror shapes, but there's more! Mirrors are becoming sophisticated, like the rest of the bathroom. Mirrors can feature;
touch capabilities
anti-fog technology
smart USB charging ports and anything else you can think of.
With shaped frame choices becoming more and more popular, you have the option to use your ideas to select the ideal design. We also noticed the brightness, a crucial component of bathroom mirrors.
Lighting is everything. If you didn't emerge beautiful, getting ready in your modern bathroom would have been for naught, right? Reliability is the most important factor to us, even though we all like the idea of funky shapes and gadgets. This explains why modern illuminated mirrors and front lights are becoming more common.
Back-illuminated mirrors are a more discreet choice that will enable ideal lighting. Although they encourage innovation, glow in the front may take attention away from an asymmetric mirror form.