Description
Sink Pop-Up Drain Stopper Assembly with Lift Rod
Pop-Up Waste Lavatory Drain Assembly
HF-0115
Brass materials with a plastic plug
With Lift Rod and Overflow
Chrome-plated the surface
SS304 Connection rods
A Guide to Basin Wastes Choose?
If you placed a modern washbasin or a nice bath in your home, you should choose a new design drain water instead of a normal one. Maybe it looks very similar to and functions of all basin waste, but if you deeply check more details, that can be the difference between your drainer functions. If it doesn't fit your bath, basin, or kitchen sink, your plumber system can overflow. It means that the basin waste drain will stop working suddenly, leading to floods and flood damage.
Guide Waste Styles?
Many waste drainers exist, from the simple plug on a chain to a few modern styles. Top-rated basin wastes include Pop-up, click-clack, Push button, Plug and Chain, Flip-top waste, Freeflow waste or Openflow waste, Captive waste, plug waste, and sink strainer are opened or closed. It's especially good with the "push button" wastes are more popular Because of its easy working and installation; regarding the click-clack waste, it's hot sales as well, but the lift-rod works it to the washbasin and bathtub, No need your hands for operating that it's automatic draining if you touch the lift-rod through an overflow, There are many new vares designs for matching a modern bathroom.
Sink Pop-Up Drain Stopper Assembly with Lift Rod and Overflow
Solid Brass Lavatory pop up Drain Assembly for Bathroom Faucet Vanity Sink
Stopper Material: Brass
Tailpiece Material: Brass
Overflow means slotted with the drain
Drain Assembly Type: Lift Rod
Overall Height: 8 inches (200mm)
Sink Hole Size Requirement: 1-1/2" or 1/3/4"
Diameter at Tailpiece: 1-1/4"
Durable solid brass construction with a High-Quality chrome plating layer resists corrosion. It withstands physical impact in the plumbing system and is a long-lasting drain assembly in your house.
Complement the bathroom drain function of your various lavatory sink drains. Choose from different painting finish options to perfectly match your bathroom, sanitary ware, and bathroom décor. Visible parts are Brushed Nickel plated as usual, with chrome plated finish as the regular option. This includes the drain cover & lift rod; the spare parts not visible after installation are chrome plated.
The sink with a drain hole diameter of 1-1/2" or 1-3/4" matches various lavatory sink faucets and washbasins.
We provide bulk orders within 30 days of delivery and door-to-door service. Clear step-by-step instructions with guide videos; please ensure the gaskets are in the correct position to avoid leakage.
Introduction: what is a sink pop-up drain stopper assembly?
A pop-up drain stopper assembly is an essential component of any sink. It includes a lift rod and overflow, which work together to prevent water from overflowing the sink. The lift rod is used to open and close the drain stopper, while the overflow prevents water from spilling out if the lift rod is accidentally left in the open position. A pop-up drain stopper can become clogged with food particles or other debris. You will need to remove the stopper and clean it to clear the drain.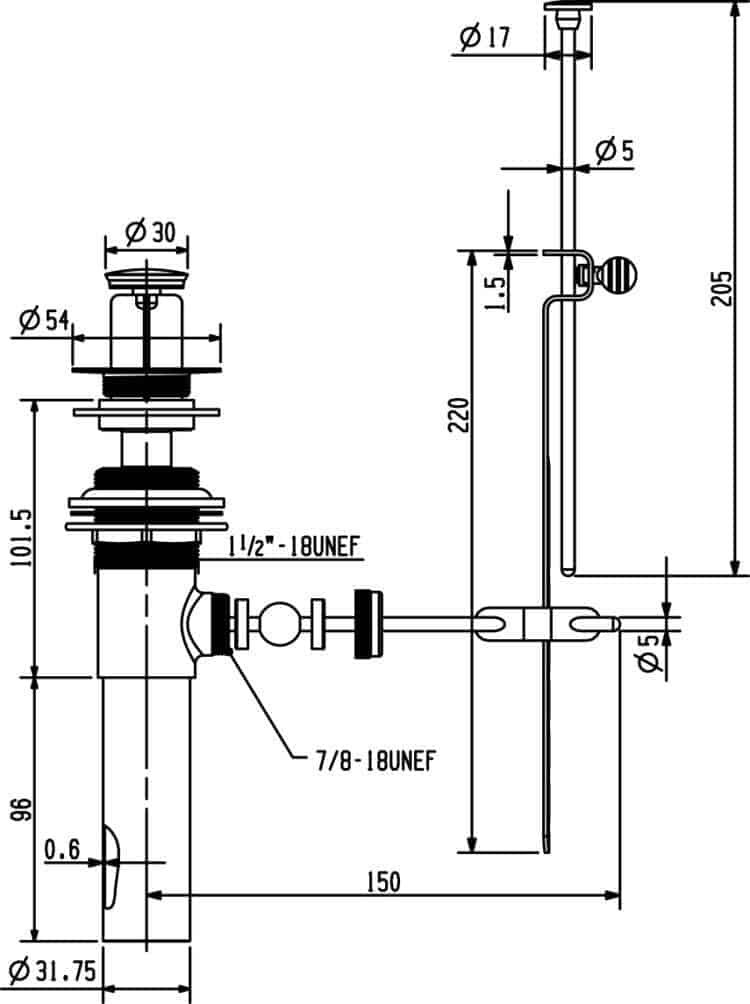 Parts of the Sink Pop-Up Drain Stopper assembly
Most sink pop-up drain stoppers have three main components: the lift rod, the plug, and the overflow. The lift rod is used to open and close the drain stopper. It is usually connected to the plug with a metal linkage. The overflow is a small hole in the side of the sink that allows water to drain if the plug is left open. Overflow drains are used on sinks that have an overflow drain. They are attached to the underside of the sink and rest on the rim of the sink bowl.
How the Sink Pop-Up Drain Stopper assembly works
A sink pop-up drain stopper assembly is a device used to close off the drain in a sink. The assembly consists of a lift rod, overflow, and pop-up stopper. The lift rod is used to raise and lower the stopper. The overflow prevents water from spilling out of the sink when the stopper is closed. The pop-up stopper seals the drain when it is in the closed position.
Sink Pop-Up Drain Stopper Assembly with Lift Rod: What's the Ideal Finish?
Embarking on a bathroom renovation or simply updating your sink fixtures? Among the plethora of choices available, one integral component that might require your attention is the pop-up drain stopper assembly with a lift rod. But the choice doesn't end at just the mechanism; the finish is equally essential for functionality and aesthetics.
The finish of your drain stopper can greatly influence the overall look of your sink. Let's delve deeper into the options available and help you make a well-informed decision.
Chrome Finish
One of the most popular choices, chrome provides a shiny, reflective surface.
Pros:
Timeless appearance
It matches well with most bathroom styles
Resistant to tarnishing
Cons:
It shows water spots and fingerprints easily
Brushed Nickel
Brushed nickel offers a muted look with a warm undertone.
Pros:
Contemporary appearance
Hides water spots and fingerprints
Resists corrosion
Matte Black
A bold choice that stands out in modern bathrooms.
Pros:
Trendy and sleek design
Hides water spots and smudges well
It pairs perfectly with minimalist or industrial styles
Cons:
It might stand out if other fixtures aren't coordinated
Oil-Rubbed Bronze
A finish with deep, dark tones and a slightly aged appearance.
Pros:
It adds a touch of vintage charm
Camouflages minor smudges and spots
Cons:
It might appear too dark in some bathroom styles
Polished Brass
A classic choice that has made a comeback in recent years.
Pros:
It offers a vintage and sophisticated look
Naturally antimicrobial
Cons:
Requires regular polishing to maintain its shine
Stainless Steel
Perfect for those who seek a modern, industrial look.
Pros:
Durable and long-lasting
Resistant to corrosion and tarnishing
Copper
An artisanal finish that offers a warm, earthy hue.
Pros:
Natural patina develops over time
Antimicrobial properties
Cons:
May tarnish without regular maintenance
Considerations When Choosing a Finish
Overall Bathroom Aesthetics: Make sure your chosen finish complements other fixtures and the overall style of your bathroom.
Maintenance Level: Some finishes, like polished brass, might require more maintenance than others.
Durability: Ensure the finish is durable, especially if it's for a frequently used bathroom.
Cost: Premium finishes might come at a higher price point.
Your sink pop-up drain stopper assembly with a lift rod isn't just a functional component; it's a design element that can enhance or diminish the overall appearance of your bathroom sink. Hence, choosing the right finish is pivotal. Whether you opt for a shiny chrome or a muted brushed nickel, ensure it resonates with your design vision, offers durability, and stays within your budget.
Tips for Sink Pop-up Drain Stopper Assembly Installation
Pop-up drain stoppers are a great way to keep your sink free of clogs, but they can be tricky to install. Here are some tips for assembling and installing your pop-up drain stopper:
Start by attaching the lift rod to the drain stopper. Most lift rods have a threaded end that screws into the stopper, so screw it in until it's tight.
Next, attach the overflow plate to the sink. This is usually done with screws, so just screw it in place.
Now, you can place the pop-up drain stopper into the sink drain. Ensure that the overflow plate is properly aligned with the hole in the sink, then push down on the stopper until it's snugly seated.
Now, you can attach the lift rod to the stopper arm. The rod will connect to the stopper arm either with a threaded end (like the drain stopper) or a nut and washer. Tighten it just until it's snug. 5. Â Now attach the lift rod to the stopper arm. The rod will connect to the stopper arm either with a threaded end (like the drain stopper) or a nut and washer. Tighten it just until it's snug.