Introduction
Choosing the right bathtub drain for your tub is vital to keep water in the tub when you want it there and to be able to empty the tub again when you're ready. Bathtub drain stoppers have several distinct varieties, each with benefits and drawbacks. The most common bathtub drain stoppers are lift-and-turn, push-and-pull, pop-up, toe-touch, flip-it, and trip lever.
You should choose the sort of stopper that best satisfies your needs because you can use each one to open and seal the drain differently. For example, if you have a back problem or limited mobility, a push-and-pull stopper might be better than a lift-and-turn stopper. In the end, studying the kind of bathtub drain that best meets your needs will help you make the most excellent decision.
Lift-and-Turn Drain
Construction
The bend-and-pull drain stopper has a tiny knob on the top that is used to twist the stopper open and shut. It's closed by turning the knob downward and opened by lifting and turning it in the opposite direction.
A center set screw is screwed into the threaded center of the drain crossbar to install a sink stopper like this one. The set screw is located beneath the top cap of the stopper. If a lift-and-turn stopper has been installed too tightly or hasn't been removed, removing it may not be easy. Overall, this inexpensive, durable, and simple design seldom needs maintenance other than pulling the plug to remove hair and debris from the drain.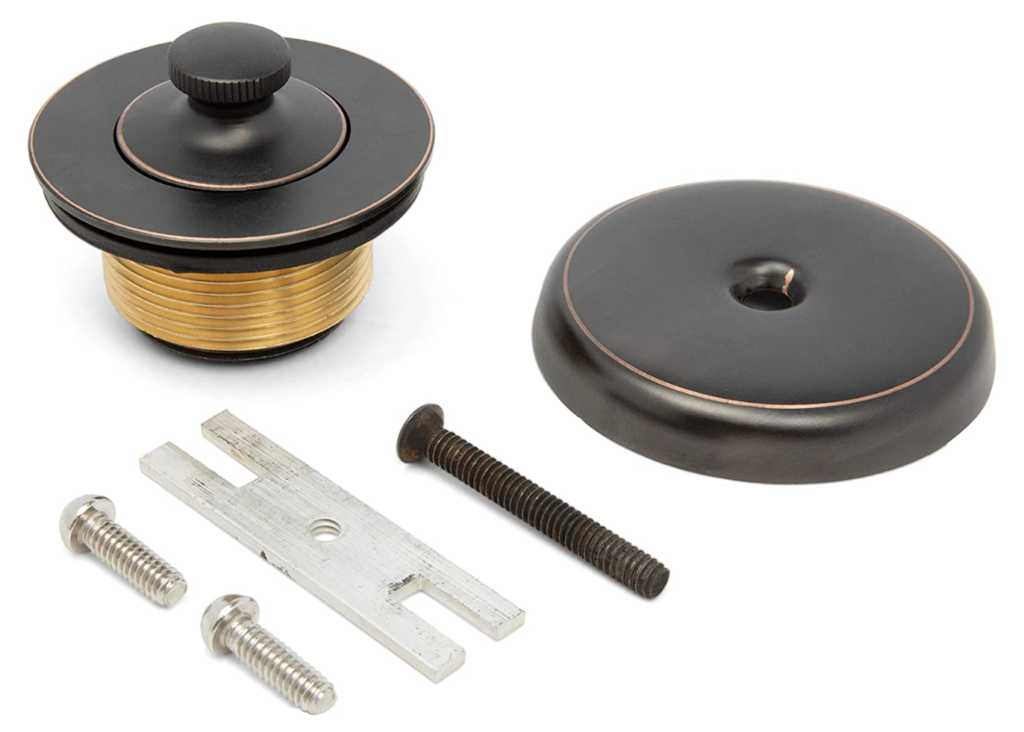 Features
The Lift and Turn Style Bathtub Drain stopper is a good alternative for your bathtub stopper since it lets you close and open the drain while bathing.
This drain king lrt 331033d is durable brass, providing strength and endurance for a lift-and-turn drain system.
The natural oil-rubbed bronze finish, made by hand in an artisan's workshop, has a lovely medieval appearance with bright lights and deep tones.
They are designed to work with a wide range of waste lines. It is intended for 1 3/8 or 1 1/2 inch waste lines. It's perfect for resolving plumbing issues without having to replace them.
With three screws, you can readily replace the base. You could also replace the drain, bushing, face, and conversion plate with spare parts.
Suppose a toilet has a stopcock or is connected to the water supply via an overflow pipe. The installation will then be classified as non-overflow or overflow—simple do-it-yourself.
Installed adequately above the floor, it's a snap to put together.
Push-and-Pull Drain
Construction
A foaming stopper is a push-and-pull stopper with the same appearance and function as a lift-and-turn stopper. Unlike a lift-and-turn stopper, rotated to close, it is pressed to close and pulled up to open. The drain cap is also similar in installation, with the stopper body secured to the drain using a set screw inserted beneath the lid.
This is another inexpensive and simple mechanical design that seldom requires much in the way of maintenance. It will wear down over time based on usage.
Features
It's easy to install with a pin adapter or silicone adhesive for drains with cross bars and threads.
There are several finishes available as well, including chrome plating.
It's simple to clean and has a matching drain shoe and face plate.
Includes three hair catcher strainers.
Metal alloy construction with brass fitting.
Single hole overflow face plate.
You can easily install a new drain and stopper in just a few minutes without worrying about damaging the drain or needing extensive repairs.
This drain also comes with a grid strainer to catch any hair or foreign objects that might try to go down the drain.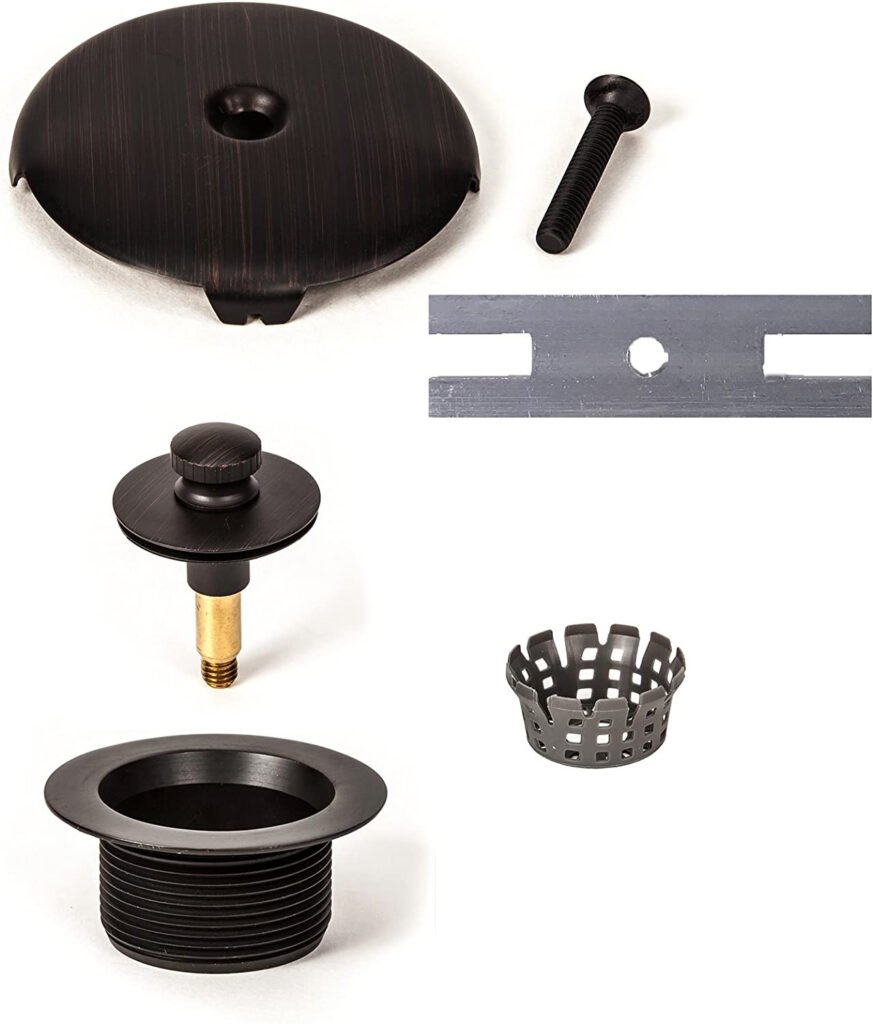 Installation
Toe-Touch Drain
Construction
In design and function, a toe-touch stopper (also known as a foot-actuated) is similar to a lift-and-turn and push-and-pull stopper. This model uses a spring-loaded mechanism to keep the stopper body against the drain fitting's crossbar with a screw underneath its cap. You may use your toe to press down on the stopper to close or open it, saving you from having to stoop over.
Like the preceding ones, this one is simple to install and inexpensive. However, based on usage, the spring mechanism will wear out.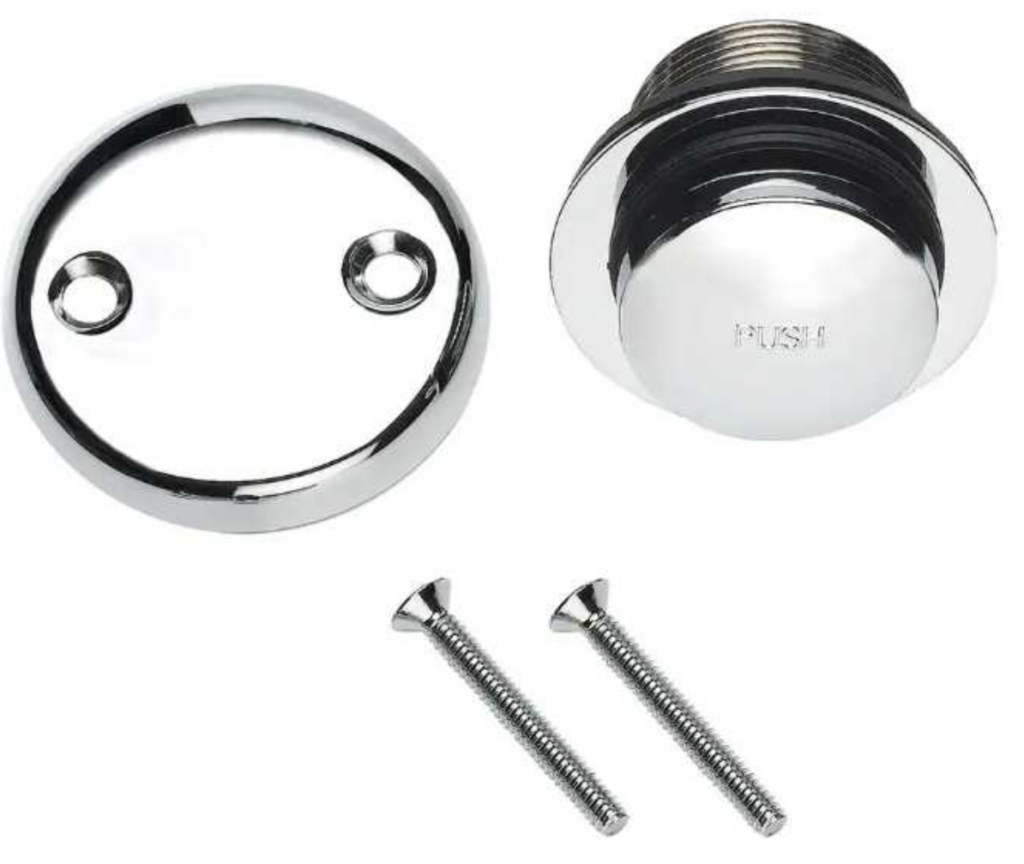 Features
A faceplate, a toe tap drain, and two screws are included.
The handle is composed of long-lasting brass materials.
It's simple to set up.
Fits 2 in. drains and 1-1/2 in. threaded drain connector
The size of the At SumoPlug is 1-7/8 inches in diameter.
Twist mechanism, which is simple to operate
Installation
Flip-It Drain
Construction
Attached to its top and moved side to side to close and open the drain is shown here. The lever moves O-rings underneath, causing or eliminating a watertight seal on the drain.
The stopping drain is a small plastic disc with two holes that fit into the drain. It's cheap and straightforward to install, and no tools are required. Push it down into the drain. Although the stopper is low-maintenance, the O-rings will eventually wear out and must be replaced.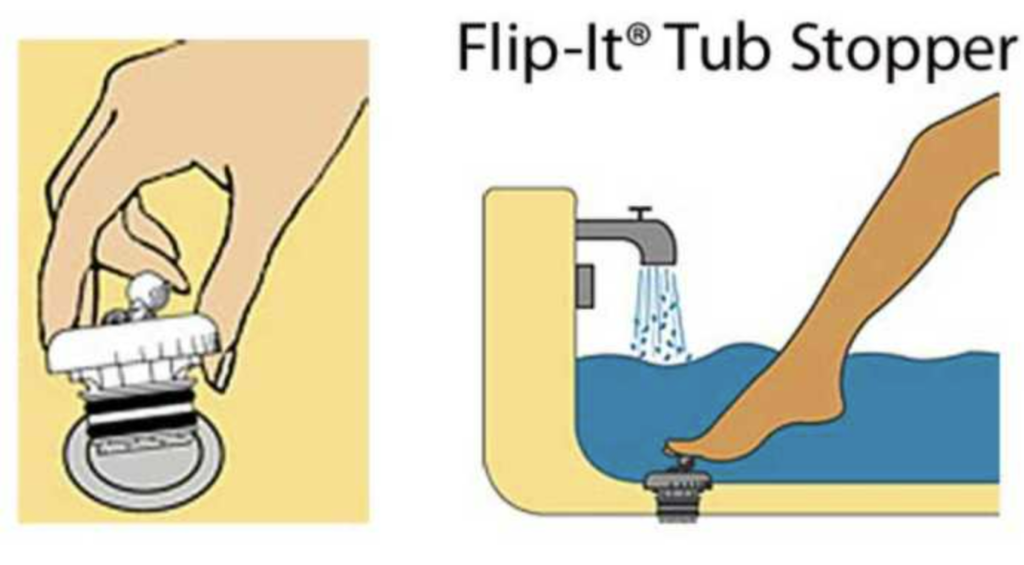 Feature
The unique ball-shift toggle system, which opens and closes with a simple push of the toe or finger, is a joy to use because it flips left to correct right to open completely.
Installing a new shirt bar is straightforward.
It fits nearly any existing bath or tub drain;
These units are designed to stay in the drain and can be removed quickly for cleaning.
Made from a mix of DELRIN/POM and ABS plastics, these pieces are designed to endure.
Installation
Trip-Lever Drain
Construction
The [trip-lever stopper] is one of two options for a pop-up stopper on the overflow plate at the front of the tub. There is no apparent pop-up stopper in the drain opening for this style, only a strainer. It's not particularly pricey, but you may complicate installation and maintenance.
The flexible stem in this stopper is attached to the tub drain pipe, which rises and falls to close and open the tub's drain pipe. The overflow tube has a rod that connects the plunger to the trip lever. While the trip lever is in the down position, the plunger is raised, allowing water to drain from the overflow tube; when it is up, the plunger is pushed downward, cutting off the drain. A twist lid on the overflow plate rather than a lever raises and lowers the plunger instead of rotating like in other models.
Tip
It can be challenging to remove this sort of stopper for cleaning. You must extract it by pulling it up through the overflow tube and out of the overflow plate.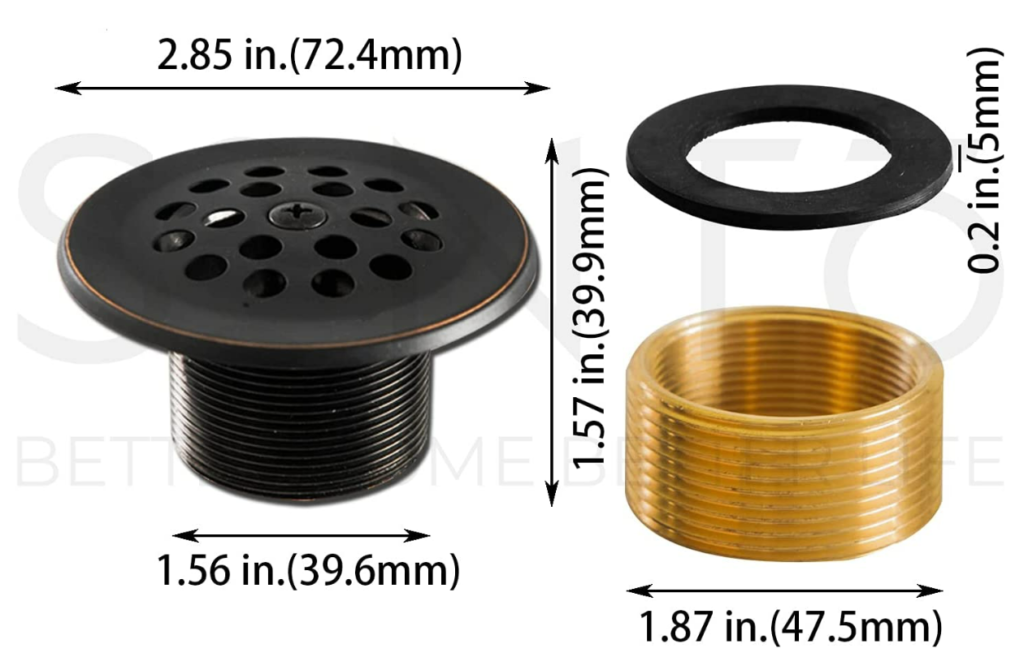 Feature
The Bathtub Drain Kit is heavy-duty die-cast zinc and solid brass construction that is guaranteed to endure. The producer has earned ISO 9001 and ISO 14001 certifications. As a result, this bathtub drain kit is the ideal answer for water usage issues.
The Oil-Rubbed Bronze tub drain is meticulously polished by hand. The plating procedure has been subjected to a 24-hour salt spray test and has passed. This will ensure that the bathtub drain lasts a long time.
The drain assembly kit is solid metal and finished in a beautiful matching hue. Our colorful drain stopper adds to the beauty and elegance of any décor style.
The Tub Drain Stopper is simple to install and can be fitted in minutes. Only a few household items are required, and you don't need to be a professional plumber to perform the task. This bathtub drain stopper kit includes one 1-hole overflow face plate and a bathtub drain that fits CSA and UCPC standards for drains up to 1 5/8″ diameter.
Trip lever overflow faceplate1, screws2 (1/4 in.-20 x 2 in.), brass cotter pin1, and a trip lever drain kit with drain1 (1-3/8 in. Npsm (1-5/8 in. – 16 UNC) delicate thread exterior) are included. This bathtub drain kit is compatible with most tubs.
Installation
Pop-Up Drain
Construction
[A pop-up stopper drains] like a bathroom sink. The same lever controls it on the overflow plate as the trip-lever stopper is also used to operate. The connecting rod linkage bends and pivots a rocker arm, which at its upper end is connected to the pop-up stopper when the lever on the overflow drainpipe is moved. A spring at the bottom of the connecting rod pushes against a rocker's arm to open and close the stopper.
Like the trip-lever stopper, the trip-lever stopper is inexpensive to purchase and install; however, maintenance may be complex. To clean the stopper and rocker arm, remove them through the drain opening, then remove the connecting rod linkage through the overflow pipe and out through the overflow plate. Furthermore, this type of stopper is prone to accumulating hair and particles because of its complexity.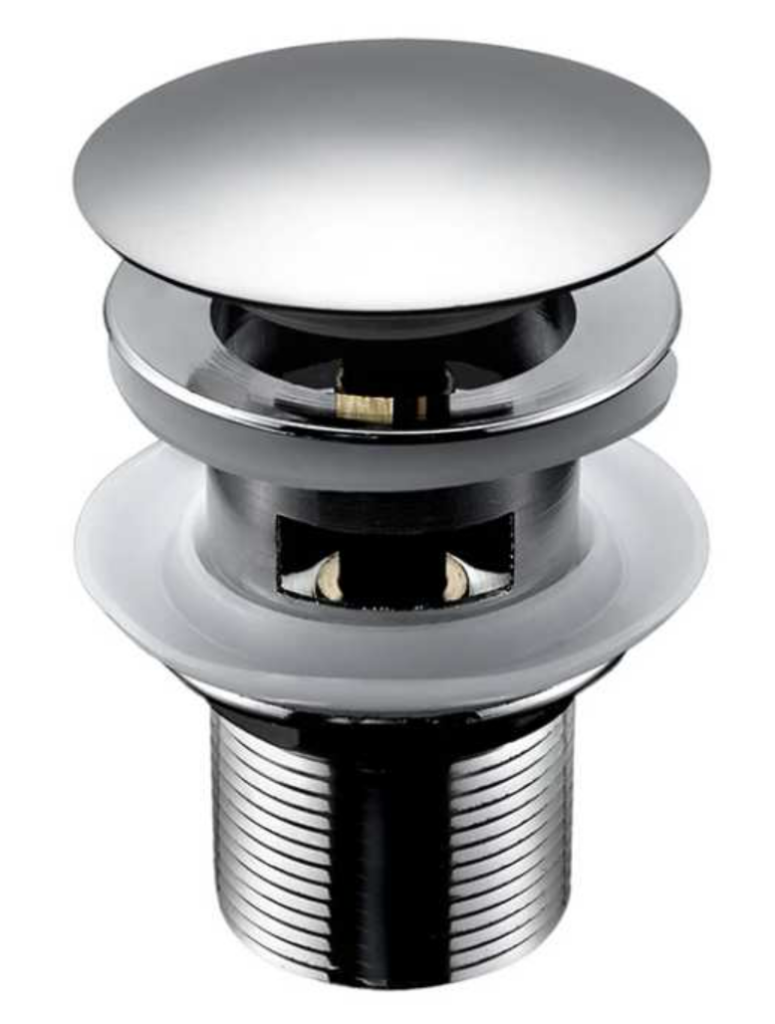 Feature
The 1-hole face plate incorporates an aluminum adapter bar that allows you to convert from 2-hole to 1-hole installations.
Fits 1-3/8″ or 1-1/2″ waste elbows
The drain is opened or closed using the toe touch stopper with a single toe touch.
The 1-3/8-inch and the 1-1/2-inch interchangeable bushing enables you to use various size bushings.
The Trip Lever Extended Drain has converted the standard trip lever drain to a toe touch drain.
1-3/8 inch drain, adapter bushing, faceplate, adaptor bar, and screws included
Brushed nickel finish
Welds connect the metal sections.
For a worldwide fit, use an adapter bushing with a drain shoe.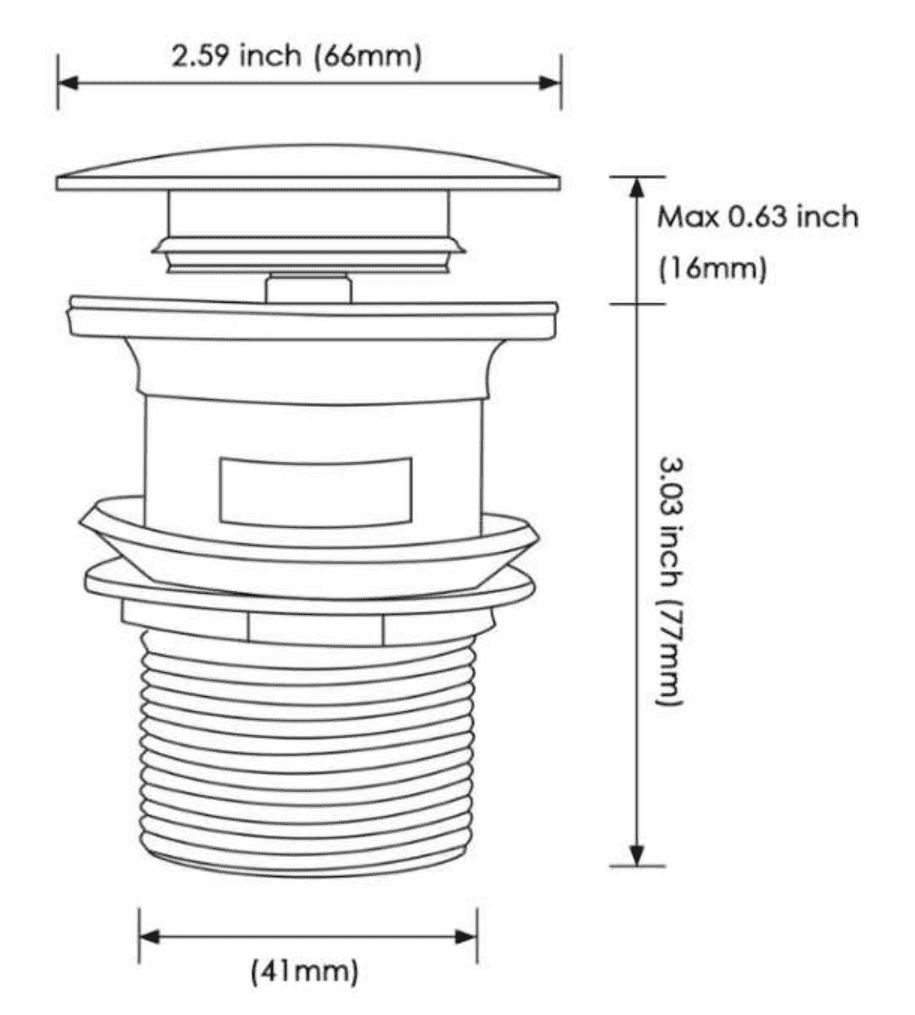 Wrapping up
Cost, simplicity of installation, and simplicity of maintenance are all essential considerations when selecting a bathtub drain stopper. Consider a lift-and-turn or push-and-pull style if you're searching for a long-lasting stopper that you can install with minimal plumbing skills.
It would help if you also thought about how simple it is. Some people like a toe-touch stopper because they may open and shut it without bending over. Finally, it would be best if you considered what your drain could handle. A flip-it stopper, for example, cannot be connected to drains with built-in strainers.