What is a Hot Tub?
A hot tub is a large one with heated water that individuals frequently use for relaxation, hydrotherapy, or entertainment. The hot tub is a generic term for any tub containing bubbles or jets. Unlike standard bathtubs, hot tubs are more significant and can handle several people. Although it is possible to build a hot tub indoors, it is typically located outdoors on patios or backyards. Hot tubes install above ground.
Hot Tub vs. Jacuzzi vs. Spa
Any tub that uses heated water refers to as a hot tub. The term "spa" encompasses spas and the broader field of "water therapy," within which Jacuzzis are included. The term "Jacuzzi" is a trademark brand name. That is to say, while all spas and hot tubs are spas, not all are Jacuzzis, and not all are spas.
The primary distinction between hot tubs and spas is the intended use. Spas, built into the ground or freestanding, are unique structures offering more than just water therapy to their users. Most hot tubs today are portable, meaning they have their water supply, electricity, and controls.
Hot Tubs: What Are They Made of?
Figure 1. Acrylic is considered one of the most durable materials for a hot tub shell. However, it is heavier than other options, making it easier to move and install. Acrylic can also cost more than materials like vinyl and fiberglass.
Your cabinet configuration will determine by the products you select. Acrylic or plastic will be used to construct modern mass-manufactured hot tubs. The fiberglass will be used for reinforcement, and a steel frame will hold everything together. Yet, copper pipes with plumbing, steel, aluminum, or titanium will use for the heating and filtration systems. Lights include, and their style and construction may change depending on the manufacturer.
Still, many opt to put in the time and effort required to construct their hot tubs. Anyone who has designed a custom hot tub for a remote cabin in the woods or the desert will attest that this is a highly satisfying procedure. These are constructed with a wooden core and metal bands.
A few people have the luck to live close enough to a hot spring to have their hot tubs fed by the spring's thermal waters. The environmental protection of this option is high, although it is location specific.
How Does a Hot Tub Work?
Hot tubs are a great way to distress and relax from the day. They circulate water and have components that help maintain their cleanliness. As long as your hot tub is on, the functional components will continuously replenish its water.
It allows the heater and filer to function correctly, prevents water from becoming sluggish, and evenly distributes any chemicals used. A consistent water supply from the plumbing in your tub ensures that the jets can do their job effectively.
Here are the basics of how your hot tub functions:
Suction Pump
Water sucks out of the device using a suction pump to filter the water in a hot tub or spa. The pump, the skimmers, and the suction line all play a role in this operation.
Filtration
Water pulls into the filtration system, which is filtered and heated. The pump, filter, heater, and occasionally an Ozonator are necessary for this procedure.
Return
The final step, "Return," is when the purified and heated water is pushed back into the hot tub. The pump, return lines, manifolds, PVC tubes, and jets play a role in this process.
To understand the working of the hot tube, it's essential to understand its parts.
Components of a Hot Tub
Figure 2. Different components of hot tubs. Each component plays an important role in the efficient working of the hot tub
The significant parts of a hot tube are:
Hot tube filter
The Shell
Spa Pack- Heater and Control
Topside control system
Ozonator
Pumps
Let's dive through the details of each one now:
Filters
Filters are vital in hot tub maintenance by removing debris and keeping the water crystal clean. Maintaining your hot tub filter by replacing it and cleaning it routinely is essential.
It keeps the water inside. There's a massive variety of sizes, colors, and styles—many build-like seats. Jets can be inserted via the holes in the shell. The water kept flowing to the jets. It is common practice to install an insulating layer on the underside of the shell to retain heat.
Spa Pack- Controller and Heating Elements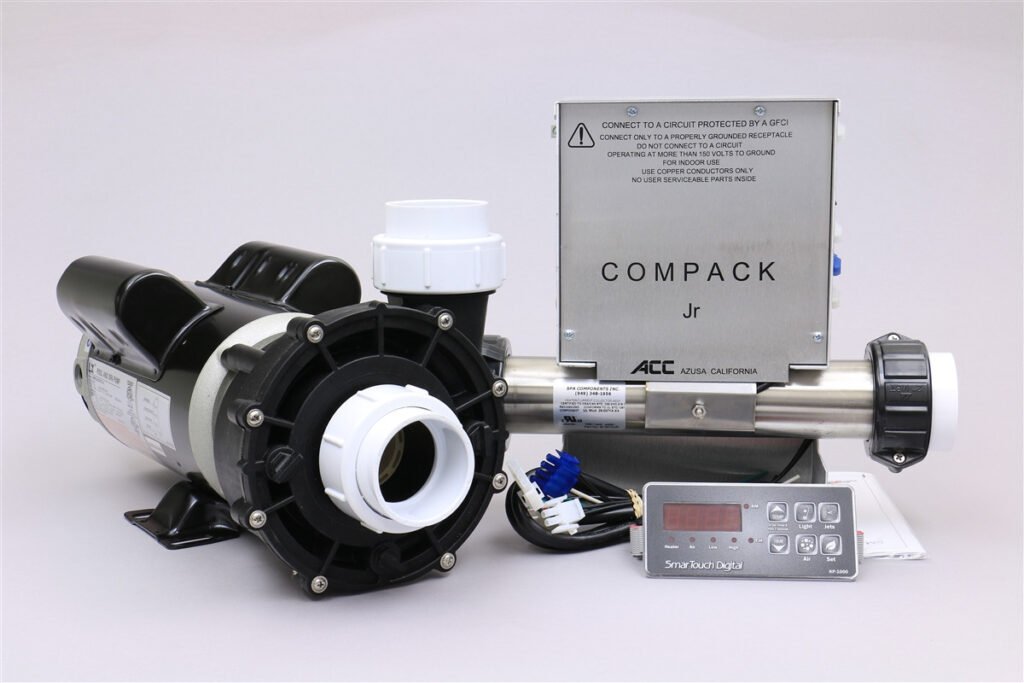 Figure 3. A Spa Pack is an integrated unit that contains the spa pump, heater, blower, and controls. On average, a spa pack will last around 10 years before one or more components begin to fail or give you regular trouble.
A heater and controller include the spa box. From activating the jets to managing the hot tub's temperature and filtering system, it's all under your control with the help of the controller. The spa is warmed up by the water heater when it is in use.
The water temperature changes by using the topside control. The topside control also operates the blowers and lights and regulates the water temperature.
More and more spa owners are flocking to these devices to aid in maintaining pure spa water. They are often an additional or extra expense. If you decide to install one, remember that it must go in after the heater.
Your hot tub's water can be treated using ozone gas generated by an Ozonator and injected into the water. Clean water with fewer disinfecting chemicals is possible due to ozone's ability to eliminate waterborne contaminants.
Corona discharge (CD) ozonation and ultraviolet light ozonators are the two primary types (UV). CD ozonators have a longer lifespan, are more efficient, and are smaller. The CD Ozonator has the most users because of all of its functions.
The pumps in your hot tub are responsible for pumping water into and out of the hot tube. They are crucial in running the jets and cleaning the water. They perform the majority of the filtration work in your hot tub. The pumps filter and assist in heating the water while operating at low speeds. A spa pack and a thermostat manage them.
The pumps power the jets when they're running at maximum speed. Use the spa pack's air button to turn on the jets and release steam at high pressure. A nozzle, or narrow part of the jets, is responsible for the jets' ability to propel air. This produces a pressured effect that relaxes and calms the person sitting in the spa. Now, you're familiar with the various components of a hot tub.
To install the hot tub, watch this video
Hot Tub Safety According to CPSC Recommendations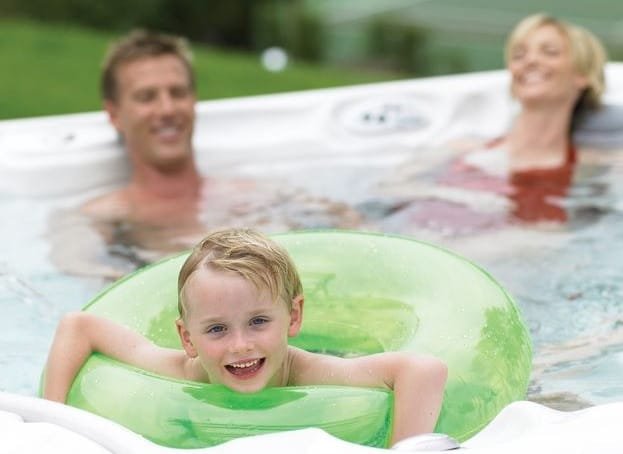 Figure 4. Infants or toddlers under 2 years should not be allowed in hot tubs because their sensitive skin makes them more susceptible to overheating.
When utilizing a hot tub, spa, or whirlpool, the Consumer Product Safety Commission advises taking the following safety measures:
Ensure the drain covers are in place, not broken or missing, and have a professional inspect your spa or hot tub for safe operation. Repeatedly during the year, you should check the drain covers independently.
In the presence of children, the water temperature recommends being lowered to 98 degrees Fahrenheit. A locked safety cover uses whenever the spa or hot tub is not in use.
If an adult is not always there, keep your young children out of the spa or hot tub.
Per current safety regulations, check that the spa has dual drains and drain covers.
To avoid dehydration while soaking, ensure all users (including children) know the location of the pump's shutoff switch.
How to Clean a Hot Tub?
Figure 5. Turn the power to the hot tub off at the circuit breaker. This step helps to prevent the pump or jets from kicking on while you are trying to drain the water.
If you already own a hard-shell or inflatable hot tub, here is how to clean it:
1. Use a pipe cleaner to flush the pipes: If you choose to use this, add it an hour before draining the tub as advised.
2 . The hot tub should be drained: Open the drain valve and turn the water for the tub. A hose can be attached to move the water to a lower area, or you can let it drain freely.
3. Clean up any dirt or dust
4. Clean the shell, cabinet, jets, and cover: You'll require a soft cloth and materials for hot tubs. Everyday cleaning agents might alter the shell's pH level and cause harm.
5. Replenish the spa: Ensure the drain valve is closed and all other components are in place. Afterward, replenish your hose's filter side in the designated location. If you fill the pump from that location, no air will get trapped within when you switch it back on.
6. Turn on the electricity: Wait till it's full before doing this.
7 Heat and re-adjust: After the temperature reaches around 20 degrees Celsius, add the sanitizer and adjust the ph. levels
Main Hot Tubs Dimension and Sizes
Hot tubs are classified into three sizes. These are small, medium, and large
| | | | |
| --- | --- | --- | --- |
| Size | Width | Length | Height |
| Small | 5.4-6.8 inch | 5.4-7 inch | 2.4-2.9 inch |
| Medium | 6.4-7.9 inch | 6.6-7.9 inch | 2.7-3.2 inch |
| Large | 7-9.2 inch | 7-9 inch | 3-3.3 inch |
Critical Guide Before Purchasing a Hot Tub
While shopping for a hot tub, there are many considerations to ensure you end up with the one that best suits your needs. To help you out, here is a short list of items to think about:
How it feels: Find a store that has working hot tubs you can wet-test model.
The number of available seats: Consider how often and how many people will use your home spa.
The seating arrangement: Are you interested in a hot tub with seating for everyone or lounge chairs instead?
The source of energy: Most hot tubs require either a 13-amp or a 32-amp power source to function.
The strong material: But splurge on the finest hot tub your budget will allow.
The waterproofing: A waterproof membrane or substance should be used for the hot tub's floor to prevent moisture buildup.
The frame: Galvanized steel or stainless steel is ideal.
The Insulation: If you want to save money on energy expenditures, a hot tub that is fully foamed is the way to go.
Lightings: While you relax in the tub, the soft glow of the LED lights will set the mood.
Cabinet: Pick a wooden one that has been kept.
The purification system: Select a model that boasts a sophisticated filtration system.
Devices for purifying water: UV purification and ozone manufacturing systems are two examples.
Spa enclosures: The energy efficiency of a hot tub can be improved by installing an airtight, fully insulated cover.
Control Panel: Try to find a solution that doesn't require special training.
A Multi-media option: It's convenient to incorporate modern conveniences like smart TVs and Bluetooth speakers. You are now equipped with the knowledge necessary to decide when buying a hot tub.
To What Extent Can One Remain in A Hot Tub?
Avoid staying in the hot tub for longer than 15 minutes, especially if you feel woozy or dehydrated. If you soak for much longer than that, you run the risk of being too hot or having your blood pressure drop too low. In addition, soaking in a hot tub for too long can exacerbate inflammation and make a muscle injury much more painful.
Can You Safely Soak in A Hot Tub Every Day?
People of all ages and physical capabilities can enjoy the health benefits of the hot tube daily. However, pregnant women should avoid taking hot baths and spa therapy. A women's high body temperature during the first trimester of pregnancy might negatively affect the growing fetus. If you are:
• Drunk or under the influence of drugs that lower your inhibitions and awareness, you should also avoid using hot tubs.
• Any wound that has been left open.
• Seizure disorders, such as epilepsy, without a reliable adult companion present.
* Low blood pressure
Best Hot Tubs
1) Best Splurge: ThermoSpas Manhattan II 6-Person Hot Tub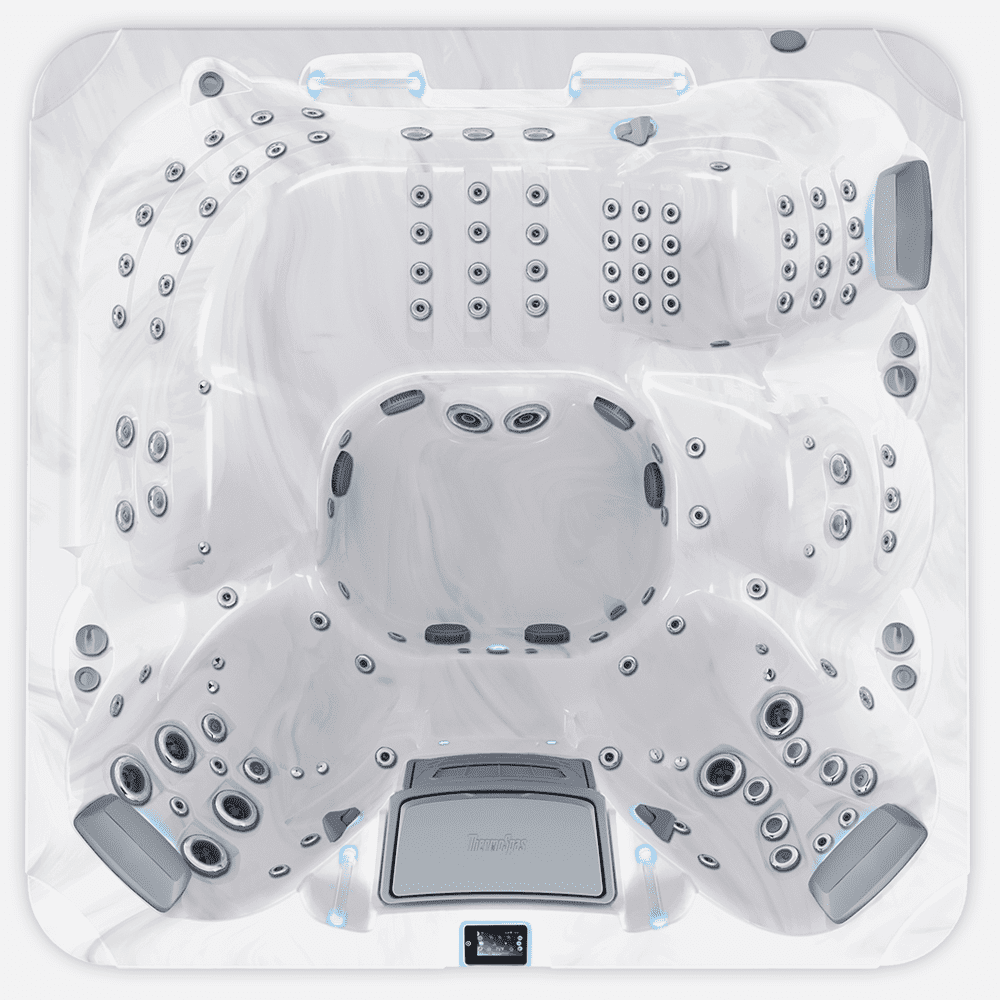 Figure 6 You may customize every aspect of this high-end spa to make it perfect.
Remember: It is costly, and the final price is based on the additional you opt for.
The ThermoSpas Manhattan II is the best hot tub you can buy for your house if you're ready to spend a bit (or a lot) more than the average buyer. This hot tub may be outfitted with various accessories to create a relaxing spa experience in your backyard. The tub's inside and exterior can be designed to your specifications.
With its unique pillow jets, wraparound corner seat, wave massage therapy, and jet settings, you can fit as many as eight people in this hot tub. Up to 125 jets help you relax, and the handrail makes getting in and out of the water a waft. The hot tub can be monitored and controlled from your smartphone or tablet.
These custom-built hot tubs range from roughly $10,000 for a basic model to as much as $22,000. Yet, for all the fancy bells and whistles, which are obviously, highly worth it and create a fantastic spa experience but are not necessary. But since it's designed to order, it can take some time to get to you, and you'll need a pro to put it in.
Price: $20,000
Capacity: 6 people
Dimensions: 93 x 93 x 38.75 inches
Water Capacity: 430 gallons
2) Jacuzzi J-325 Hot Tub
Figure 7 Jacuzzi is a high-end option with somewhat transparent pricing.
Although it is more expensive than other alternatives, Jacuzzi claims that its "smart seal" technology makes it smoother and uses less power. In addition to the waterfall and massaging pillows, you will also have access to LED lighting and the ability to massage your neck. Among Jacuzzi's many tub options is the J-235, a more reasonably priced choice that can accommodate up to six people.
Type: Hard-shell
Price: £9,000
Dimensions: H86 x W193 x D213cm
Seats: 4 to 5
3) Best Small: Aquarist Spas 300 Select 2-Person 20-Jet Oval Plug-and-Play Hot Tub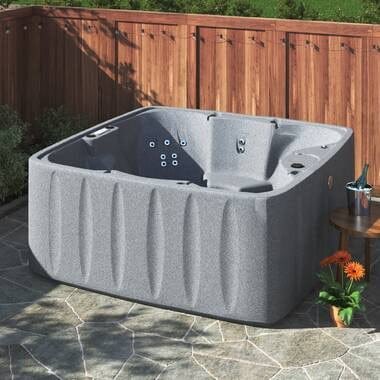 Figure 8. It best fits two people.
No other company makes better two-person hot tubs than Aquarest Spas. The 20 stainless steel massage jets in this compact hot tub are appropriately placed in deep, bucket-style seats. There have two cup holders for your convenience, and a digital control panel lets you adjust the pressure and the jets' location. The manufacturer asserts that your back will applaud them for including lumbar support.
In addition to its unique filtration system, energy-efficient heating with foam insulation, and locking safety cover, the 300 Select features a backlit LED waterfall with nine color settings. Steps are the only thing this tub is missing.
Features:
Energy-efficient heating
Cup holders
Backlit LED waterfall
Price: Up to $4,300
4) Best Large: Futura Spas 8-Person 88 Jet Acrylic Square Hot Tub
Figure 9. No external drainage valve
This 7-foot hot tub features 88 strong jets. It can comfortably fit up to eight people for therapeutic hydrotherapy (and enough cup holders for everyone to store their drinks). Massage your whole body, from your feet to your neck, with carefully placed jets, and target specific areas of your back with the adjustable seat heights.
Everyone will want to claim the "corner cuddler" seat, which features a spa footwell that massages the lower legs and feet and a surrounding jet therapy system.
The most significant temperature at which the hot tub can be heated is 104 degrees Fahrenheit, which can withstand freezing temperatures. The waterfall and the Ozonator work together to eliminate bacteria and other contaminants in the water.
The hot tub's natural wood cabinet has an elegant finish and never needs to refinish. There is no additional cost for the filter or the hot tub cover. This hot tub does not include steps, but you can buy them separately, and they are highly recommended.
Steps provide a secure way in and out of the tub and a pleasant place to relax and cool off. You should also hire an electrician for the wiring and plumbing of your hot tub. Remember that there is no external drainage valve; you'll need a pump to empty it.
Price: $8,625
Capacity: 8 people
Dimensions: 82 x 82 x 35 inches
Water Capacity: 425 gallons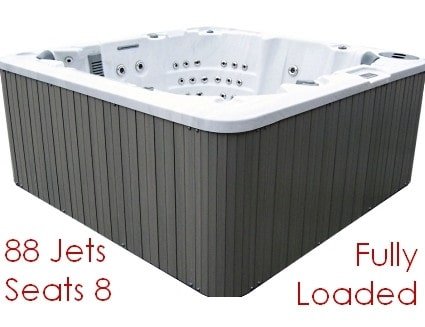 5) Best Round: Ohana Spas Balance 7-Person 25-Jet Round Hot Tub
Figure 10 (a) No steps in this hot tub, (b) Highly expensive
The circular shape of Ohana Spas' Balance Hot Tub diameter is nearly 7 feet. Seven people can sit in comfort on the excellent grip seats.
This spa contains 25 massage jets and an underwater light to create a relaxing atmosphere. The jets, lights, and water temperature can all be controlled at the control panel, making it easy to have an intuitive interface. There are three customizable energy-saving settings available. Remarkably, this may be used with a standard 110-volt outlet or a 240-volt circuit plugged in.
This hot tub filter, a locking, and an insulated cover have been certified by both UL and CSA. However, it does not come with steps, which must be purchased separately.
Features:
User-friendly control panel
Energy-efficient heating
Underwater LED light
Price: $4,300
Shape: Round
Dimensions: 80.5 x 35.5 inches
Jets: 25
Water Capacity: 270 gallons