Drain Stopper Benefits
Drain stoppers serve a fundamental purpose in our sinks and bathtubs: they either allow water to drain or hold it in the basin. Over the years, the market has seen many different types and designs of drain stoppers, each with unique features and benefits. Whether you are looking for something simple and traditional or modern and technologically advanced, there's a drain stopper for every need. This guide reviews the best drain stoppers available in the market to help you make an informed choice.
What are Drain Stoppers?
Drain stoppers are devices placed in the sink drain to prevent water from flowing out and keep food particles and other debris from going down the drain.
They come in various shapes and sizes, but most consist of a rubber or silicone disk inserted into the drain opening.
Some have suction cups on the bottom to help keep them in place, while others have a tapered design that allows them to be wedged tightly into the opening.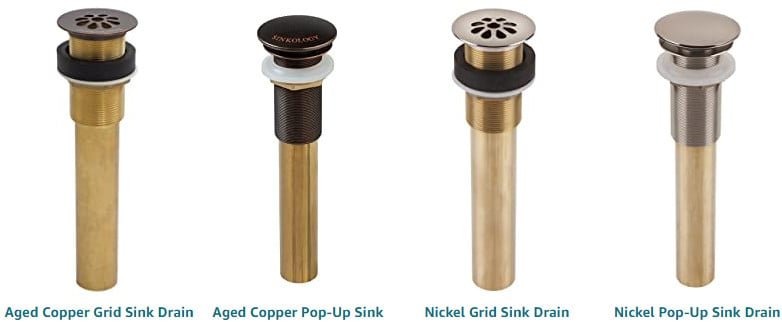 Classic Rubber Drain Stoppers
The Age-Old Trusty Companion
Rubber stoppers, often seen in many households, are characterized by their simplicity and efficiency. The flexible rubber material provides an excellent seal, ensuring no water leaks unintentionally.
Why choose the Classic Rubber?
Versatility: Their adaptability makes them suitable for various drain sizes.
Cost-effective: One of the most affordable options available.
Ease of Use: No complicated mechanisms; place it, and you're good to go.
Pop-up drain Stoppers
Modern Elegance with a Touch of Convenience
The pop-up stoppers have become synonymous with modern bathroom and sink designs. Their seamless appearance and the functional "pop-up" mechanism offer the best of both worlds.
The Appeal of Pop-Up Stoppers:
Sleek design: Blends effortlessly with contemporary interiors.
User-friendly: Just a simple push activates the mechanism.
Maintenance: Generally easy to clean, ensuring prolonged durability.
Twist-and-Turn (or Lift-and-Turn) Stoppers
A Simple Twist to Tradition
Offering an uncomplicated mechanism, the twist-and-turn stoppers provide a reliable sealing solution with just a twist.
The Charm of the Twist-and-Turn:
Durable: With fewer mechanical parts, less can go wrong.
Intuitive use: Even the least tech-savvy individual can master its operation.
Aesthetic variety: Available in various materials and finishes to match any decor.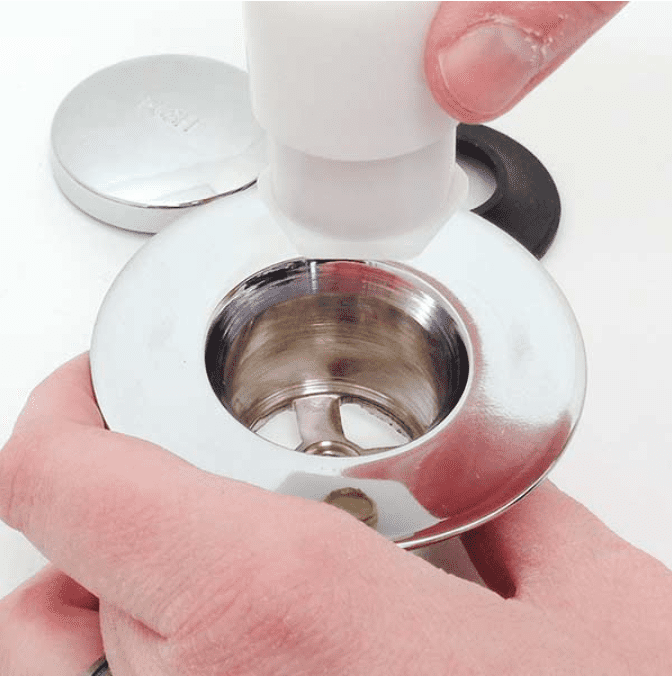 Toe-Touch Drain Stoppers
Effortless Operation with a Gentle Tap
As the name suggests, a light tap by the toe is all needed to activate this stopper, making it perfect for bathtubs.
Why Toe-Touch is a Favourite:
Convenience: No need to bend down or use hands.
Safety: This is especially useful when hands are wet or slippery.
Variety: Comes in diverse designs to fit the ambiance of any bathroom.
Flip-It Drain Stoppers
Flipping Simplicity with Functionality
With no mechanical parts, the flip-it stopper offers a straightforward approach to controlling water flow.
The Flip-It Advantage:
Low Maintenance: Easy to clean and fewer parts mean less potential for malfunction.
Versatile design: Suitable for a myriad of sink and bathtub designs.
Longevity: Its simple design promises a longer lifespan than some of its counterparts.
Universal Drain Stoppers
One Size Fits Most
The universal stoppers are the go-to solution for those uncertain about their drain sizes or those looking for a one-stop solution for different sinks.
Unpacking the Universal Appeal:
Adaptive Design: Designed to fit a range of drain sizes.
Portable: Ideal for travelers who might need a drain stopper.
Reliable: Ensures a good seal in most sinks, reducing the risk of leaks.
In drainage, the humble drain stopper holds a pivotal role. As with any product, understanding its functionalities, advantages, and limitations is key. Whether renovating, building anew, or simply replacing an old piece, investing a little time in understanding and selecting the suitable drain stopper will serve you well in the long run. Remember, a well-chosen drain stopper performs its primary function efficiently and complements the aesthetics of your sink or bathtub, enhancing the overall look and feel of your space.
Top-rated Type of Drain Stoppers:
There are four main types of drain stoppers. Each has advantages and disadvantages, making it more or less suitable for different drains.
Lift-and-Turn Drain Stopper:
The lift-and-turn drain stopper is the most common type of drain stopper. It is easy to use and can be operated with one hand.
You lift the knob and turn it counterclockwise to open the drain. To close the drain, turn the knob clockwise and push it down.
It is installed by screwing a center set screw into the threaded center of the drain crossbar.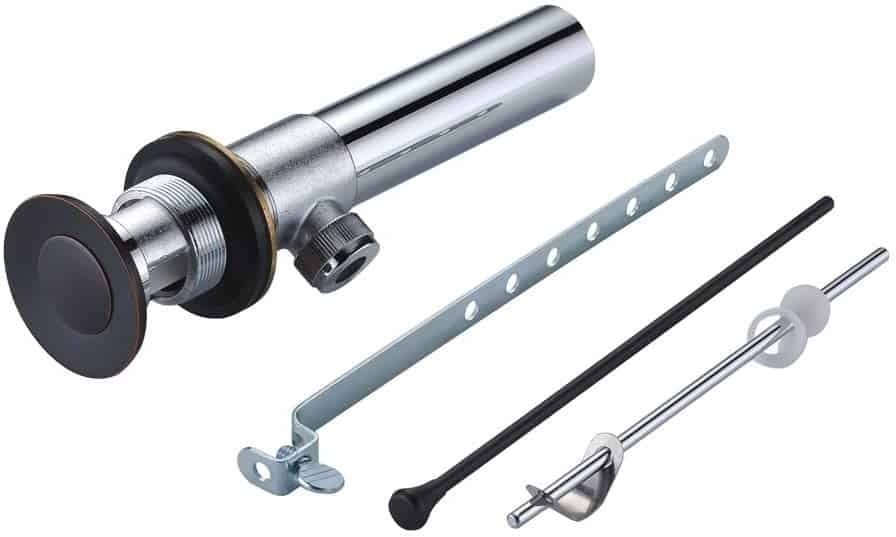 Push-and-Pull Drain Stopper:
The push-and-pull drain stopper is similar to the lift-and-turn stopper but operates with a push button instead of a knob.
To open the drain, you push down the button. To close the drain, you push the button.
The push-and-pull stopper is a good choice for those who want an easy-to-use stopper that does not require two hands to operate.
Made of zinc alloy and ABS plastic, it is designed for long-lasting use. The cover-up drain stopper features a reversible threaded adapter that fits 5/16″ and 3/8″ waste shoes, making it a versatile option for most tubs.
The corrosion-resistant finish ensures that it will not rust or corrode over time. Installation is quick and easy, with no tools required.
The cover-up drain stopper comes with complete instructions, making it a hassle-free option for most consumers.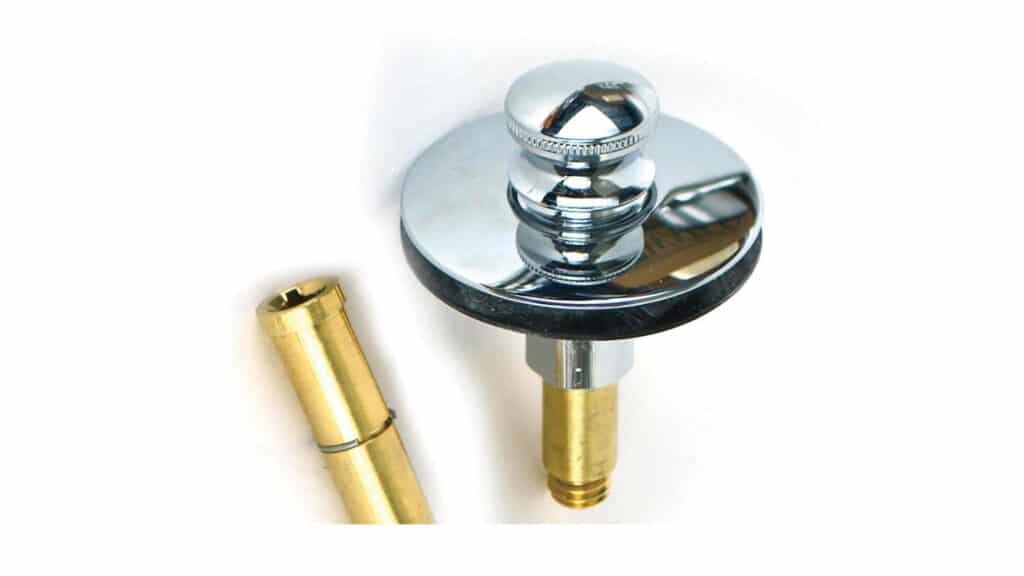 Toe-Touch Drain Stopper:
The Toe-Touch drain stopper is a great choice for those who want more control over the water drainage in their sink.
It's similar to push-and-pull stoppers but with a lever instead of a button.
The advantage of the toe-touch stopper is that you only need to push it to open or close.
This stopper is designed to fit 3/8″ or 5/16″ thread drain shoes and comes with fitting adapters to ensure a snug fit.
The durable finish is perfect for high-use areas, and the sleek chrome finish will complement any bathroom décor.
Plus, the touch-foot design makes it easy to use, even when your hands are full.
So, if you're looking for a functional and stylish drain stopper, the PF WaterWorks PF0935-CH is an excellent option.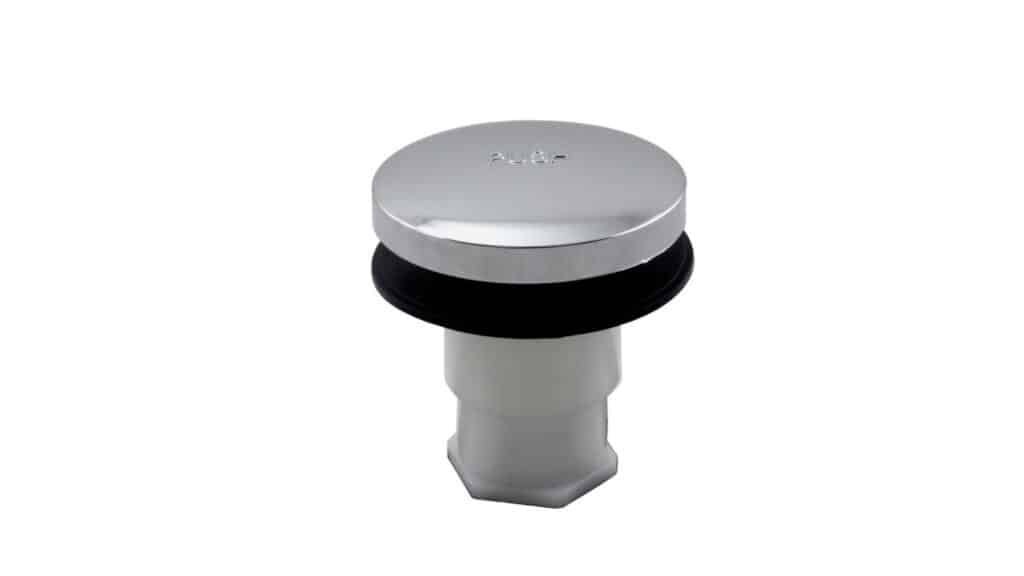 Flip-It Drain Stopper:
The Flip-It drain stopper is one of the most popular choices for drain stoppers.
It's easy to use and install and provides an excellent seal that prevents water from leaking.
Additionally, the Flip-It can be used with any sink, including cast iron, porcelain, and stainless steel.
The only downside to the Flip-It is that it's not as effective at blocking hair and other debris from going down the drain.
Trip-Lever Drain Stopper:
The Trip-Lever Drain Stopper is the best drain stopper for bathrooms.
It is easy to operate and can stop and start the water flow with a button push.
The Trip-Lever Drain Stopper is also easy to clean and is available in various finishes to match your bathroom décor.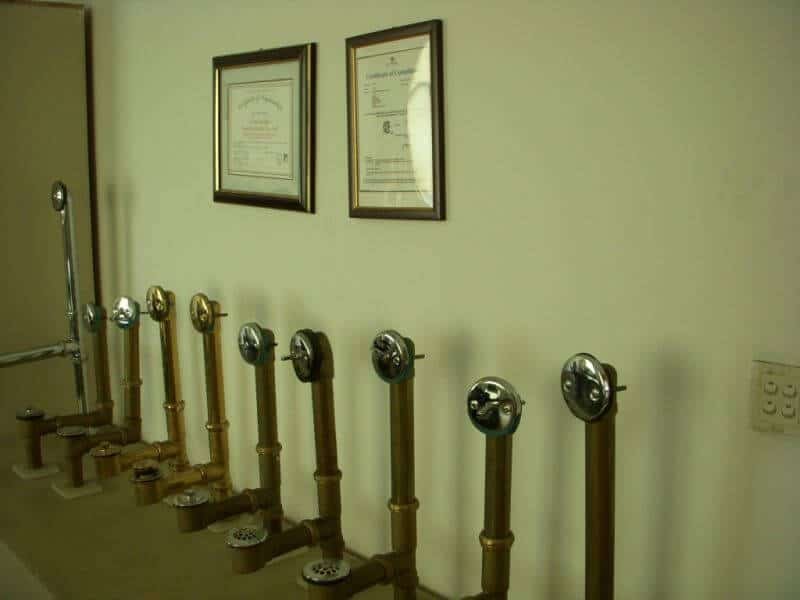 The trip lever style is easy to use and helps stop water flow quickly to avoid any water overflow.
Plus, the durable metal construction provides strength and reliability for long-lasting improvement.
The overflow plate holes are 2 inches in the center and 3 inches across in diameter, and the drain trim cover exterior is slightly under 3 inches.
So, if you're looking for an attractive and functional drain stopper, the DANCO Bath Tub Overflow Plate with Trip Lever is a great choice.
Pop-Up Drain Stopper:
The Pop-Up Drain Stopper is the best drain stopper for kitchens.
It is easy to operate and can stop and release water with a simple button push.
The visible Pop-Up Stopper is also easy to clean and less likely to become clogged than other drain stoppers.
This stopper is made of thickened stainless steel, resistant to explosion and cracking, and has a built-in strainer to help prevent clogs.
The silica-gel gasket creates a water-tight seal, and the multi-layer chrome finish is resistant to daily wear and tear.
Installation is easy, and the stopper comes in various colors to match your sink.
Whether you're looking for function or style, the Vessel Sink Drain Bathroom Pop-up Drain is a great choice.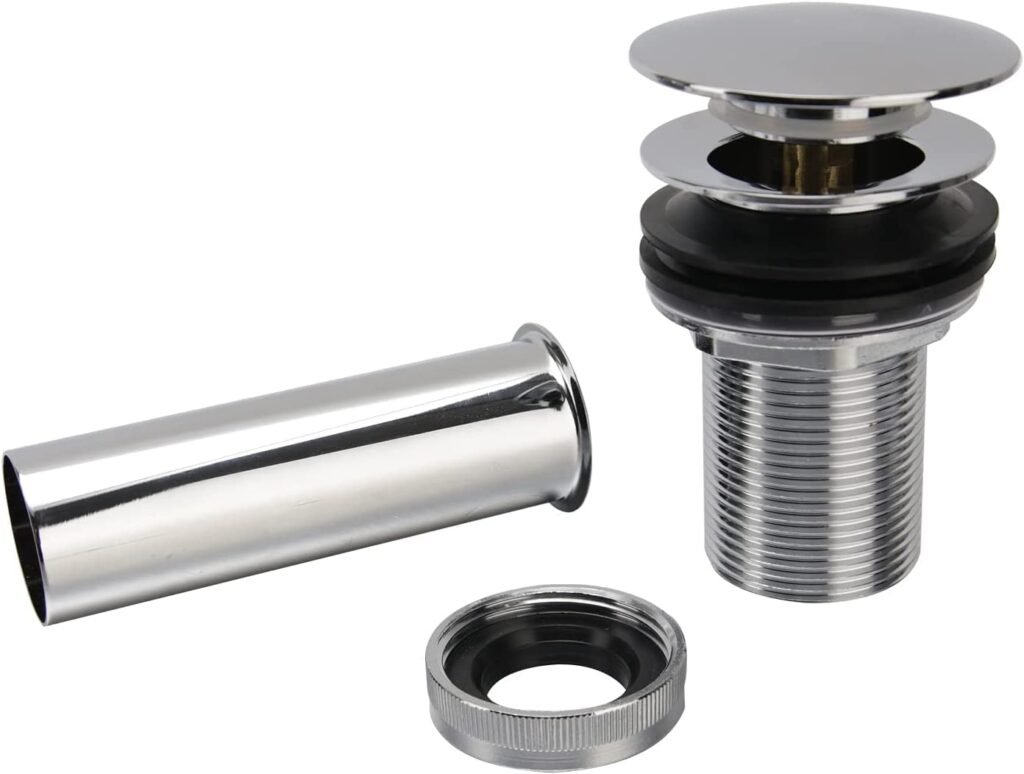 Choosing the Best Drain Stoppers
When choosing the best drain stopper for your needs, you should keep a few things in mind.
Size of the drain opening:
The first is the size of the drain opening.
You'll want to ensure the stopper you choose can fit snugly into the drain to prevent water and debris from escaping.
If the stopper is too small, it might not create a tight seal, and water could leak.
Conversely, if the stopper is too large, it might be difficult to remove when cleaning the drain.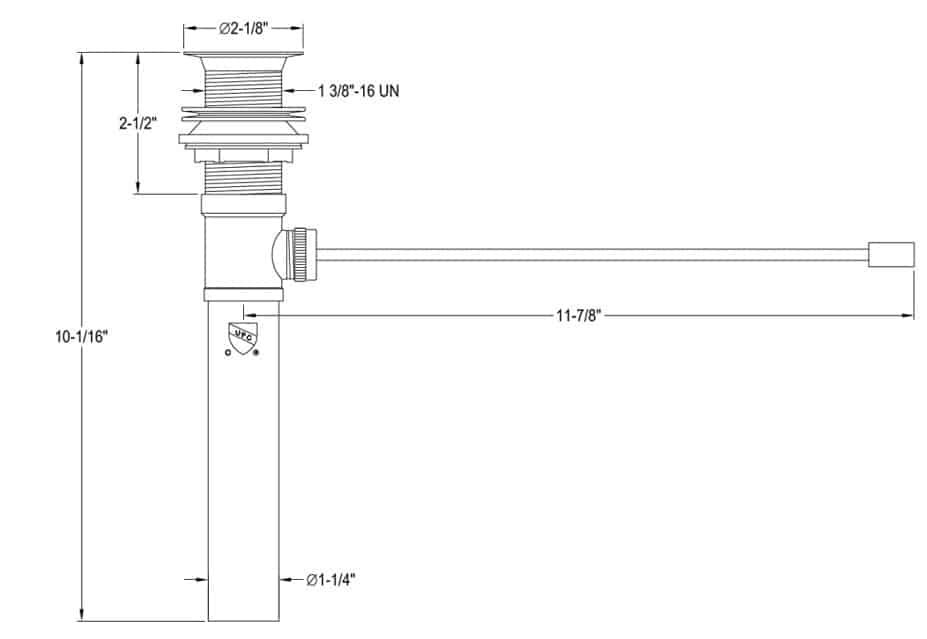 Material:
The second is the material. Drain stoppers are typically made from rubber or silicone, but metal options are also available.
Rubber and silicone stoppers are usually softer and more pliable, making them easier to insert and remove from the drain.
Metal stoppers are durable and can last longer, but they can be difficult to remove if they become wedged in the drain.
Shape: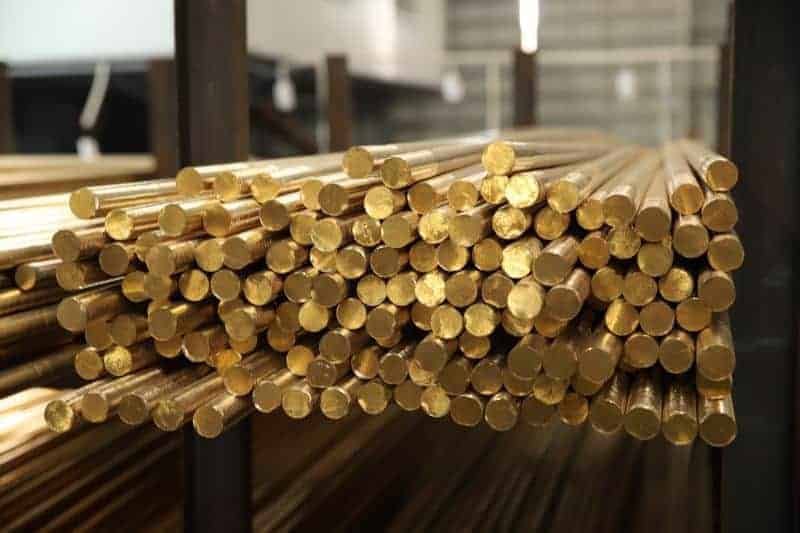 The third is the shape. Drain stoppers come in various shapes, but the most common are disk-shaped and tapered.
Disk-shaped stoppers are the easiest to insert and remove, but they can sometimes be difficult to keep in place if the drain is not perfectly level.
Tapered stoppers are more challenging to insert and remove, but they fit snugly into the drain and are less likely to come out.
Best Bathtub Drain Stoppers Recommendation
Eastman 35233 Lift-n-Turn Bathtub Drain
Many different bathtub drain plugs are available, but the Eastman 35233 Lift-n-Turn Bathtub Drain Stopper kit is one of the best.
The stopper is brass with a contemporary chrome finish, and it can be adjusted to fit most drains.
Whether you're looking for a new bathtub drain stopper or need a replacement, the Eastman 35233 is a great choice.
StopShroom STBLU232 Universal Stopper:
The StopShroom STBLU232 Universal Stopper is an excellent option for anyone looking for a reliable and durable stopper.
This stopper is universal, meaning it will work on virtually any drain type. It is also available in two colors (brilliant white and aqua blue) to match any bathroom decor.
The StopShroom features a built-in suction cup that stays in place during use and when not in use.
No more stoppers floating away on the job!
The unit's dimensions are 6″x 5″x 2″, compatible with drain openings 4″ or smaller.
Best Kitchen Drain Stoppers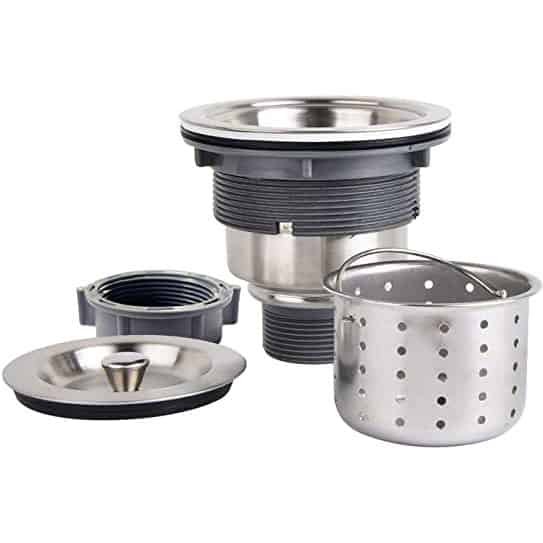 A kitchen sink strainer is a small, inexpensive, and simple tool that can save you time and hassle by preventing clogged drains.
Many different types and brands of sink strainers are available on the market, but not all are created equal.
Fengbao 2PCS Kitchen Sink Strainer:
If you're looking for a reliable kitchen drain stopper, the Fengbao 2PCS Kitchen Sink Strainer is a great option.
Made of stainless steel, it's built to last and won't rust. The micro-perforation holes are just 2mm in diameter, blocking food particles and allowing liquid flow.
And the overall diameter of 4.5″ makes it a good fit for most sinks. Plus, it's easy to clean with warm soapy water.
The kit also comes with a washer for easy installation.
So, if you're looking for a kitchen drain stopper that's both effective and durable, the Fengbao 2PCS Kitchen Sink Strainer is a great choice.
OXO Good Grips 2-in-1 Sink Strainer Stopper
The OXO Good Grips 2-in-1 Sink Strainer & Stopper is an excellent option for a versatile drain stopper.
This stopper can be used as a strainer to trap food scraps and as a stopper to fill sinks with water.
The tough stainless steel construction is durable and won't stain, while the soft silicone underside won't scratch sinks.
The basket is also easy to clean, as it flips inside for thorough cleaning. In addition, this stopper is BPA and PVC-free.
Best Sink Drain Stoppers
V-TOP Sink Strainer Stopper:
The V-TOP Sink Strainer Stopper is the perfect kitchen sink accessory.
Its ideal size fits most sinks and is made of high-quality material that is easy to use.
The strainer is also widely used in kitchens, bathrooms, and laundry rooms. It's easy to clean and dishwasher safe.
SinkShroom Revolutionary Clog-Free Sink Strainer Basket with Stopper:
The SinkShroom Revolutionary Clog-Free Sink Strainer Basket with Stopper is the perfect solution to your problem.
This award-winning, patented design is easy to use and helps keep water flowing while preventing clogs.
Place the basket over your sink drain and let the magic happen.
The SinkShroom will catch all the hair and debris before it can clog your drain, and you'll never have to deal with a backed-up sink again.
So ditch those chemical-laden drain cleaners and give the SinkShroom a try.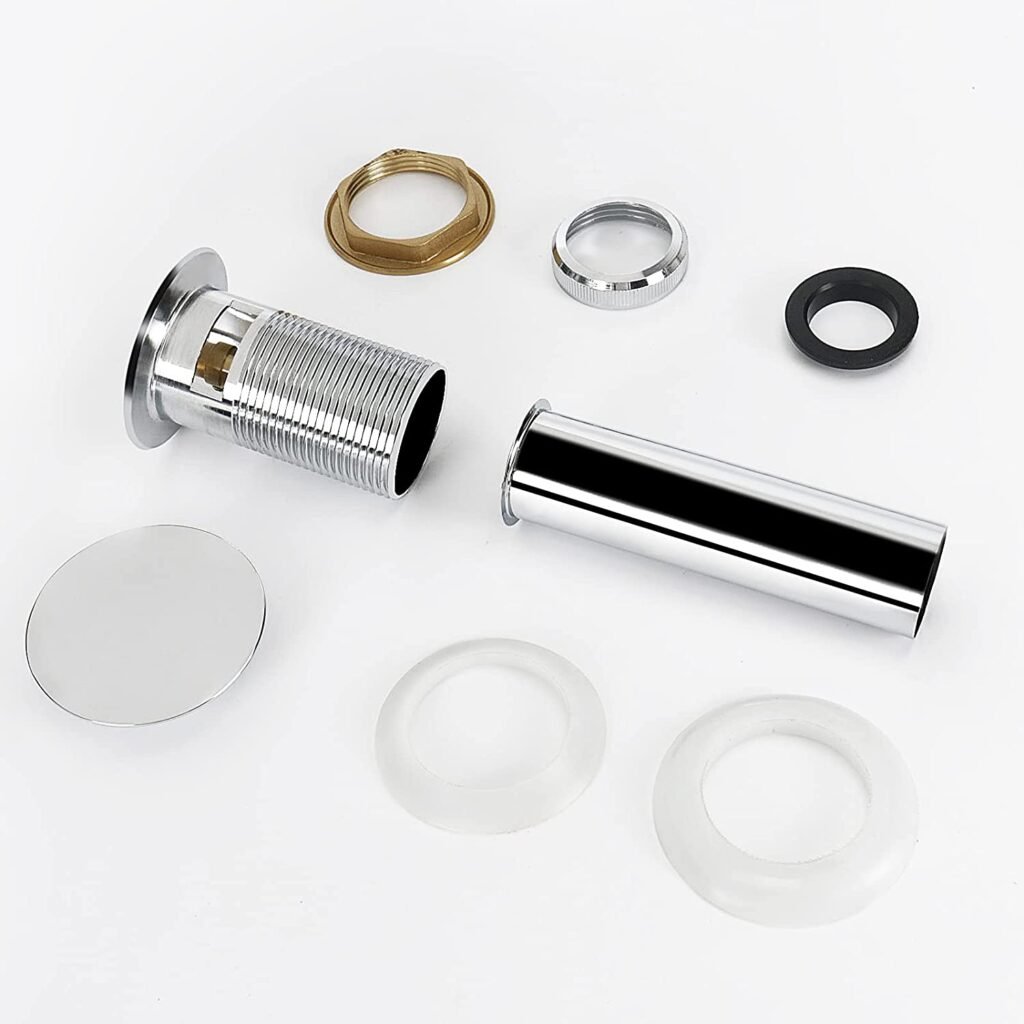 Conclusion:
I hope this article has helped wholesalers and importers understand the different drain stopper types available.
There are many factors to consider when choosing a drain stopper, but I believe the most important thing is to find one that is durable and effective.
Hofen Sanitary Supplier is the most excellent alternative if you're looking for quality sanitary ware! We've been manufacturing and exporting sanitary ware for over ten years, with our products being distributed in over 50 countries worldwide.