Do you know what material is best for your kitchen sink strainer? Customers may ask you this all the time!
There are a few different materials that kitchen sink strainers can be made of. Here we'll give you a complete guide to help make your decision easier.
This manual lets you pick the ideal kitchen sink strainer for your house and clients. With so many alternatives accessible, you'll be sure to discover one that fits your client's demands and styles perfectly.
What is Sink Strainer?
A sink strainer is a gadget that sits over the sink drain and captures food particles, hair, and other items that could clog it. Many trainers have a mesh strainer that catches solid objects and allows liquids to pass through.
Some also have a rubber or silicone guard that seals the gap between the strainer and the sink and prevents debris from getting stuck.
Many different sink strainers are available on the market, but they all serve the same purpose: help avoid blockages and keep your drains clear.
Some are better than others at catching certain types of debris, so we will compare each type side by side so you can easily find one that works best for your needs.
What are the factors to consider before buying material for sink strainers?
When it comes to sink strainers, there are a few factors you'll want to consider before making your purchase.
Here are a few pointers to bear before buying:
You may need a different kind of strainer with your sink type.
For example, if you have a stainless steel sink, you'll need a strainer that won't rust.
The size of your sink: You'll also want to ensure you get a strainer that's the right size for your sink. If it's too small, it won't catch all the debris; if it's too large, it will be a pain to clean.
Your budget: You'll also want to consider your budget when choosing a sink strainer. Various materials are available, so you can find one that fits your needs and budget.
Now that you know what to look for in a sink strainer, it's time to decide which material is best for you.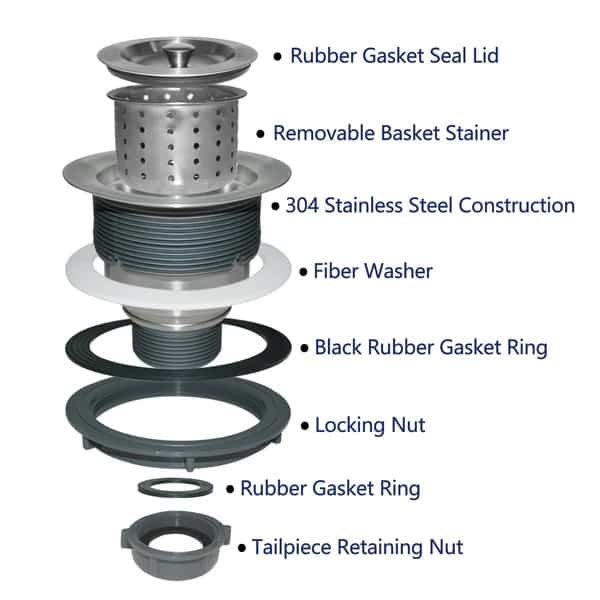 What Material is Best for the Sink Strainers?
When shopping for a new sink strainer, there are a few things to consider. Overall, you'll want to ensure you get one that is durable, simple to use, and made of materials that match your needs. You'll find they're available in various materials when browsing for them.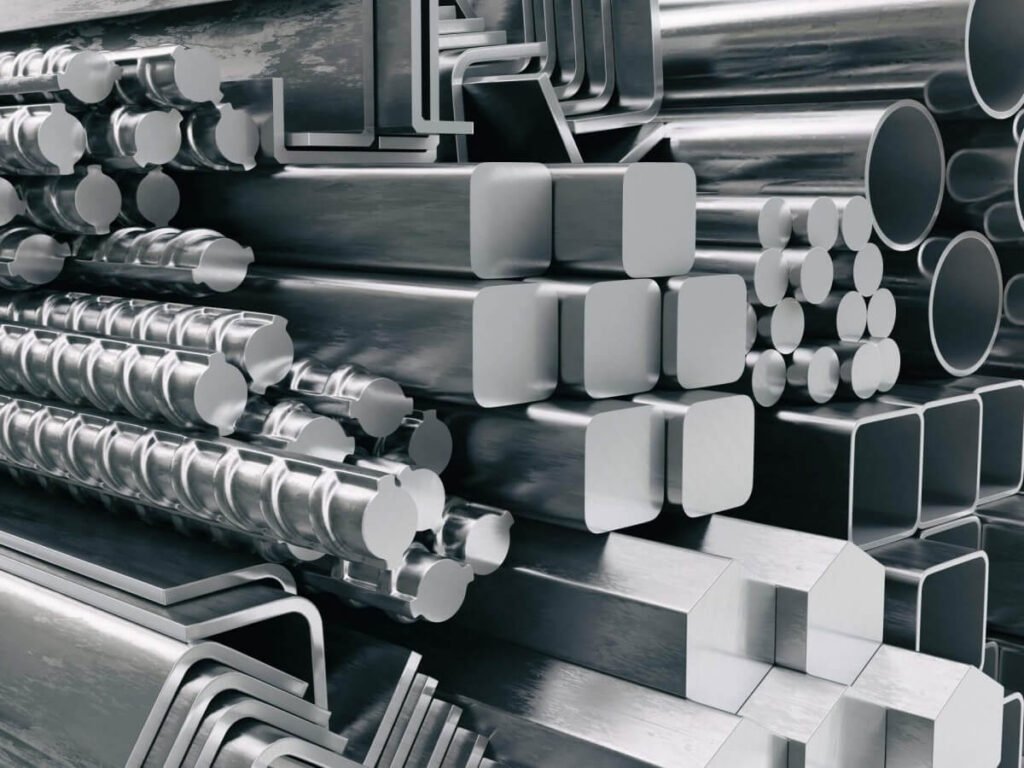 Stainless Steel
The most common alternatives are shown below.
One of the most prevalent materials for sink strainers is stainless steel. It's durable and easy to clean, making it a good choice for busy kitchens. One thing to remember with stainless steel is that it can discolor over time, so you may need to replace it more frequently than other strainers.
Brushed and polished finishes are also available for those who appreciate fashion. Newer stainless steel sink strainer strainers often have a plastic or rubber outer ring to avoid scratching your sink.
One of the best stainless steel strainers on the market is below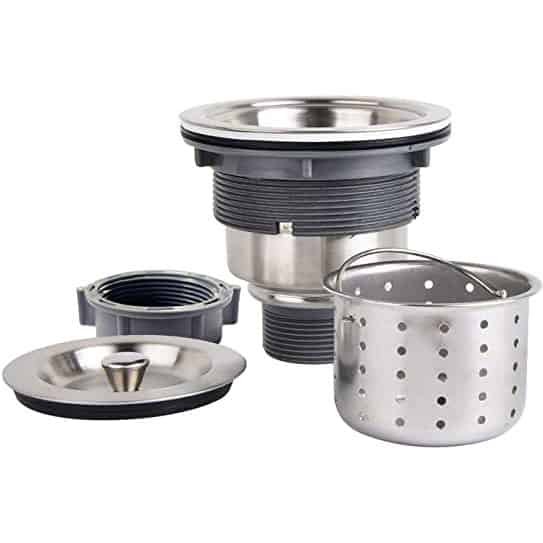 Kone 3-1/2 Inch Kitchen Sink Drain Assembly with Strainer Basket
Fits most 3-1/2 inch drain holes on American standard kitchen sinks. The drain for the sink is approximately 20 inches long.
EXTREMELY DURABLE: This KONE Sink Drain Assembly is constructed of Heavy Duty Stainless Steel, designed to last! Rustproof, no leaks.
The overflow drain stopper is an easy-to-connect product with confidence in any sink. It's also a kitchen sink stopper and kitchen drain strainer, depending on how you want to use it. It's simple to stop the water flow and reopen the drain; turn the knob. Simple to maintain.
EASY TO USE: The valve is simple to install, and instructions are provided. To become a plumber, you don't need any special skills.
Silicone
The feature that sets silicone apart from other materials is its flexibility. This makes it wise option in areas with a lot of movement, such as the bathroom sink. Because it's flexible, it's also less likely to crack or chip than other materials.
Silicone is also heat resistant, so you can place hot pots and pans on it without worry. It's also non-porous, so it won't absorb water and become stained.
Cleaning silicone is easy, as it's dishwasher safe. You may also use soap and water to clean it.
One of the best silicone sink strainers we recommend:
Robinson Squish Silicone Sink Strainer and Stopper
EASY TO FIT: The flexible silicone construction makes it simple to fit most kitchen sinks.
It includes a strainer and a stopper in one.
EASY TO WASH: Turn the silicone upside down to empty it. It's also dishwasher-safe for your convenience.
FDA APPROVED: The Robinson Squish Silicone Sink Strainer and Stopper are made of FDA-approved silicone so that you can use
STAIN RESISTANT: It's stain-free because of the silicone construction.
Plastic
With proper care, a plastic sink strainer can last for years. They're also reasonably priced, making them a terrific option for budget-minded shoppers.
Cleaning a plastic sink strainer is easy, as most are dishwasher-safe. You may also use detergent to clean it.
Remember that plastic sink strainers are not as durable as other materials. They're also more likely to crack or chip if they're dropped.
If you're looking for a plastic sink strainer, we recommend the following: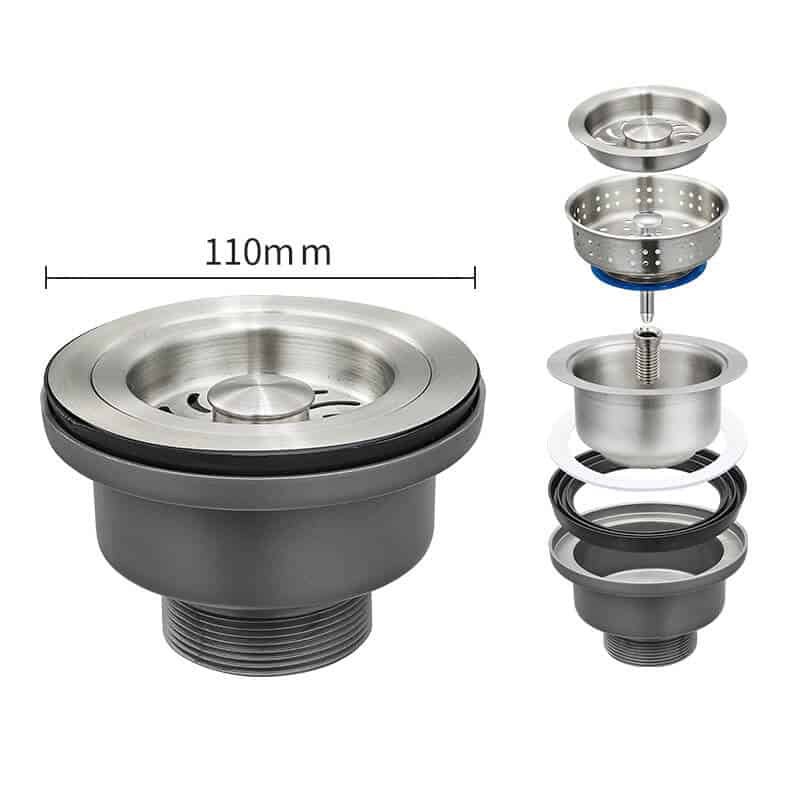 Hairstopper HS3-AMZ Evriholder Plastic Bathtub Drain Protector for Bathtubs & Showers
High-Quality: The hair catcher shower drain is designed to fit most bath drain covers, ensuring no hair gets blocked in your pipes. Hair drains are generally 8 x 6 x .5 inches in size.
Minimal Maintenance: Replace the tub drain hair guard every 2-4 months. There is no need for drain chemicals or treatments for clogged drains. After each shower, clean out the shower hair catcher to get the best outcomes.
The tub hair catcher traps hair and debris in the drain without impeding water drainage. Water flow remains rapid with the hair drain catcher.
It's Simple To Install: Insert the drain hair strainer into your tub drain cover and let it collect loose hair and debris. There's no need for complicated installations or equipment for the drain hair strainer.
No more expensive plumbing expenses to unclog drains. Before your drain gets clogged with hair and debris, use bathtub drain stoppers to protect it.
How many Types of Sink Strainers are available in the market?
There are several types of sink strainers available on the market today.
The most common types include:
1. Back Nut Strainer:
The back nut strainer is the most popular type of strainer. It consists of a threaded rod that goes through the center of the strainer and attaches to a nut on the underside of the sink.
Advantages
It's simple to remove and replace.
The procedure for installation is relatively straightforward and uncomplicated.
A nut that may be readily adjusted
It's a reasonable price.
Drawbacks:
It's only for water conservation and not rubbish.
Recommendation:
Strainer Basket KOHLER Style Stopper, 1.79 (3-1/2 Inch) for Stainless Steel Drain Assembly with Strainer
This Highcraft Sink Drain Assembly is constructed of Heavy Duty Stainless Steel, designed to endure!
STRAINER/STOPPER INCLUDED: This kitchen gadget can be used as both a strainer and a plug, depending on the position you want it in. It also has an appealing appearance to match your kitchen.
FITS STANDARD DRAINS: (3-1/2 – 4 inch flange ) The Drain Assembly Is Simple To Assemble And Disassemble. It Is Quick And Easy To Install. Replacement Parts Are Easily Detachable
KOHLER STYLE: A spaced basket with a joint ground seal
STAIN RESISTANT: It's straightforward to maintain clean! Simply remove the basket to empty it.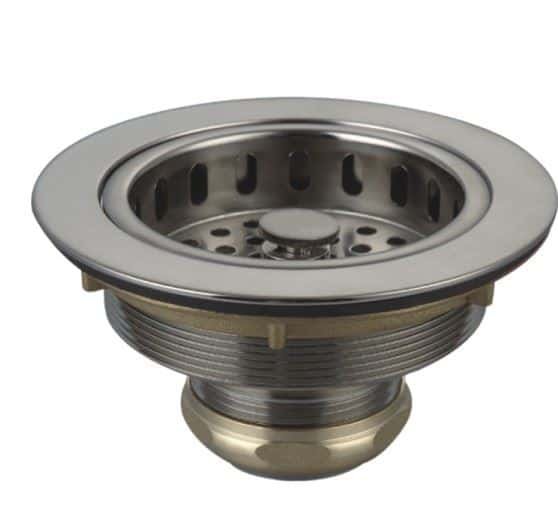 2. Double Cup Strainer
You might have seen many strainers, but a double-cup strainer is exceptional. It is made up of a variety of rubber and steel rings.
It includes a back nut filter and is adjustable with two robust and strong strainer cups.
It's usually built and engineered to keep the sink drainage system clean and particles-free. No debris can pass through a two-cup strainer, as the saying goes.
Stainless steel is the primary material of this strainer. It protects against corrosion. The entire strainer is adjusted as a fixed-post basket, flange, and slide joint nut.
The installation process is straightforward, and you will not require a plumber.
Advantages
The installation process is very easy for beginners
It comes with lots of durable parts
It ensures the rust resistance
Drawbacks:
I didn't find any cons to it
Recommendation:
Stainless Steel Double Cup Kitchen Strainer Drain
SUPERIOR VALUE. It is made of high-quality rustproof, anti-corrosive stainless steel that can tolerate high water pressure and guarantee a long product lifetime. It also comes with a high-quality rubber stopper. Cleaning and dishwasher are safe.
STEEL BASKET. Designed for use with a wide range of drain pipes, including 3-1/2 Inch diameter ones. To keep your pipe safe from clogging, trap and stop food waste and other debris. It also features bar holes for rapidly draining water and avoiding any overspill.
RUBBER STOPPER. Hang the basket on your rack with sturdy rubber hooks. The basket will stay in place, preventing tiny food waste or other debris from entering your drainer and making cleaning up even easier!
EASY INSTALLATION. Install it without any headaches. To install, no special skills are required. It might be a wonderful pastime for the kids or simply a do-it-yourself project for you. It's ideal as an alternative to your old and worn strainers.
WIDE APPLICATION. This sink comes in a variety of colors to fit your décor. It may be used indoors or outside and is suitable for residential and commercial applications. We assure you that it will perform its function whether you use it in your kitchen, bathroom, pool/beach shower area, outdoor sink, or laundry room.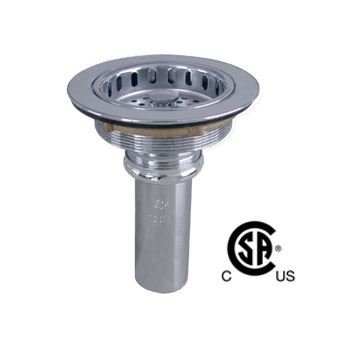 3. Basket basin Strainer:
The basket strainer is similar to the back nut strainer but has a strainer basket that sits on top of the strainer. The basket catches any debris that goes through the strainer and prevents it from going down the drain.
Advantages:
It catches both large and small debris.
The basket can be easily removed for cleaning.
Drawbacks:
It's more expensive than the back nut strainer.
Recommendation:
Designed to fit where a lavatory sink pop-up plug is missing.
The top seller is the CB+ 1.25″ (31mm) x 3/4″ DEEP because it's affordable, compact, and widely available.
It aids in the free flow of drains.
The paint job with a Chrome finish
It's simple to set up.
4. Drop-In Strainer:
The drop-in strainer is designed to be installed in the drain hole of a sink. It has a flange that sits on top of the sink and a basket that catches any debris that goes through the strainer.
Advantages:
It's simple to install.
The basket can be easily removed for cleaning.
Drawbacks:
The flange can become loose over time and may need to be replaced.
Recommendation:
Luxier KS01-O 3 1/2″ Drop-In Kitchen/Bar Sink Basket Strainer
Stainless steel construction that is both contemporary and attractive
Fits 3 1/2 inch opening
Stainless steel basket strainer with twist-off top.
It is sturdy and simple to maintain.
Ultra-Premium Quality
5. Flange Strainer
When it comes to the most costly sink strainer, the flange strainer is the thing to consider. It's one of the most remarkably equipped sink strainers available.
It has a lot of handy functions and high expectations of the online and shopping network.
It's a one-piece sink strainer that filters stop water and back nut. It's an all-in-one sink strainer that can be used for everything from removing debris to filtering water. The majority of flange strainer colors are matte black.
The nice thing is that you can rotate the strainer back nut filter at a 120-degree angle.
It has an undercarriage made of rubber, which is used for water prevention. To stop the water, simply press the nut, which will attach to the drainage system.
Advantages:
It's great to have a slow-moving tap.
It makes a huge amount of water flow through it and has big requirements.
Overall, it's an all-in-one sink strainer.
Drawbacks:
It's a pricey sink strainer.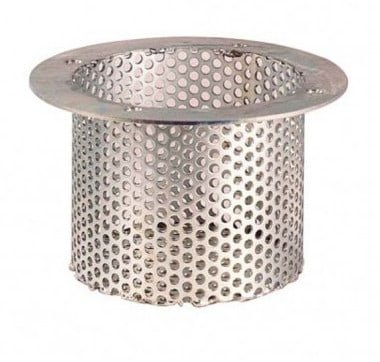 The Extended DEEP GARBAGE DISPOSAL FLANGE is made for heavy fireclay sinks (up to 2″ thick) and regular stainless steel sinks.
All sinks with conventional 3.5-inch drain holes will fit this attachment. Compatible with all INSINKERATOR garbage disposals and models.
This model comes with a DEEP BASKET STRAINER that traps trash and may be effortlessly removed and emptied into your garbage.
This stainless steel sink strainer is constructed of thick 304-grade STAINLESS STEEL for long-term durability and strength. This extended flange may be used with stainless steel sinks thanks to the additional mounting screws included.
What are the Benefits of the Best Sink Strainer:
Let's discuss the benefits of the best sink strainer.
Save you a lot of time: A good sink strainer can save you time and effort in the kitchen. Choosing one that fits your sink correctly and is durable materials is very important.
Easy to clean and dishwasher safe: The best sink strainers are easy to clean and dishwasher safe. They have a tight fit to prevent food from slipping through, and they're designed to coordinate with your other kitchen accessories.
Help stay clean and free of debris: When you use a sink strainer, you can be sure your sink will stay clean and free of debris. It's the perfect way to keep your kitchen tidy and prevent clogged drains.
There are many benefits to using a sink strainer in your kitchen. With so many options on the market, finding one that suits your needs is easy.
Conclusion:
This guide should help you choose the best sink strainer for your customer. If you have any queries, please do not hesitate to contact us, and we will be happy to assist.
Hofen Sanitary is the greatest alternative if you're looking for quality sanitaryware! We've been manufacturing and exporting sanitaryware for over ten years, with our products being distributed in over 50 countries worldwide.
Visit our website today to learn more about our company and what we can offer you!