One of the oldest kinds of taps you know is the pillar tap. It is usually placed on the basin. For hot and cold water running, there are distinct taps. Pillar taps are known for their classic design. These are the ancient school taps that come in many shades. As per your liking, faucets' handles can be made per your preferences. The bib kind and lever kind are the most preferred types of handles.
Parts of pillar taps:
Body washer
Body
Jumper
Seating
Handle (crutch, star, etc.)
Washer and retaining nut
Shield or cover
Headgear
Packing
Packing gland
Spindle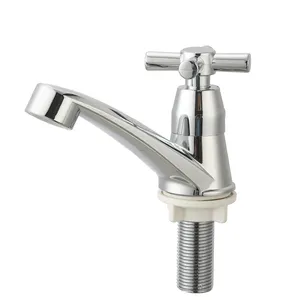 How does Pillar Tap Work?
Commonly, the pillar style is used in all taps. Inside the body of spigots, these have Nylon or Rubber washers on the threaded pillar. When a fixture is shut down, the washer will sit on the uppermost of the water-giving pipe. As we loosen the tap, complete the pillar tap unbolt and lift it with the washer. Thus permitting water to pass into the spout. Most frequently, classic fixtures use a non-rising head. This indicates that the task is similar—the washer and threaded pillar lift desperate of twisting, decreasing wear on the washer. Yet, using accurate ground clay discs, washers also advance with many classic taps. The primary benefit is that they do not undergo limescale deposition and have minor wear.
Types of Pillar Taps:
The most famous kind's pillar taps are the lever head and twist head tap.
Lever Head Taps:
Lever head taps are probably the most accessible kind of tap to turn on and off. With a light touch, they will turn on. This is due to the lever, which is simple to drag, placed on the top of the tap. Usually, liberating water, taps need a quarter turn. For people with these kinds of taps, those with trouble with their hands are the best hands. These kinds of taps cause agony of arthritis, and this tap is best. It may be of superior selection if you have arthritis, as it will give you the advantage that it has only one handle.
Twist Head Tap:
Sometimes they are called shrouded taps because they have a curved handle that liberates water when loosened. As you turn it, the washer raises, thus generating a motion of water that the tap release. They have easy parts, which makes them easy to fix. These are a durable form of taps. After some time, turning becomes difficult. So, selecting this kind of tap is valuable since it is simple to open with a light touch.
Location Of Pillar Taps:
Applications Of Pillar Taps:
It applies to providing water to bidets, basins, sinks, and baths. Yet, it integrates the cold and hot pillar taps that are obtainable with a swivel and fixed outlet. Yet, the outlet of both cold and hot taps must be in a two–way flow. The exit of these taps should be bi-flow. That means they have distinct cold and hot water flows to stop intermixing water inside the pipe.
Spare Parts:
Complete top headworks Assembly (Headworks and lever)
Lever only (Hot or cold)
Headworks (stuffing box assembly) HOS380 (Hot or cold)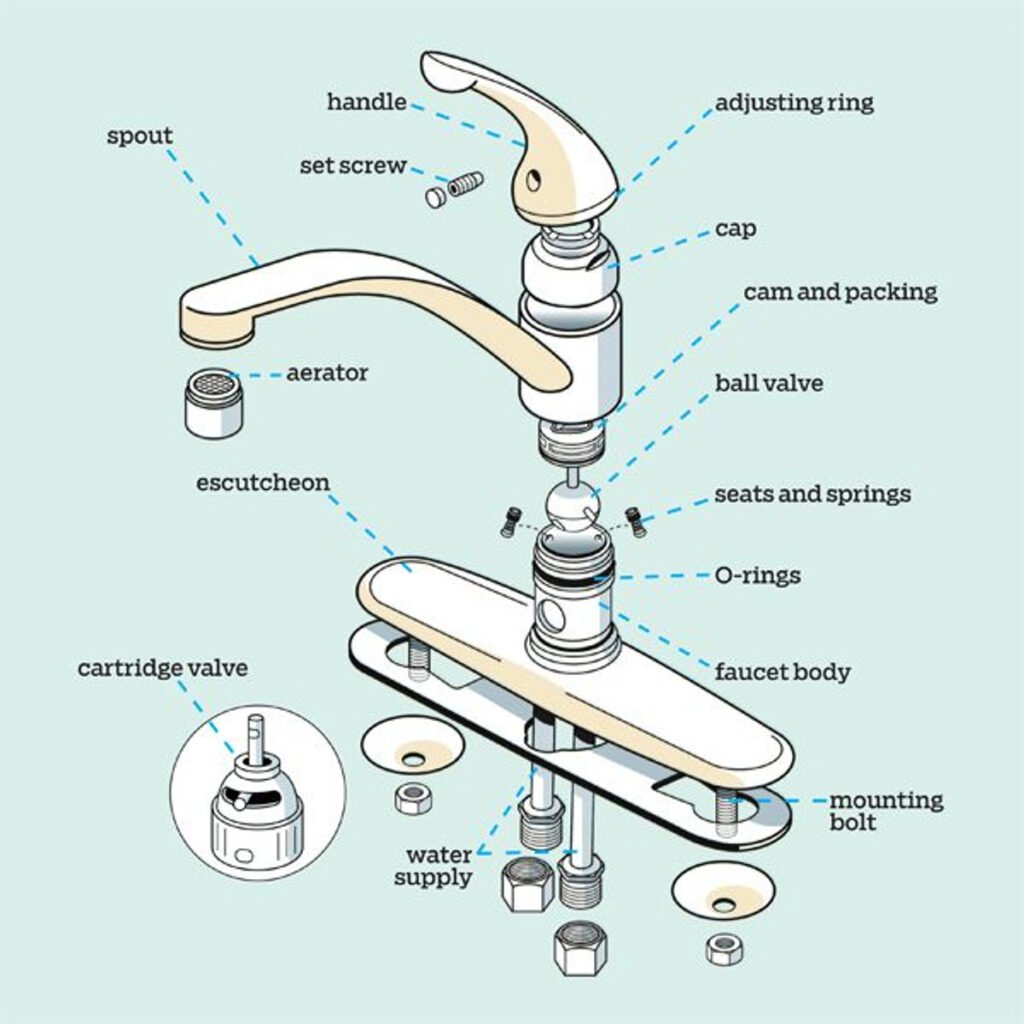 Standard Pillar Taps Designs:
These boast rounded spouts and classic lines for a traditional look and vintage.
They have a sole lever to drag sideways and upwards or sharp lines to release hot and cold water taps.
Colors Ranges
Black Basin Pillar taps:
To compensate for other black toilet fittings, we have a variety of pillar taps with black handles.
We have a variety of gold-colored pillar taps in the vast diversity of pillar taps. If over solid brass, we use excellent gold covering, indicating that these taps don't discolor for years. We provide famous Bristan 1901 varieties with gold pillar taps, identical bath taps, bathroom fittings, and showers.
Chrome Basin Pillar Taps:
The most famous type of toilet fitting is Chrome due to its simplicity of washing and strength. In chrome basin pillar taps, we have a choice of excellent and latest chrome basin pillar taps from which we can select.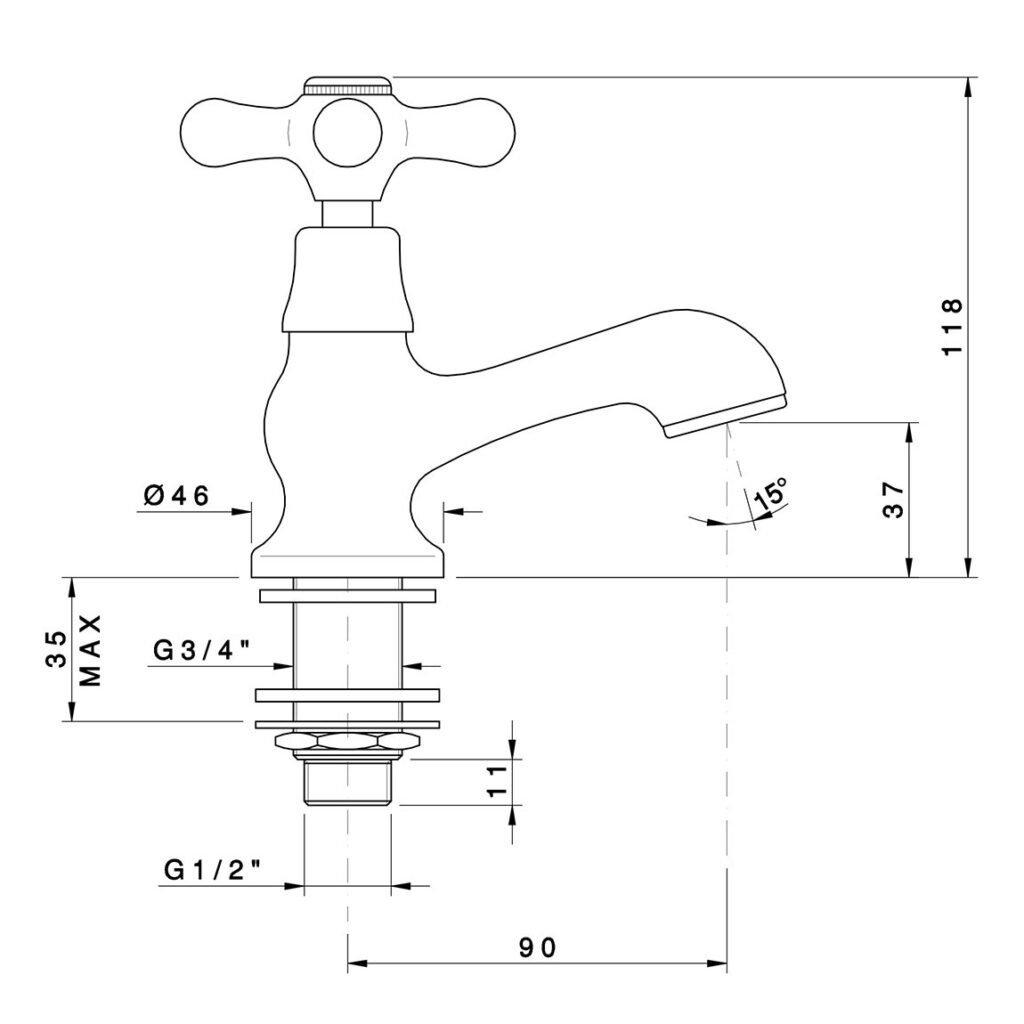 Dimensions of Body of Pillar Tap:
| | | |
| --- | --- | --- |
| Parts of Pillar Tap | Maximum | Minimum |
| Bore of seating | 12.9mm | 12.6mm |
| The outside diameter of the seating | 12.9mm | 17.9mm |
| Height of seating | 12.9mm | 1.6mm |
| The horizontal length of the nose from the center of the inlet to the outer tip of the outlet | 6.0mm | 100mm |
| Diameter of flange | 25.4mm | 44.4mm |
| Depth of square under flange | 6.0mm | 5.0mm |
| Size over flats of the square under flange | 25.4mm | 30.0mm |
| Length of internal thread on body | 12.9mm | 11.1mm |
What finish should you go for?
For the best fitting interior while selecting, always choose that finish that praises rest and general design for your kitchen and toilets. For finish and matter, ideal for generating Victorian design, brass, and gold –effects are the best. They are ideal for a look of customary abundance and comfort. Still, the installation concept for these taps within your bathroom must be accurately planned.
Quality chrome taps come in various modern and outstanding designs that fit into your toilets and kitchen. For a complete finish, you can choose a shiny or mat finish. Yet, remember that polished chrome finish requires most often cleaning for their best performance. Besides, a modern brushed finish or matt chrome is easy to maintain. It means they do not need frequent cleaning.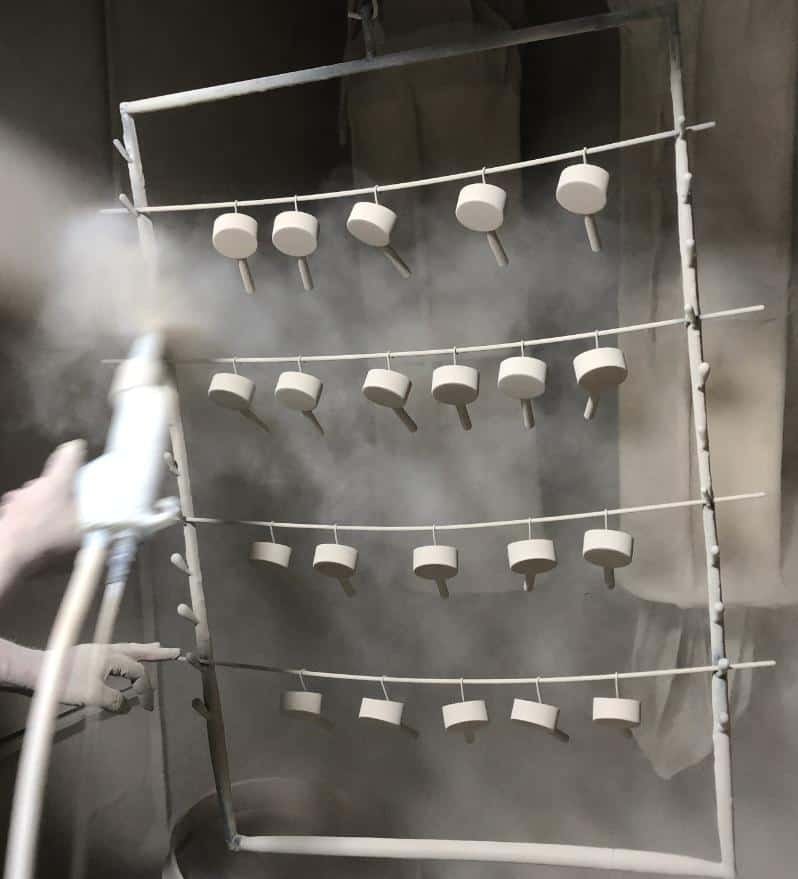 Materials:
| | |
| --- | --- |
| Components | Materials |
| 1)Body components, body, washer plate, and capstan head | Cast Brass Leaded tin Bronze |
| 2) Gland, spindle, washer plate, and nut | a)Brass b) Brass rod (rolled or extruded) |
Testing:
Every pillar tap should endure whole with its module
parts. For 2 minutes and inside, the hydraulic pressure of 2 MPa (20Kgf/CMA) is applied. While during this period, however, it neither exudates nor drips.
Label each pillar tap should be a readable label with succeeding data:
Producer's trade-mark or term
Nominal size
Nominal Size:
1. 15mm and 20 mm should be the nominal size of the pillar tap. Formal boring of the pipe exit to which the fixture is to be fixed is selected by standard boring
2. Specific dimensions maximum 15mm, 20 mm.
3. The outside breadth of seating – is 17.9-24.2. The thickness of net threaded and metal backup the seat-2.0 to 2.0.
4. Height of seating – 1.6 – 1.6.
5. Length of internal thread on body -11.1 -12.7
6. The exterior diameter of the body at the face –is 30.0 -39.0
7. Size of flats of the square under projection 25.4 -31.7
8. Length of flange -44.4 – 50.8
9. Depth of square below flange 6.0,5.0,
10. The thickness of the wall OF outside threaded 2.3 to 2.3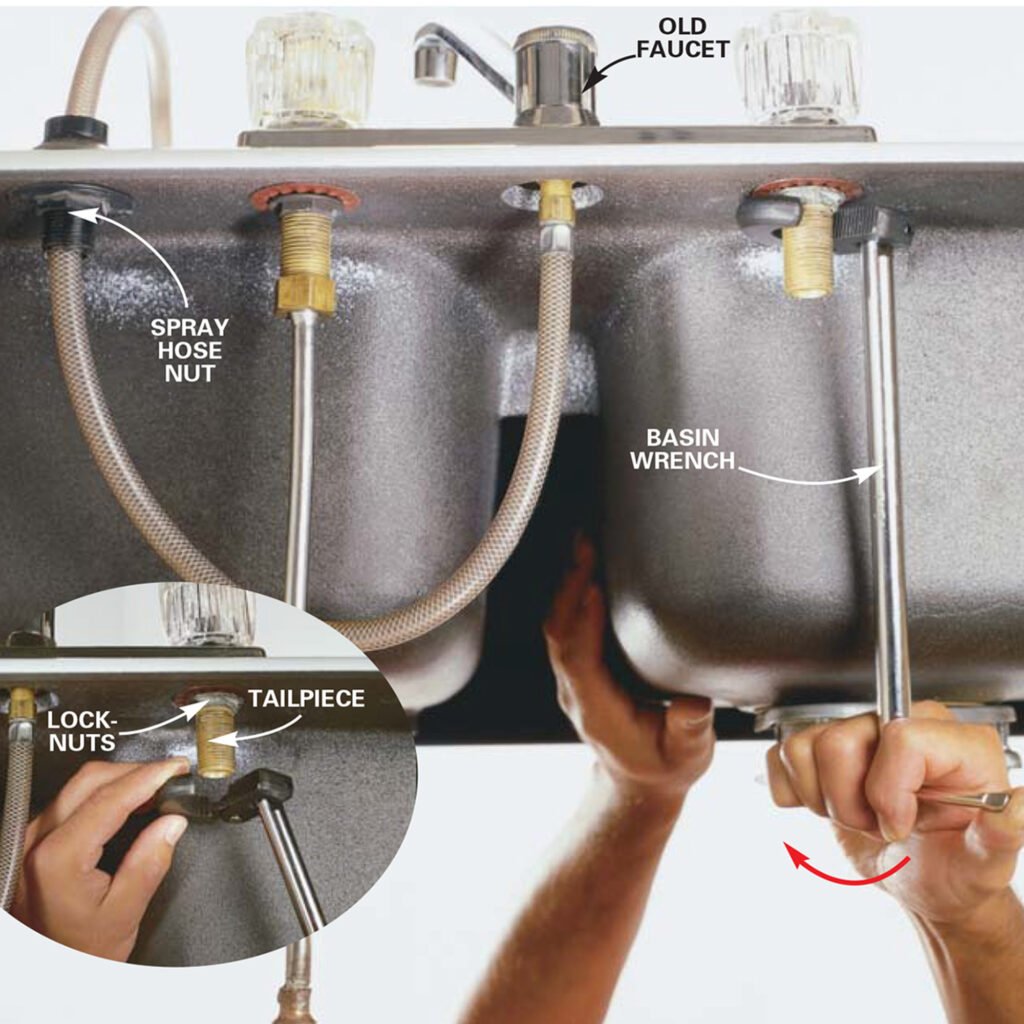 How long do pillar taps tend to last?
Like other taps, pillar taps should last for five to ten years. They exhaust more if the washers and spindles inside the head turn more. But if cared for correctly, a faucet can last over five years.
Cleaning of Pillar Taps:
Just remember the following tips. It is not difficult to clean and sustain your tap.
Step 1: With a soft cotton cloth, it is excellent to wash the surface of the Hansgrohe tap. All dirt can be removed by gentle cleaning. Kindly avoid using any metal brush, metal, or micro-fiber cloth.
Step 2: Limescale remains tend to deposit in the curves and grooves. You can use mild citric acid-based cleaner. Try to avoid shower distillate right away onto the tap. Shower it onto a cloth.
Step 3: For cleaning, the aerator is simple to eradicate. Suppose you put a small amount of cleanser in hot water. This will help you to get rid of remains after use of time for about ten minutes. Many Hansgrohe products are furnished with quick clean skills. This fast anti-limescale action makes removing any limescale remains on the tap quick.
Step 4: By utilizing portable water wash the pillar tap thoroughly.
Step 5: Repeat the first tip to remove any cleaner remains and give the surface a shiny finish.
Maintenance:
 To make your tap spotless, complete maintenance is vital. The Hansgrohe excellence lab has to check many descalers and cleaners. Little is enough; this is what we have concluded.
Our preferred substance is citric acid. It is operational, aromatic, and does not cause any harm to the tap. The cleaning agents are established on acetic acid, vinegar, formic acid, phosphoric acid, and sodium hydroxide. These substances are rarely harsh. They may also destroy the metal if these are used most often.
Even if the substances are of supreme quality, the importance we can commend citric acid.