Standard taps differ from wall-mounted taps in appearance and location in the bathroom. The wall above the sink or bathtub is where wall-mounted taps mount. A tap's mounting refers to the kind of surface on which it fixes. Deck-mounted taps are those that fix the basin or worktop. Other taps fix to the wall above the basin. The term "wall-mounted taps" refers to this.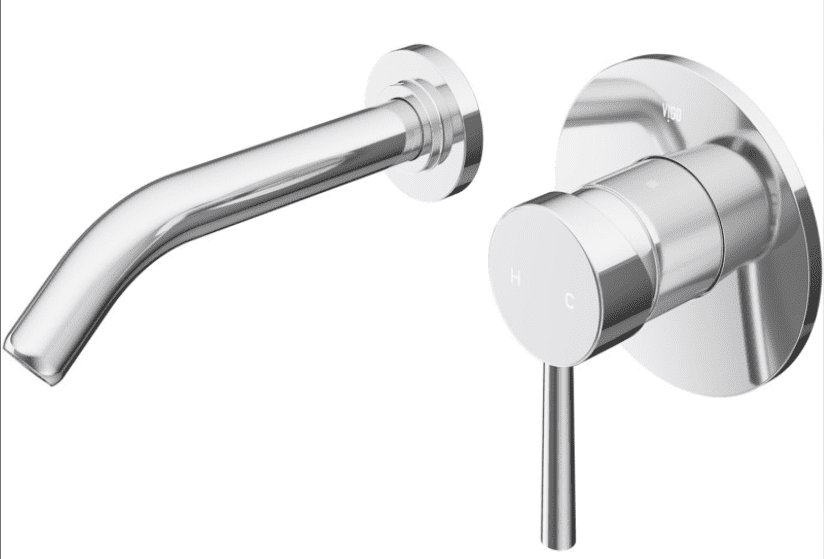 Raw Materials for Wall Mounted Taps Manufacturing:
Stainless steel, brass, and zinc alloy are the taps' most famous raw materials.
Brass:
The most popular material for producing faucets is brass. It constructs with copper that meets international standards H59/H62. For gravity casting, steel molds use.
Its homogeneous wall thickness ranges from 2.5 to 3 mm. Brass faucets have the following qualities. No rust, usage, anti-oxidation, or sterilizing effect on water.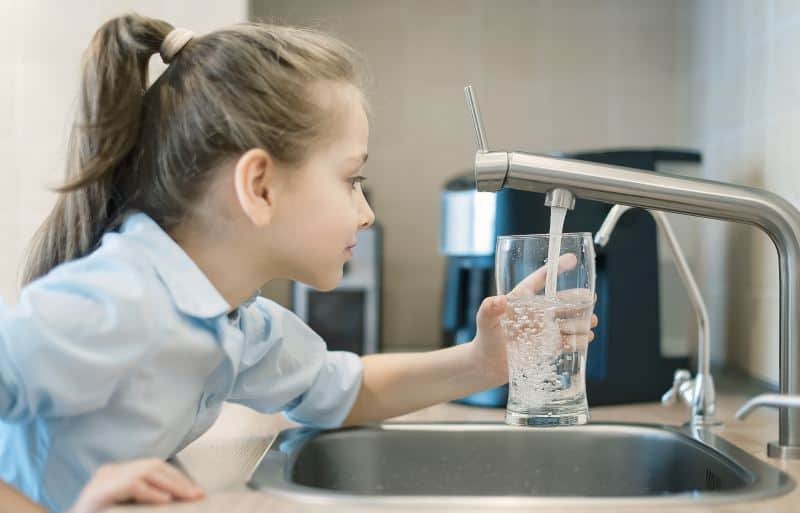 Seems to oxidize when viewed from the inner wall, and white oxide powder will gather on the surface. The service life is short, the strength is worse than copper, and the lead concentration is high.
Suppose the zinc alloy faucet oxidizes and rots within one to two years. The handle of a faucet is now made of zinc alloy. It is die-cast from zinc alloy and then chrome-plated. The majority of faucet handles available are a construct of zinc alloy.
In the twenty-first century, environmental and health protection have gained new significance. A renowned healthy raw material that can be implanted into the human body is stainless steel. As a result, bathroom accessories made of stainless steel start to gain fame in America.
However, this impacts the mass manufacturing of stainless steel faucets. As a result, the cost of a genuine 304 stainless steel faucet is more expensive than the cost of copper. It has the following qualities: health and environmental protection.
All the product's raw materials are top-grade 304 stainless steel, rust- and lead-free. Taps won't contaminate the water supply with further lead, endangering people's health. Yet, it can create a safe water environment in the kitchen.
Applications:
Compatible:
Wall-mounted bathroom taps look fantastic when used with freestanding baths or countertop basins. Due to the non-adjustable exit height, this tap would work best with a standalone bathtub. The style features round corners and a polished chrome finish favored by people.
The flexible tailpipes also make for a quick and simple installation. Wall-mounted tap may be the feature you need if you want to make some modest alterations to your bathroom. Achieving a flush finish and a simple look has never been easier. In your bathroom, wall-mounted taps fix into the supporting wall during remodeling. However, to serve its job, a tap must place over a sink or bathtub.
Wall-mount faucets and wall-hung basins use in bathrooms. Yet, to maximize space savings and create a cohesive look. Most high-end bathtubs on the market lack an integrated faucet. Like this, wall-mounted taps in the kitchen will sit above the sink. So, rather than attaching to the frame of the trough or benchwork.
Different varieties:
A selection of heads, crosshead designs, and wall-mounted taps come in traditional forms. The following is a list of a few wall-mounted faucets. Wall Mounted Basin Taps:
Wall Mounted Basin Mixer Taps:
Wall-mounted basin mixer tap combines hot and cold feeds. Yet, to provide a single flow of temperature-controlled water. These taps construct with one or two levers and a single spout.
Wall Mounted Bib Taps:
A wall-mounted bib tap set consists of separate hot and cold taps that each have their water flow. Wall-mounted bathroom faucets
Wall Mounted Bath Fillers:
Wall-fixed bath fillers function as a mixer tap and mount on a wall above the height level of a bath.
Wall Mounted Bath Shower Mixers:
Wall-mounted bath shower mixers are like wall-mounted bath fillers. They also contain more shower connections. Finally, that can switch between filling a bath and running water for a shower.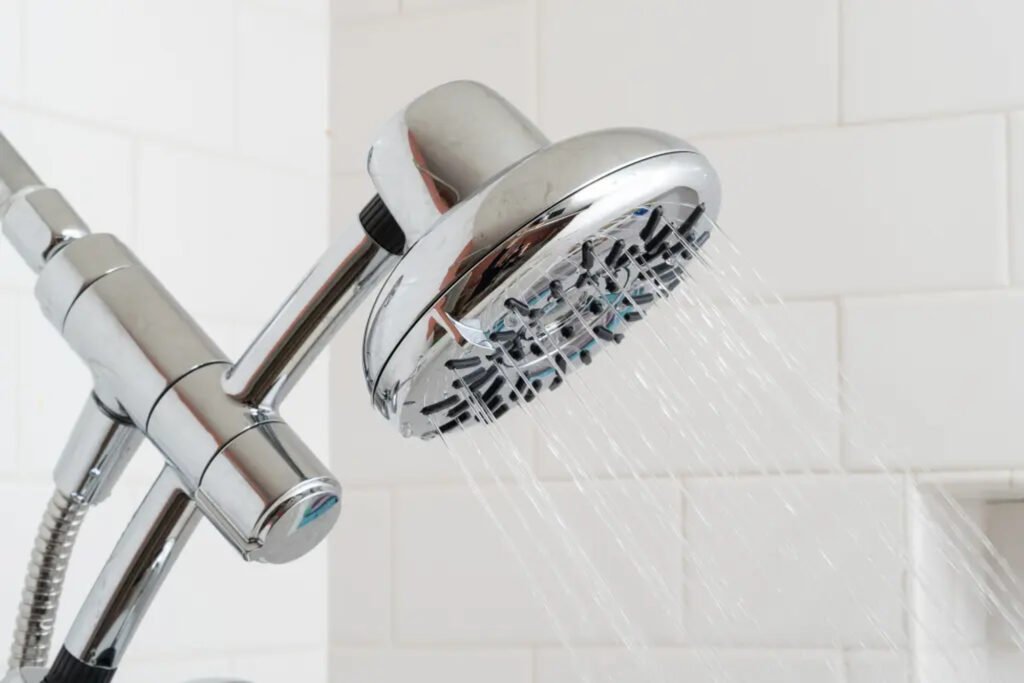 Design of Wall-Mounted Taps:
Due to their stylish designs, this uniqueness causes design issues. Huge wall mount taps need large sinks to avoid splash caused by stream water striking a shallow sink. Additionally, large sinks could need shaped vanities or countertop card inserts. The cost of a customized sink or bowl raises the whole unit's price.
There are a few different designs to choose from:
• Cross handle
• Lever handle
• Waterfall
Positioning OF Wall-Mounted Taps:
The placement of wall-mount faucets is crucial for ensuring their effectiveness and performance. Wall-mount taps are given much more pliancy, while mount taps have a specific site near the sink. The fixtures are often lengthy to enable them to reach the center of the bowl. Large bowls must fit underneath the flowing water. Yet, the tap must mount high enough to prevent giant splashing from falling water.
What Height Should Mounted Taps Be Set at?
The style and shape of the mounted tap will determine how high it should be, yet these are the suggestions: To wash your hands without bumping the basin. However, it says that wall-mounted basin taps fit around eight to ten inches above the sink.It advises that there be a distance between the wall-mounted tap and the bathtub of at least 10 cm for wall-mounted bath taps.
Specifications of Wall-Mounted Taps:
| | |
| --- | --- |
| Mounting Type: | Wall Mount |
| Finish | Chrome |
| Handle Type | 2" Lever Handle |
| Spout Type | Bubblers+ Others |
| Flow Rate | 2.2 GMP |
| Faucet Hole Spread | 1-1/8" |
| Spout Reach | 3-1/2" |
| Valve Connection | ½"-14 NPSM |
| Deck Clearance | 5-3/8" |
| Faucet Hole Size( minimum) | 4 |
Testing:
The Clearance Test:
This focuses on clearance. Yet, between the spout and drain in the tap and wash basin combo or amount of space, the user has to move around. To determine whether the user can wash their hands, a test ball is placed between the tap and the washbasin. This test should not recommend the combination if the ball does not fit in the center under the water jet.
The Spray Test:
This test examines the splashing behavior of the combo. When water strikes the wash bowl, there shouldn't be any splashing. The tap is often turned on and off throughout this test. Throughout the process, the washbasin must continue to be dry. The tester will then determine whether any splashing has happened outside the basin. A splash test will carry out many times for each tap. Hence diverse pipeline pressures to produce findings. Yet they are as realistic as workable.
The Practical Test:
Here, the splashing behavior during hand washing examine. The standardized hand model simulates hand washing by rotating the hands three times. This is also where any splash outside the basin will test.
What Finish Should You Go for?
Gold or brass effect taps are the perfect material and finish to meet Victorian flair. They are ideal for bringing in a dash of vintage grandeur and coziness. But incorporate those taps into your bathroom installation concept. Standard chrome taps are available in various traditional and modern styles.
Yet that work with most bathrooms. To achieve the desired aesthetic, choose a matt or shiny finish. Yet, bright chrome taps need periodic cleaning to maintain their best appearance. Yet, matt chrome or stylish brushed finishes are simpler to keep.
Maintenance:
Cleaning the bench surfaces is made much simpler by the wall-mounted taps. Cleaning the taps that locate on the sink is not only challenging but also breeds mold. Yet, wall-mounted taps don't cause these problems.
Installing wall-mounted taps might be a bit pricey. However, when remodeling because the existing tap bases and designs must remove. Aside from making it modern, one also wants to select a practical and affordable option. Make a commitment that will serve your needs.
Cleaning: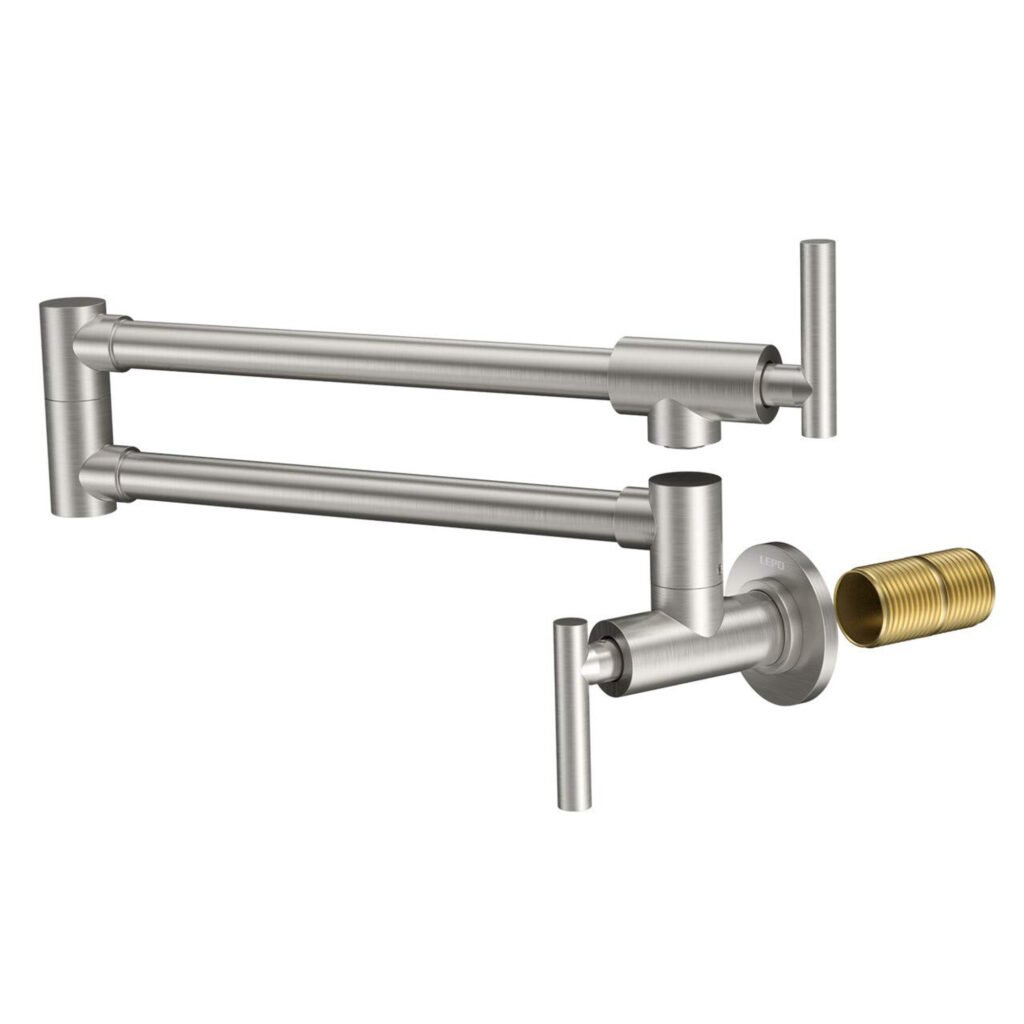 Only warm, soapy water should be used to clean them, followed by a rinse in fresh water and a soft cloth to dry them. All finishes are susceptible to acid attack, and some potent materials, like home cleaners, disinfectants, denture cleaners, and hair colors, can harm the surface.
Cost of Wall-Mounted Taps:
Both purchasing and installing them are more expensive. The drawback of a wall-mount faucet is that the sink drain and plumbing must be fit. They must move if they are not in the proper location. But until you cut the drywall to look behind it, you won't know what the problems are.
The lifespan of Wall Mounted Taps:
Modern toilets will have a longer lifespan, given all advancements in recent years. A high-quality modern bathroom can endure up to 50 years with correct design and planning. Some fixtures, though, need to replace after six months. Materials used in bathroom design are essential. Yet, some materials are more lasting than others