Are you tired of shower hoses that don't quite have the reach? Or you'd prefer a hose with more give for a comfortable shower experience. Regardless of your needs, look no further — this is the ultimate guide to finding the perfect shower hose!
We'll cover all the pertinent details, from length and flexibility to materials and extra features. Best of all, we've already done all the hard work, so you don't have to. Keep reading, and you'll be well on your way to enjoying the showers of your dreams.
Suitable shower hoses are drinking water-certified.
As for why shower hoses should be drinking water certified, here are a few reasons that might persuade you to prioritize this requirement when shopping for one:
Firstly, the safety aspect; certified shower hoses have been tested and found reliable in terms of their internal parts standing up to high temperatures and in regards to boasting antifungal properties that reduce the risk of infection from microbial growth.
Secondly, these shower hoses can guarantee peace of mind knowing water particles won't corrupt them.
Last but not least, it's reassuring to know your family members can enjoy showers without worrying about hazardous contaminants sneaking through – something significant if there are older adults in your home who may need extra precautions.
At the end of the day, why wouldn't you spring for a good quality drinking-water-certified hose? Everyone deserves a refreshing shower without doubt or fear!
Comfortable shower hose: Which length?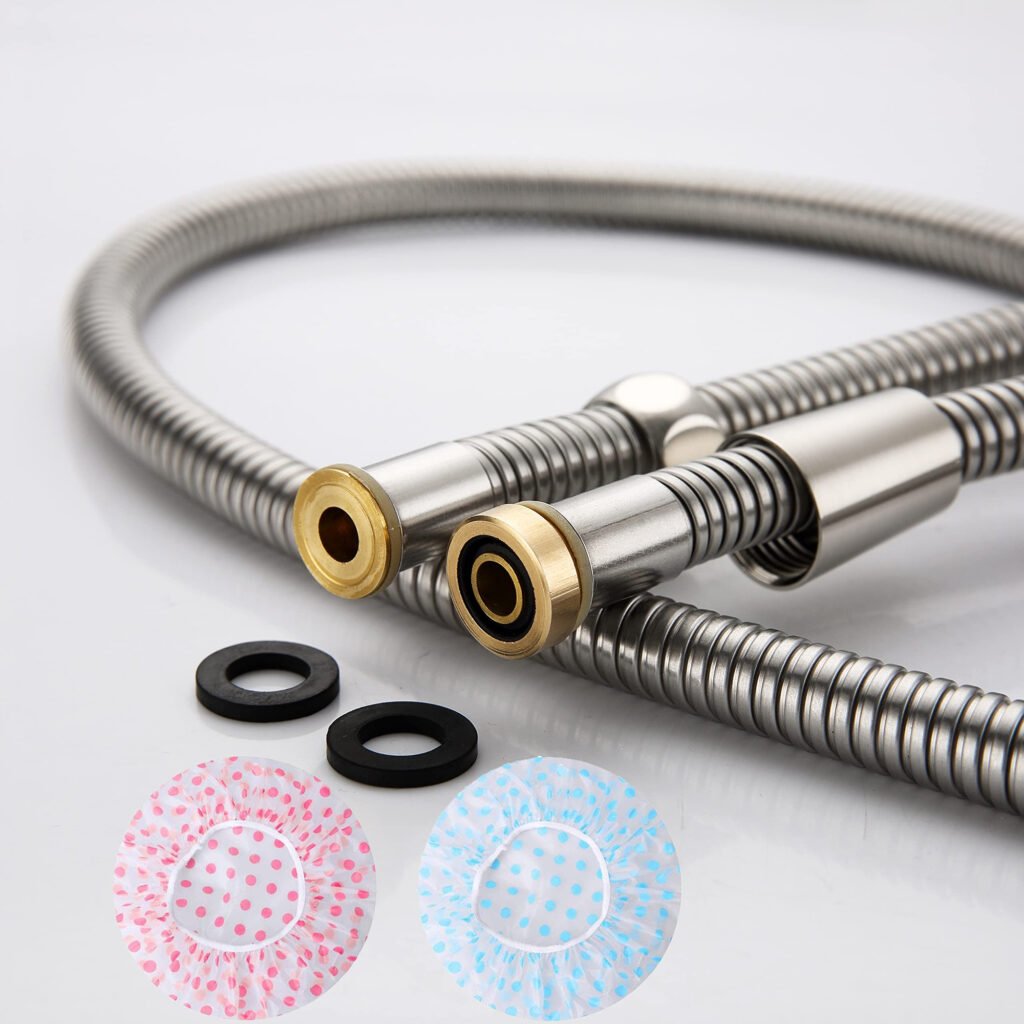 When it comes to finding the perfect shower hose, length is a crucial factor. The right length makes all the difference in terms of comfort and usability. Commercial shower hoses come in three standard lengths –
12 inches,
18 inches
and 24 inches.
While that is a good starting point, the ideal length depends on how you plan to use it and what type of bathroom setup you have.
Let's start with some basic knowledge about the different lengths available.
A 12-inch shower hose is ideal for small bathrooms or tight spaces because of its compact design. It's also great for hand-held sprayers as it provides direct access to hard-to-reach areas like your shoulders and back without strain or stretches too far away from the tap or shower head. However, if you're looking for something longer than 12 inches, you'd be better off considering an 18-inch or 24-inch model – depending on your needs.
An 18-inch shower hose can offer flexibility without taking up too much space in your bathroom; it plugs easily into existing water outlets and allows room to maneuver without pulling the hose from wall to wall.
Similarly, a 24-inch model might have some extra reach so that you don't have to move any furniture or step out of the way while using it – perfect for those who may be taller than average and need additional clearance to feel comfortable when washing their hair or body!
When deciding which length would suit your needs best, consider both convenience and practicality – try them all out if possible before buying one! Your choice should depend on how much space is available in your bathroom as well as how tall/short you are compared to the pipework/showerhead locations in your home; by taking these two factors into account, you'll find yourself effortlessly enjoying a more relaxed, convenient bathing experience each time!
High-quality shower hose: Which material?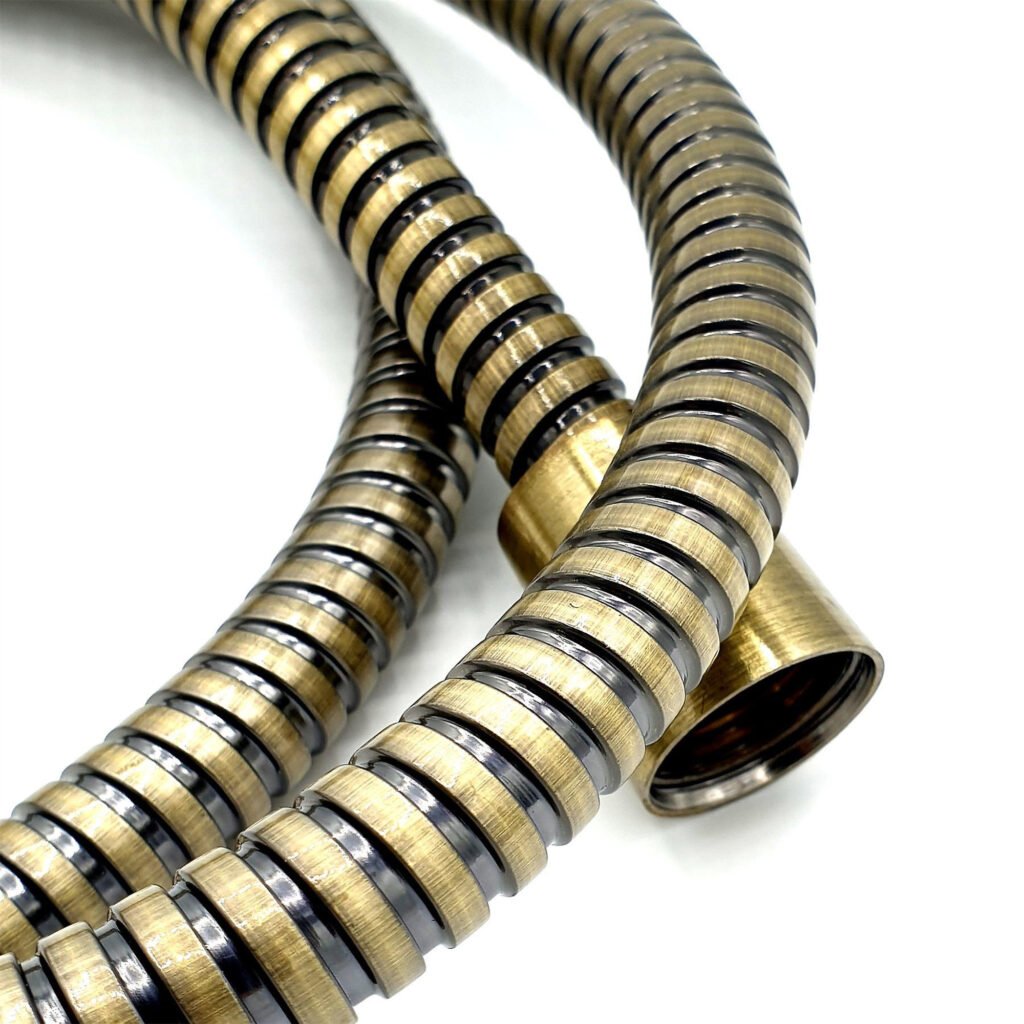 If you're anything like me, you've had your fair share of shower hose mishaps. When the water pressure suddenly decreases, you have to turn the knob to cold to get a decent flow going. Or when the water temperature dramatically changes because your spouse decided to take a shower right after you. (Why do they always do that?)
But what's even worse than a lukewarm shower is a shower hose that leaks. Water sprayed all over the place, making the floor wet and the whole bathroom feel icky. No, thank you!
So how do you avoid such disasters? It's quite simple: by investing in a high-quality shower hose. But with so many different materials on the market, it can take time to decide which one to choose. Here's a quick guide to help you out:
Metal: Metal hoses are durability personified. They can withstand high water pressure and temperatures and be kink-resistant. However, they are also the heaviest type of hose, so if you need help lifting things, you might have better options.
PVC: PVC (polyvinyl chloride) hoses are lightweight and flexible, making them easy to maneuver. They're also relatively inexpensive, which is always a bonus. However, they're not as durable as metal hoses and can become brittle.
Stainless steel: Stainless steel hoses strike the perfect balance between weight and durability. They're also corrosion-resistant and look quite sleek. The main downside is that they are more expensive than other hoses.
So there you have it! Now that you know more about the different shower hoses available, you should find one perfect for your needs.
Beautiful shower hose: Which design?
Finding the perfect shower hose for your bathroom can be tricky- but also quite fun at the same time! Beauty is in the eye of the beholder – will you choose a classic design made from metal or something more modern in plastic? Both offer up different advantages. From Kink-resistant hoses to those with an added streak of vibrant colors, the possibilities are endless when finding the proper shower hose for your bathroom.
Metal
A metal shower hose has a classy shine that sets it apart from its plastic counterparts and can last even longer due to superior craftsmanship. Many metal shower hoses are available in multiple sizes, so regardless of how big or small your bathroom might be, they're sure to fit perfectly into any space. If a customer is looking for extra kink resistance, then metal is their best bet – stainless steel and brass tend to offer superior strength compared to plastic hoses known to crumple over time.
However, metal has some downfalls compared with plastic – such as feeling cold on bare feet or showing dents or scratches more quickly than other materials. Plastic offers up its own unique set of advantages too. The construction process allows some unique designs not achievable on metal which could take away some of the classic feels but add a contemporary edge instead!
Plastic
Coming in more vibrant colors than any metal chrome finish can provide, plastic often feels softer and easier to maneuver given its lighter weight nature and flexibility. This makes them especially useful for larger bathrooms with multiple showers where alternative hoses are needed, as they remain easy enough to transport between them if required.
Sifting through options for achieving beautiful showers may be hard work at first, but ultimately it's worth taking your time and finding which design best suits your needs and tastes.
Matching shower hose: Which connections?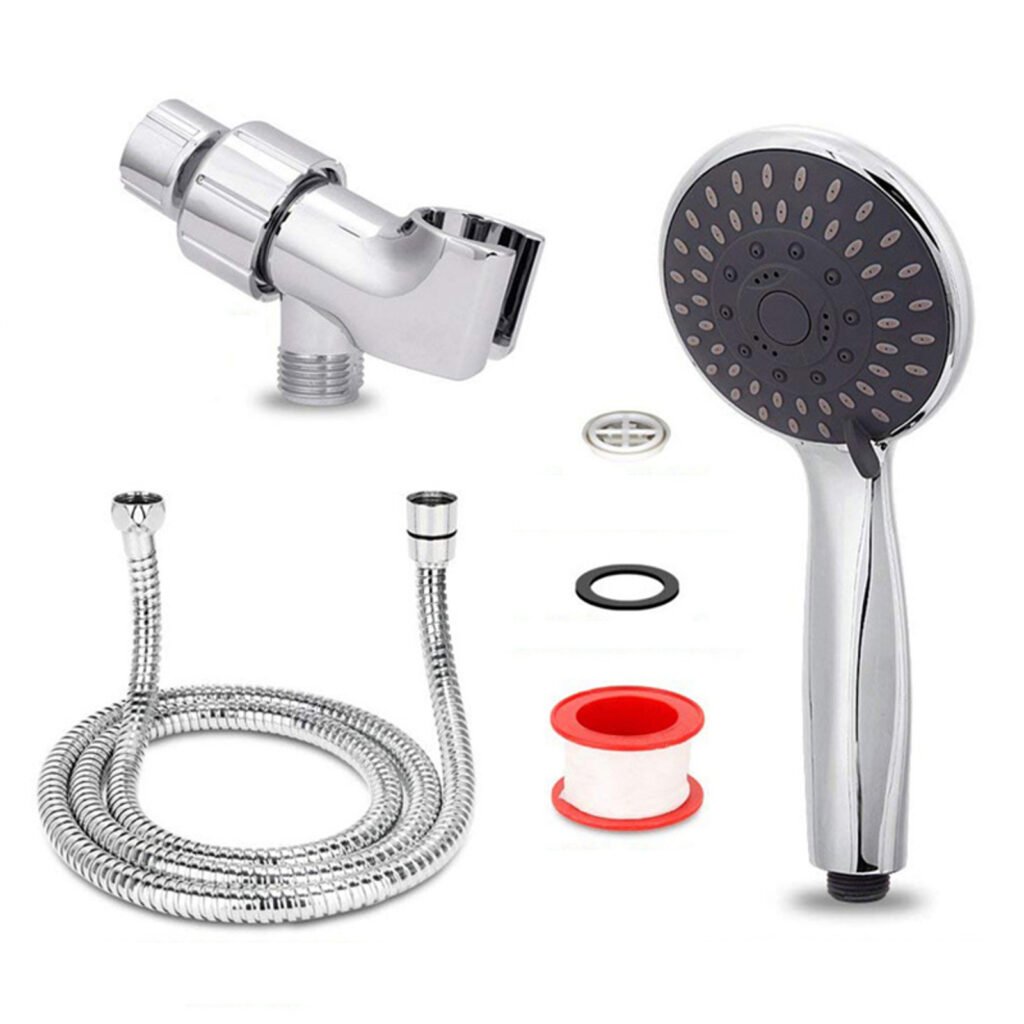 Finding the perfect shower hose can be tricky, but it doesn't have to be painful. When it comes to matching your shower hose with your existing fixtures, there are just a few things you need to consider.
The first thing you'll need to do is determine what kind of connection your current fixture has so you can find a compatible hose easily. The most common type of connection is a threaded, 1/2-inch interior diameter (ID) outside with male threads (NPT), commonly referred to as the standard American connection.
You may also have a specialized connector or fittings, depending on the age and design of your plumbing system – though these tend to occur infrequently and usually require an expert plumber to install them properly.
Installing a high-quality shower hose could not be easier – you can screw it on and off without the help of a professional. Now, all that is left to do is enjoy an, even more revitalizing hot shower experience!
Hofen shower hoses: High-quality and well thought-out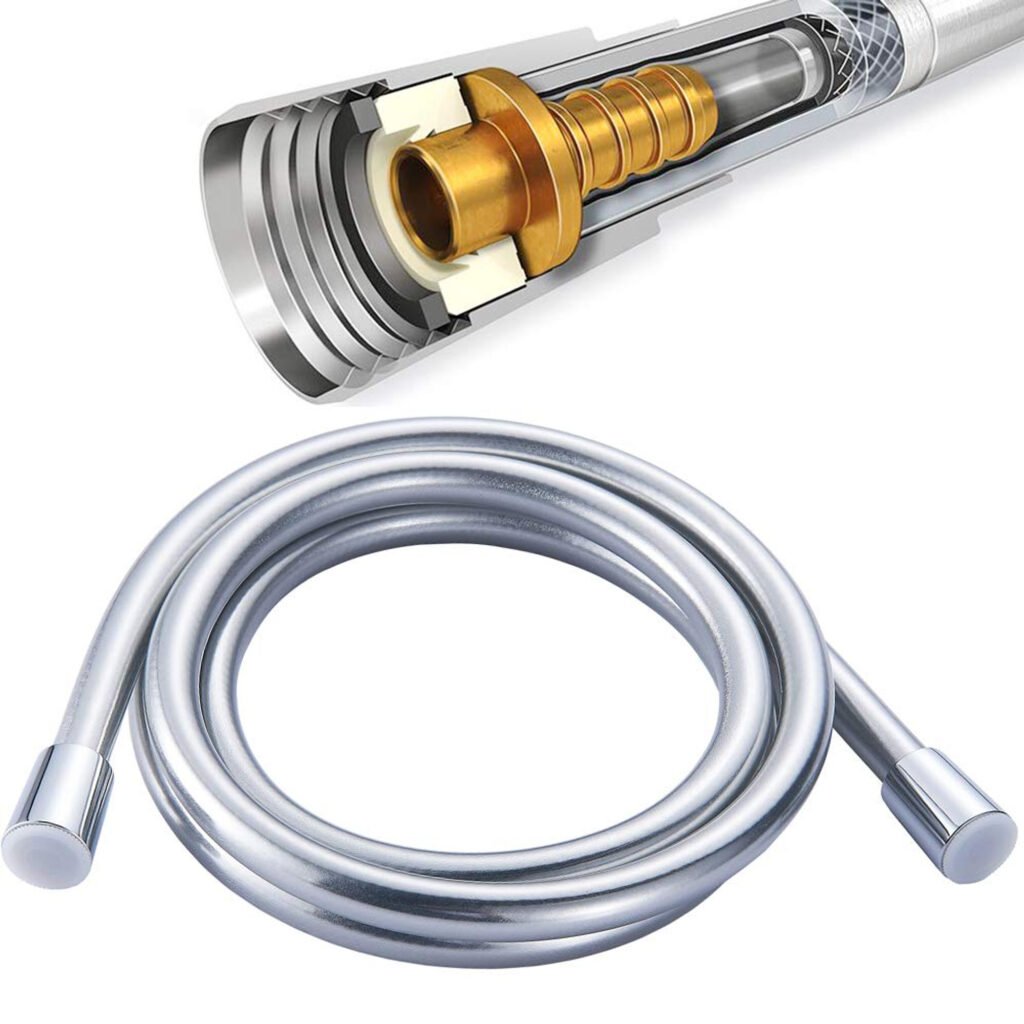 Unparalleled Flexibility: The Hofen shower hoses are designed to be extra flexible, making them perfect for reaching those hard-to-get-to shower areas.
Durable and Reliable: Constructed from high-grade stainless steel, these hoses are designed to stand up to the test of time.
Versatile Connectors: With a wide range of connectors and fittings, the Hofen shower hoses can be fitted to almost any shower system.
Anti-Kink Design: Thanks to the unique anti-kink design, you can be sure that your shower hose won't kink up and block the flow of water.
Rust-Resistant Finish: To ensure that your hose stays as good as new, it has been treated with a rust-resistant finish.
Exceptional Quality: Hofen shower hoses are renowned for their outstanding quality and unbeatable performance.
Ergonomic Design: The ergonomic design of the hoses makes them comfortable to use, even during long showers.
Wrapping up
Whether you're looking for a traditional chrome hose or a modern plastic one, finding the perfect fit for your shower setup is as easy as pie. Just make sure to check the type of connection your current fixture has so that you can find a compatible model easily.
For the past 10 years, Hofen Sanitary has been creating luxurious shower hoses that will enhance any bathroom. Whether you are looking for custom-made OEM service or discounted wholesale supply – their top-of-the-line products are ideal for both contemporary and traditional bathrooms. Made with superior quality materials to ensure customer satisfaction, let Hofen's shower hose bring your bathroom a touch of elegance today!