What's a Bathroom Faucet
A bathroom faucet, also known as a tap in many regions, is a valve fixture that controls the release of water. It's an essential component of the bathroom, typically found on the sink but sometimes on bathtubs or showers. Here's a deeper dive into understanding bathroom faucets:
Construction and Operation
Bathroom faucets are primarily brass, but the exterior can be chrome-plated, nickel-plated, or have other finishes to match the bathroom decor. The faucet regulates the flow of water from the plumbing through the spout and into the sink, tub, or shower. This regulation is typically controlled by the rotation or lift of a handle, which adjusts a valve inside the faucet. Some faucets come with two handles. One controls hot water, and the other controls cold water, while single-handle faucets allow users to adjust water temperature by moving the handle left or right.
Types of Bathroom Faucets
Single-hole faucets: These have one handle and are perfect for smaller sinks.
Center-set faucets: These can either have a single handle or two handles. They're designed for basins with three holes: one for the spout and two for the taps.
Widespread mounts: These have three separate pieces – two handles and a spout – and are meant for larger sinks.
Wall-mounted faucets: These are mounted on the wall and require wall-mounted plumbing. They're commonly used with freestanding sinks or bathtubs.
Deck-mounted faucets: These are mounted directly onto the bathtub and are often used for tubs without shower fixtures.
Top-rated Faucet Types and Specifications
What are the many forms of bathroom faucets? What kind is suitable for you, and where will you install it? On a vanity countertop? Directly on the sink deck? On the wall? How many holes does the faucet have for mounting it? Knowing what can be done quickly, what requires some effort, and what won't operate in your bathroom is essential to saving time and cutting through the clutter.
Centerset faucets
The most famous center sets are the ones with two handles on a deck plate, which were designed to be all-in-one faucets. They've long been the norm in most bathrooms (though their popularity is declining), and they're ideal for small sinks and tight spaces. These faucets need three holes in the sink or mounting surface; the distance between the handles is 4 inches (measured from the center of each hole). Suppose you're replacing an old center-set faucet. In that case, getting another center, a "mini spread" faucet, or a single-handle faucet with a deck plate (to cover up unused holes) is generally preferable.
Widespread faucets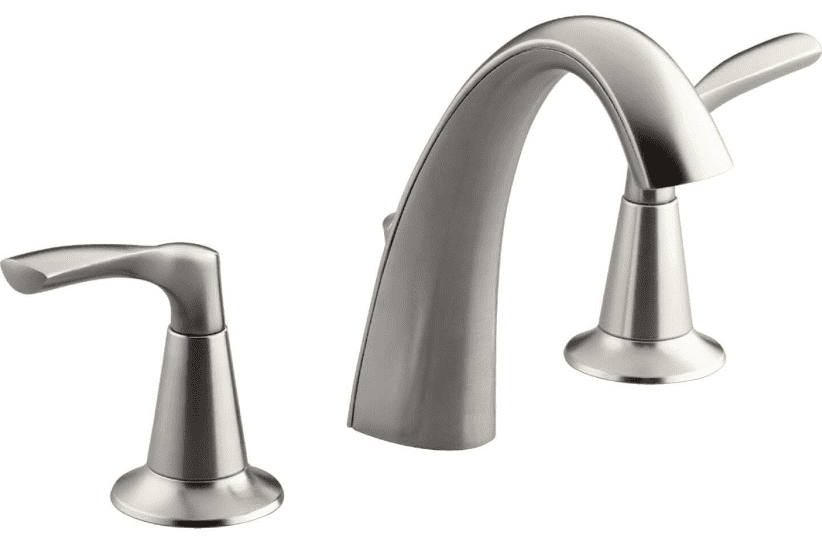 Three holes are standard on widespread faucets, generally positioned 8″ apart. Adjustable versions with distances of up to 16″ are available; these faucets do not require deck plates because they have enough space between them. A comprehensive model is perfect if you want a more significant sink or work surface and appreciate the look/function of a two-handle faucet.
Minispread faucets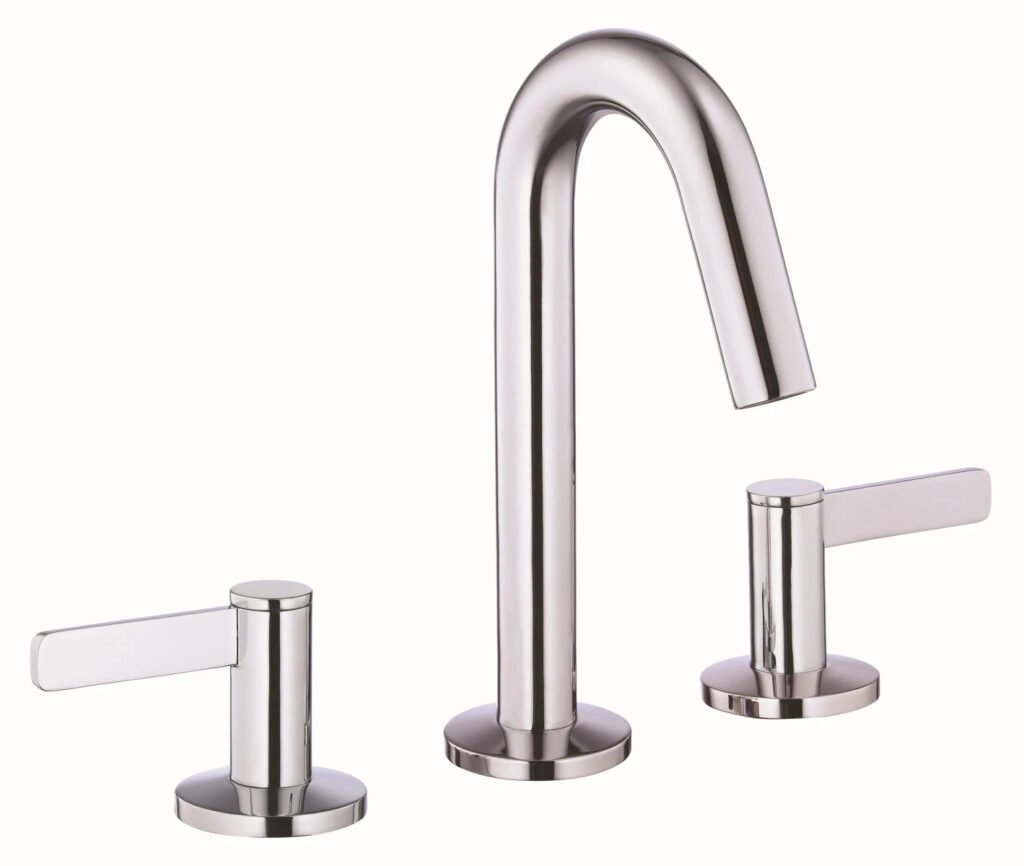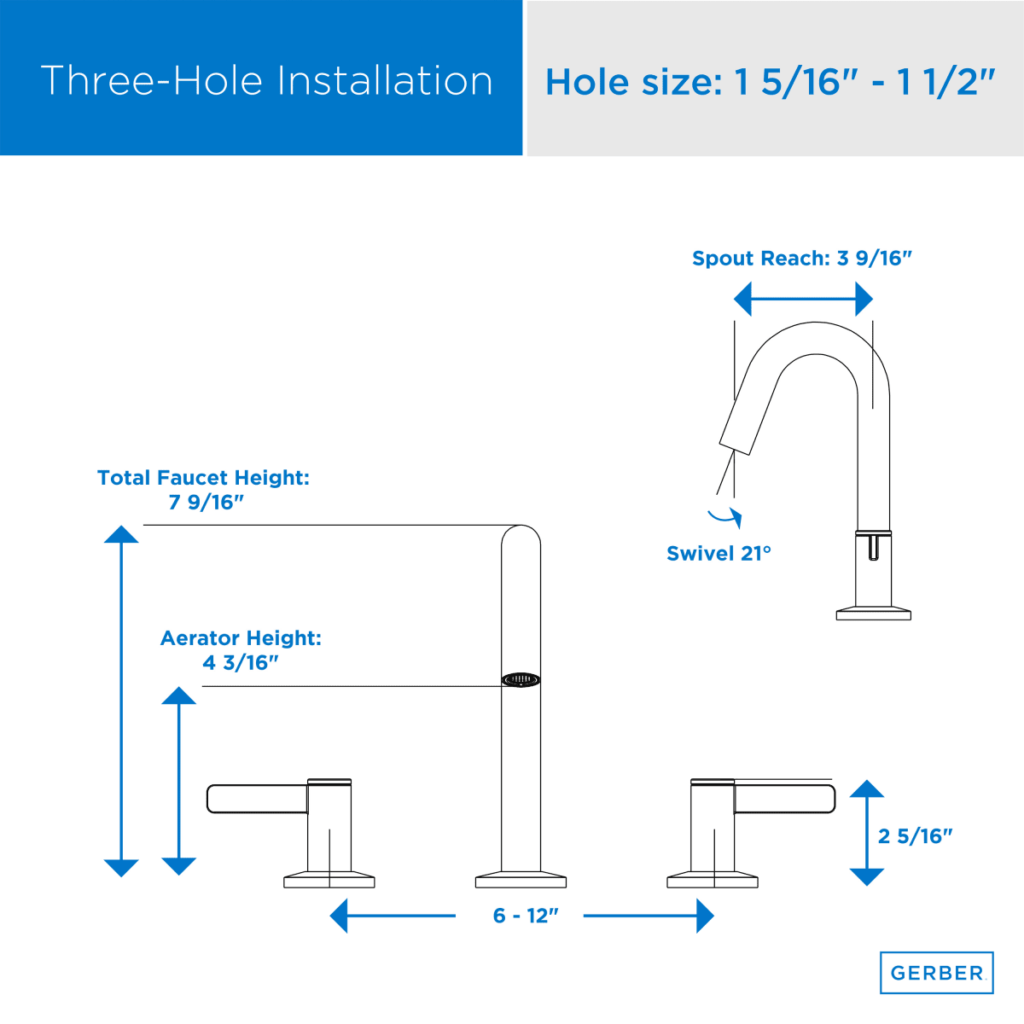 Centerset and widespread faucets may have a child in the form of mini spreads (or "mini-widespread") faucets, a cross between centerset and all-around faucets. Minispreads have handles mounted on individual stems instead of attached to the deck plate like a typical center-set faucet.
Single-handle faucets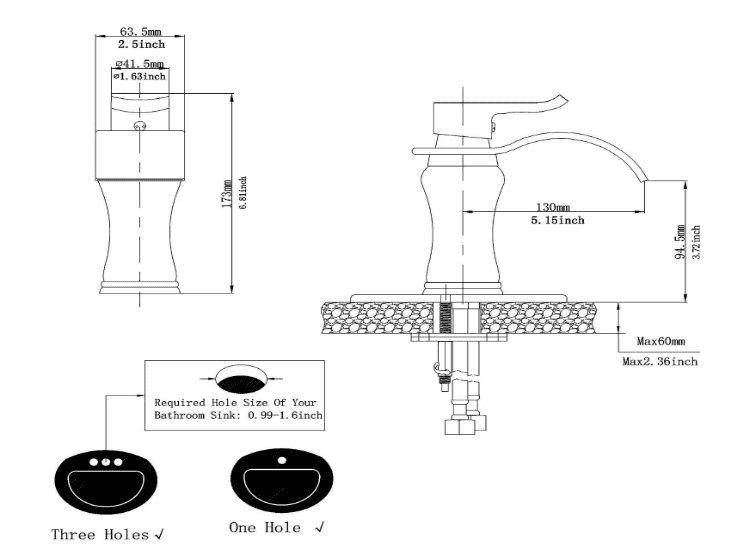 Centersets, one-handle faucets, and wandless faucets are all popular bathroom fixtures. They generally only use one hole and can be made with a small footprint (covering just the single hole) or a large deck plate to cover any open spots on the sink deck/countertop. Some versions will remove the spout from the handle, necessitating two holes.
Wall-mounted faucets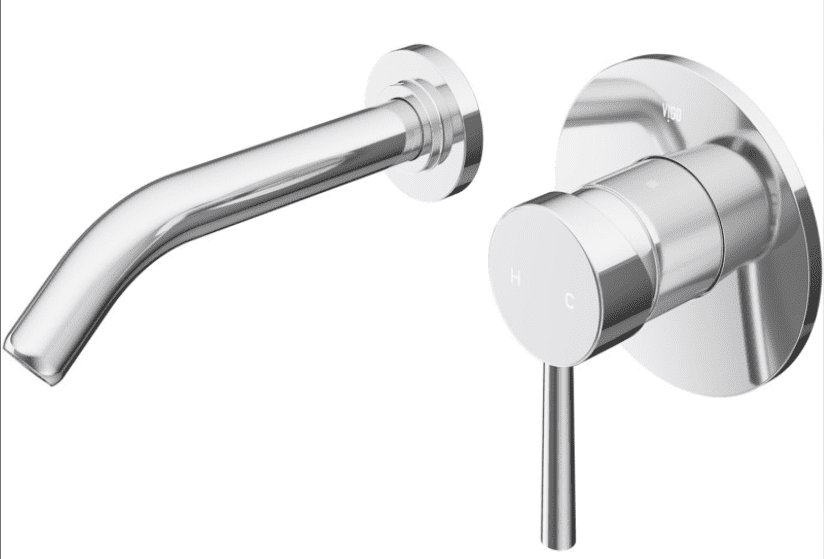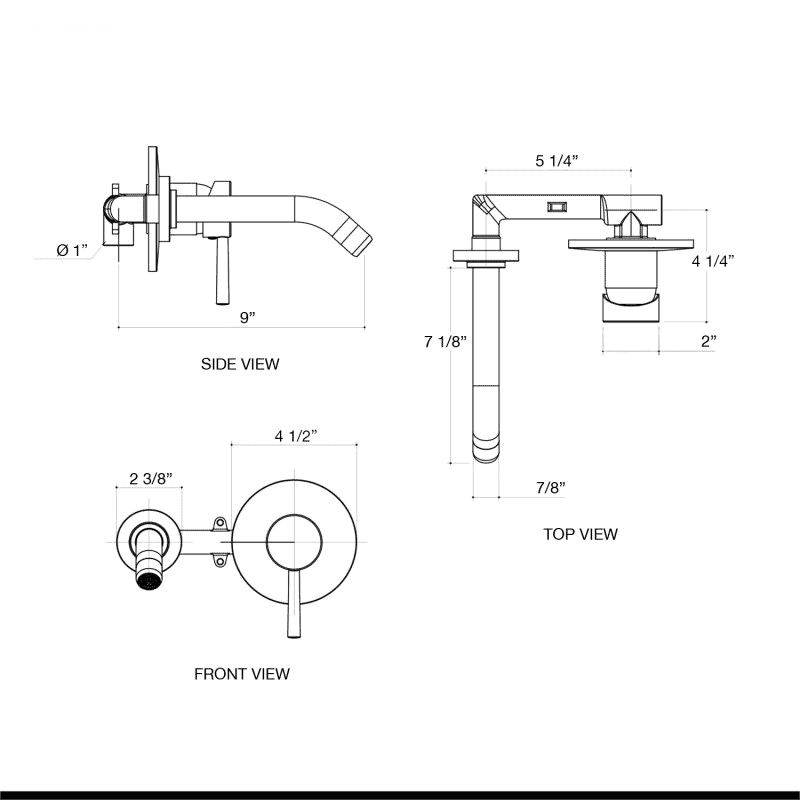 The kitchen is where wall-mounted faucets are most frequently found. However, they can be found in a growing number of bathrooms. You may use them anywhere, but vessel sinks above the counter (or even pedestal sinks) work best with wall-mounted faucets since the faucet height is compared to the top of the counter. Most wall-mounted faucets have two handles and typically follow the spacing guidelines for wider faucets, with either fixed centers of 8″ or adjustable centers for less or more significant separation.
Pro Tip: You'll want to take more time and care regarding wall-mounted faucets. The spout must extend well over the sink basin and suit your various activities. Consider the angle of the spout outlet, the height at which the water departs, and the size of the sink wall. Splashing may result in wet floors or countertops depending on how vigorously the water runs and where your hands are when washing.
Vessel faucets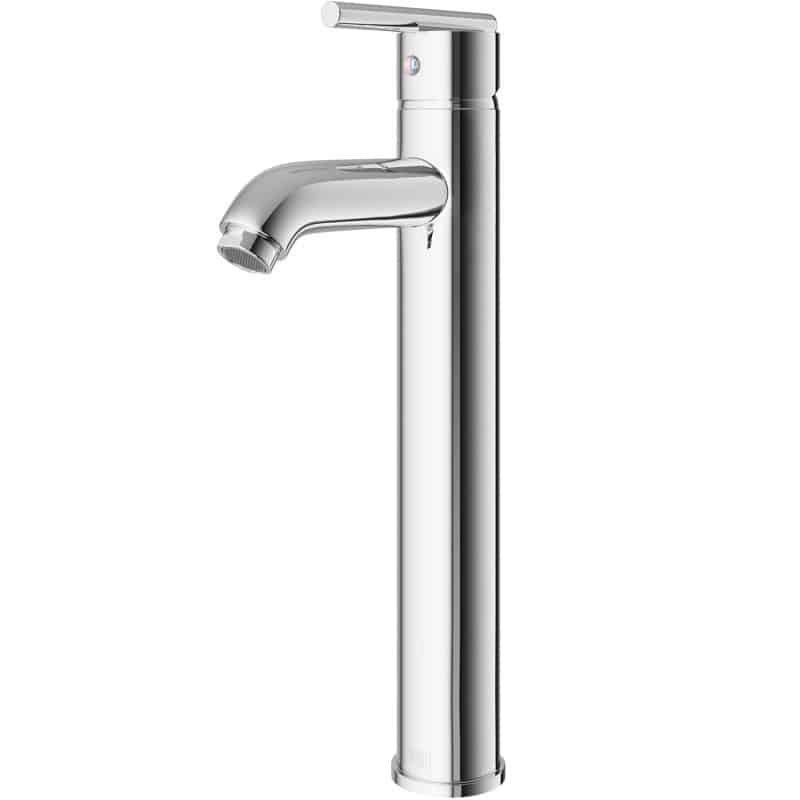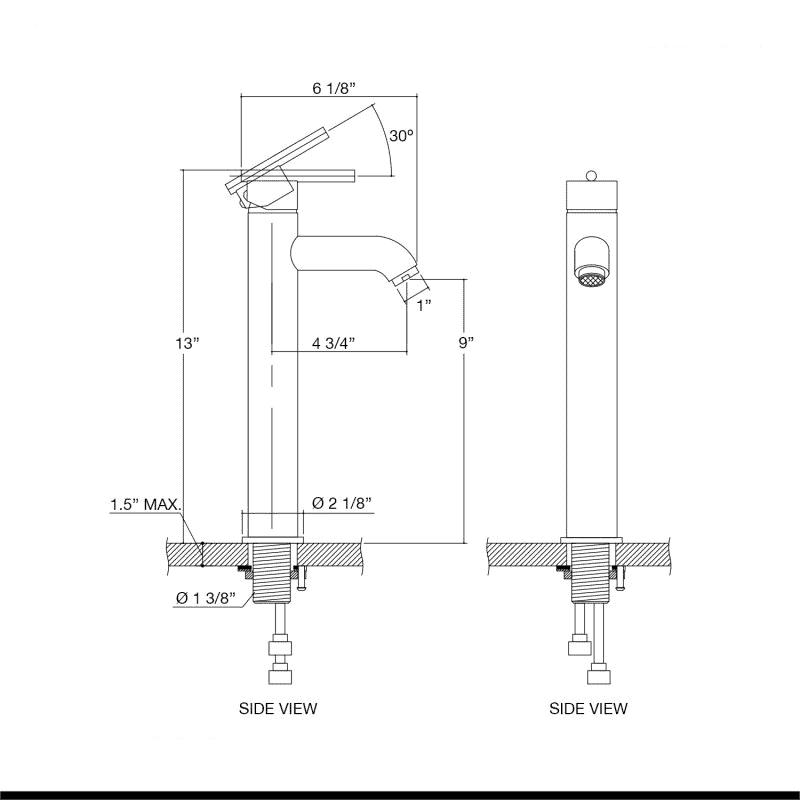 Vessel faucets are the most distinctive among contemporary designs. They're taller than usual and usually have just one handle. Tall spout faucets are tall enough to fit vessel sinks on the countertop. They're known for their height (although some may be shorter due to different factors). You'll want to ensure that the faucet doesn't only clear the rim of your sink but also looks good; a faucet that reaches only 1″ over the sink will probably appear and feel strange (depending on how water exits), for example.).
Common Features
Modern bathroom faucets come with a variety of features to increase functionality:
Aerator: This is a device that mixes air with the water flow. It reduces the water flow rate, conserving water while providing a steady pressure.
Ceramic disk valves: These are durable and ensure a longer life for the faucet, ensuring it remains drip-free.
Adjustable water flow and temperature: This feature allows users to control the water temperature and pressure according to their preferences.
Design and Aesthetic
Bathroom faucets play a significant role in determining the aesthetic of the bathroom. They come in various styles, from vintage to contemporary, and finishes such as chrome, brushed nickel, bronze, brass, and matte black. The type and finish of a faucet can be chosen to match or contrast with the rest of the bathroom fixtures and decor.
A bathroom faucet isn't just a functional element but adds to the room's overall design and feel. When choosing one, it's essential to consider its practicality, durability, and how it fits into the desired look and feel of the bathroom.
Whether your bathroom is a carefully planned room dedicated to pampering or a used closet, it'll require a faucet. Finding the ideal faucet for the area is critical, but this may be challenging with so many options and styles. Let us assist you if you're installing a new faucet in your new bathroom, vanity, or sink or just replacing an old one!
Construction material
Choosing the best faucet is a difficult task. You must understand something about the internal mechanisms of the tap to make an informed decision. The most reliable quality indicators are the material used in the faucet's construction and its valve or cartridge type.
Zinc gluconate is one of the various zinc compounds available for oral administration as a nutritional supplement…
Don't be fooled when you see the phrase "metal construction" on a box. This is frequently Zamak (or Zamac), a low-quality zinc alloy mix of zinc, copper, magnesium, and aluminum. Chrome or brass-plated zinc alloy faucets are preferable to plastic-bodied ones; however, if money is tight, they should only be used as a last resort. Prepare to replace these faucets shortly.
Chemical structures and uses of some common plastics
It would help if you avoided plastic faucets. They're inexpensive and frequently "cheap," Plastic faucets have a shorter lifespan than other alternatives, especially in challenging water areas where internal components degrade far more quickly. The only exceptions are the more recent PEX-based faucets, which use PEX waterways to eliminate any danger of lead (which can still be legally present in amounts of up to 0.25% by weight). Metal bodies are usually used for these PEX faucets, which are typically superior to a run-of-the-mill zinc alloy faucet.
Cu, Zn, and Cu/Zn brass alloy nanoparticles can be produced from metal amidinate precursors in ionic liquids or propylene using reduction.
Solid brass faucets remain (often) the gold standard. Solid brass fittings have a well-deserved reputation for quality and endurance. Please don't mix them with brass-plated ones, which hide an inferior alloy beneath. Even if a solid brass faucet is more expensive than the ones listed above, it is a far better – and longer-lasting – investment.
The only other material that comes close to being lead-free is stainless steel. Stainless steel has high corrosion resistance and is durable and robust. A high-quality stainless steel faucet, like a solid brass one, is comparable to the best reliable brass alternatives in terms of quality and durability. Only look at type 304 stainless steel if you want a higher grade of steel with more chromium and nickel than other types.
Valve/Cartridge Type
Compression valves and ball Valves have been the most common way to regulate a faucet's water flow for quite some time. Still, they have essentially given way to superior cartridge technology.
You can use brass or plastic (often both) to make most of them. They're tightly sealed inside the faucet's body or handles, with the flow and mixture of hot/cold water controlled by the opening or shutting of various chambers within the cartridge, depending on where the handle is positioned. Indeed, today's top faucets don't use such simple cartridges. However, they are still a vast improvement over compression and ball faucets.
Ceramic discs are effectively utilized in faucets that regulate temperature and flow (nearly all faucets feature a single handle). Apart from their outstanding durability (many ceramic cartridges come with a lifetime guarantee) and superior performance, ceramic disc faucets are very simple to use: all it takes is a gentle quarter-turn to turn them on.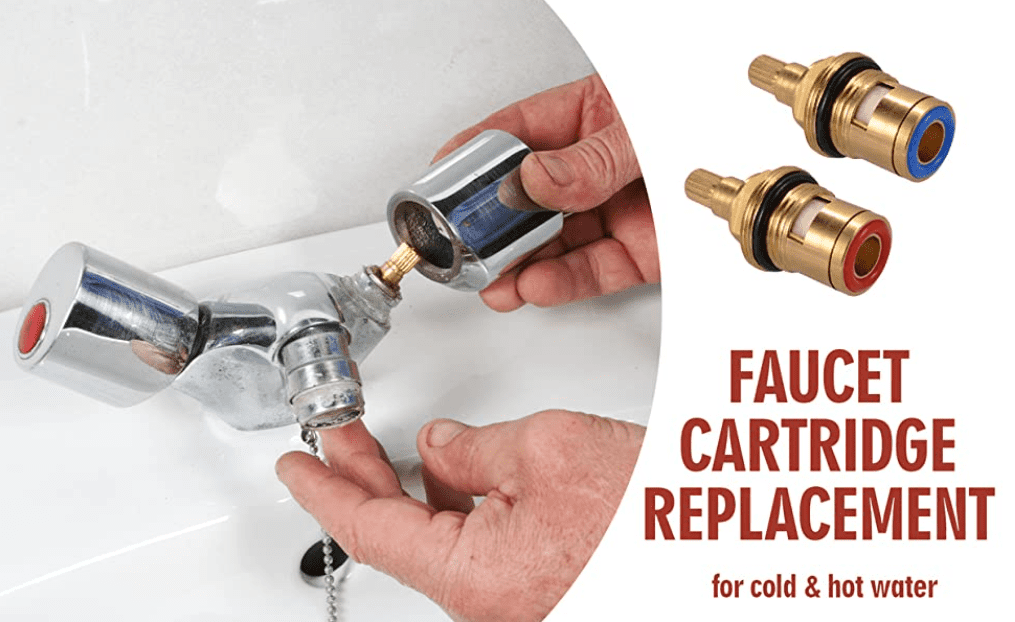 Handles & Features
Handle Type
The selection of handle type is as much about style as comfort. After all, it is the only faucet component you will ever contact frequently.
The choice of materials used in modern faucets and the different types of controls and features available are comparable to those seen in older designs. However, budget versions are increasingly likely to feature these mechanisms. They can be difficult for little kids and people with limited hand/wrist strength.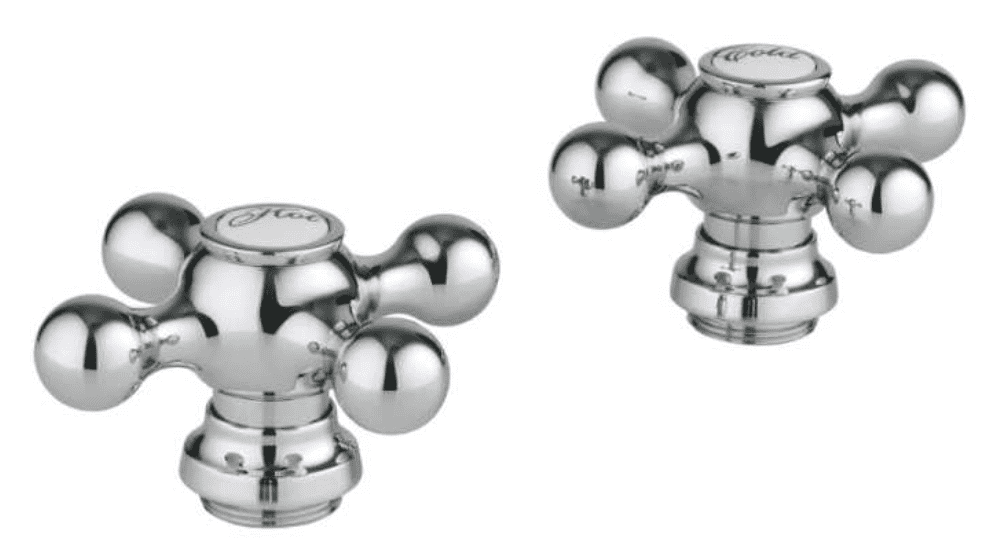 Handles with two or more handles are popular, especially in traditional styles. Cross handles are finish-matched, making them appear more put-together (some even utilize porcelain to significant effect), unlike knob handles. They might be more challenging to operate than knobs, but they can present difficulties for some people. They're also the most straightforward kind to rotate when your hands are wet.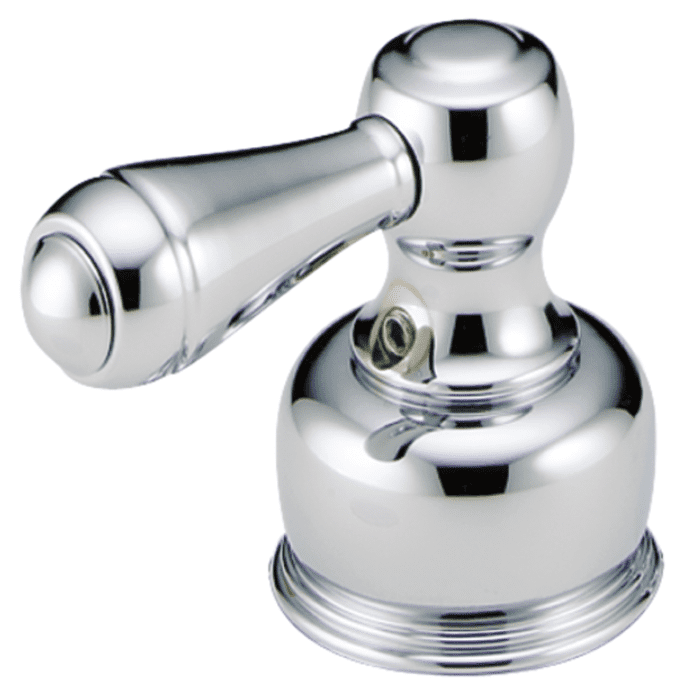 Lever handles refer to single-handled faucets with a handle that spins and lifts and two-handled faucets with no motion (such as knobs and crosses) (probably the most popular variety now). These are among the simplest handles to use, and they're frequently used on ADA faucets.
Joystick handles are a type of single-handle lever similar to single-handle levers. However, they are typically thinner and move somewhat differently (though just as simple). Joysticks look best in modern/contemporary bathroom designs.
Touch-Activated & Touchless/Motion-Activated:
These technologies, relatively new to the residential market, enable more convenient and sanitary faucet management. Some models include a handle that sets the water temperature and can be used as a manual override. In contrast, others have a control box underneath the sink. Depending on the model, these faucets require batteries or an accessible outlet. Metered faucets that activate with a button and remain open for a set time might also be considered part of this family. Still, they are most often utilized in commercial environments.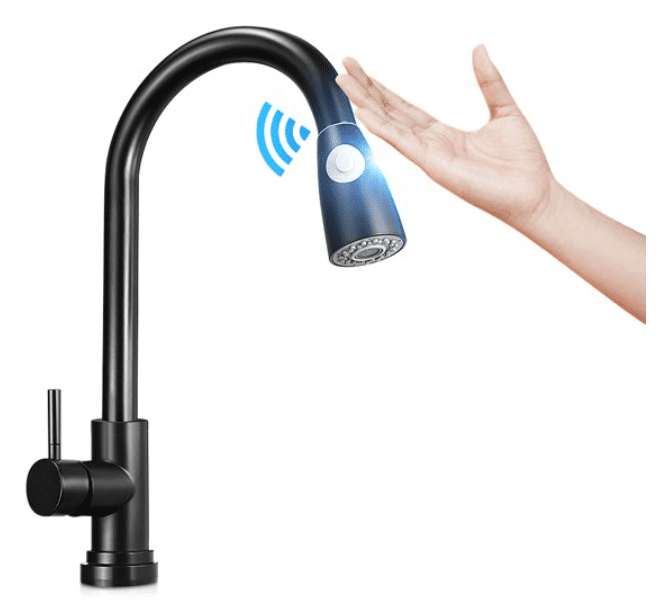 Finishing
MIXING
A traditional bath with a vintage tap is more outdated than a contemporary one. It's your space, so don't be restricted by design cliches. "Applying old-world finishes to modern faucet forms is a big trend," says Judd Lord, Delta Faucet's director of industrial design. For example, Delta Faucet's contemporary Trinsic faucet with a Venetian Bronze finish combines elegance and warmth.
A bathroom faucet's finish is a highly distinctive design feature. Mix a contemporary fixture with an ancient-world finish (such as a Trinsic faucet in Venetian Bronze above) to give your virtual space a new look, or brighten it with stunning gold tones (Delta's Champagne Bronze finish, top).
Contrast
There are many finishes available to you—don't be too creative. The key to making the style work in harmony. "Choose handles that are all polished or all brushed," advises Lord. Champagne Bronze, which has a brushed finish, looks fantastic with brushed nickel. Alternatively, stay within the same metal family. You may combine an oil-rubbed bronze lighting fixture with an inky Venetian Bronze faucet for your bathroom if you already have one in bronze with a dark worn patina and bronze peeking through.
Chrome fixtures provide a traditional, cohesive look to a conventional bathroom while also having the capacity to match more contemporary settings like this Ara® channel faucet, which features copper and rose gold accents.
NEUTRALS
Consider them a traditional white shirt in the bath—slightly sophisticated and straightforward to match other accessories like towel holders and door pulls. The most famous bath finish is shiny chrome, which is inexpensive. The tone of the nickel is softer, and it has a more illustrious past than the nickel. In the bathroom, stainless steel looks opulent, which is still preferred for kitchens.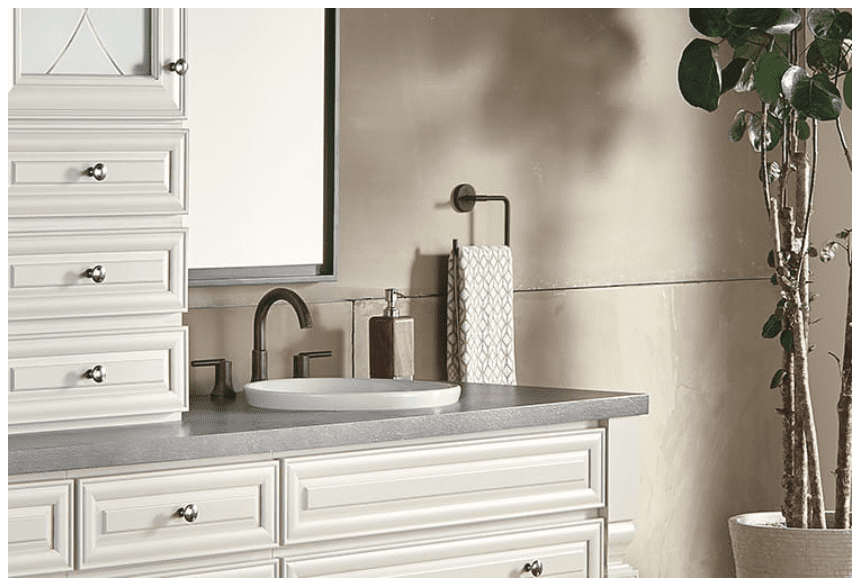 A polished nickel finish, a neutral tone that looks great against a backsplash's rough wood texture, and the tile shower wall's chilly glass stand out equally well in this bathroom. An H2Okinetic three-setting hand shower works as well as it looks with an integrated wall-mount faucet, and an H2Okinetic® three-setting hand shower performs just as nicely.
BRUSHED METAL
Choose a brushed finish if cleaning ease is crucial—its muted surface helps hide fingerprints and water spots. Lord also states that because it isn't as reflective as a polished finish, it's better at displaying the intricacies of a bathroom faucet.
Like the Windemere® two-handle center-set faucet's brushed nickel finish, Satin finishes display a faucet's features and are more forgiving of fingerprints and water spots than some polished options.
GOLD BRASS
The newest brasses are nothing like the highly polished metals seen in Grandma's house. Instead of conventional green undertones, today's nerves are warmer in hue, similar to Champagne Bronze's. But gold isn't just appropriate for vintage décor; it looks fantastic on contemporary bathroom faucets and fixtures. An all-white bathroom with sleek gold accents is a popular design motif.
A bright splash of color is exactly what this bathroom needs. Color in this space comes from two Trinsic single-handle high-arc faucets in Champagne Bronze and gold accents such as mirror frame and wall light trim.