A faucet is a device for controlling water flow in a plumbing system. Faucets are generally used to control the flow of water in a sink or bathroom. Many different types and styles of faucets are available on the market today. The most common faucets include ball, cartridge, compression, and disc. A ball faucet is the most common type of faucet. It consists of a spout, a valve (sleeve), and a handle attached to the valve by a screw or pivot rod. The spout is mounted onto a threaded neck through the sink deck.
OWOFAN
OWOFAN is a Wenzhou Wanfan Sanitary Ware Co., Ltd. brand, which was established in 2011 and specializes in the production of bathroom, and kitchen faucets, shower spray Heads, and bathroom accessories. The products are of excellent quality and novel style and are widely used in various buildings. They have a wide domestic sales market and are exported to Europe and America. OWOFAN kitchen faucets offer superior function and handy features that make everyday tasks easier. Their products add a touch of elegance to your kitchen or bathroom.
OWOFAN Kitchen Faucets
The OWOFAN faucet is a great choice for any kitchen. The oil-rubbed bronze finish gives it a classic look that will complement any décor, and the pull-down kitchen faucet features a convenient pull-out sprayer. The sprayer is ideal for rinsing dishes or cleaning up after cooking, and the high arc design provides plenty of clearance. The pulldown kitchen faucets also have a single-handle pull design that makes it easy to control the water flow, and the GRIFOS de cocina 9009SN is backed by a limited lifetime warranty.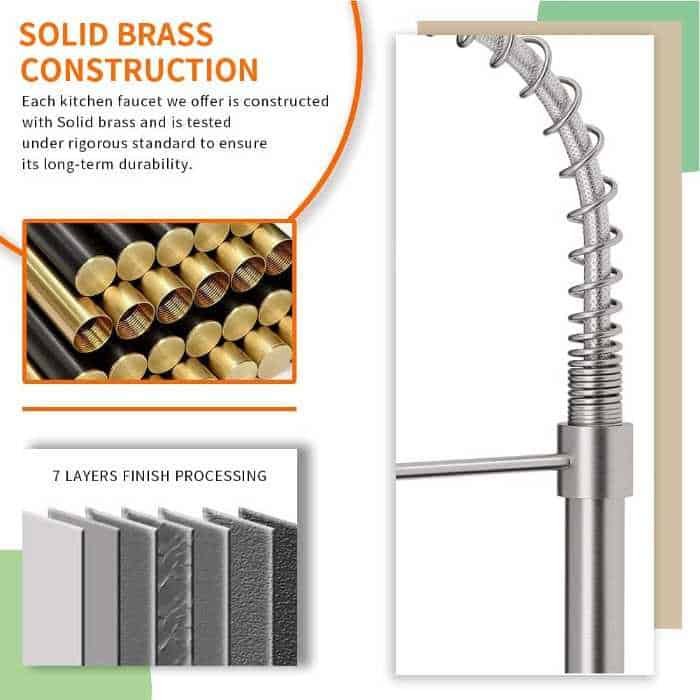 Features
Quality design and durability are important characteristics of any product, but they are especially crucial for something you use daily such as a kitchen or bathroom sink. That's why our spring-loaded faucet is made with lead-free brass construction–to ensure healthier waterways. Plus, the ceramic valve and pull-down faucet handle have been tested 500,000 times on and off to provide professional drip-free durability.
The pull down faucet is 16 inches tall, and the spout is 3.9 inches tall with a range of 6.8 inches. The purchase will come with all necessary hardware for installation, including hoses, so you can do it yourself without needing to hire a professional plumbing specialist, saving money and time.
The two settings and 360-degree nozzle create an all-around washing experience for your kitchen sink. The single-handle design allows easy control of water temperature and flow.
Keep your kitchen sink looking brand new with less time and effort by choosing a premium multi-layer brushed nickel-plated finish that resists rust, corrosion, and loss of shine. The life-shine brushed finish also helps prevent fingerprints and water stains, so you can enjoy life with family and friends more.
Hofen
Hofen is a leading sanitary company based in China that provides kitchen and bathroom products to match both kitchens and bathrooms, fulfilling customers' specific requirements. They are top leaders in China that include:
Modern Faucets
P-traps
Drains
Under-sink for wash basins
Wash basin drain kits
Bathtub drain assemblies.
Hofen provides all the necessary details for a traditional western kitchen or bathroom and offers a wide range of accessories to complete your kitchen or bathroom project, including drain stoppers, soap dispensers, towel bars, and more. With Hofen, you can be sure to find everything you need to create your perfect space.
Hofen Screwfix Kitchen Mixer Taps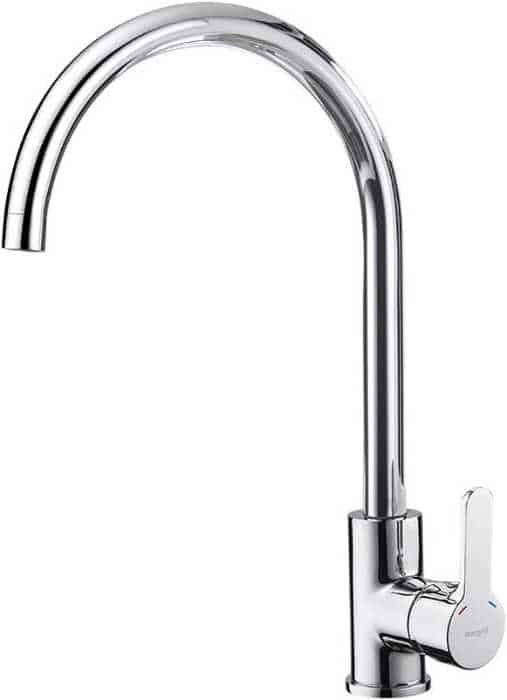 There are various things to consider when shopping for a new kitchen faucet. You want something that will look great in your kitchen, but you also want something that's easy to use and install. The Screwfix Kitchen Mixer Tap is a great option for anyone who wants a stylish and functional faucet for their kitchen. This kitchen sink faucet has a modern design that will look great in any kitchen, and the easy-to-use temperature control knobs make it easy to get the perfect water flow for whatever you're doing. The pull-out spray head is also a great feature that makes it easy to clean dishes and fill pots and pans. This kitchen sink faucet is very easy to install, so you can have it up and running in no time. Whether you're looking for an update to your existing kitchen faucet or starting from scratch, the Screwfix Kitchen Mixer faucets are a great option.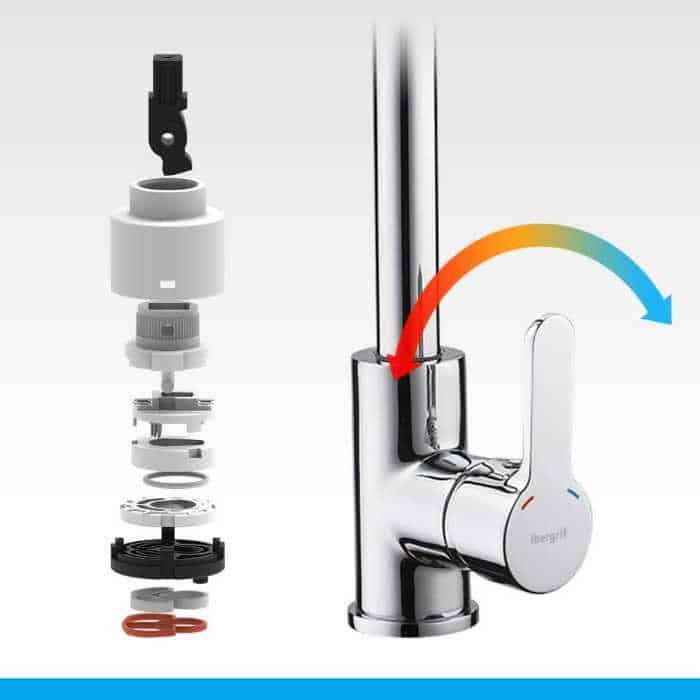 Features
The Screw-on Kitchen Faucet is a must-have for your kitchen. It has a sleek design that will complement any kitchen style. The faucet offers an easy-to-use lever to control water flow, and the pull-out spout makes cleaning dishes and filling pots and pans much more convenient.
This faucet has everything you need for installation, so you can start using it immediately. The chrome finish is perfect for kitchens and bathrooms and matches most bathroom styles.
Screwfix kitchen faucets are the perfect addition to any kitchen. Their high-quality materials and easy installation make them ideal for anyone who wants an attractive and functional addition to their home.
With a variety of styles and finishes, our kitchen sink faucets can easily fit into any décor. If you're going for more of a classic look, our Victorian-style kitchen sink faucets are perfect for traditional kitchens. We suggest looking at a contemporary selection for a little more edge. Quality is important to us – all of our single-handle faucets come with an industry-leading five-year warranty.
Not only do our kitchen faucets add a touch of luxury to your home, but they come with easy-to-follow instructions so that you can take full advantage of their capabilities.
The screw-on kitchen faucet is a top-quality choice for modern or traditional kitchens. With its easy-to-use features and sleek design, this faucet will add style and comfort to any kitchen. The sturdiness of the brushed brass faucet body ensures long-lasting durability, while the 1/2-inch threaded nozzle and integrated spray head give you options between using the mixer or spray function. There's a lever handle with a removable cover to keep dirt out!
FORIOUS
Perhaps you are a kitchen faucet purchasing manager searching for high-quality kitchen faucets. Wenzhou Bomei Sanitary Ware Co., Ltd. is a professional manufacturer and supplier that can meet your needs.
The Furious kitchen faucets produced not only pass the international industry standard certification but also can meet your custom needs. They provide online, timely service, and you can get professional guidance on kitchen faucets. If you are interested in Forious kitchen faucets, please contact them; they will not let you down.
The FORIOUS Kitchen Faucet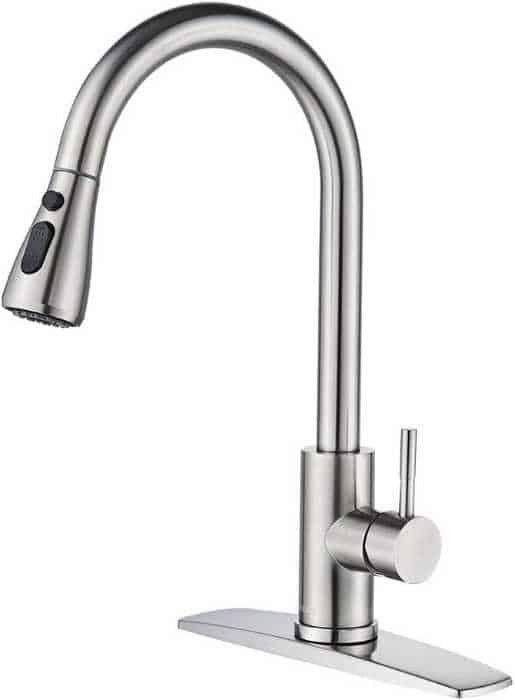 The FORIOUS Kitchen Faucet is a high-arc, single-handle kitchen faucet with a deck plate and commercial-grade construction. The finish is brushed nickel, and it comes with a pull-down sprayer. This kitchen faucet is perfect for those who want both style and function in their kitchen.
The high arc of the spout provides plenty of clearance for filling large pots and pans, while the pull-out sprayer design makes it easy to rinse fruits and vegetables or wash dishes. And with its solid brass construction and ceramic disc valves, the kitchen faucet models are built to last.
Whether you're looking for a stylish update to your kitchen or a single-handle faucet that can stand up to daily use, the FORIOUS Kitchen Faucet is a perfect choice.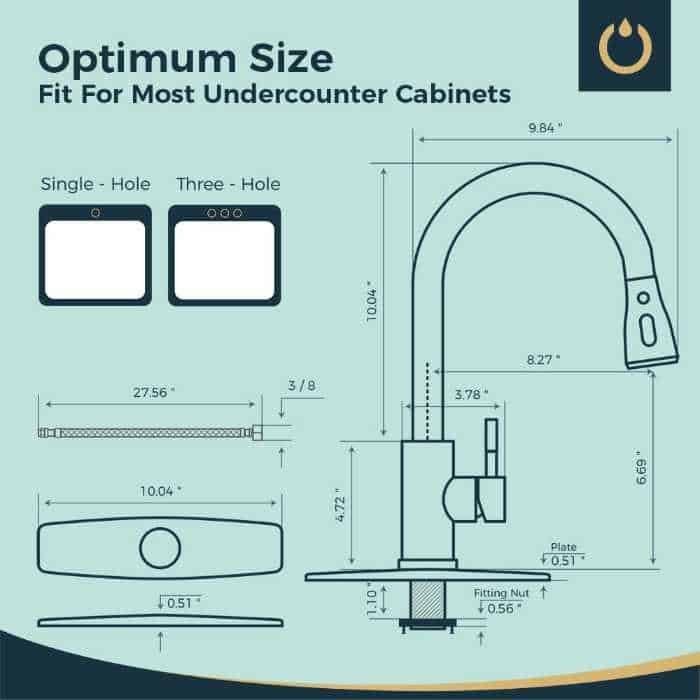 Features
They care about their customers and want to provide them with the best possible product. They know that people can get good kitchen faucets without having to spend a lot of money.
The pull-down sprayer features easy-to-use controls that let you toggle between an aerated stream and a powerful spray. Plus, a pause button stops water flow without turning off your kitchen faucet. And to top it all off, the nozzle rotates 360 degrees so you can reach every corner of your sink.
FORIOUS' 3.0 drip-free ceramic disc hybrid cartridge technology uses a ceramic disc valve with an actual diamond coating to produce the best kitchen faucets that can last up to 5 million cyber cycles!
Adding a reflective finish to metal is called plating, and using PVD (physical vapor deposition) creates a brushed look.
The patented FORIOUS kitchen faucet has a unique braided feature that adds durability and flexibility–saving you installation time and the hassle of making multiple trips to the hardware store.
Moen
Moen is an American kitchen faucet and other fixed device product line founded by inventor Alfred M. Moen. It is now part of Fortune Brands Home & Security. The Moen subsidiary headquarters is in North Olmsted, Ohio.
Moen was originally part of the Seattle-based Ravine Metal Products Company. The company was later sold to Washington-based Baldwin Hardware Corporation, which was sold to British-based conglomerate Bensusan Holdings PLC in 1986.
In 1992, Bensusan divested itself of several assets, including Moen, and Fortune Brands purchased the company. Today, Moen remains one of the leading manufacturers of plumbing products in the world. The company offers various fixtures and accessories for residential and commercial applications. Its products are available in a variety of styles to suit any décor.
Whether you are looking for a traditional or contemporary look, Moen has the perfect solution for your needs.
Moen Kitchen Faucet
The Moen 87233SRS Adler kitchen faucet is a great addition to any kitchen. It has a high arc design provides plenty of clearance for large pots and pans, and the power clean spray function makes short work of tough messes.
The brushed stainless steel construction is resistant to corrosion and staining, and the easy-to-use lever handle makes it simple to adjust the water flow.
The Moen 87233SRS Adler kitchen faucet also comes with a lifetime limited warranty, so you can be confident that it will last for years.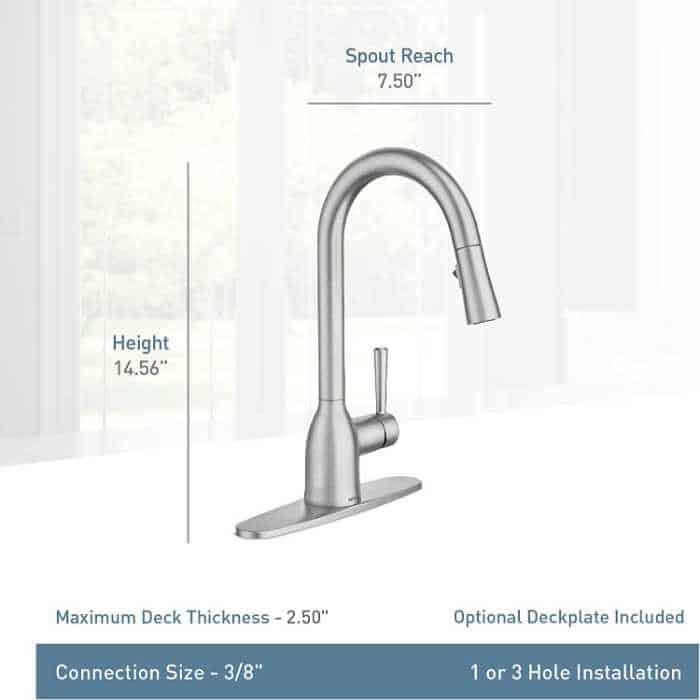 Features
The stain-resistant stainless steel finish on this product resists fingerprints and water stains, for a cleaner-looking kitchen.
Most of our pull-down and pull-out faucets that lack Power Clean technology only provide 50% spray power. However, with Power Clean spray technology, you get more than double the power.
The Reflex system ensures smooth operation, easy movement, and secure pull-down/pull-out spray head docking.
The smart kitchen faucet pull-down hose provides a flexible water flow and automatically retracts for easy use.
This model has two settings: a light one for everyday cleaning and a strong one for tougher jobs.
This product is easy to install; you can mount it on your kitchen sinks or countertop, and there is also an included deck plate if you want a 3-hole installation.
This product proudly meets the specifications of the Americans with Disabilities Act (ADA).
Moen products are built to last and come with a limited lifetime warranty.
Delta
Delta Kitchen Faucet Company is an American manufacturer of plumbing products. It is a subsidiary of Masco Corporation. It produces and sells mainstream Delta, economy-priced Peerless, luxury Brizo brand kitchen sink faucet, shower spray head, tub and shower fixtures, and toilets.
Initially founded in 1954 as a division of Bixby Knitting Company, the company rapidly grew and became an independent corporation in 1957. In the 1960s, Delta Faucet Company pioneered the single-handled kitchen faucet, which has become the industry standard.
Today, Delta Faucet Company is one of the leading manufacturers of plumbing products in the United States and worldwide.
Delta Essa faucets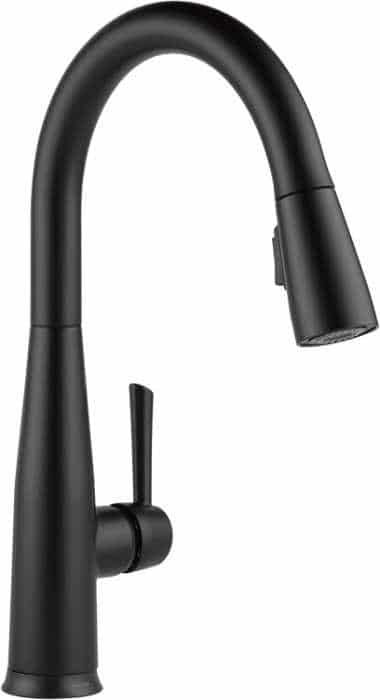 Delta touchless kitchen faucet is known for their quality, durability, and innovative design. The Essa kitchen faucet is no exception. This touch-activated kitchen faucet features a sleek, matte black finish that is stylish and easy to keep clean.
The pull-down spray head provides even coverage and powerful cleaning performance, while the touch-sensitive control allows you to adjust water temperature and flow easily.
Delta's patented Diamond Seal technology helps to prevent leaks and ensure a long-lasting, trouble-free operation. The Delta Essa will meet your needs whether you're looking for a high-end kitchen faucet or a reliable laundry room or bathroom option.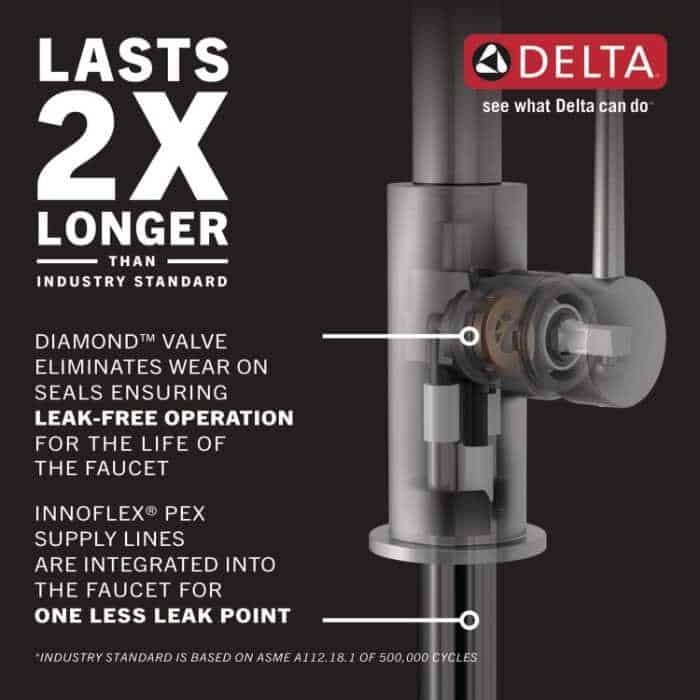 Features
With a dirty or wet hand, you can still easily start and stop the water flow by touching anywhere on the kitchen spout with your wrist or forearm. If you prefer, there is also a manual single lever handle.
With MagnaTite docking, a powerful magnet will snap your kitchen sprayer into place and keep it there.
You're looking at a product with increased longevity due to our patented DIAMOND sealing technology–it's fog- and waterproof, leak-resistant, and will last twice as long.
This faucet is easy to install and can be used with a single-hole or 3-hole 8-in. sink configuration.
With Delta kitchen faucets of 2022 equipped with Touch-Clean spray holes, you'll spend less time scrubbing away calcium and lime buildup.
The maximum flow rate of 18 gallons per minute helps save water.
The automatic shut-off feature kicks in after four minutes of water flow, so you can save money and conserve water.
The on/off indicator lets you know when to change the battery.