Benefits
In today's world, proper sanitation is more important than ever. Hofen offers drainage systems designed to protect your business and the environment. Our stainless steel floor drainage products are designed for ultimate hygienic and corrosion-resistant performance. This ensures the health & safety of workers, customers, and products while allowing clean-in-place functionality. So, if you're looking for a drainage system to keep your business running smoothly, look no further than Hofen.
Product Portfolio
Stainless Steel Trench Drains
Stainless steel drainage can be used for a variety of applications.
Floor drains made of stainless steel
Commercial kitchens or food applications may utilize stainless steel drainage.
A stainless steel push-fit pipe with a gravity-fed system.
green roof, facade, and threshold drainage
QuARTz ShowerDrain
Stainless steel bathroom drainage
What are Hygienic Box Drains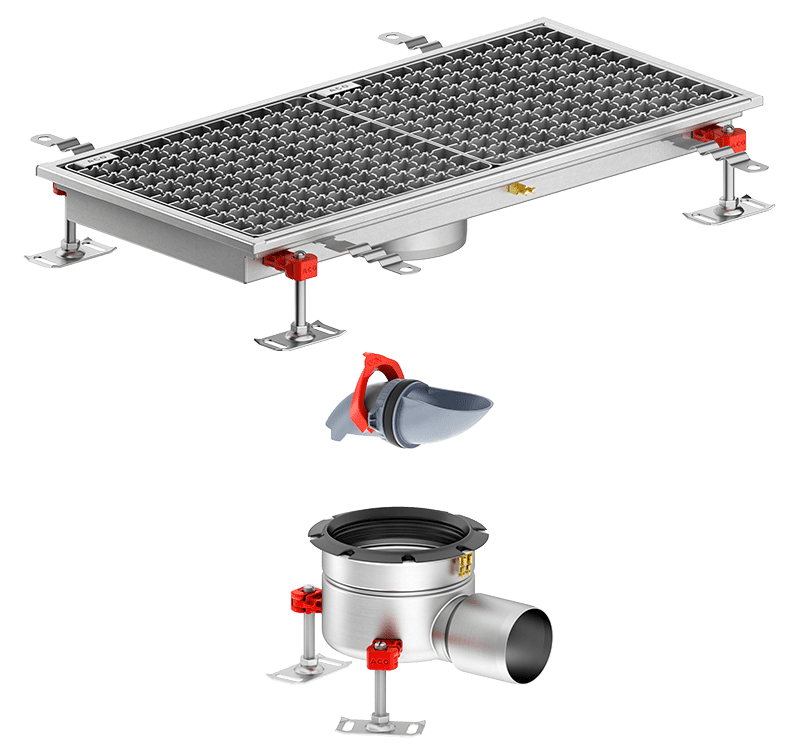 The firm's portfolio features three types of Hofen hygienic box drain systems that adhere to stringent sanitary norms. The clean box drain systems are suited for applications where high standards of cleanliness are required since they can handle large amounts of liquid.
Internal corners are rounded to prevent bacterial build-up and make cleaning easier and more efficient. Box drains come in a variety of widths ranging from 7.87″ (200 mm) to 31.50″ (800 mm) and lengths from 12.99″ (330 mm) to 158.66′(4030 mm). The system includes various stainless steel grates in styles and load classes to suit various applications.
Typical Applications for Box Drains
Commercial kitchens/restaurants
Food & beverage processing
Wineries
Breweries
Hospitality
Supermarkets
Schools
Hospitals
Hygiene Applications of box drains
Hygiene is a critical consideration in any food preparation or processing environment. Effective drainage helps to mitigate hazards from the external environment and is essential to maintaining a safe and hygienic operation.
Box drains are an effective option for drainage in food preparation and processing areas. They are designed to minimize the risk of contamination and ensure easy cleaning and maintenance.
The hygienic design of box drains starts with the material. They are typically made of stainless steel, durable, and easy to clean. The smooth surfaces resist corrosion and minimize the risk of contamination.
Box drains are also designed for easy installation and cleaning. They have removable grates that can be removed for cleaning without removing the entire drain. The grate design also prevents debris from entering the drain and clogging it.
Box drains create a safe and hygienic environment in food preparation and processing areas. Their durable construction and easy-to-clean design make them an ideal solution for protecting against contaminants.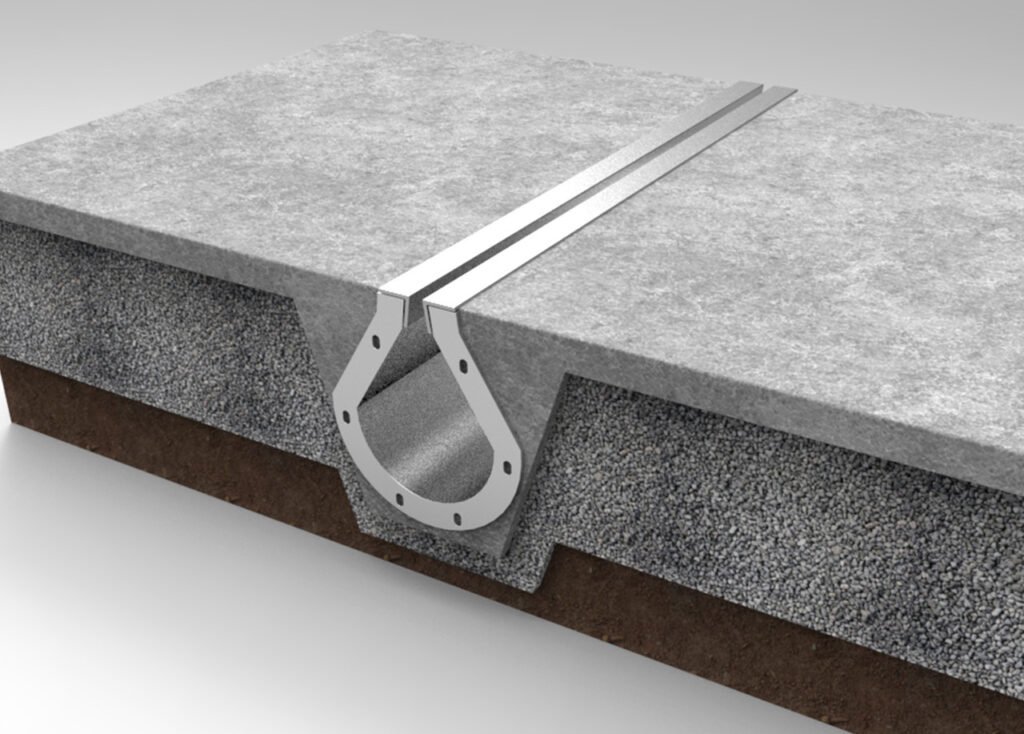 As any food safety expert will tell you, one of the most essential things in preventing the spread of foodborne illness is to keep your kitchen clean. That means keeping your countertops and cutting boards clean and ensuring your drainage system is up to code.
Box drains are one of the most effective ways to keep your kitchen clean and safe. Because they are designed not to harbor bacteria and to minimize the build-up of food particles and debris, they are essential to any food safety plan.
In addition, because they connect hygienically with the surrounding floors, they minimize the risk of bacteria growth throughout the drainage system.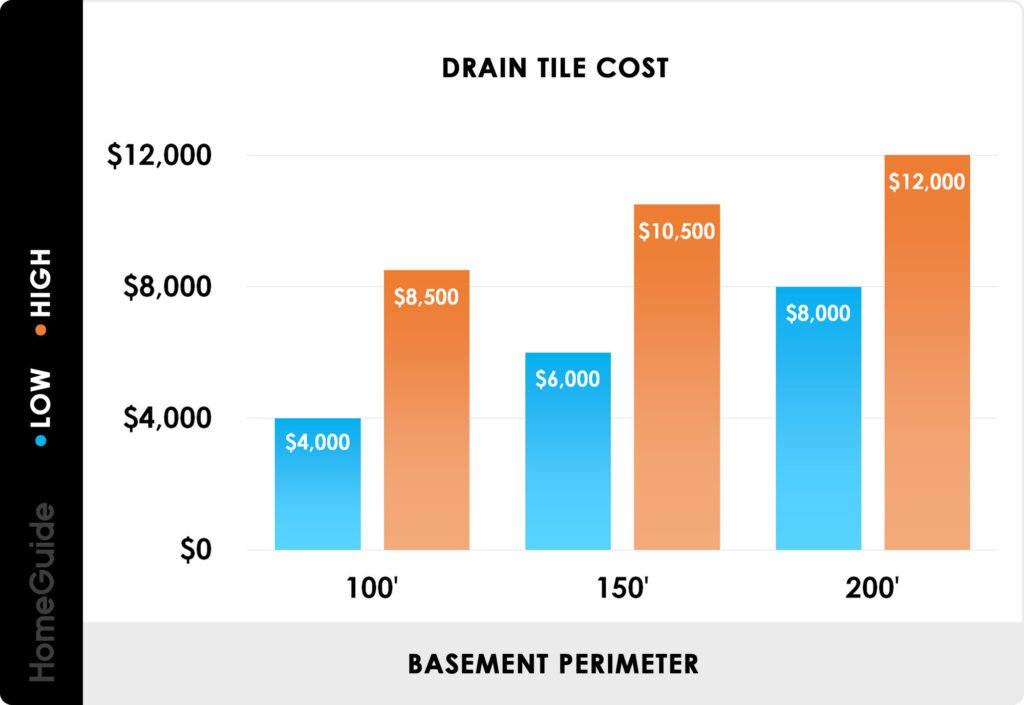 Box drains are an effective way to control costs associated with maintaining a clean and functional drainage system. By minimizing the amount of time spent on cleaning and following recommended cleaning procedures, box drains help to keep costs down.
In addition, the functional design of box drains helps to ensure they can effectively remove debris and unwanted materials from the drainage system.
Box drains are a cost-effective and efficient way to maintain costs while maintaining a clean and functional drainage system.
Drainage systems are important in ensuring employees' health and safety in various industries. Box drains, in particular, offer several benefits in this regard.
First, many of these drains are slip-resistant, making them ideal for use in areas with a risk of slips and falls.
Second, box drains are easy to clean and maintain, meaning they can be sanitary with minimal effort.
Finally, box drains are designed to minimize the risk of employee injury, with no sharp edges or other potentially hazardous features.
Box drains offer an ideal solution for industries that emphasize health and safety.
Material Technology Advantages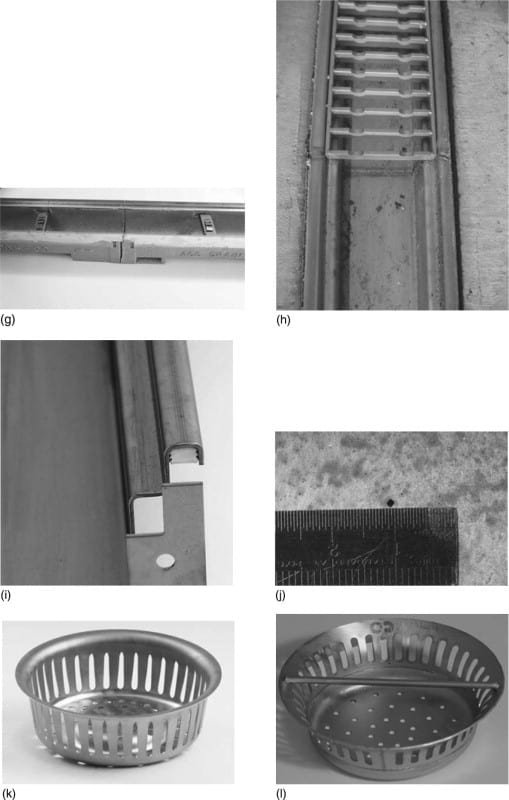 Advantages of Stainless Steel in Buildings and Construction: Using steel in construction offers many benefits over other materials. Some advantages of using steel in construction are listed below.
Fire and heat resistance: Steel is mainly composed of iron, which creates a solid material that is difficult to melt. Because steel is resistant to fire and heat, it is a popular choice for building projects where preventing fires is essential.
Durability: Steel is also highly resistant to wear and tear, making it ideal for construction projects requiring stable structures.
Versatility: Steel can be used in various ways, from beams and columns to reinforcing other building materials. As a result, steel offers a high degree of versatility, making it an ideal choice for a wide range of construction projects.
Steel is a highly sturdy building material, making it ideal for construction projects requiring great strength.
Economic benefits: The use of steel can also offer economic benefits, as it is often cheaper than alternative materials such as concrete or timber.
Stainless steel's many benefits make it the perfect choice for demanding drainage applications. A wide selection of different types of stainless steel is available, each with its specific advantages. Austenitic stainless steels, for example, are some of the most widely used and encompass grades 304 and 316L. These materials perform well in food processing, dairy, brewing, pharmaceutical, chemical and petrochemical industries.
Although the marine grade is often used at about 316L, it is not the only grade available. Different grades have various characteristics. If you don't know which one to use for your application, don't hesitate to contact Hofen for help assessing material suitability.
Performance
Corrosion and temperature resistance
Corrosion and temperature resistance are important factors when choosing a drainage system for an industrial application. Hofen manufactures all of its products from stainless steel grade 304 or grade 316L, both highly corrosion-resistant. In addition, all products are pickled and passivated to ensure no joint corrosion problems.
For applications where highly aggressive liquids or very alkaline cleaning agents are used, systems made from stainless steel grade 316L are recommended. This grade of stainless steel is even more corrosion-resistant than grade 304, making it an excellent choice for challenging environments.
Pickling & passivation of the box drain
Ultimate finishing
Stainless steel can be damaged by bending, cutting, punching, and welding during manufacturing. This damage can lead to corrosion over time. Pickling and passivation are chemical processes that help restore the physical properties of stainless steel and prevent further damage.
It provides better corrosion resistance.
Achieving a smooth, uniform finish is essential for any project.
Easy for cleaning and maintenance
Long-lasting product
Details highlight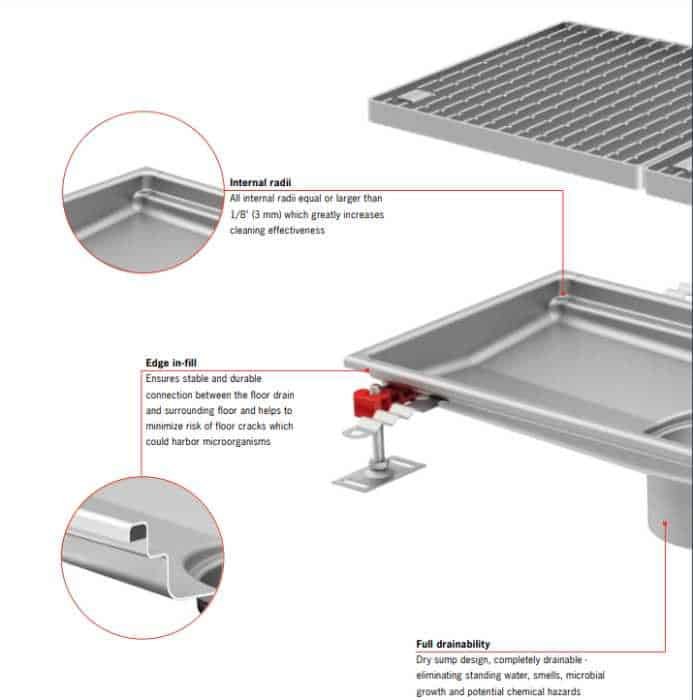 All internal radii are equal to or greater than 1/8″ (3 mm), significantly improving cleaning results.
The most crucial aspect is creating a seamless transition between the floor drain and the surrounding floor. This prevents cracks in the floor from developing, possibly providing a home for germs.
Drainability is critical for your vehicle's health. Draining completely prevents standing water, unpleasant scents, bacterial growth, and chemical risks.
You can choose it from a wide array of stainless steel grates that can hold up to 25 tons. The unlocked grates allow you easy access to the box drain whenever you need to perform maintenance.
The firm's deep-drawn bodies guarantee smooth outlines, eliminating crevices where germs may hide.
The shape will be a V-shape if the width is less than 12″ (300 mm).
There is a reinforced bottom for widths 16″ (400 mm) and greater.
Stainless Box Drain Grates Relevant Load Standards
The most essential standard in the US is ASME: A112.6.3 – 2016, which covers floor drains. It does, however, not adequately address linear trench drains. Hofen has independent accreditation for floor drainage to ASME 112.6.3 and EN 1253, but all trench drains are subjected to EN 1433: 2002 Drainage channels for vehicle and pedestrian areas.
A comparison chart is provided below, equating stresses (psi) from ASME A112.6.3 – 2016 with the EN 1433 Load Class A – F categories. It is divided by internal channel widths and includes a side-by-side comparison to EN 1253: 2015 Gullies for Buildings. Each product's certification is available upon request.
Box Drain Grate Quantities
The table below shows that grate sizes and quantities vary by drain length. Not all grate types are available in all drain lengths so specific alternatives may be excluded (for example, in the chart below).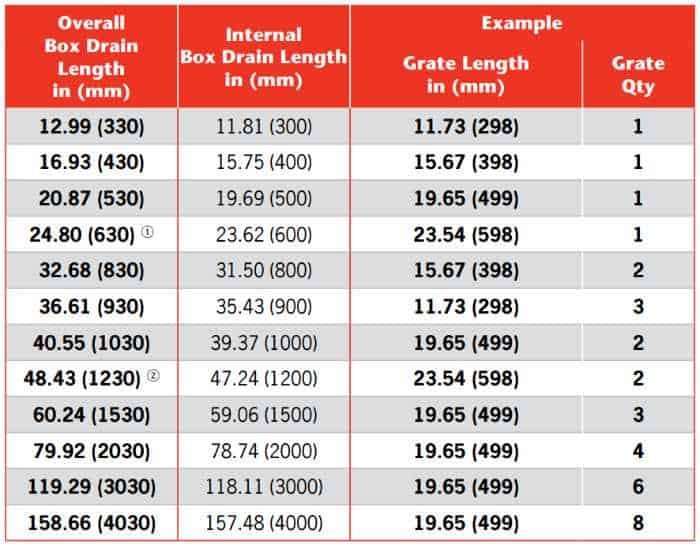 Note
Two grates are also possible: 11.73″ (298 mm) in length
You could also use three 15.67 inches (398 mm) grates or four 11.73 inches (298 mm) grates
Outlet Options
Hofen stainless steel box drains can be connected to underground pipework in the following ways: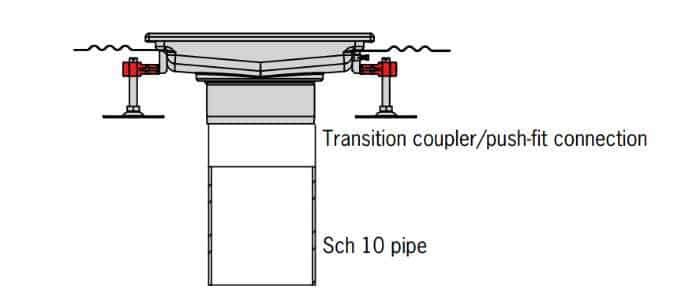 The simplest way to connect pipes is with a vertical spigot out of the box. The connection can be made using a no-hub connector or a Hofen stainless steel push-fit pipe system. Usually, this entails installing drain and piping before concrete/floor is laid.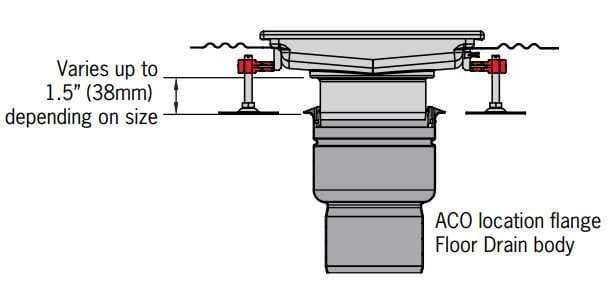 Location flange on floor drain body. The floor drain body can be cast into the slab during the first concrete pour, and the box drain is set to its finished height. A vertical stopper on the bottom of the stainless steel box pushes and fits into the floor drain body, resulting in a variable height adjustment of around 1.5″ (38 mm).

Use our floor drain body with a mechanical clamping flange for easier installation. If your floor has a waterproof membrane, you can dress it into the floor drain body before installing the box drain. The stainless steel box drain also comes with adjustable height, up to 1.5″ (38 mm), so you can install it according to your needs.
Glossary takeaway
Anti-slip grate -grates that will improve your grip and are certified.
Axle load: The vehicle's total weight is determined by adding the combined weight of all its axles.
Channel – a section of a trench drain system composed of individual modules.
Clamping flange: A metal plate with mechanical bolts that fix a floor membrane to a floor drain.
Electropolished: The electrolytic process produces a highly reflective luster that offers resistance to chemicals and bacteria.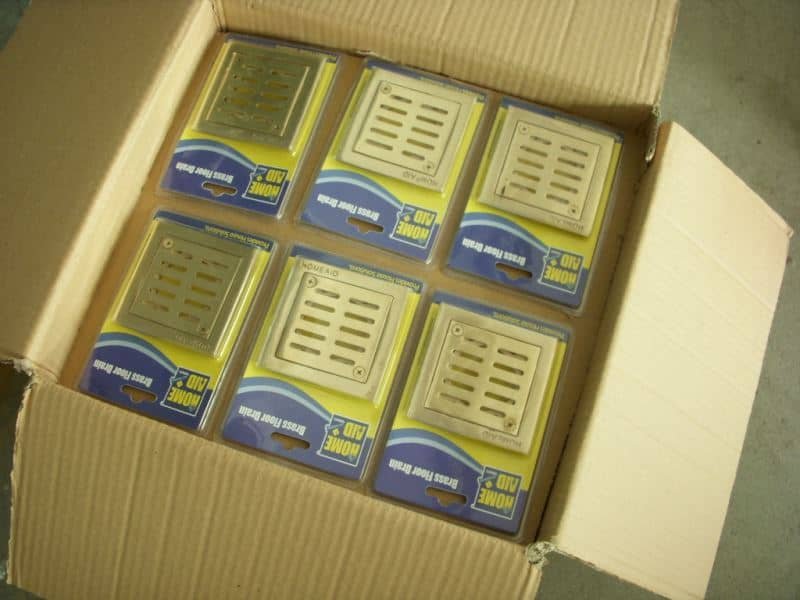 Flow rate – The quantity of liquid drained out in a specified period, usually minutes or hours, is measured in GPM.
Foul air trap: The rear portion of an underground wastewater system is a drainage section produced to prevent unpleasant smells from traveling through the system. An in-line option – See page 7 Heelsafe – per ASME A112.6 – maximum grate dimension of 0.31″, deemed safe for high-heeled depth – The depth of the grate from the top to the bottom of the channel is measured.
Leveling feet: The channels can
be adjusted for height and level.
Linished – The channel edge is typically washed, resulting in a brushed appearance. Load class – The ability of a grate to support the weight specified in a load standard.
Pickled & passivated: The stainless steel surface was chemically descaled and coated to restore corrosion resistance and chemical reactivity.
Point load – The force put on an item during a process is measured in pounds per square inch (PSI). The bar and plate encasement machine is used to measure this.
Rubber infill: A strip inserted into the underside of a channel edge prevents concrete voids during installation and improves loading performance. A stainless steel infill is available for heavy-duty applications.
Sieve: A perforated plastic plate keeps sediments and debris from entering the pipes.
Silt basket: A perforated basket that effectively collects larger volumes of sediment and debris before it enters the pipework.
Spigot: To connect your outlet pipe, you may need a coupler.
Trench drain: A linear drain is an assembly of tunnels that form a linear drain.
Wheel load: One wheel of the vehicle/trolley exerts a certain amount of force against the ground.