Bathroom Benefits
No one can deny the value of a bathroom. The excellent quality type of bathroom is vital for building and remodeling your bath. Most homes contain at least one bathroom of some size, typically a full, three-quarters, or half bathroom.
Buyers consider a lot of things while looking at houses. Yet the bathrooms are top on the list. A six-person family would require a place with at least two full bathrooms or one full bathroom and one half bathroom. As a buyer, you can get a good idea of your home's worth by considering its various toilets.
Components Make a Full Bathroom
When four pieces of a pie are put together, it looks like the whole pie. When a bathroom has all four of these things, it is considered to be a full bathroom. A three-quarter bathroom is made up of three parts. A half-bathroom is made up of two of these things.
Most of the time, the kind of bathroom is expressed as a decimal number on the listings of homes. So, a half-bath would be tipped as a 0.5 bath, and a three-quarter bathroom might be listed as a 0.75 bathroom. Sometimes, the two numbers are added together so that a full bathroom and a three-quarter bathroom are listed as 1.75.
Almost always, a toilet is one of the parts. So, a bathroom and a sink are often found in a half-bathroom. But a half-bathroom usually has more than just a sink and a shower.
Types of Bathroom
Full bathroom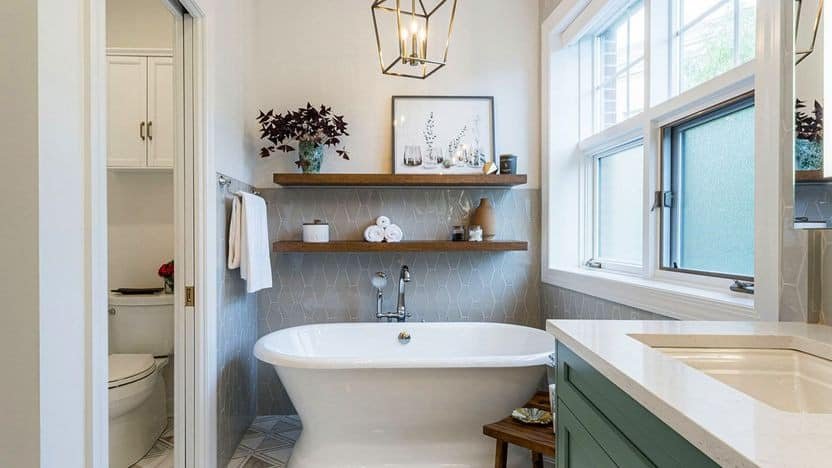 In the domain of real estate, what exactly constitutes a "full bath"? A "full bathroom" includes the following fixtures: sink, shower or bathtub, and toilet. Also, the standard size for a complete toilet room is between 36 and 40 square feet. You can't call it a bathroom if it lacks those features.
Each fixture in the bathroom, including the sink, shower, bathtub, and toilet, is worthy. The main bedroom and suite bathroom are two of the most valued real estate features. Full bathrooms are typically found near the master bedroom.
Full Bathroom Size
A full bath has all the essential fixtures. These involve a bathtub, toilet, sink, bathtub, and shower. To consider a full bathroom, a room must be at least 36 to 40 square feet (5 by 8 meters) in size. It must have a bathtub, a shower, and a sink. As mentioned, a 5×8 feet bathroom is on the small side, a 6×10-foot bathroom is about average, and a 10×12 feet bathroom is on the larger side.
One-quarter bathrooms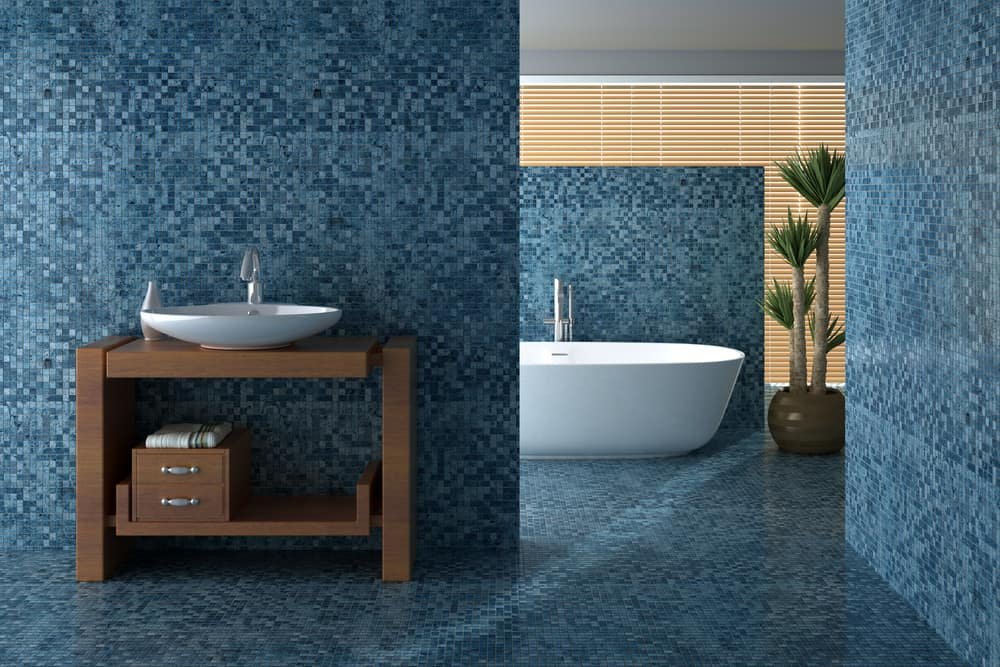 They are typically located in smaller and older homes, typically in an unfinished basement, and contain a shower stall and toilet. Usually, they are not even separated into a different room.
If a room has two bathrooms, the listing could refer to one of those facilities with a toilet and a shower in the basement. Therefore, you should always verify! Real estate listings are deceiving regarding a home's number of bathrooms and bedrooms.
This bathroom is regarded as an additional one in the house. It would be beneficial if you require space for only a shower or toilet in a household with a large family or frequent guests. The additional shower area will increase the resale value of your home.
Primary Bathroom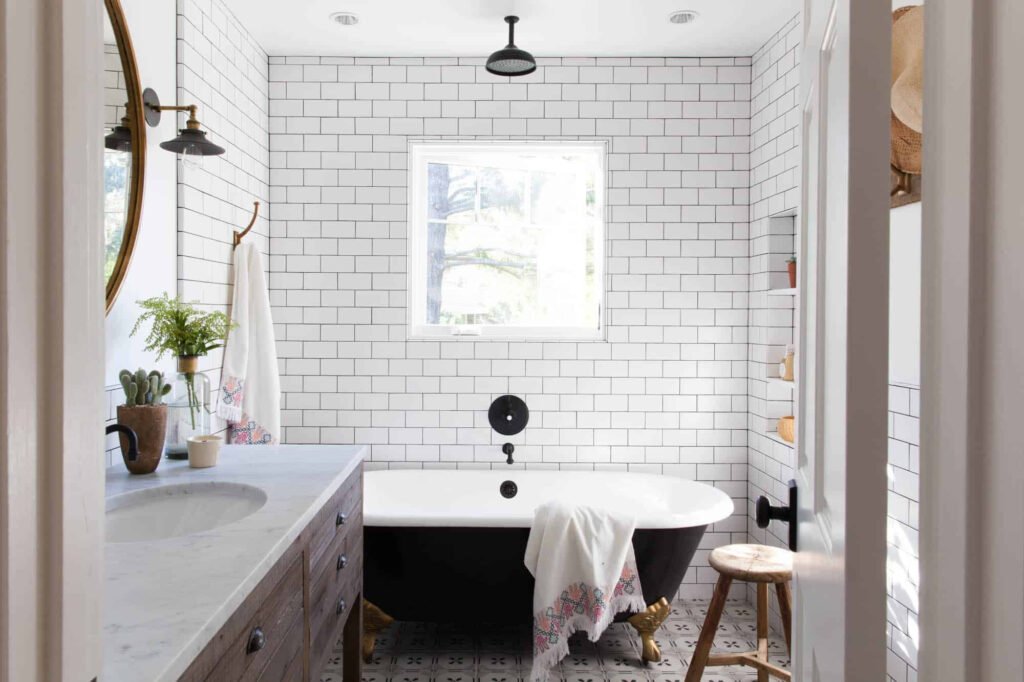 The enormous bedroom in the house usually has its own attached bathroom, making this type of bathroom the "primary" bathroom. The most crucial bathroom is often called an en suite or an attached bathroom. The main bathroom is usually a full bath or a half bath. The main bedroom and the bathroom can both be accessed via separate doors. You won't find that extra door elsewhere. In such a circumstance, a separate room with a door works as the bathroom.
The value of a home increases significantly with the addition of a main bathroom, provided that there is at least one additional bathroom. It's unusual for a house to have only one main bathroom. This makes it inconvenient for guests not staying in the master bedroom to use the facilities late at night.
Average Size
The average master bathroom in a large home is between 60 and 100 square feet. This quantity of space can accommodate numerous items, including the following:
o Storage Space: It is usually beneficial to have storage space for linens, towels, and other toiletries. The size is highly versatile.
o Bathtub: An ordinary alcove bathtub has external dimensions of 60 by 32 inches.
o Double Vanity: The double vanity should provide sufficient elbow space for two persons to utilize simultaneously. This vanity set should have a minimum width of 60 inches.
o Shower Enclosure: A standard walk-in shower is 36 x 48 inches. The dimensions may vary based on the design of the shower enclosure.
Half Bathroom
The half bath is a powder room or guest bathroom without a shower or tub. 'Half baths are often positioned near the home's entryway or common areas and consist of a sink and a toilet.' While these powder rooms are more functional places for quick and limited use by guests, they can accommodate minimal storage space. They are handy for folks with a large family or who frequently host guests. Also, they are simple to clean and maintain because they only contain a sink and toilet.
A half bath is helpful because it allows you to provide guests with easy access to a toilet and sink without them having to enter your private space. These little half-bathrooms or powder rooms can often be improved with wallpaper, attractive lighting, and lavish furnishings.
A half bath only needs enough room for the toilet and sink it contains. Fixtures can be different, at all. Some bathrooms feature a basin and a toilet, while others have a shower and a tub.
Minimum Half Bathroom Size
The minimum half-bathroom size is 18 square feet or 3 x 6 feet. With little creativity, a half bathroom of these dimensions can hold a sink, toilet, and additional storage space, despite its adequate size. A half bathroom is the most effective option if you require the most basic bathroom services. Because of this, half bathrooms should ideally be located in the corridor or on the ground floor for a convenient guest entrance.
Three-Quarter Bath
A toilet, a single sink, and a shower or tub are standard fixtures in such a bathroom. There is a minor shower or bathtub instead of a full tub. The toilet and sink are placed in the bathing area rather than across the room.
Many homeowners do not prefer a full bath and opt for a beautiful shower setup, where the 3/4th bath is most suitable. There's ongoing contention about whether one bathroom needs a tub to increase its resale value. Yet, having a bathtub in more than one bathroom isn't necessarily ideal, even in homes with multiple bathrooms.
Because of its smaller size and lower construction costs, three-quarter wet rooms are far more typically compact than full bathrooms. You can save money by selecting a three-quarter bath rather than a full bath.
Common Bath Size Plans
Below are some of the common measurements for bathroom design. The tiniest standard is 15 square feet, with only enough room for a basin and a toilet. A minimum of 30–36 square feet is needed for a shower to be built. You'll want at least 40 square feet for a complete bathroom with a shower and tub. Various standard bathroom layouts are listed here in sizes ranging from small to large and medium.
| | | |
| --- | --- | --- |
| Small bathroom | Medium Bathroom | Large Bathroom |
| 6×6 (36 square ft) | 7×7 (49 sq. ft) | 10×12 (120 sq. ft) |
| 4×6 ( 24 square ft) | 9×6 ( 54 sq. ft) | |
| 4×4 ( 16 sq. ft ) | 6×10 (60 sq. ft) | |
| 3×6 (18 sq. ft) | 9×7 (63 sq. ft) | |
| 3×5 ( 15 sq. ft) | 8×8 (64 qs. ft) | |
Specification and dimensions
Materials for Bathroom Flooring
Bathroom flooring, being a wet area, requires a different material than that used in dry areas like living rooms and bedrooms. The plan is to install robust, impermeable, moisture-resistant, secure flooring. Below, we review the many bathroom flooring options and explain why they're suited to the space.
Ceramic tiles
China may claim ceramics and porcelain as early as the 15th century. Contemporary ceramic tiles are far away from their ancient times. They are dense, sturdy, and long-lasting, making them suitable for moist areas such as a bathroom shower or the entire room. They are resistant to water, stains, and heat and come in various sizes, making them an excellent option for bathroom flooring.
Marble
Marble is a naturally occurring stone used by artisans for centuries due to its lustrous appearance. It's primarily white, with some darker veining throughout. They come in various colors, from pink to blue, black, and grey. They can withstand high temperatures and are water-resistant, but their durability is poor and easily break. Bathrooms used by children or older adults should not be tiled with marble. For the ultimate elegance and sophistication, marble flooring is an excellent choice for a master bathroom.
Vitrified Tiles
The process of vitrification, in which tiles are strengthened by being combined with quartz, silica, or feldspar at high temperatures, is used to produce vitrified tiles. With this method, tiles can have a layer of glass applied to them, giving them a modern appearance. This not only makes the tiles more durable overall but also makes them impervious to water and scratches. You can't go wrong with this tile in the flooring of your master bathroom. Remember that vitrified tiles can become slightly slippery when wet. Hence, they aren't the best option for many people or youngsters who use restrooms.
Bathroom Materials for Fixtures
Aluminium
Aluminum fixtures are an alternative to steel because they don't rust. The interior designers prefer them for projects in areas with much salt in the air, like near the coast. Aluminum isn't solid, so it's not the best choice. It's mainly used to make shelves, trays, towel racks, etc. Anodized accessories will come from brands that people know and have conviction in. This chemical process gives the fixtures a long-lasting black finish and makes them out of alloys so they are firm but not too heavy.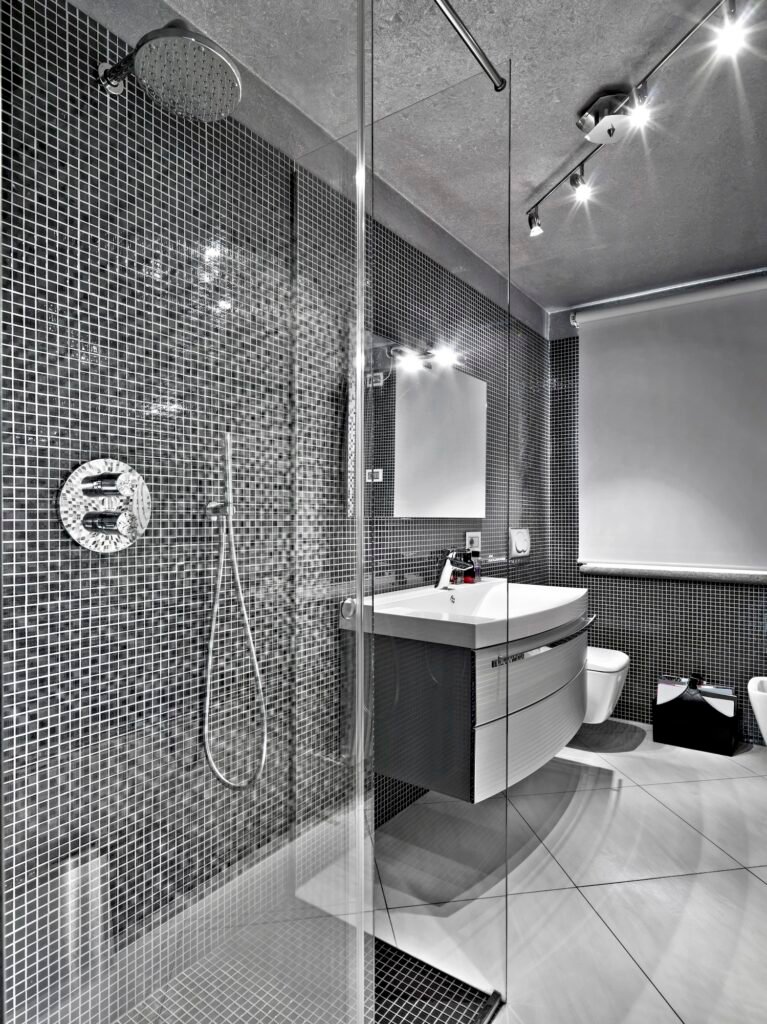 Stainless Steel
The chrome coating on stainless fixtures keeps them from rusting. Many companies make them, and they come in various styles and prices.
Copper
Copper bathroom fixtures can either be made of solid copper or have a copper coating that is put on with an electrochemical process. They come in many styles, like steel, but usually cost more. You can also opt for different finishes, from matte to high gloss, depending on the look you want to achieve. You are not recommended to purchase copper items from unfamiliar brands as they can quickly dismantle and leave a green-colored coating of copper salts. So, to stop corrosion, well-known brands will use copper alloys and copper that have been treated specially.
Plastic
Plastic bathroom accessories are the cheapest and come in many styles, sizes, and forms. Most people don't like plastic because it looks cheap and can ruin the look of your class. This should be your last option and only be used if you have a small budget or want to build a home to rent out. But kids' bathrooms can have plastic fixtures because they are simple to change and have many color schemes.