Whether modifying an old bathroom or adding a new one to your house, choosing a bathtub might be crucial. There are a variety of bathtub designs from which to choose. Yet, there are also vital practical considerations, such as
tub size
plumbing requirements
Accessibility.
Moreover, the bathtub material might affect a room's style and the project's total cost. In this article, I'll discuss the type of bathtub and how to choose it.
What to Consider for Bathtub Types?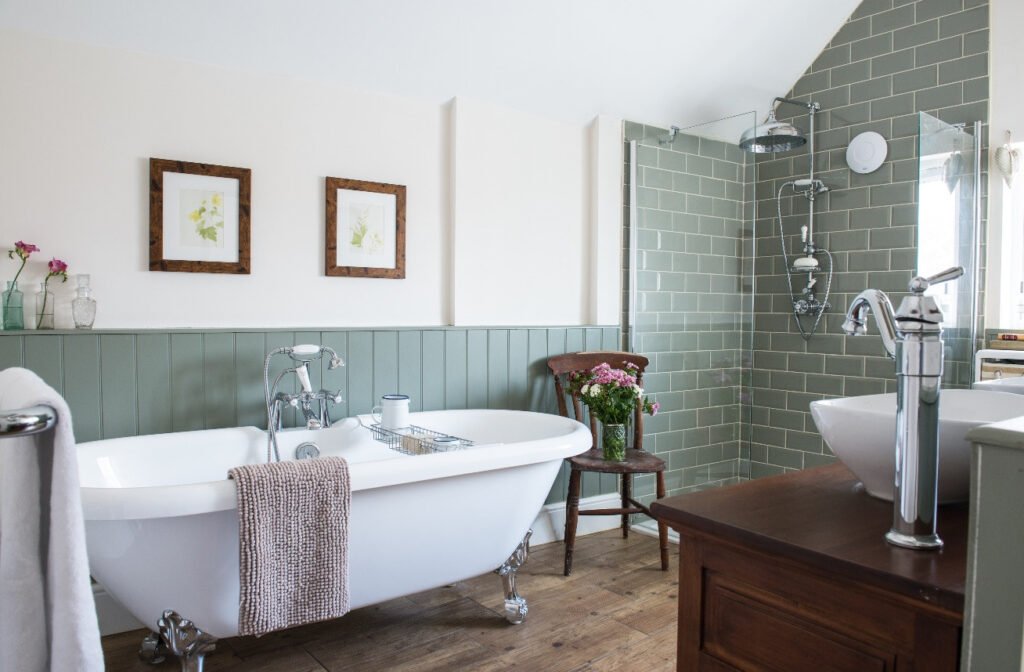 A bathroom is as attractive a place as any other room. We combine a bathroom's paint, tiling, flooring, and light fixtures. Due to these, the bathtub creates a well-designed, friendly atmosphere.
There are wide varieties of bathtubs to accommodate bathroom designs. Hence, before selecting one, evaluate your needs and the specifics of your home.
• How much space do you retain? Unless you plan to knock down walls, a standard bathroom with an alcove bath and shower combination is built. It is likely too small for a garden tub and steam shower.
• What is the capacity of your water heater? Filling the whirlpool and soaking baths requires additional water. Can you replace your water heater if it cannot manage the demand?
How much can your floor incorporate? A porcelain-enameled cast iron or whirlpool tub is heavier than a simple acrylic tub. If your base cannot support the pressure, can it be reinforced?
• How will the bathtub be utilized? If your children will use the tub, a whirlpool or deep tub may not be worth the added expense. If you prefer soaking while reading a book after shoveling snow or raking leaves. In that case, you may require more than a conventional tub and shower combination.
Heat Retention
Some bathtub materials retain heat more effectively than others. If you prefer taking long, steamy baths, heat retention may be an issue you should examine and prioritize.
Resistant to cracks, stains, and scratches
Resistant to cracks, stains, and scratches. For instance, porcelain-enameled steel tubs flaw readily. Yet, they resist stains and scratches well. However, acrylic tubs are resistant to rust and cracks. You may be unable to use colored baths or soaps due to the surface's susceptibility to staining.
Weight
The lighter the material, the simpler and less expensive to install. Definite tubs, such as cast iron ones, are so heavy that the floor might need reinforcement.
Cost
Consider both the long-term and upfront expenditures associated with your buying. How much will the upkeep of your tub cost? When will it need to replace replacement? Consider the cost not included in the initial price. These costs are installation or floor reinforcement if the tub is too heavy.
Cleaning and Maintenance
Every bathtub requires regular cleaning. Yet, some materials are more particular than others, the tools and chemicals that are used.
Installation
The flexibility and weight of your tub greater affect the installation process. The more difficulty installing your tub, the more expensive the installation process.
Types of Bathtubs
Alcove tub
The Alcove tub design is also called the three-wall-alcove design. It is a functional style bathtub that integrates design and function. Most of the time, these tubs have shower heads near the top and are made with a focus on simplicity. Alcove tubs are found in many homes today because they are great for tighter spaces, smaller homes, and apartments. The enclosure can be a combination tub/shower with tiled walls or panels. Most of the time, alcove bathtubs are the least expensive and easiest to install. They usually cost between $250 and $600, depending on what's included and how they are made.
A 60-inch-long, 32-inch-wide, and 18-inch-deep tub is the standard size for an alcove fixture. For smaller bathrooms, there are small alcove tubs that range in length from 48 to 55 inches. Long alcove tubs are best for big bathrooms and can be up to a foot longer than a standard alcove tub.
Best for:
Existing alcoves or modern bathrooms are perfect spots for an alcove tub.
Pros
Easy to maintain and clean
Affordable
It can be deco to get an attractive appearance.
Functional and practical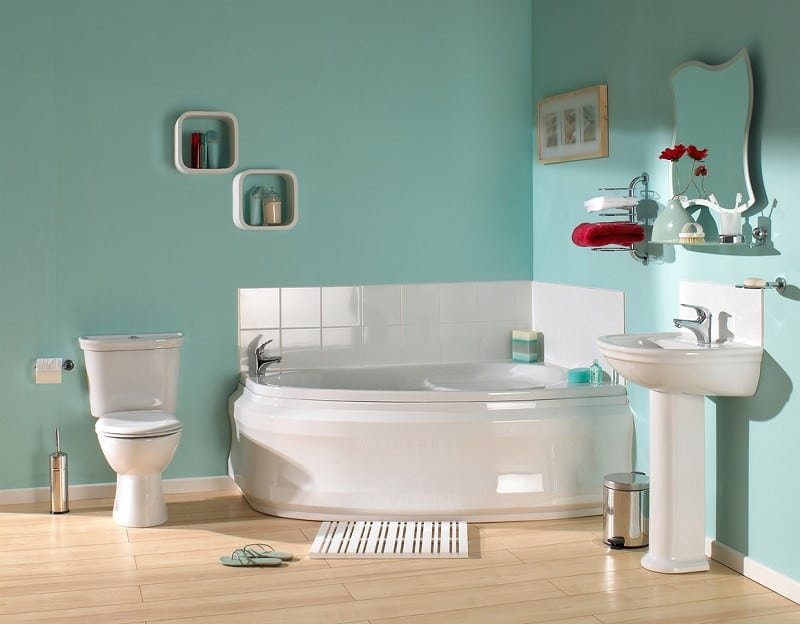 Corner tubs have typically been fitted into smaller bathrooms. They can be as simple as a traditional alcove tub or equipped with various amenities. There are many potential configurations, including whirlpool and soaking corner tubs. Some are created as a corner shower/bathtub combo, so there is no reason not to have the best of both worlds. One advantage is that the plumbing options are diverse. Yet some are freestanding, making installing these in any corner spot easier.
Corner bathtubs are typically used less for bathing and cleaning and more for resting and conscience. As a result, corner bathtubs typically include whirlpool and air jet elements. These are frequently constructed in a robust, high-end design. Typically, corner tubs cost between $1,000 and $3,000. Yet, these luxury features may boost the price. Fiberglass, acrylic, and solid surface are more economical corner tub materials than cast iron.
Drop-In Bathtub
Drop-in bathtubs are highly adaptable in size, placement, and design. Since they lack a frame, a surround must be built around them. This enclosure must be robust enough to hold the tub while it is filled with water. Still, the surround provides drop-in tubs with the majority of their versatility. An edge for a drop-in tub can be constructed across a narrow bathroom. It was done in a proportioned alcove or as a freestanding structure in a room. Due to their unique rim, these tubs can be submerged in the ground.
The width of a drop-in tub surround is customizable, allowing it to hold faucets or serve as a convenient spot for bath items, candles, or a wine glass. Even though some solutions are priced reasonably, installing a drop-in tub may be costly. Drop-in bathtubs can be built-in alcoves, most commonly found in open spaces. Hence, large tubs take up more bathroom space and cost more than alcoves. The tub typically costs between $500 and $2,000, on average.
Ideal for: Drop-in tubs can be constructed into alcoves, the ends of a room, or as a bathroom centerpiece.
Freestanding Bathtub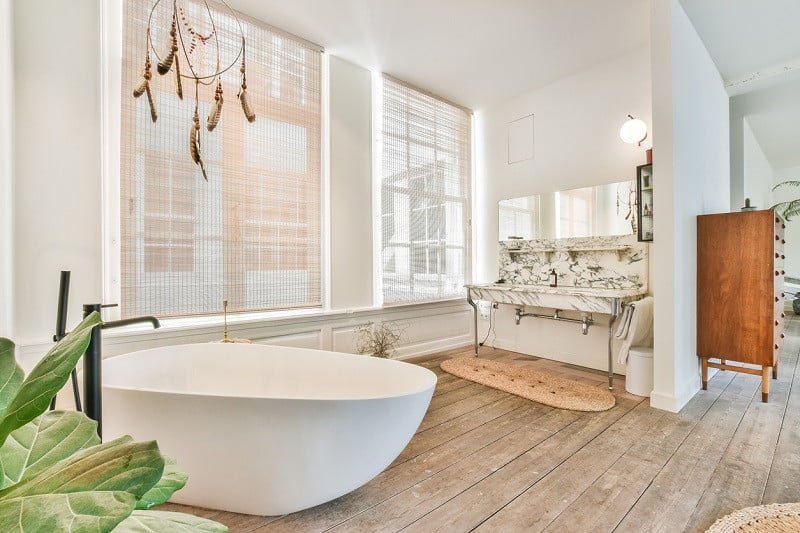 The oldest design is the freestanding bathtub, which dates back to when porcelain and metal tubs were prevalent. Freestanding bathtubs have seen a renaissance recently and are currently among the most popular forms. Freestanding baths are simple. Yet, they typically lack a faucet provision. Installing the water supply and waste outlet requires careful study and planning to maintain a smooth surface.
This category includes clawfoot tubs and slippers, providing the feeling of antiquity. Thus, it would help if you had a home worthy of such a tub. The exposed plumbing of freestanding bathtubs is a downside. You can purchase plumbing components that glorify this exposed plumbing rather than trying to conceal it.
Freestanding tubs are often substantially more expensive than alcove and drop-in tubs. The full price depends primarily on the tub's material. Brass, copper, cast iron, and stone resin bathtubs are more expensive than fiberglass and acrylic bathtubs. On average, freestanding bathtubs cost between $800 and $4,000. Typically, freestanding bathtubs are 15 to 20 inches deep, 55 to 72 inches long, and 27 to 32 inches broad.
Best for: Put a standalone tub in a bathroom with sufficient space to make it the centerpiece.
Clawfoot Bathtub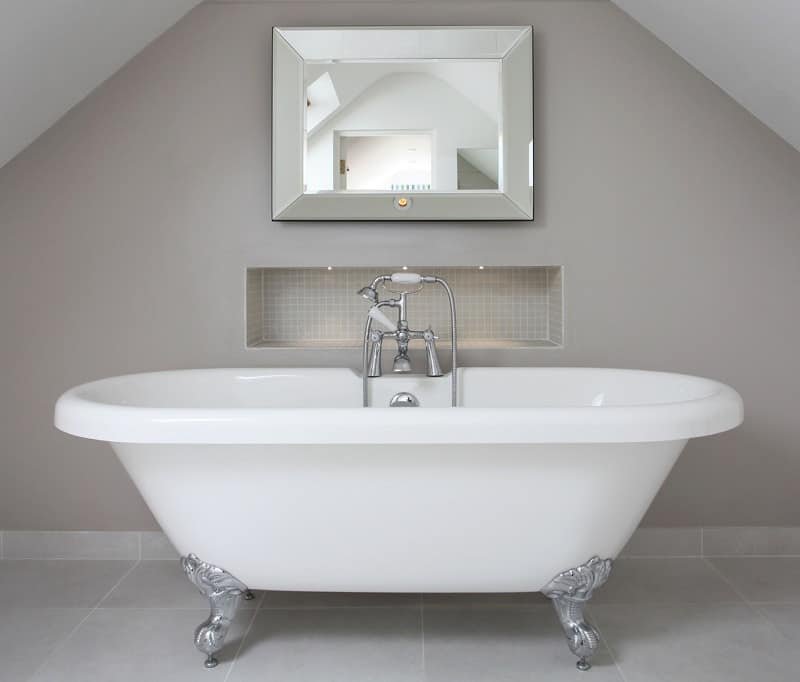 It is assumed that the clawfoot tub originated in Holland during the 18th century. The Chinese dragon patterns inspired its ornate feet. Traditional bathrooms have long favored these tubs, serving as stunning focal points.
During its peak in the Gilded Era, most clawfoot tubs were fashioned from enamel-coated cast iron. Once heated, cast iron provides excellent heat retention. The old clawfoot tubs can last centuries because of their resilience. Unfortunately, these high-quality bathtubs can weigh hundreds of pounds, making installation difficult.
Checking whether a clawfoot tub has faucet holes is also essential, especially for cast iron versions that cannot be pierced. Tub feet are commonly available in
Black
Brass
Bronze
Nickel
Chrome
White
Cast iron.
Expansive bathrooms that require a focal point benefit immensely from adding a clawfoot tub.
How Do I Choose a Bathtub?
Selecting the proper bathtub for your home may need some planning. Still, as a general rule, you should begin by determining the maximum tub size your bathroom can accommodate. Assume you have a large room to fill and appreciate the luxurious amenities of a freestanding tub or corner tub. In that case, they may be excellent solutions for your house. In contrast, alcoves and drop-in tubs are more affordable and prevalent in most homes.
Furthermore, it helps select the optimal construction material. Acrylic, fiberglass, and solid surface tubs are cheaper than cast iron ones. You must determine whether your space is adequate for your preferred type of bathtub. Always consulting with a local contractor about your possibilities is helpful.
Standard Bathtub Sizes
| | | | |
| --- | --- | --- | --- |
| Type of Bathtub | Height | Width | Length |
| Freestanding bathtub | 15 – 20 inches | 27 – 32 inches | 55 – 72 inches |
| Corner bathtub | 22 inches | 60 inches | 60 inches |
| Oval bathtub | 24 inches | 41 inches | 60 inches |
| Whirlpool bathtub | 18 – 23-1/4 inches | 32 – 36 inches | 60 inches |
| Alcove bathtub | 18 inches | 32 inches | 60 inches |
| Drop-in bathtub | 14 – 20 inches | 30 – 32inches | 45 – 72 inches |
Kinds of Bathtub Materials
In addition to designs, sizes, features, and installation, bathtubs can be made from many materials. Although inexpensive and straightforward to maintain. Fiberglass bathtubs are not the most durable option. Fiberglass is a thinner, more flexible material. Yet, this may result in an unstable surface feel. Over time, it is also more susceptible to;
surface cracks
scratches
discoloration.
A layer of gel coat is used to fiberglass tubs to add luster. Yet the layer of reinforced polyester material is used to strengthen the tub's strength.
Fiberglass bathtubs
Fiberglass bathtubs can retain their color and luster for many years if maintained. If not kept, the gel coat may allow water to soak through and discolor the tub.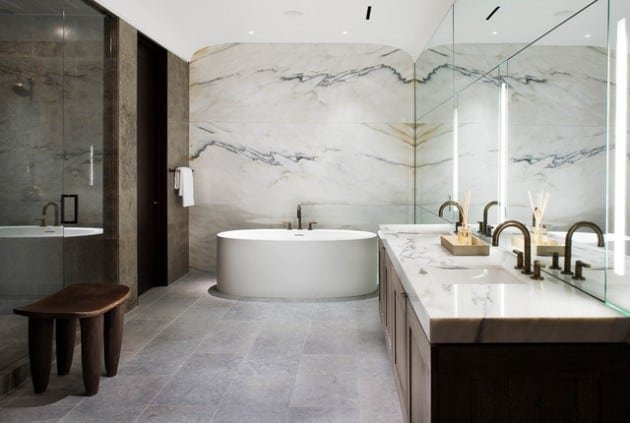 Acrylic bathtubs
"It is non-porous and more scratch-resistant than fiberglass. However, it has all the disadvantages of the less expensive choice, including warping. Acrylic bathtubs are costlier than fiberglass bathtubs.
Acrylic
Acrylic is a substance with a smooth, shiny surface. It is durable, making it a fantastic contender for long-lasting bathtubs.
The surface may reveal superficial scratches and marks with frequent usage.
These baths are easily repairable.
Acrylic tubs are available in various forms and sizes. Yet, it may complement any décor.
Producers of hot tubs often use acrylic. The walk-in tubs and spa tubs are due to their adaptability, especially in contemporary hot tub designs.
Porcelain-enameled cast iron or steel
Bathtubs made of porcelain-enameled cast iron or steel are durable. Steel is less expensive than cast iron. James states that there are restricted design alternatives for porcelain bathtubs. Frequently, they are heavier than other possibilities of fiberglass or acrylic. Cast iron bathtubs have more expensive.
Cast polymer bathtubs
Solid surface countertops are comparable to cast polymer bathtubs, like cultured marble. James says they are resilient, stain-resistant, and available in many colors and shapes. While scratches and stains are of little concern, cracks are a problem. "It may be impossible to make repairs without leaving visible marks," explains James. In addition to copper and stone, there are a few more unique bathtub materials, such as copper and stone. They are uncommon and costly, so you may not be able to find them at your local home improvement store.
For more information, click here.