What is a Sink Strainer?
A sink strainer consists of a perforated metal sieve. It prevents the passage of solid debris or large pieces of food, hair, or other similar substances that may otherwise move down into the water drain system of the sink. A sink strainer plays a significant role in preventing large particles from clogging the sinks in your home. Yet, it reduces the possibility that germs can grow in the drains.
A sink strainer is one of the most effective methods for preventing our drainage systems from becoming clogged with solid waste. The sink strainer is a relatively straightforward plumbing addition with a significant impact and low complexity. It makes life in the kitchen more hygienic.
Types of Sink Strainers
Sink strainers are available in various styles, but they all perform the same function: removing large debris and keeping the kitchen strainer clear.
Flange strainer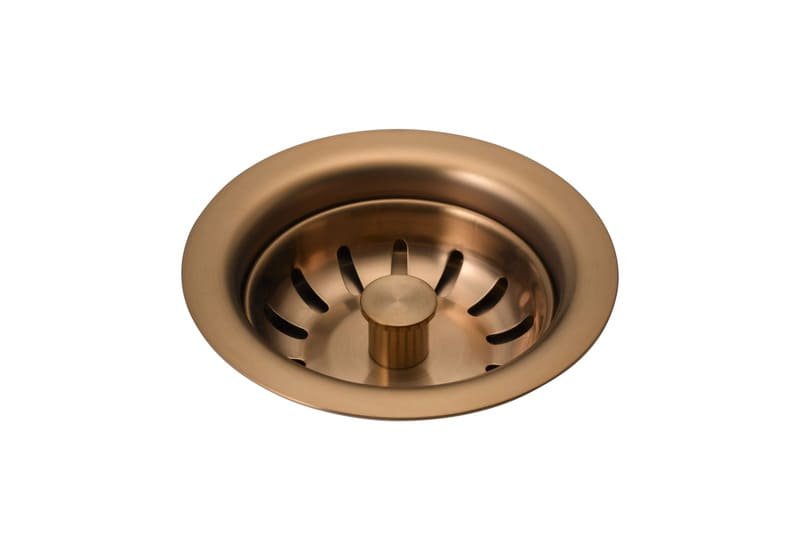 The flange strainer is premium because it is one of the most effective sink strainers. This model may prevent debris and water by simply pressing a nut that activates an undercover rubber rim.
Back nut strainer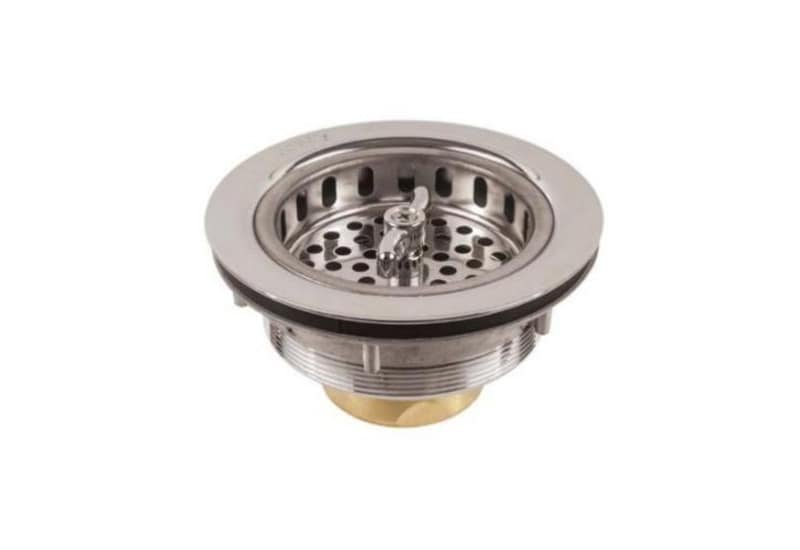 As its name implies, the back nut strainer is connected to a back nut. Yet, this makes it easy to install and maintain. You can quickly flip it on both surfaces to remove any adhered debris.
Stopper strainer
Like the flange strainer, the stopper strainer has a rubber rim at the bottom for halting water. It is also simple to implement and highly durable.
Level strainer
This is one of the most straightforward strainers you will experience. It employs a simple rubber sieve to remove residue from a home drainage system.
Double-cup strainer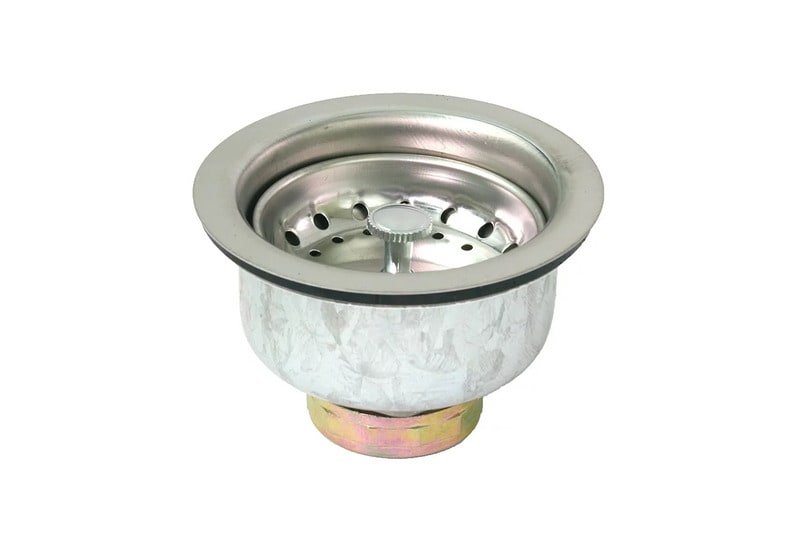 The double cup strainer has the same anti-clogging capabilities as drain strainers. Additionally, it has a back nut and two strainer cups that make it difficult for large debris to pass through. Furthermore, its ergonomic design makes this strainer very simple to install, modify, and clean.
Materials for Sink Strainer Manufacturing
One of the most important things to think about when shopping for a new sink strainer is what it is made of and how it fits together. Most sink strainers are made of plastic, silicone, rubber, or stainless steel. You may choose one material over another based on how you want it to look and how well it works.
Silicone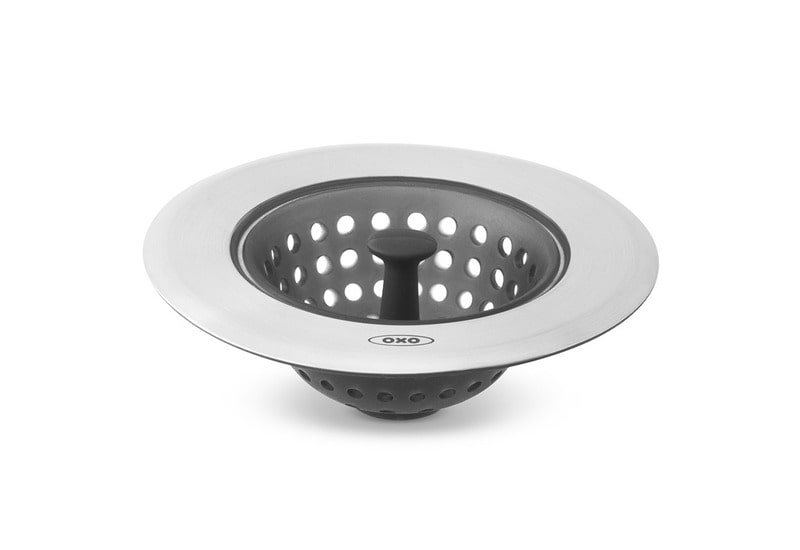 Silicone is usually used as a basket connected to a stainless steel or plastic rim. It is flexible and sturdy. Because silicone is flexible, it is easy to pop out the backing and clean up.
Stainless steel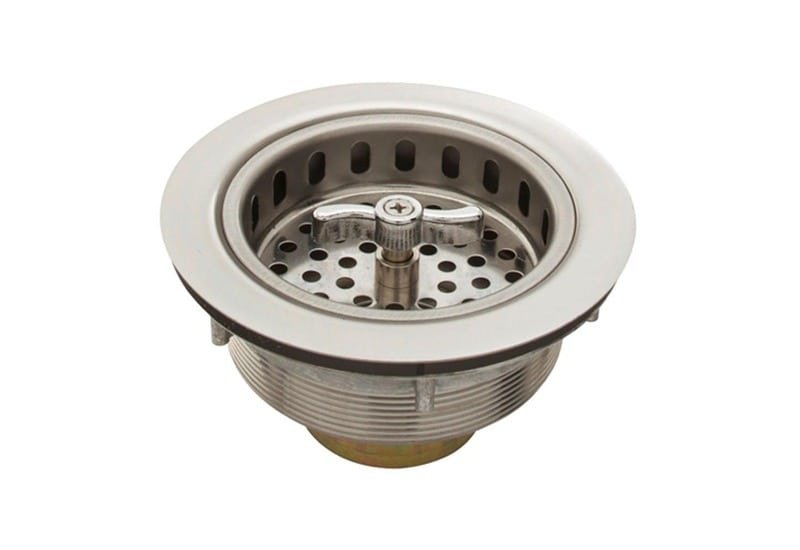 Stainless steel is the most lasting material, and stainless steel strainers don't stain rust and look good in almost any sink. Most of the time, stainless steel is used in a mesh design to ensure that trash is collected well. These are the best regarding how long they last and how well they work.
Plastic
Plastic strainers are a cheap choice for sink strainers that work well to catch dirt and last longer than rubber strainers, but they tend to change color over time.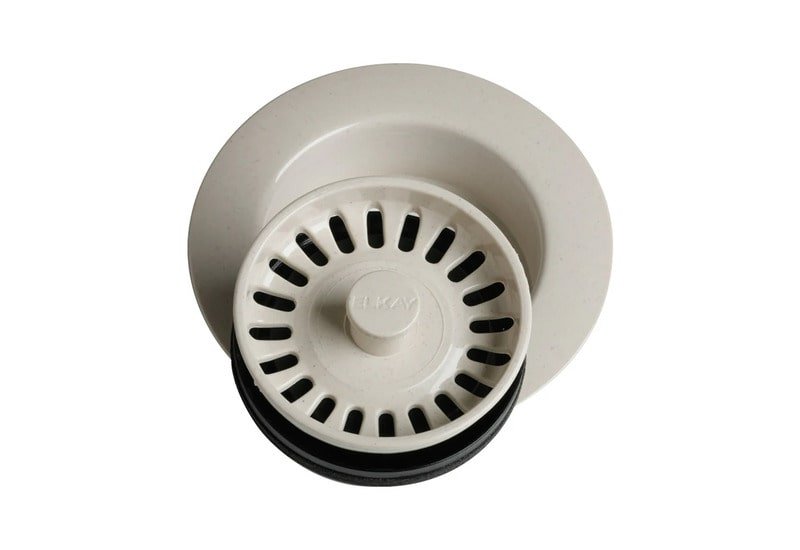 Rubber
Rubber is the least expensive material for sink strainers. It works well to catch dirt but tends to break down over time.
How to Clean a Sink Strainer?
Using hot water and dish soap is the best way to clean the drain in your sink. Just pour hot water into a large bowl, add a drop of soap, and let the filter sit there for a while. After leaving the strainer for a few minutes, clean it and put it back in the drain. Make sure to clean the strainer in your sink often. This is the best way to keep the strainer in good shape and your sink draining quickly.
What Are the Size of Kitchen Sink Strainers?
Depending on the sort of sink and the drain orifice, strainers for kitchen sinks are available in various sizes. Here, we'll overview typical strainer dimensions based on their respective categories. All measurements are in inches.
Drain Sink Strainer: 4.5×4.5×0.9
Black Nut Strainer:
3.4x1x2.3 (smaller size)
4.3 x 1.2x 3.1 (bigger size)
Stopper Strainer: 6.1 x 5x 6.1
Flange Strainer: 4x4x4 or 5x5x5
Benefits of Using a Sink Strainer
Prevents clogging and obstructions in the sink
It prevents food particles, detritus, and small objects from entering the sink.
Enhances the overall sanitation and hygienic condition of your sink region
Simple to install and utilize
Easily removable and easily clean
It reduces the amount of garbage flushed down the sewer, making it an environmentally beneficial option.
Top 5 Sink Strainer Suppliers in the World
Hofen Sanitary
Hofen is among the most reputable manufacturers and suppliers of sink strainers. The manufacturer has served the industry of sanitary ware for over 17 years. It produces sink strainers, faucets, basin effluent drainers, bottle traps, and siphons. Sink strainers are typically constructed from rust- and corrosion-resistant materials like stainless steel or brass. Its products are of the highest quality and are simple to use. It exports its products internationally and domestically.
Key products:
Sink strainer with basket
Why did You Choose Hofen Sanitary?
Regarding plumbing supplies, nobody accomplishes it better than Hofen. It has an extensive customer base due to its reliability and longevity in the marketplace. It's standard procedure to provide product guarantees to reassure buyers. Their support team has a good reputation for being quick to respond and helpful overall.
Kohler
Kohler is a well-known American company that produces numerous infrastructure, power generation, and interior design-related products. John Michael Kohler founded the corporation in 1873, and its headquarters are in Kohler, Wisconsin, United States. Various bathroom fixtures include toilets, basins, faucets, showers, bathtubs, and accessories. Each is designed to supplement their sink and capture debris efficiently. Their strainers are in various designs, finishes, and materials to complement the sink and kitchen decoration.
OXO Good Grips
Sam Farber founded OXO Good Grips in 1990, though it's primarily known as OXO. The OXO is a popular choice for kitchen sink strainers. This brand is known for preventing food particles and residue from obstructing drains. The strainer is constructed of rust-resistant and long-lasting stainless steel. It has a thin mesh with micro-perforated pores. This mesh captures even the tiniest food particles, allowing water to pass freely. A silicone rim on the strainer ensures a secure and close fit in most sink drains, preventing it from moving or slipping.
Moen
Moen is the standard of excellence for remarkable beauty and reliable, innovative design. Their finishes are designed to last a lifetime, and their faucets are manufactured to provide the ideal water pressure balance. Strainers from Moen often take the form of basket strainers. They have a removable basket or component in the shape of a cup that acts as a collector for trash and is simple to remove and wash when necessary.
Danco
Danko is a well-known plumbing repair and replacement components manufacturer, including sink strainers, faucet parts, and toilet repair components. Their product catalog consists of faucet repair components, commode repair kits, showerheads, sink strainers, shower arms, and diverters -Various types of valves and plumbing fixtures have filters, typically made of resilient materials such as plastic or stainless steel, to prevent grime and food particulates from clogging sink drains. Numerous products have been designed with a ubiquitous fit in mind, meaning they are intended to be compatible with various materials and models.
Buying Guide to the Best Sink Strainers
Most kitchen sink strainers have some stopper to control how much water flows through them. Some have a rubber rim at the bottom, while others have a metal base that can be turned to lock or open. Some cheaper ones may be fine mesh bags with tiny holes to remove dirt.
Sink strainers come in various materials, so you can choose one based on how much it costs or how well it works. I explained it in the section of the article above.
End connections refer to the connection between the strainer and tailpipe, with flanged and threaded being the most common types.
In contrast to flange end connections, threaded connections use grooves to screw two sections together, eliminating the need for numerous components like nuts and washers. The most cost-effective of the two end connections, threaded end connections, are ideal for low-pressure environments.
As the most common form of end connection, flanged ends are secured with nuts at the connection site, sealing the junctions. Yet, a flanged washer prevents leakage between two parts.
Always measure your washbasin before installing it. Most drains have a standard diameter of 3.5 inches. Yet, it is essential to measure them to prevent substantial materials from entering your drainage system.
The choice between either of these strainers comes down to individual preferences. Mesh strainers have many tiny holes, making them exceptionally effective at keeping food bits from getting stuck in drain lines. You should know, though, that this makes them hard to clean. Porous strainers, on the other hand, have larger openings that keep out more significant pieces of food but are much easier to clean.
Top 5 Sink Strainer Suppliers in the World: Final Words
One of the critical parts of your sink is the strainer, and it's essential to change it often and keep it in good shape. Sink filters are necessary to keep food scraps from going down the drain and clogging the pipes. When placed correctly, they can be very effective at preventing blockages. So, do your drainage system a favor and buy a strainer that works best for your sink.
What I Solve in this Article?
Some individuals encounter issues when buying the sink strainer from top brands. In this guide, I talk about the best strainer supplier in the world. By studying this, you can find the top for your plumbing. I also discuss the numerous factors when selecting the best sink strainer manufacturer for your needs. These include the strainer's compatibility with your sink, its material, and quality of manufacture, design, and consumer feedback and suggestions.