Description
HF-0089
A pop-up drain is just what it sounds like. It is a unique drain to stop something from overflowing. Overflow drains are used in aquariums, manufacturing facilities, and many other situations where a constant liquid level is required. The overflow is designed to stop water from spilling out in a bathtub if someone accidentally leaves the faucet on or overfills the tub before getting in.
The bathtub drain is divided into the main drain and the overflow. The main drain is at the bottom of the tub, and the overflow is a few inches below the rim. Both drains are connected to tubes that meet beneath the bathtub and merge into a single pipe. The central drain may have a plug stopper or a mechanical stopper operated by a lever, but the overflow never has a stopper.
If the main drain is stoppered while the water is left, water will keep building up in the tub until it reaches the overflow. Because the overflow does not have a stopper, the water will start to drain from it while it is still several inches below the tub's rim. Assuming that the pipes are not clogged and can drain faster than the faucet provides water, the overflow will keep the water level a few inches below the tub's rim, preventing the water from pouring onto the floor.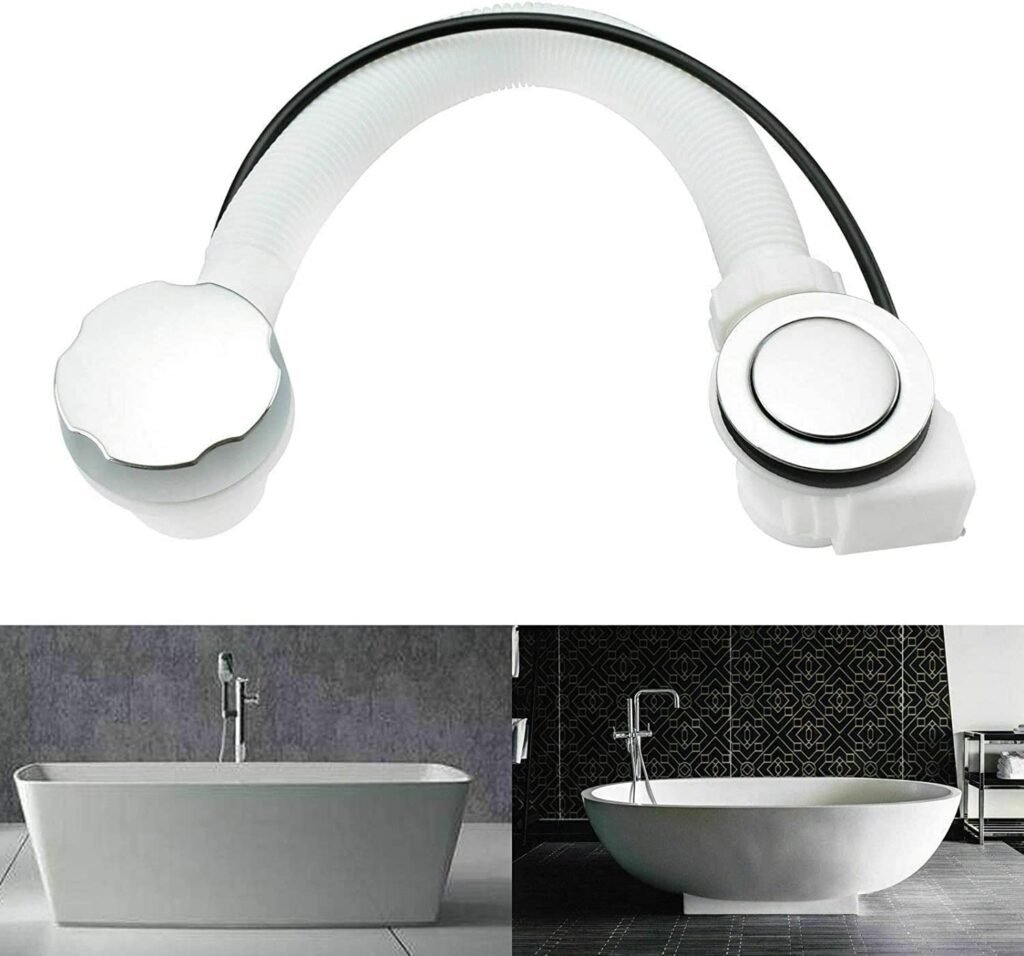 – With its elegant design, it complements any bathroom style. Made of high-quality brass with a chrome finish, this basin waste will last you years of use and comes with a 3-year guarantee against manufacturing defects!
The Bath Pop-up Waste is a high-quality basin waste that fits into most baths. It is made from solid brass and will not rust, so it can be used confidently in modern and traditional bathrooms. The waste features a pop-up mechanism to prevent debris or water from entering the drainage system. The waste also comes complete with an overflow plug that helps to prevent flooding if the bath overflows. This makes it perfect for use in homes where children are present.
Bath Pop Up Waste Components – A perfect replacement for your old or broken bathtub pop-up waste components. This kit includes the overflow plate, stopper, and pull chain. Easy to install and fits most standard bathtubs.
Bath Pop Up Waste Components – A basin waste is a plumbing component used to remove wastewater from a washbasin. This Bath Pop Up Waste component is a high-quality, reliable option designed to offer a quick and easy installation. It features a pop-up design that makes it easy to use and comes with all of the necessary fittings for a quick and easy installation.