It's not like that everyone will like the regularly marketed basin wastes. Everyone's choice is different. But nowadays, yes, it is possible to get customized basin wastes. And please get those from a factory. Today in this post, you will learn how to get customized basin wastes from a factory. So, let's start.
What Is A Customized Basin Waste?
A regular basin waste is a drain that stops or permits the wastewater to flow from your basin. The customized basin waste will do the same… but the design, functions, and other things will be as per your choice. So, the waste you will customize following your ways is customized basin waste.
Things To Consider To Customize Basin Wastes
Here are the important things to consider while you're thinking to customize basin wastes:
Making Material
Different manufacturing companies make wastes with different materials. The most common materials for waste drains are Brass, stainless steel, bronze or copper, plastic, and more. Each of these materials has its specialties and lacking.
If you take an example, bronze can mix lead in the media, but this for Brass and steel is very low. Also, Brass is less corrosion resistant in a salty environment where steel and bronze can do great. However, Brass is considered the best material for basin wastes all over the world. 
Surface Finish and Color
The surface finish protects the wastes from corrosion or damage. Its skin should shine all the time and match your decoration. Popular basin waste finishes are chrome plating, nickel plating, Matt black, ORB, polished finish, gold plating, brushed finish, etc…
All of these finishes are good, but plating finishes are slightly better than the others. Moreover, you can choose any color and pattern for the finishes to match it with the basin and the theme.
Different Types
Basin waste drain comes in a variety of types. For example, pop-up, click-clack, free flow, and many more styles we cannot describe here completely. So, for more information about different types of waste drains… follow our recent post, "Latest Basin Wastes of 2021".
You can choose any of these types OR different types for different basins. The choice is yours.
Design
You are customizing the waste drain, so you have all the rights to customize almost everything. All of the basin holes are rounded. So, there is nothing to change in the body orientation. But you can change the other interfaces such as the push-button design, lever, strainer pattern, etc… Also, if you have any design or something that you want to engrave or write on the waste drain, you can do that too.
Slotted or Unslotted
Slotted or unslotted denotes that there are holes in the waste body is available or not. These slots are also known as overflow that controls the overflow of your basin. Slotted means the waste drain has holes in its body on both sides, and unslotted means no holes.
Basins that have an overflow requires the slotted drains, and else it will need the unslotted ones. Above all, you can get any of these two variations combining the types. So, think correctly and select the best combination for your needs.
Which Size
The basin waste drains have two standard sizes, and those are 11/4″ or 32mm and 11/2″ or 40 mm in diameter. See the specifications of your basin to know which size it needs. However, if you want to get the customized size, you can get them too. But measure or verify the exact size first, then include it in your customization list.
Other Parts
The rest parts are the threads, rubber washer, and hexagonal nut. You cannot change the design of the threads because it's the standard pattern that is suitable for all basins. And the washer made of rubber and rounded is helpful to make the waste watertight. Also, the hex nut has its perfect design to complete the work easier for you.
But if you want to make some changes to these things, you can do it. However, all of these parts will stay below the basin that means behind everyone's eyes.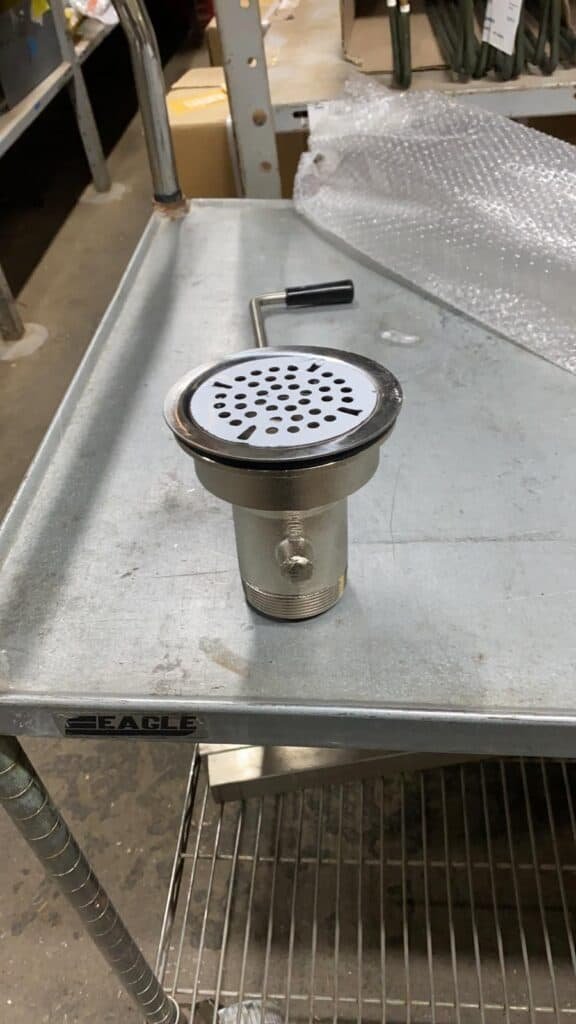 What Do I Have To Do?
By now, you have got a fine idea of which things you want to customize in a basin waste. After that, plan your designs for each part and sketch them off. Illustrating the model using computer graphics or making a 3D model will make it easy to understand for your manufacturer. But the question "How to get them from a factory" remains.
When your design is done, you need to find a waste drain manufacturer factory… that can also produce customized wastes for you. And ask them to manufacture your designed basin waste. It's that simple.
How To Find A Customized Basin Waste Factory
Finding a factory that offers to produce customized wastes would be a difficult task. This is because most of the factories do not offer this. However, you can look for them in the search engines such as Google and Bing. Also, big marketplaces like Amazon and Alibaba can help you get some vendors. Just type the keyword "customized basin waste manufacturer" and hit a search.
But even after a lot of searching, there is a small chance of getting a good vendor. So, here is a shortcut for you, skip looking for the vendor outside and try us, Hofen Sanitary. Here is why you should choose us as your customized basin waste manufacturer:
· We, Hofen Sanitary, are a professional basin waste maker and the leading factory in China for the last few years.
· Our qualified designer team will make the perfect model for your imagination.
· Our highly skilled workers and latest technology will make your wastes pixel-perfect at almost 0% of defect rate.
· We believe in quality before profit. So, you will get the best service, and it's a promise.
Above all, when your design of the customized basin waste will be complete… you have to contact us for the rest procedure. Finally, you will get your own designed basin wastes exactly the way you want after some time.
To conclude, this is the total procedure of getting customized basin wastes from a factory. Hopefully, it was easy and helpful for you. See you in the next blog. Till then, stay happy and stay safe.