Faucets are essential home fixtures that allow us to control water flow. Whether washing our hands or rinsing dishes, faucets are crucial daily. This article will explore the working mechanism and applications of faucets. We will also list the top 6 faucet manufacturers in the UK. You will learn to select the right supplier and address concerns while purchasing.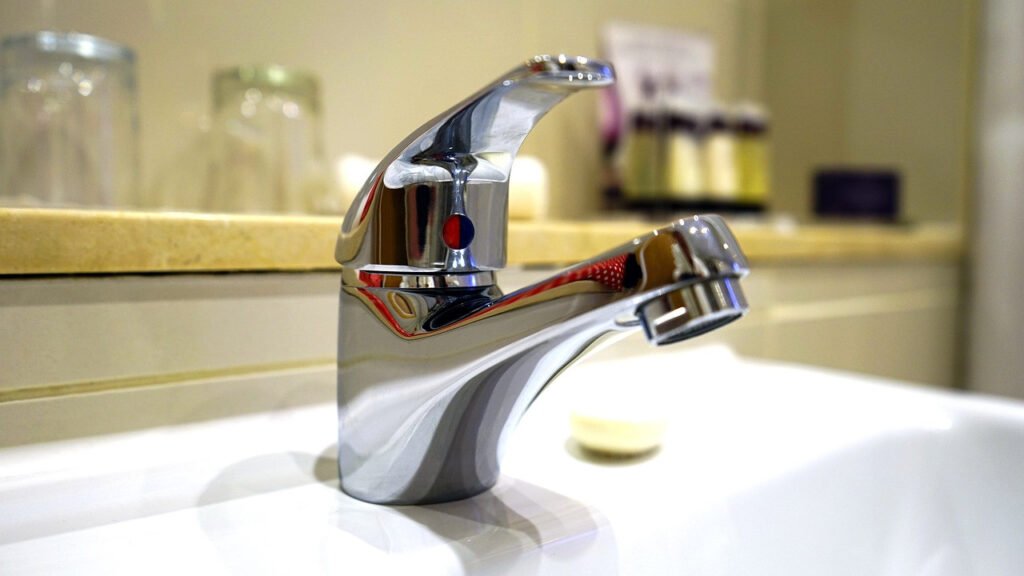 What is a Faucet?
A faucet is a device present in our homes to control water flow. The other name for the faucet is tap. Faucets are in our kitchens, bathrooms, and other areas where we need access to water.
The faucet provides an easy way to regulate the water supply whenever needed. Faucets have a handle or knob that we can turn or lift to control the water flow. Turning the handle opens a valve inside the faucet, allowing water to flow out. Turning it back, we close the valve and stop the water from flowing.
Applications of Faucets:
Homes: Faucets are present in our homes, kitchens, and bathrooms. They help us wash dishes, clean, cook, and water plants.
Schools: Faucets are in school restrooms, science labs, and cafeterias. Students and staff can use them for handwashing, drinking water, and cleaning.
Offices: In office buildings, faucets are in restrooms, kitchens, and pantry areas. Employees can use them for handwashing, filling bottles, and making coffee.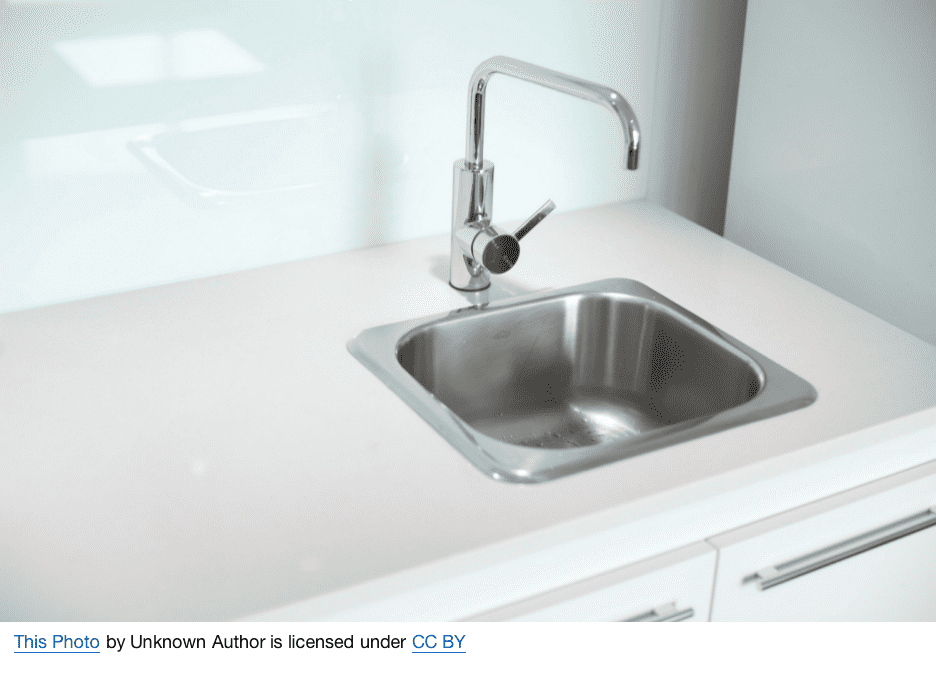 Public Restrooms: Faucets are in public restrooms. It includes shopping malls, airports, and train stations. They provide users with a convenient way to maintain hygiene and wash their hands.
Hotels: In hotel rooms, faucets are in bathrooms to provide guests with water. They serve purposes like washing hands, taking showers, and brushing teeth.
Hospitals and Clinics: Faucets maintain cleanliness and prevent germs in healthcare settings. They are in patient rooms, surgical areas, and hand hygiene stations.
Industrial Settings: Faucets are important in manufacturing, construction, and agriculture. They perform tasks like cleaning equipment, washing hands, and managing the water supply.
Parks and Recreational Areas: Some public parks have faucets for visitors. They access drinking water, fill water bottles, or clean picnic areas.
These are a few examples of where faucets find their applications. They are essential in various settings to provide access to water.
How Does a Faucet Work?
A faucet has a simple working mechanism that controls the flow of water. Inside the faucet, there is a valve that acts like a gate. Water can flow out when the valve is in the open position. When it's closed, water stops flowing.
Outside the faucet is a handle or knob we can turn or lift. This handle connects to the valve inside. When we turn or lift the handle, it opens the valve. It allows water to go to supply pipes through the faucet.
Once the valve opens, water flows through the faucet and comes out through the nozzle. Separate handles for hot and cold water can adjust the temperature. We can also turn a single handle to find the desired temperature.
When we're done using the faucet, we turn or lower the handle. This action closes the valve inside the faucet. It stops the water flow. This is how we turn off the faucet.
The working mechanism of a faucet is quite simple yet important. By turning the handle or knob, we control the operation of the faucet. It determines whether water can flow out. This mechanism allows us to access water whenever needed for tasks.
Types of Faucets:
Several types of faucets are available for different functionality. Let's explore common types of faucets.
Compression Faucets: Compression faucets contain dual cold and hot water handles. When we turn the handles, they compress rubber washers against the water flow. It stops the water by creating a seal. These faucets are familiar for their traditional two-handle design.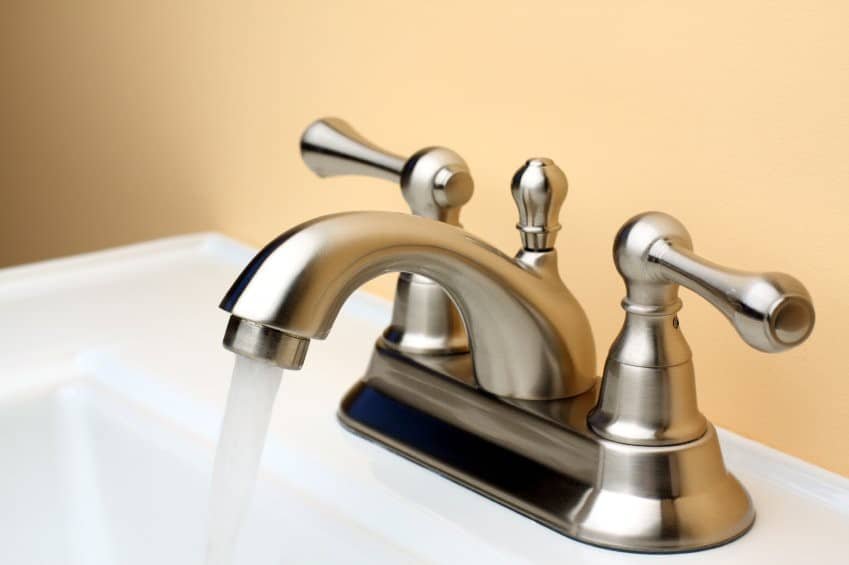 Ball Faucets: Ball faucets have a single handle controlling temperature and water flow. Inside the faucet, there is a ball-shaped mechanism with special openings. The ball aligns the openings by moving the handle. It controls the water flow and temperature of the faucet.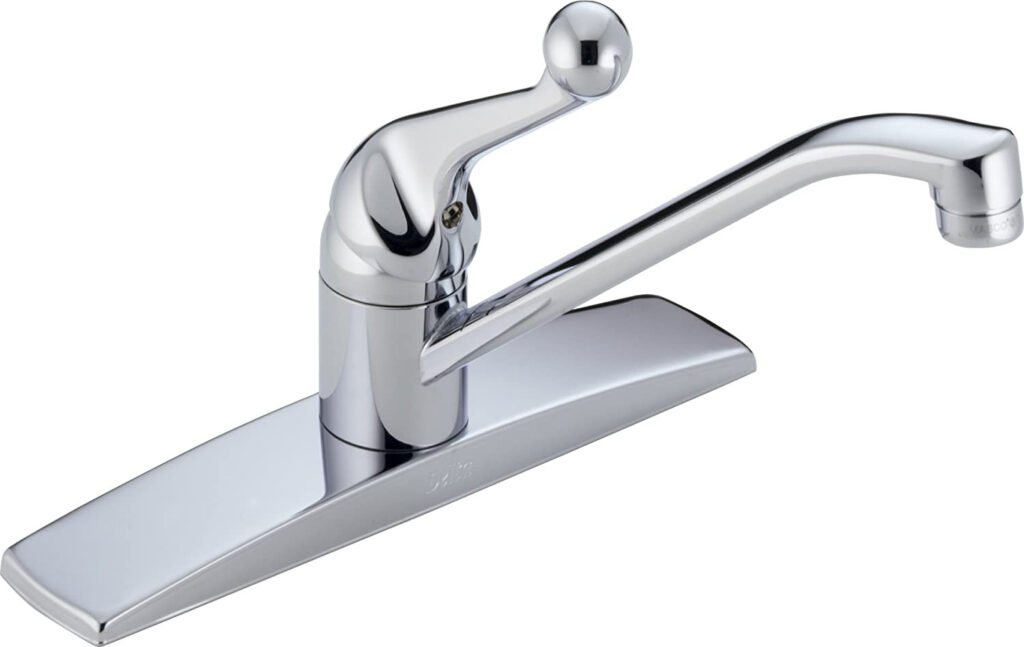 Cartridge Faucets: Cartridge faucets also have a single handle. They use a cartridge instead of a ball which controls the faucet's flow. The cartridge has small openings that align as we move the handle. It allows the water to flow and adjusts the temperature accordingly.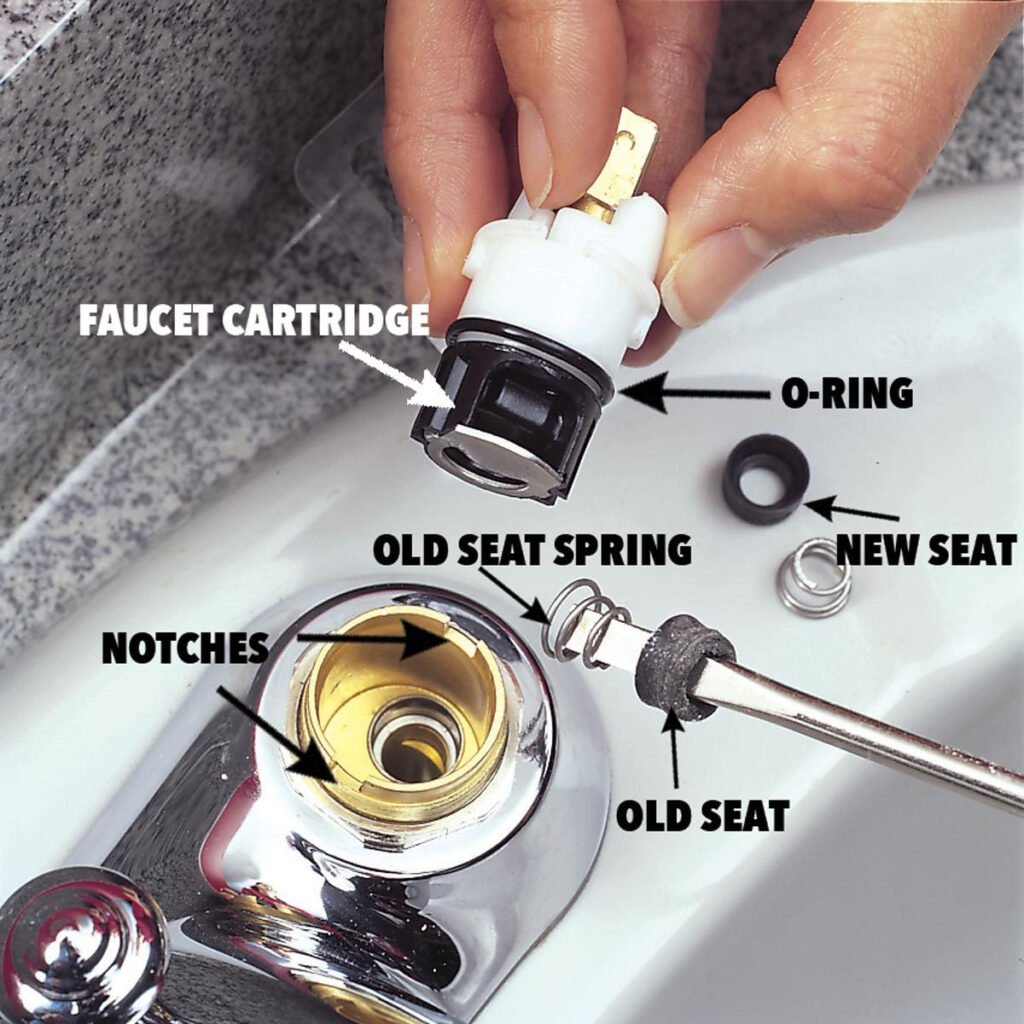 Disc Faucets: Disc faucets are famous for their durability and efficiency. A wide, cylindrical disc inside the faucet controls the temperature and water passage. As we turn the handle, the disc regulates the water temperature and flow in the faucet.
Sensor-Operated Faucets: Sensor-operated faucets are becoming more popular in public and commercial restrooms. They have sensors that detect motion. When we place our hands under the faucet, it turns on the water. When we remove our hands, the sensor shuts off the water flow. These faucets are convenient and promote water conservation.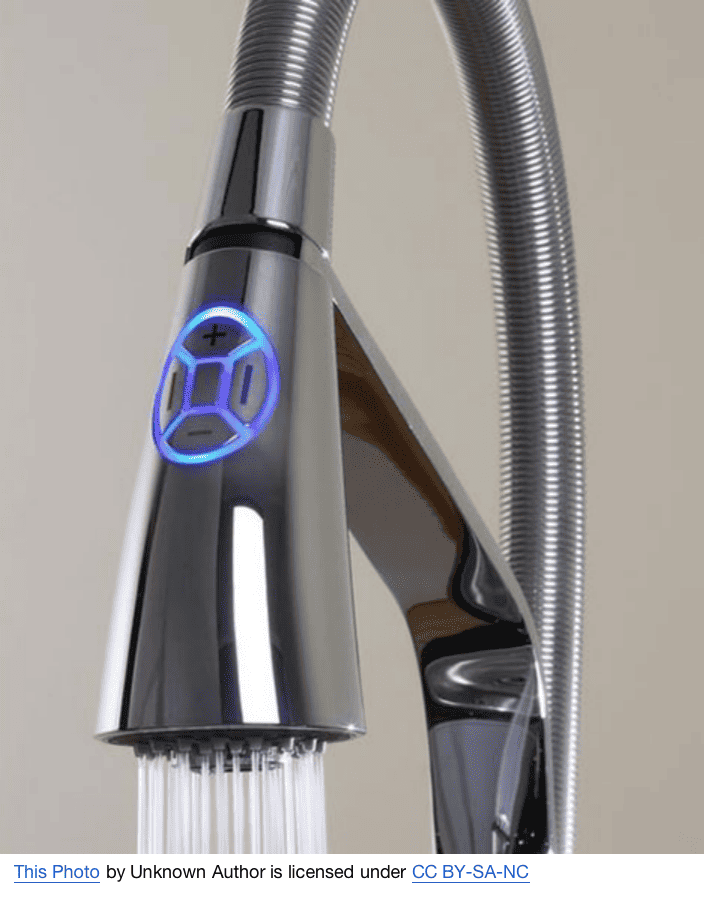 Specifications:
| | |
| --- | --- |
| Product: | Wash basin faucet. |
| Size: | 35mm and 40mm. |
| Media: | Water and Oil. |
| Surface finishing: | Chrome plated. |
| Material: | Brass. |
| Max Pressure: | 3Psi. |
List of Top 6 Faucet Manufacturers in the UK:
Deva by Methven:
Deva by Methven is present in the United Kingdom. They produce durable commercial faucets and bathroom fixtures. They are the top faucet manufacturer in the UK with an experience of over 3 decades.
The company aims to design and manufacture innovative faucets. Their taps look great and do an efficient job. They understand that a faucet is an important part of our daily lives. Thus, Deva offers various faucet designs to suit different preferences and styles. Whether you prefer a modern or traditional design, they have options for everyone.
Their faucets are available for basins, baths, and kitchen sinks. It makes it easy to get the best faucet for your applications.
One thing that sets Deva apart is their focus on water efficiency. They believe in protecting our environment. Their faucets are eco-friendly that help conserve water. These faucets reduce water wastage without compromising performance. It makes them a great choice for those who want to save.
Deva also creates a range of bathroom accessories and showering products. This includes showerheads, valves, and towel rails. They enhance the style of your bathroom.
Bristan: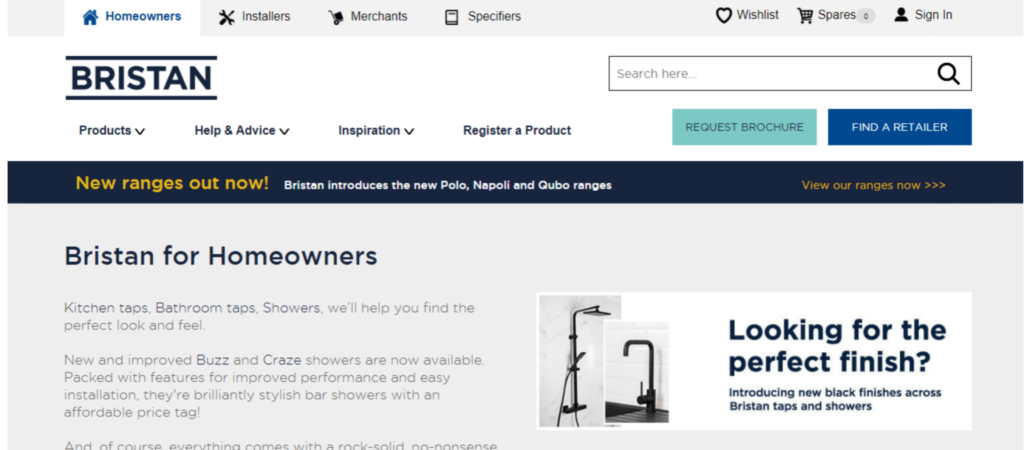 Bristan is a company specializing in faucets and bathroom fixtures. Bristan stand out with a wide range of products and a strong reputation. The company commits to producing stylish faucets. They believe in a reliable and appealing faucet in your home.
Bristan offers diverse faucets to suit different interior styles. They have options from classic to modern products. Their faucets suit basins, baths, and kitchen sinks.
The key strength of Bristan is its commitment to quality and durability. They produce faucets using advanced manufacturing techniques. It ensures that their faucets are built to last. This means that when you choose a Bristan faucet, it will withstand the test of time.
Bristan offers a range of other bathroom products and accessories. It includes showers, showerheads, and valves. They also provide bathroom accessories like towel rails and soap dispensers. They provide a fit solution to enhance the functionality of your bathroom.
Tap Warehouse: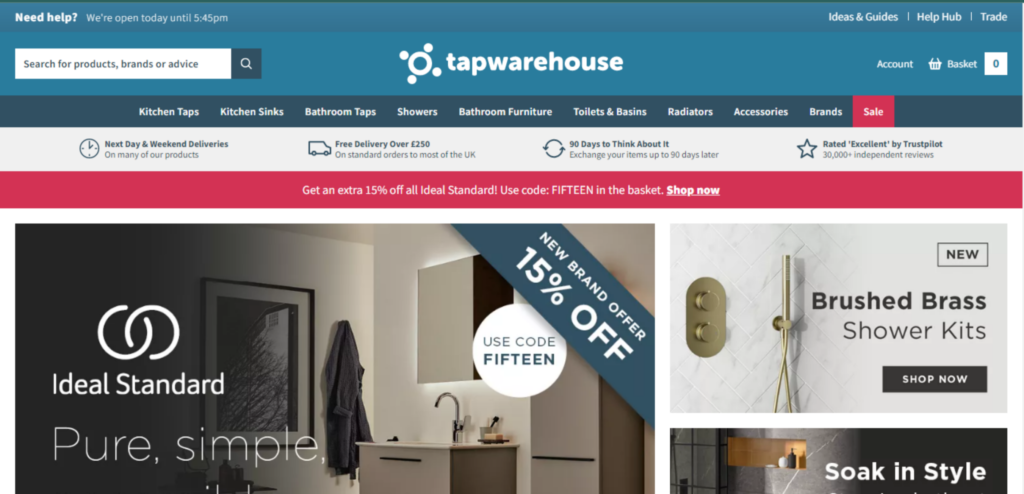 Tap Warehouse is another company providing a range of faucets and bathroom products. It is popular for homeowners looking to update their bathrooms and kitchens. They have a convenient website and a reputation for affordability.
The company offers diverse faucets to suit different styles and preferences. Tap Warehouse has options to cater to your taste. Their faucets are available for basins, baths, and kitchen sinks. Tap Warehouse focuses on providing high-quality products at affordable prices.
They work with reputable brands and manufacturers of reliable faucets. Their faucets are good at performing in varying situations. Tap Warehouse offers a variety of other bathroom products. They aim to provide a comprehensive range of products for a dream bathroom. Tap Warehouse is there to help throughout the process.
Abode: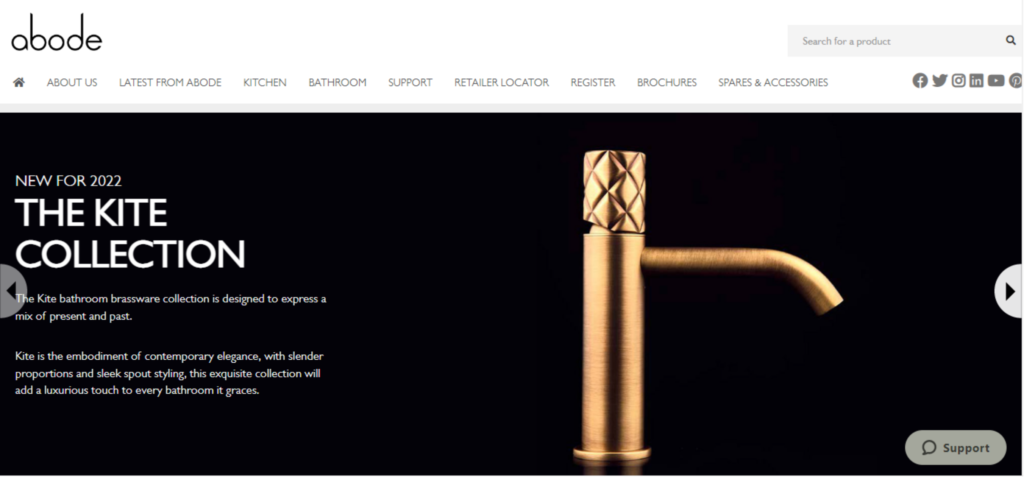 Abode manufactures faucets and kitchen products. Adobe is a trusted company in commercial-grade faucets. The company offers faucets with unique and stylish designs. Abode provides customers with options to suit various preferences. Their faucets come for both kitchens and bathrooms.
Abode places great emphasis on products with quality. They use quality materials and techniques. Their designs ensure that faucets are durable and long-lasting. This means that when you choose an Abode faucet without hesitating.
Abode also offers kitchen products and accessories. This includes sinks, kitchen taps, and other kitchen fixtures. They believe in giving the kitchen the best products.
Abode strives to reduce water wastage. They install such processes and offer water-saving products. Their faucets minimize water wastage making them a responsible choice.
Caple:
Caple is popular in the UK for kitchen appliances and home products. Their faucets are super efficient and strong. The company offers diverse kitchen products and appliances. They produce kitchen sinks and faucets. Caple also manufactures appliances like ovens, refrigerators, and dishwashers. They provide modern products for your kitchen needs.
Caple's faucets come in sleek and modern designs. Caple can provide a tap for your kitchen sink or a mixer tap for your bathroom basin. They have options that combine appealing styles and functionality. Their faucets enhance the look of your kitchen or bathroom with efficient water flow.
Caple offers a selection of other kitchen appliances and accessories. This includes built-in and freestanding appliances. These are ovens, hobs, and refrigerators. Caple understands the importance of a well-equipped kitchen. Caple aims to provide products that make working in the kitchen exciting.
Caple prioritizes quality in their products. When you choose Caple, you can trust that you're investing in reliable appliances.
Just Taps: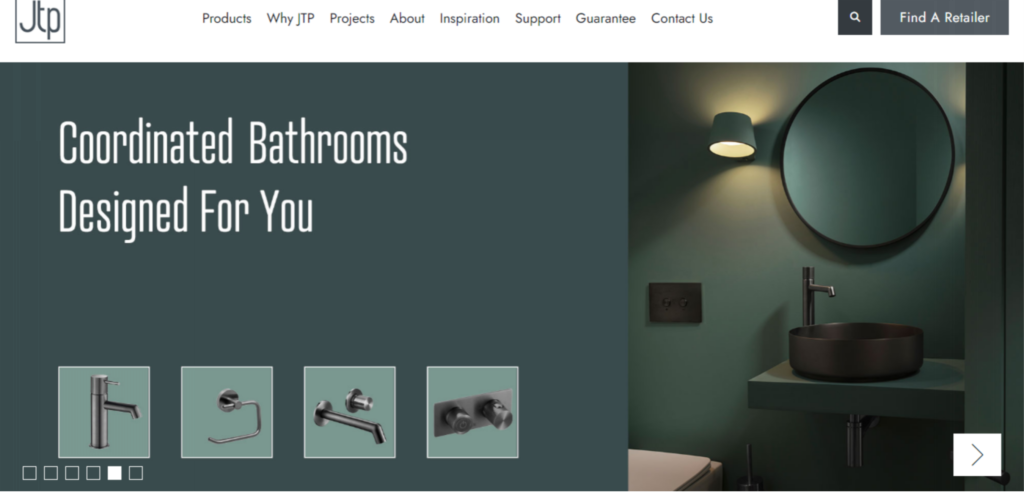 Just Taps produces and distributes taps and bathroom fixtures. Just Taps come with a range of products and a commitment to excellence. The company offers diverse taps to suit various styles and preferences. Their taps fit basins, baths, showers, and kitchen sinks.
Just Taps focuses on delivering superior quality products. They use premium materials to make taps durable, reliable, and built to last. When you choose Just Taps, be confident of maintained performance over time.
Just Taps also shower systems, showerheads, and bath fillers. They provide bathroom accessories like towel rails and soap stands. They strive to create a stylish and functional bathroom space. They also provide a list of authorized retailers to find Just Taps products.
Their commitment to superior craftsmanship sets them apart in the industry. Whether renovating your bathroom or kitchen, Just Taps offers are there for you.
How to Select the Right Faucet Supplier?
Selecting the right faucet supplier is important for excellent customer service. Relieve these concerns before faucet selection.
Reputation: Look for a faucet supplier with a good reputation in the market. Read customer testimonials to get an idea of the reliability of their products.
Quality and Durability: Consider the quality of the faucets the supplier offers. Look for suppliers that provide durable and long-lasting faucets. Check for warranty or guarantee for their faucets.
Product Range: Check the supplier's product range to have a variety of faucets to choose from. This will give you more options to find suitable faucet for your needs and preferences.
Customer Service: Good service is a priority when dealing with a faucet supplier. Settle for a knowledgeable and responsive supplier. They should be able to hear and relieve your concerns.
Price and Affordability: Compare prices from different faucet suppliers for a fair deal. The cheapest option sometimes may be better quality. Sync the price and faucet quality when making your decision.
Delivery and Shipping: Check the faucet supplier's shipping costs if purchasing online. Ensure they can deliver to your location. Their shipping methods should be reliable and secure.
Extra Services: Some suppliers may offer services like setting up or maintaining faucets. If these services are important, check if the supplier can provide them.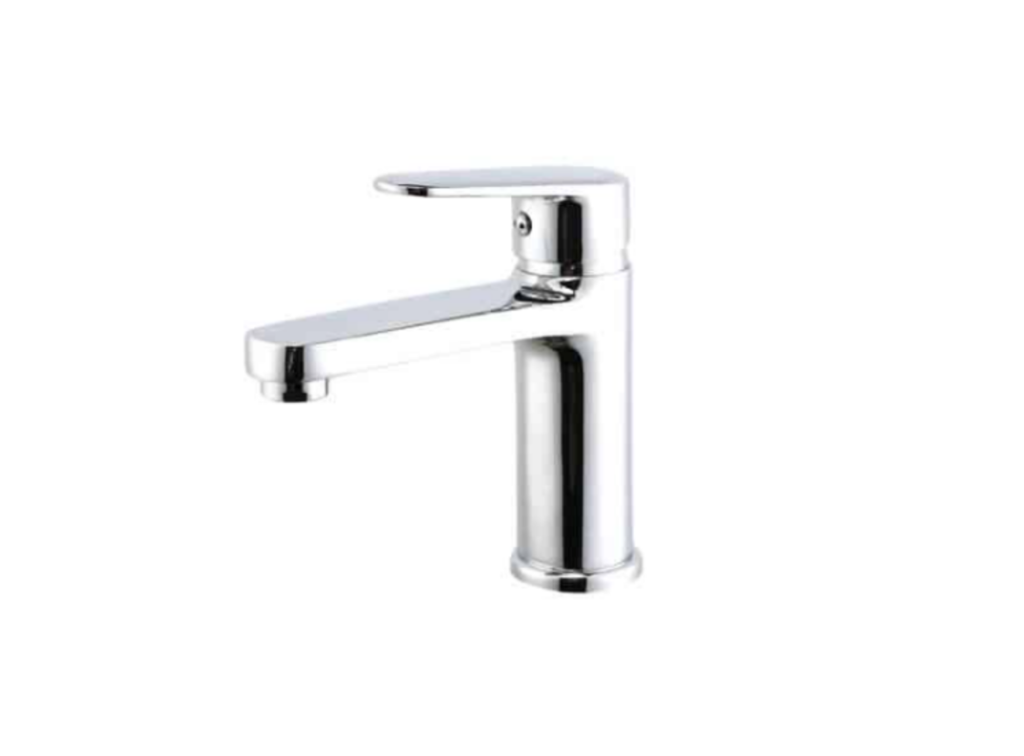 Concerns while Purchasing a Faucet:
When purchasing a faucet, you should keep a few concerns in mind. Here are some common concerns to consider:
Quality: One of the main concerns when buying a faucet is its quality. Make sure you go with a faucet made from durable materials. It will lead to working and withstanding regular use.
Water Efficiency: Another concern is water efficiency. Look for faucets that conserve water by providing a steady flow without wasting it. Water-efficient faucets can help reduce water usage and lower your water bills.
Installation: Consider how easy or complex the installation process is. If you're installing the faucet yourself, choose one with clear instructions. If hiring a professional, they should have experience with your chosen model.
Compatibility: you must relate the faucet to your plumbing setup. The faucet's mounting style, size, and connections should match your sink or countertop.
Budget: Set a budget for buying your faucet and stick to it. Consider the price range of faucets that meet your requirements. While quality is important, you can choose something other than the expensive option.
Warranty and Customer Support: Check if the faucet has a warranty or guarantee. Consider the responsiveness of customer support in case you have any concerns.
Design and Style: Consider the faucet's design and style to match your house's aesthetics. Look for a faucet that complements your existing décor.
You can select a faucet that meets your needs by addressing these concerns. It will provide reliable performance and offers a satisfying purchasing experience.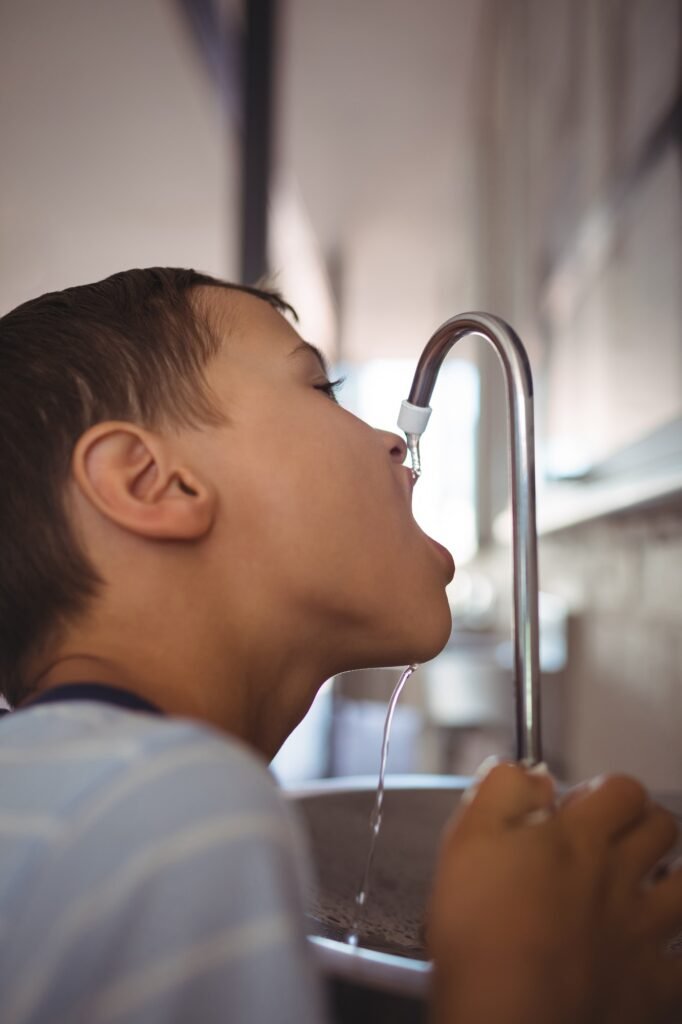 FAQs About Faucets:
Let's check out some frequently asked questions (FAQs) related to buying faucets:
Q: What types of faucets are available?
A: Faucets are available in plenty of varieties. It includes single-handle faucets and double-handle faucets. There are pull-out or pull-down faucets. Wall-mounted faucets and touchless faucets are other options.
Q: How can I select the right faucet for my needs?
A: When choosing a faucet, keep your preferences a priority. Choose the compatibility with your sink or countertop and your budget.
Q: Are all faucets compatible with my plumbing system?
A: Not all faucets are compatible with every plumbing system. Check the compatibility of the faucet with your plumbing setup before buying.
Q: How can I ensure water efficiency with my faucet?
A: Look for faucets that have a water-efficient structure. These faucets reduce water wastage by providing a steady flow.
Q: Can I install the faucet myself, or do I need assistance from a technician?
A: We can install some faucets with basic plumbing knowledge and tools. However, opting for an expert for more complex installations would be best.
Q: Do faucets come with a warranty?
A: Many faucets have a warranty covering defects within a specific period. You must seek the warranty information given by the company.
Q: Where can I buy faucets?
A: you can buy faucets from home improvement and plumbing supply stores. You can also go for online retailers and even some department stores. Check local stores or visit reputable websites for faucets.
Conclusion:
The UK has thousands of faucet-producing companies. You might need insights about selecting the right faucet manufacturer. The above article includes the best faucet manufacturers in the UK. These are thoroughly researched and listed with much attention to the details. You can go with the most reliable faucet producer from these.