What is Faucet?
A faucet is a device that maintains water flow from a plumbing system. It is found in kitchens, bathrooms, and other places where water needs to be controlled.
Components of Faucets
Many people have often used a kitchen or bathroom faucet without knowing the parts. Here, you will identify specific plumbing system problems.
Aerator
The first component we will explore is the aerator. This is attached to the end of the faucet spout and controls the water flow. It incorporates air into the stream and produces multiple minor streams. It reduces the required volume of water without sacrificing pressure.
The use of an aerator will increase efficiency and decrease your water bill. Regular maintenance and cleaning are necessary. It prevents it from becoming blocked or clogged. There are various diameters of faucet aerators depending on the type of faucet.
An aerator consists of the following components:
Outer casing: The aerator outer is threaded. It can be affixed to the spout of the faucet.
Interior housing: The interior housing of a faucet aerator fits within the outer casing. It is made of plastic and contains smaller components.
Aerator screen: Tiny mesh screens prevent sand, sediment, and mineral deposits. It helps in incorporating air into the flow of water.
Screen bushing: This component secures the small screen in position.
Washer made of rubber: The rubber washer secures the bushing and the inner components.
Mixer: Water passes through perforations in a small disk, buffering the water and aiding with screen protection.
Flow restrictor: The flow restrictor lowers and concentrates the water flow. This permits the same level of efficacy while conserving water.
Spout
The faucet's spout is likely the most visible and distinctive feature. This is the component from which water travels, and there are numerous styles of kitchen faucets to complement any aesthetic or fulfill any need.
Here are some of the most popular faucet designs for the bathroom and kitchen:
Standard spout: A standard faucet is the most common and will have a relatively simple design. Typically, they elevate slightly from the bottom without a spray mechanism. Although they have a simple appearance and a straight spout, they are fantastic value and are ideal for thrifty shoppers.
Gooseneck spout: Also known as long loop faucet spouts. The gooseneck spouts feature a long, swiveling spout. This provides greater versatility and makes it easier to fill containers. They are frequently quite eye-catching and can add some flair to your kitchen.
Pot filler spout: Pot fillers have an extendable spout, making it simple to fill large pots without maneuvering them into the sink.
Tub filler spout: It is an ideal fixture for restrooms with bathtubs. The spout is the most common choice for a bathroom faucet, and depending on the model, the hot and cold water can be controlled by one or two levers.
Waterfall bathroom spout: A waterfall bathroom spout gives a thicker water discharge. Its eye-catching design makes it ideal for a luxurious bathroom appearance.
Roman faucet spout: The Roman faucet spout extends over the bath or rises like a gooseneck spout. It is installed on the tub surround as opposed to the tub wall.
The difficulty of faucet spout assembly will vary based on the design of the faucet you select.
Faucet Lever / Handle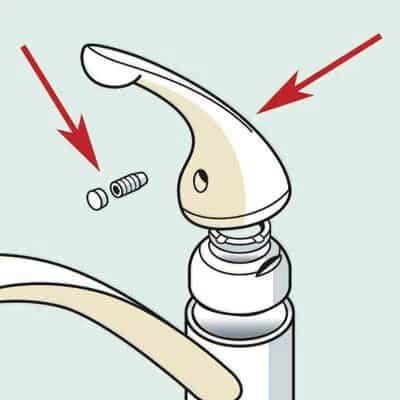 The faucet handle will allow you to adjust the hot and cold water temperatures and pressure.
Individual handles or faucets can be turned to enable water to flow. The more they are rotated, the more water is released. The desired temperature can be created if hot and cold water is dispensed from a single faucet. Individual cold and hot fixtures will provide less temperature control. The water will mingle in the bathtub or sink.
A faucet handle permits side-to-side movement to control the temperature. Yet, the up-and-down movement controls the water pressure.
Cartridge Valve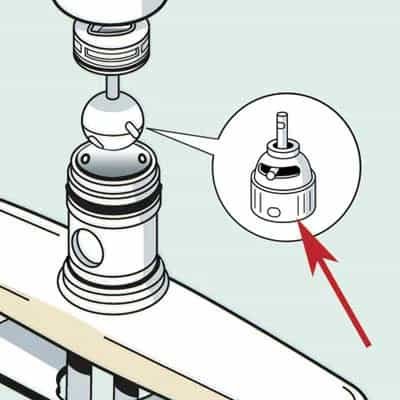 Cartridge valves are used to regulate the water's volume and temperature. The valve mechanism is controlled within a cartridge, making replacement simpler. Cartridge valves are not ubiquitous, so buying from the faucet manufacturer is suggested. They may be constructed from plastic, ceramic, or metal.
Faucet Body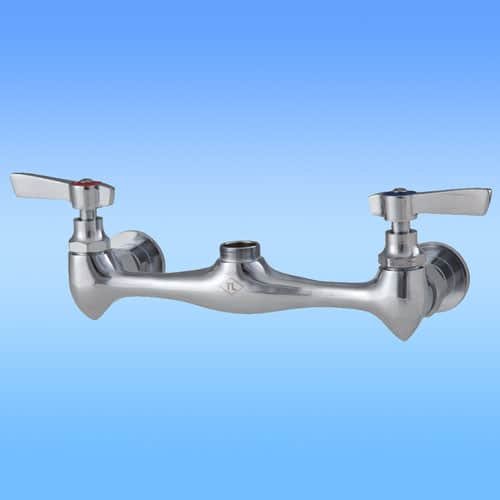 The cartridge valve can be located within the faucet's body. In mixer faucets, the hot and cold water are combined in the body before exiting the nozzle.
There are also bridges with two separate valves connected by a conduit that combines hot and cold water.
The final option resides beneath a counter with a wide, three-holed body. It then combines the hot and chilly water, like the design of a bridge.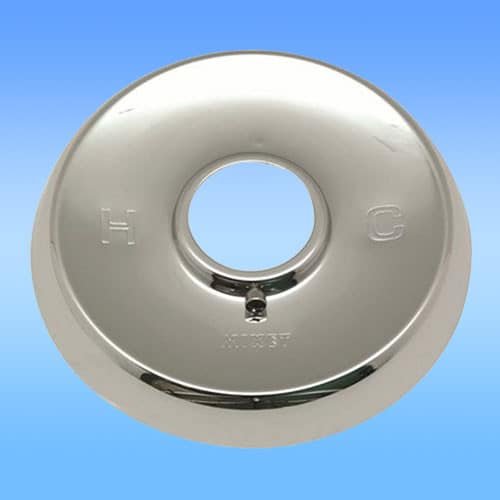 The escutcheon is the mount that secures the faucet to the countertop. This is intended to conceal any holes and complete your faucet's appearance. Escutcheons can be built of zinc, copper, brass, or steel to complement the faucet's material.
Spray Hose
The discharge hose is located beneath the counter and supplies the faucet with water. The flexible pipe is helpful for moveable faucets and double sink bowls because it allows the faucet to be moved as required.
Mounting Bolt
The mounting nut is a wide nut used to secure the faucet. If your faucet has become open, you can tighten it beneath the sink.
Adjusting Ring
The adjusting ring ensures that the junctions of the faucet are secured and fitted.
Washer
A washer is a little flat ring with a hole in the center. It creates a watertight closure between the stems of the kitchen faucet and the aerator.
Shut-Out Valves
Shut-off valves are integrated into the cartridge valves that regulate water temperature and flow.
Hose Guide
The hose guide safeguards the hose from abrasion. It prevents it from becoming trapped or entangled.
Compression connectors
Compression couplings connect two pipelines to fittings or valves.
The cold water supply system permits the diversion of cool water to its destination. It directs to an individual spout or mixed with the hot water supply in a mixer to make the ideal temperature.
Like the cold water supply system, the hot water supply lines are redirected to the area of use.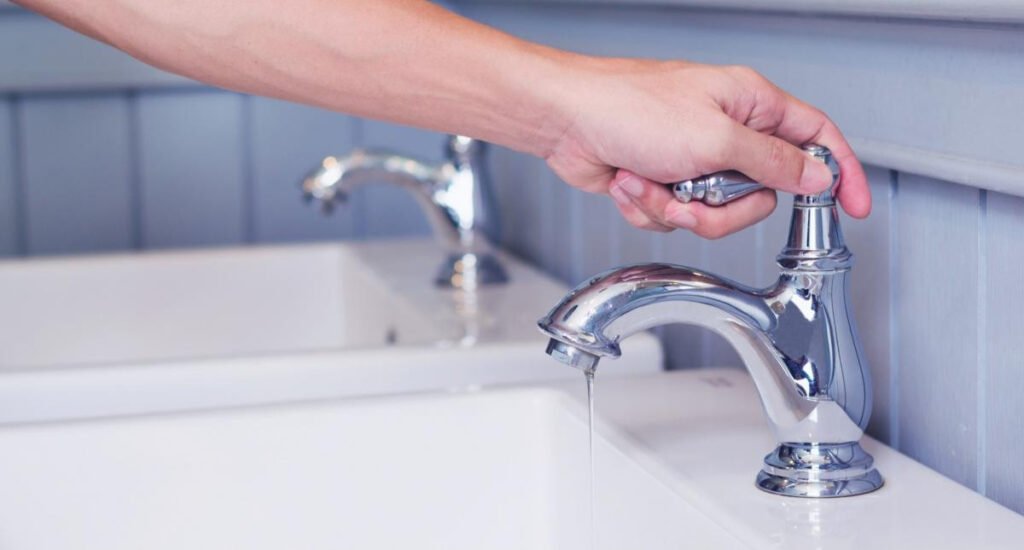 Best Faucet Manufacturer in India: FAQs
When Should Your Kitchen Faucet Be Replaced?
Kitchen faucets are used fixtures that, under certain circumstances, must also be replaced. Depending on the sort and brand, the average lifespan of a faucet is between two and three years. Yet, this duration can vary. The following indications and symptoms will show that you need to replace the kitchen faucet:
Mineral deposits: Over time, mineral deposits tend to accumulate on faucets. It interferes with their normal function and impedes your daily kitchen tasks. Mineral deposits that resemble toothpaste are prevalent in regions with hard water. Therefore, if you observe such debris on your kitchen faucet, it is time to replace it.
Rusty and leaking: If your faucet has a leakage issue that persists despite repair or cleansing, it is a sign that it has reached its expiration date. If you notice rust stains on the finish or any other part of the faucet, you must replace it immediately.
Will any New Faucet Suit My Current Sink?
The plumbing industry uses standard dimensions for sinks and faucets, simplifying your search for a new faucet. The majority of faucet manufacturers provide an extensive selection of lavatory faucets. Typically, the bathroom faucet's breadth will determine your desired faucet. Faucets are typically available in 4″ or 8″ width configurations.
It is possible to have a center set or mini-widespread arrangement in a 4″ set; if the set is 8″ or longer, it is referred to as a widespread set. You can change styles when selecting a new faucet, but you must maintain the same sink measurement or replace the sink if you wish to switch sizes.
Will Existing Water Supply Lines Be Compatible with A New Faucet?
The first step is to determine the size and material of the existing water supply lines. The most common diameters for water supply lines are 3/8″ and 1/2″. Also, variable supply connections are made of flexible plastic, standard copper, and corrugated copper. After determining the size and type of your line, the best course of action is to turn off the water. Bring the pieces to your local hardware or home improvement store to locate the faucet that will work best with your configuration.
What are the Most Important Characteristics of Faucet?
Aesthetics typically drives the bathroom. For instance, many prefer traditional, contemporary, or transitional styles. Some are more concerned with functionality and seek a single- or double-handle faucet. Many people may not be aware, but bath faucets are available with accessories to create a unified appearance in the bathroom. By unscrewing and replacing the handle and spout trim, you can change the design or finish of your faucet.
However, when comparing various designs, certain characteristics, such as high-arc spouts. It allows for more space to fill cups and wash hands. Water filtration systems are also accessible for bathroom fixtures that provide purified water for tooth brushing while retaining fluoride for healthy teeth. Some faucets provide cold drinking water that bypasses household water-softening systems. It allows minerals to remain.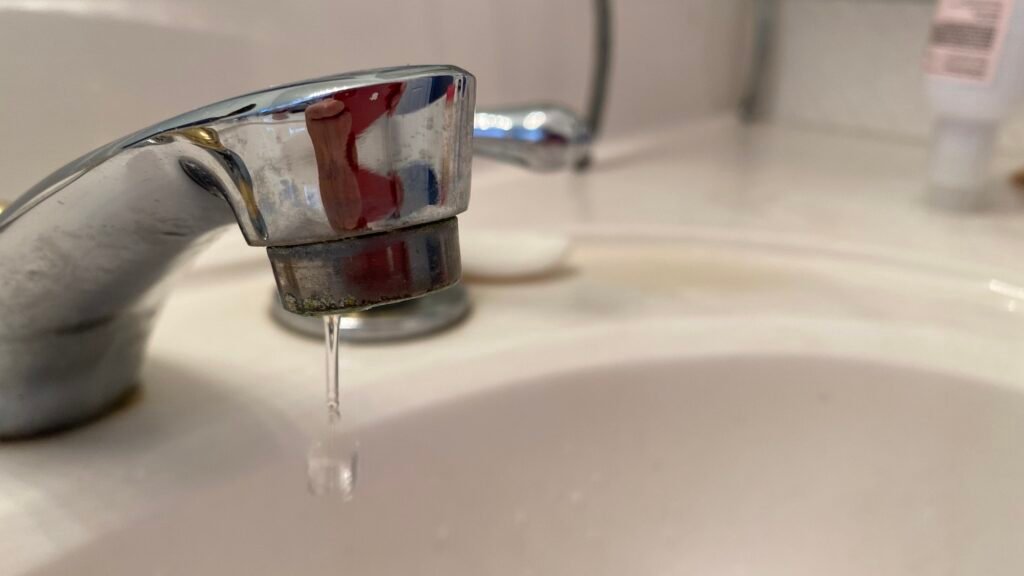 How to Buy the Best Faucet?
Brand
Everyone desires a reliable brand. Minor research, either online or with the people around you, can give you a good idea of a brand's reputation.
Check the faucet's credibility, sourcing, lifespan, and warranty. Also, check for anything else that will affect its durability. No one desires to buy a replacement after only a few years of use.
Arc Height
The majority of arc height is determined by aesthetic preference. Some prefer a high-arc appearance for an elegant, elongated look. In contrast, others favor a low-arc appearance to get the work done. Consider any hanging shelves and the number of sink basins. All these factors can impact the height's effect on functionality.
Finish
Finding the correct finish can be a matter of personal preference. Yet, there are some more popular options. Traditionally, faucets are available in four prominent materials, each of which has advantages:
Chrome: Chrome is by far the most prevalent option available. Durable, adaptable, and simple to pair with various tones and designs. This one keeps things simple and inexpensive.
Nickel: Nickel is an excellent option for those who need the material's brushed and matte appearance. Highly resistant, this long-lasting piece requires little upkeep to preserve its finish over time.
Copper: Who doesn't enjoy the gleaming appearance of copper against countertops? The finest aspect of copper is its aging. It makes it both bold and attractive. The more it ages and wears, the more remarkable its appearance becomes.
Mounting Configuration
Before making a buy, it is vital to take note of the mounting configuration. The majority of mounting configurations include three holes. One for the spout and two for the faucets. Even though this is the norm in most kitchens and restrooms, the routine can still be altered. Many single-handle faucets include a cover plate for additional holes. You may need to install a soap dispenser there if yours does not.
Four-hole faucets are found in a kitchen or utility area. Yet, it is rarely found in residential settings. The kitchen and bathroom will have one to three holes, depending on the individual's needs and design.
Price
The cost is an essential factor to always remember. No one wants to spend money they don't have, but it's important to ensure that we don't have to go in loos when buying a faucet. It's usually best to avoid being too inexpensive. Generally, a decent kitchen faucet will cost around $100, while a good bathroom faucet will cost at least $65 less.
Don't spend thousands of dollars (unless you need to and can afford it), but don't skimp on the selection. Going too cheap can result in the need for a replacement within a few years.
Best Faucet Manufacturer in India
Hofen Sanitary
Hofen is one of the most reputable manufacturers of luxurious and affordable faucets. Hofen has served the Sanitary ware industry for over 17 years with its basin effluent drainer, bottle trap & siphon. Different types of Hofen products are available. All its products are of superior quality and easy to use. It exports its products both domestically and internationally.
Key products:
Faucets
Basin
Floor drains
Bottle P-trap
Pop-up drain

Jaquar
Headquarters: Manesar, Haryana, India
Jaquar is an excellent option when finding the best faucet manufacturer in India. Over 50 years of experience in producing products that are not only aesthetically attractive but also durable. They offer a variety of affordable, high-quality faucets that will complement any home design and budget. Their taps selection comes in various sizes, finishes, and materials. You can find one that is a perfect match for your bathroom.
Products:
Faucets
Showers
Flushing systems
Parryware
Location: Chennai, India
You are looking for a high-quality faucet for your home and are wondering which brand in India is the best. In the plumbing industry, Parryware is a well-known brand. Yet, its faucets are renowned for their quality and durability. Faucets by Parryware are built of high-quality materials intended to last many years. When you choose a Parryware faucet, be assured that you're receiving a high-quality product in various designs.
Products for the Bathroom:
Toilets
Basins
Bidets
Faucets
Showers
Cavier
Cavier, an Indian faucet manufacturer, is renowned for producing OEM products in the country. The brand's 30 years of existence are a testament to its superior quality and unparalleled designs.
Products:
Bathroom Faucets: Sink Faucets, Shower Faucets, Bathtub Faucets
Kitchen Faucets: Sink Faucets, Pot Fillers
CERA Limited Sanitaryware
Headquarters: Ahmedabad, Gujarat, India
CERA is the finest option. Since its founding in 1980, the company has been renowned for its superior quality and after-sales service.
All their products, from contemporary faucets to ultramodern cascade faucets, are crafted to the highest standards. They use brass, copper, and stainless steel. It ensures your faucets are durable, corrosion-resistant, and withstand normal wear and strain.
Products
· Washbasins
· Water Closets
· Urinals
· Bidets
· Quarter-turn
· Pillar and Wall mixer Faucets
What are the Benefits of Faucets?
Faucets offer a convenient method to control the water flow. They are simple to turn on and off. It allows users to regulate the amount of water in various activities. They also help in promoting water conservation.
·Many faucets feature distinct hot and cold water handles or a single lever for temperature setting. It enables users to adjust the water temperature to their desired level. It ensures their comfort when washing their hands or taking a shower.
Faucets come in many styles and designs for aesthetic inclinations and functional requirements. There are options for every decor style, ranging from classic to contemporary faucets.
Some faucets are designed to be water-efficient, with features such as aerators or flow restrictors. These reduce water consumption without affecting water pressure. So, they conserve energy and reduce utility expenses.
Faucets made of sturdy materials like brass or stainless steel can withstand years of use without seeping or breaking. This can provide enduring durability.
In the kitchen, faucets with retractable hoses or pull-out sprayers. It performs tasks such as rinsing or washing dishes more efficiently.
Faucet Maintenance: Tips and Best Practices
Regularly clean your faucets by wiping them down with a damp cloth to remove grime, dust, and minerals.
If your faucet has a water filter, you should replace the filter every three to six months. This will help in keeping detritus and sediment out of the water.
If your water pressure is low, examine the aerator on the faucet to determine if it is obstructed. Clean it with vinegar and water, or if necessary, replace it.
If you observe a leak under the sink, examine the supply lines for any fractures or damage. Replace the sections as required.
If your faucet is loose or wobbly, tighten the mounting fasteners.
Minerals can accumulate on a faucet over time, causing corrosion. Regularly cleaning the faucet will remove buildup and prevent corrosion.